I posted that the Euro (NYSEARCA:FXE) was undervalued on April 3rd, when it was around 1.07, primarily based on the prediction that the spread between the Euribor rate and German Schatz would narrow after the first round of French elections.
On April 25th, I named the long Euro trade as the "long of the year", as the Euro rose to 1.09, expecting the uptrend to continue after the second round of French elections.
On May 24th, as the Euro crossed over 1.12, I suggested the we need to some some positive indications from the ECB for the uptrend to continue towards the 1.15 level.
Here is the chart: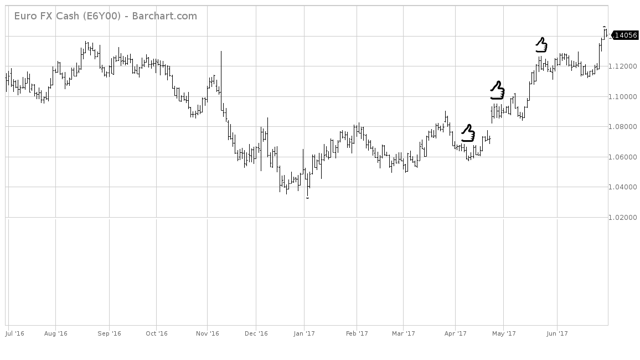 Since then, the Euro has risen close to the 1.15 level, as the ECB indicated some positive views on inflation and growth in the EU.
So, at this point, the easy money on the long Euro trade has been made. Specifically, I traded the bottom of the longer-term range, all the way to the top of the longer-term range, which is 1.05 to 1.15. Here is the chart: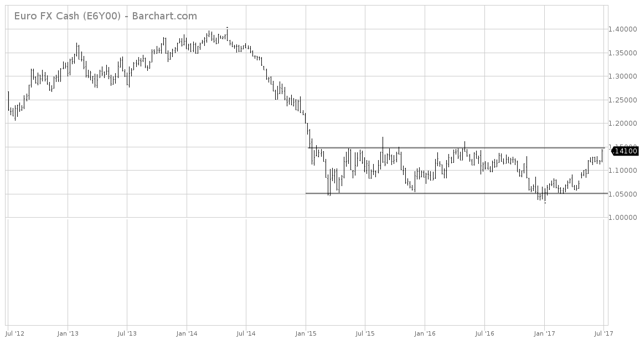 The Euro now faces a serious resistance at 1.15. The next trade on the long side is the major breakout, leading to 1.40. For this to happen, I believe we need to see real change in policy by the Fed and/or ECB, or specifically, the significantly narrowing interest rate spread between the 2-year T-Bonds and 2-year German Schatz.
I don't see the Fed or the ECB changing their policy objectives over the short term. Thus, the Euro could be stuck near the 1.15 for some time, or possibly revisit the 1.10 level.
Thus, even though I am still bullish on the Euro over the longer term, the long euro trade is done for now. I will re-evaluate if the 1.15 level is broken, so follow for updates.
Disclosure: I/we have no positions in any stocks mentioned, and no plans to initiate any positions within the next 72 hours. I wrote this article myself, and it expresses my own opinions. I am not receiving compensation for it (other than from Seeking Alpha). I have no business relationship with any company whose stock is mentioned in this article.