Gold markets have taken a backseat for large portions of this year as a broad majority of the financial news media has focused on the rally in stocks. This has been largely reflected in the recent price activity of important instruments like the SPDR Gold Trust ETF (NYSEARCA: GLD), which is one of the most commonly watched indicators of market trends in the precious metals. The sideways trading activity we are seeing here suggests a period of indecision. But when we look at the centralized economic factors likely to influence GLD, there are strong reasons to argue for a bullish outlook which will remain valid as long as valuations hold above 116. Here we will take a look at some of the macro factors that have been overlooked by metals traders over the last few months.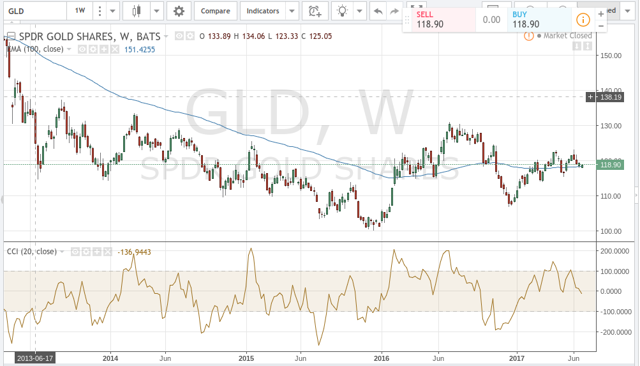 Perhaps the most troublesome events for precious metals investors is the fact that trading ranges have constricted over the last several weeks. This market activity came after a long period of declines. So the fact that longer-term portions of the market failed to buy at these lows goes far to suggest that we are merely in a period of consolidation within the broader downtrend. Commodity Channel Index readings are hovering at mid-levels and prices are holding to the 100-week exponential moving average. All of these factors point to a strong period of indecision in the markets, but there are underlying factors that could cause this to change.
An important element leading to the prior declines in GLD was seen with the strong upward trend in consumer inflation levels. Over the last year, we have seen some significant percentage increases in consumer price readings, but there are reasons to believe that some of these trends will be changing relatively soon. It can be argued that the best example of this can be found in energy markets.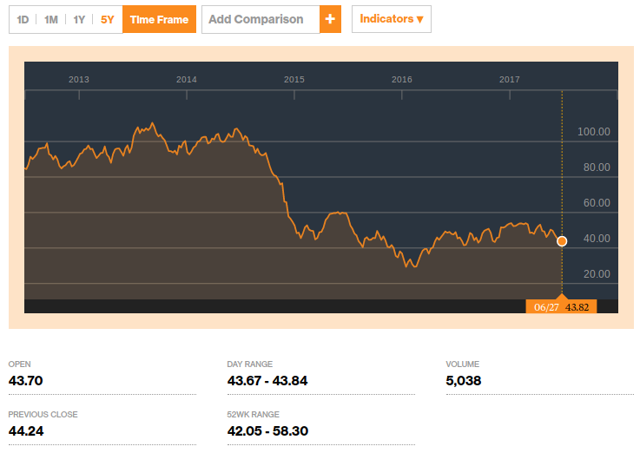 Specifically, it will become more and more difficult for bodies like the Federal Reserve to ignore the impact of lower oil prices - and once this outlook changes, we will almost certainly see some scaling back in the initial interest rate expectations that have been suggested in most Fed commentaries. Dovish monetary policy and reduced interest rate expectations tend to depress gold values, so these are two factors that could potentially bring us out of the sideways trading atmosphere if they do, in fact, come to fruition. Here, a key leading indicator will be the United States Oil Fund (NYSEARCA: USO), which is one of the most commonly watched gauges of market activity in the energy space. Prices already seem to want to hover around the $40 mark, so if we do not see some significant reversals here soon, we can expect the trend to influence consumer inflation in ways that will make it easier for the Federal Reserve to hold back on further interest rate increases.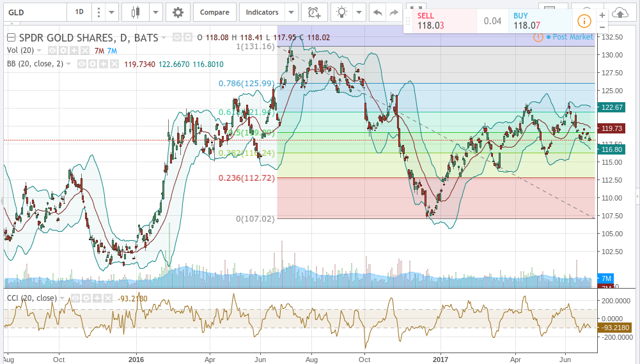 Correlations here between the price of gold and oil should continue to show some interesting trends. Currently, the balance of the evidence suggests that GLD is basing at its upper short-term levels in order to make another attempt on the 130 levels that still make up part of the longer-term view. Markets have already removed the 61.8% Fibonacci retracement resistance levels near 122 and this should re-open the path toward the highs seen last summer. Outside factors like market activity seen in the iShares Silver Trust ETF (NYSEARCA: SLV) will continue to play a role in terms of overall sentiment. But, on the whole, it looks as though markets are just waiting for the fundamental catalyst that will ultimately break this dreary trading range. Continue to watch for developments in these areas as a means for confirming whether or not any upside breaks have the potential to gain real traction.
Disclosure: I/we have no positions in any stocks mentioned, and no plans to initiate any positions within the next 72 hours.
I wrote this article myself, and it expresses my own opinions. I am not receiving compensation for it (other than from Seeking Alpha). I have no business relationship with any company whose stock is mentioned in this article.