The latest Commitment of Traders (COT) report showed a third straight week of speculative long selling in gold despite an actual rise in price during the week, which is a bit unusual. The addition of new shorts also helped take the net speculative long position in gold down below the 100,000 contract mark for the first time in a month – which is good from a contrarian point of view.
Big economic events loom next week as the market receives the ADP employment and Nonfarm Payrolls reports. In the past these have been some of the biggest movers of the gold market, and with the Fed still expected to raise rates twice more this year (we don't buy it), weakness or strength in these reports will help confirm or reverse the Fed's projected interest rate trajectory.
We will get more into some of these details but before that let us give investors a quick overview into the COT report for those who are not familiar with it.
About the COT Report
The COT report is issued by the CFTC every Friday, to provide market participants a breakdown of each Tuesday's open interest for markets in which 20 or more traders hold positions equal to or above the reporting levels established by the CFTC. In plain English, this is a report that shows what positions major traders are taking in a number of financial and commodity markets.
Though there is never one report or tool that can give you certainty about where prices are headed in the future, the COT report does allow the small investors a way to see what larger traders are doing and to possibly position their positions accordingly. For example, if there is a large managed money short interest in gold, that is often an indicator that a rally may be coming because the market is overly pessimistic and saturated with shorts - so you may want to take a long position.
The big disadvantage to the COT report is that it is issued on Friday but only contains Tuesday's data - so there is a three-day lag between the report and the actual positioning of traders. This is an eternity by short-term investing standards, and by the time the new report is issued it has already missed a large amount of trading activity.
There are many ways to read the COT report, and there are many analysts that focus specifically on this report (we are not one of them) so we won't claim to be the exports on it. What we focus on in this report is the "Managed Money" positions and total open interest as it gives us an idea of how much interest there is in the gold market and how the short-term players are positioned.
This Week's Gold COT Report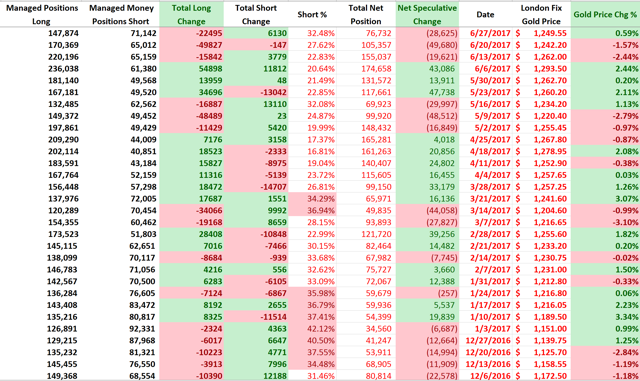 *Gold price data reflects the COT week (Tues-Tues) not a standard week (Mon-Fri)
For the third week in a row, speculative longs cut back on their long positions by a sizable 22,495 contracts, which followed up on last week's major long divestment. Despite this, the gold price actually rose by 0.59% during the COT week (Tuesday to Tuesday), which is a bit unusual and suggests strength in gold outside of these speculative traders.
Meanwhile, speculative gold shorts added 6,130 contracts on the week, which helped push the net short percentage to over 30% - which is one of our indicators that it is time to potentially start accumulating gold.
Moving on, the net position of all gold traders can be seen below: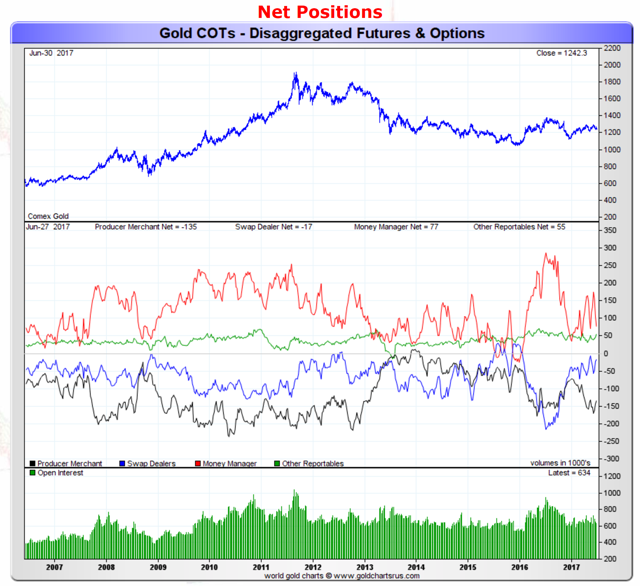 Source: GoldChartsRUS
The red-line represents the net speculative gold positions of money managers (the biggest category of speculative trader), and as investors can see, we saw the net position of speculative traders decrease by around 28,000 contracts to 77,000 net speculative long contracts. We are now at much healthier historic speculative long levels in the gold market and that is positive for the gold bulls.
As for silver, the action week's action looked like the following: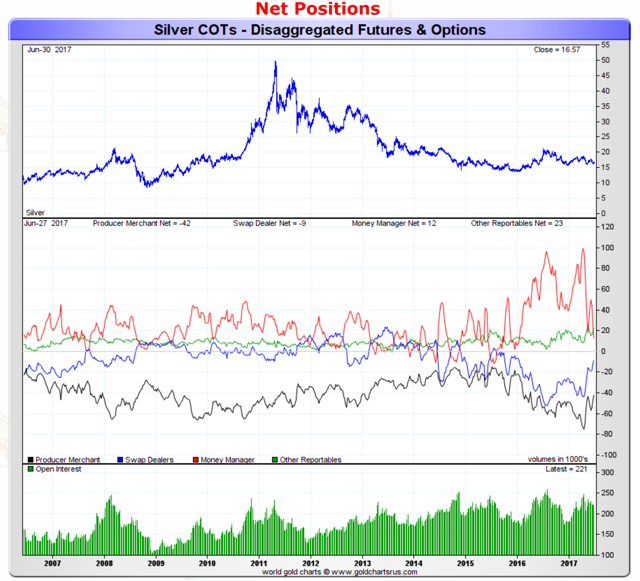 Source: GoldChartsRUS
The red line which represents the net speculative positions of money managers, showed a decrease in the net-long silver speculator position as their total net position fell by around 15,000 contracts to a net speculative long position of 12,000 contracts.
Silver is now looking pretty attractive from the COT perspective as we are starting to see some of the lowest net speculative levels in silver since early 2016. But we do note, which we have mentioned before, the actual fundamentals of silver remain a bit weak as physical demand has been extremely poor with silver bullion sales slow across the board.
The Upcoming Jobs Report and How It Affects the Fed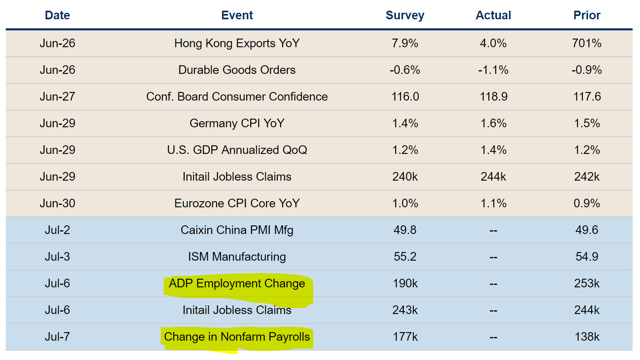 Source: US Global Investors
Thursday and Friday's jobs related reports are almost certain to move the gold markets if they come in different than expectations. We have no view on if it will be positive or negative, but we do have a view on the economy and we believe that it is not as strong as the stock market suggests, and with the significant weakness in the retail sector, we wouldn't be surprised to see a negative report. That would be positive for precious metals as it would give the Fed second thoughts about their projected two interest rate increases over the balance of 2017.
Interestingly, Frank Holmes Chief Financial Officer at US Global Investors, pointed out that gold has actually done well following Fed meetings and poorly heading into "interest rate live" meetings.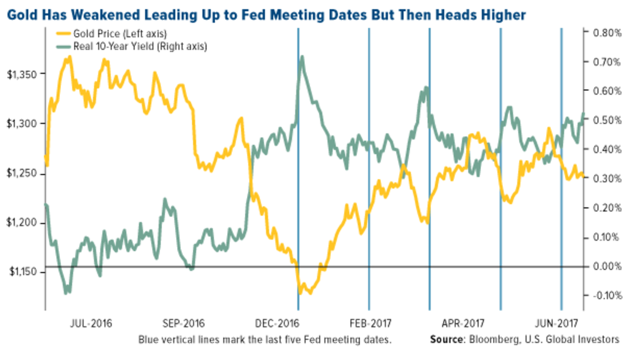 Source: US Global Investors
The next Fed meeting with a press conference is in September, and since we highly doubt the Fed will raise interest rates in any meetings without press conferences, then if gold follows this pattern we may have some strength moving forward. While we wouldn't give this view too much confidence as the summer hasn't been strong for gold recently, it is something for investors to note.
Finally, Asian gold premiums have remained lackluster over the past week – though Indian premiums have started to rise. While that's normally a positive thing for the gold market, in this case, the rise seems to be related to the imposition of a new tax on gold starting July 1st. That suggests that this is simply gold buying being pulled forward rather than because of the attractiveness of current prices.
Our Take and What This Means for Investors
In summary, it looks like we have reasons to both buy and sell gold this week. On the bullish side, the COT report looks much better than it has in over a month as speculative bulls closed out their positions and we move to the 30% short ratio – which is one of our buying indicators. Additionally, we think that the Fed wont be able to hike rates twice – maybe not even once the rest of the year and that would probably be positive for gold.
On the bearish side is the fact that physical demand in Asia remains lackluster and bullion sales are extremely weak. Also, with markets near all-time highs, it seems the desire for safe-haven assets like gold is weak.
Putting this all together its causing us to change our short-term view on both gold and silver as we are moving from Neutral-Bearish to Neutral for the upcoming week. But we would be a short-term buyer of gold and silver IF we see any sizable drops next week as it would push us into our short-term bullish territory.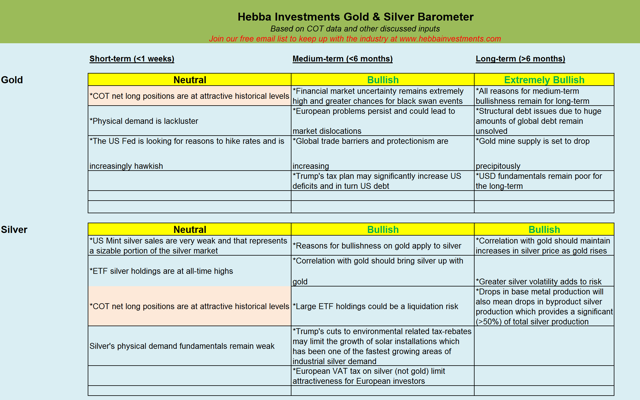 In conclusion, we think a neutral stance means investors with no precious metals exposure should start buying, while investors with existing precious metals positions should hold tight and look for a drop during the upcoming week. That drop would be a buy signal for us and we would be looking to add to gold and silver positions (SPDR Gold Trust ETF (NYSEARCA:GLD), iShares Silver Trust (SLV), Sprott Physical Silver Trust (PSLV), and ETFS Physical Swiss Gold Trust ETF, etc).
Disclosure: I am/we are long SGOL, SIVR.
I wrote this article myself, and it expresses my own opinions. I am not receiving compensation for it (other than from Seeking Alpha). I have no business relationship with any company whose stock is mentioned in this article.