A month ago I presented data on the Iranian toy market as an example of a place where it is better to have a distributor than going it alone. This article will examine the same premise for the South African market place.
South Africa's historical burden is still shaping its society today
There are few countries that have a history as heartbreaking as South Africa. Invaded by the Dutch in 1652, the native population was either exterminated or enslaved or suppressed over the next three hundred and fifty years. It was only with the dismantling of Apartheid in 1991 that a system of institutionalized racial segregation and discrimination ended and universal suffrage was introduced for all South Africans. The economic and social consequences of its past history are still with South Africa today and deep economic chasms continue to characterize its society
There are two South Africas
The black population has still today little access to the educational tools allowing it to escape the heritage of Apartheid. In a league table of education systems drawn up in 2015 by the OECD , South Africa ranks 75th out of 76. In November 2016 the latest Trends in International Mathematics and Science Study, a test sat by 580,000 pupils in 57 countries, had South Africa at or near the bottom of its various rankings.
The result is continuing fault lines in the South African population best demonstrated by the economic factors dividing the four population groups:

Source: tradingeconomics.com
Note that the same source defined as a living wage for a family as $10,800 in 2017.
The jobless rate shown above indicates the percentage of people actively looking for jobs and should not be read as an unemployment percentage. Actually, youth unemployment recently peaked at over 55% of the workforce. General unemployment has been at around 25% of the workforce for the last decade, virtually totally concentrated among the black and "colored" populations - the latter of which, in South Africa, refers to folks of mixed racial heritage.
Of the total population of 55.4 million, two-thirds live in urban areas. The white and Indian/Asian population is virtually 100% in urban locations - in and around the main cities of Pretoria and Johannesburg in the Gauteng Province, Cape Town on the Western Cape, Durban in Natal, Port Elizabeth on the Eastern Cape and Bloemfontein in Free State.
So, in summary, you have a country of 55 million of which one group, the black and colored population, representing 90% of the total, live at or below the poverty line, are badly educated, and are mainly unemployed. The other group, the whites and the Indian/Asians or 10% of the population, are well educated, have all the jobs, and own an estimated 90–95% of all assets.
South Africa is not an easy country for business
Other than the issues highlighted above, any company contemplating an entry into South Africa should be aware of three problems besetting the country.
The first is the difficulty of doing business. Comparing South Africa with the U.S. on one side and the four countries covered in previous articles, South Africa clocks in somewhere in the middle:
| | | | | | | |
| --- | --- | --- | --- | --- | --- | --- |
| Activity | South Africa | Iran | China | India | Sweden | USA |
| Overall | 74 | 120 | 78 | 130 | 9 | 8 |
| Starting a Business | 131 | 102 | 127 | 155 | 15 | 51 |
| Construction Permits | 90 | 27 | 177 | 185 | 25 | 39 |
| Getting Electricals | 111 | 94 | 97 | 26 | 6 | 36 |
| Registering Properties | 105 | 86 | 42 | 138 | 10 | 36 |
| Getting Credit | 62 | 101 | 62 | 44 | 75 | 2 |
| Protecting Minority Investors | 22 | 165 | 123 | 13 | 19 | 41 |
| Paying Taxes | 51 | 100 | 131 | 172 | 28 | 36 |
| Trading across Borders | 139 | 170 | 9 | 143 | 17 | 35 |
| Enforcing Contracts | 113 | 70 | 5 | 172 | 22 | 20 |
| Resolving Insolvency | 50 | 156 | 53 | 136 | 19 | 5 |
Source: Doing Business - Measuring Business Regulations - World Bank Group
For toy companies thinking of entering the South African toy market on their own, the "Starting a Business" number should give them pause.
The second is that corruption continues to be a persistent problem. This is how South Africa compares with the same five countries: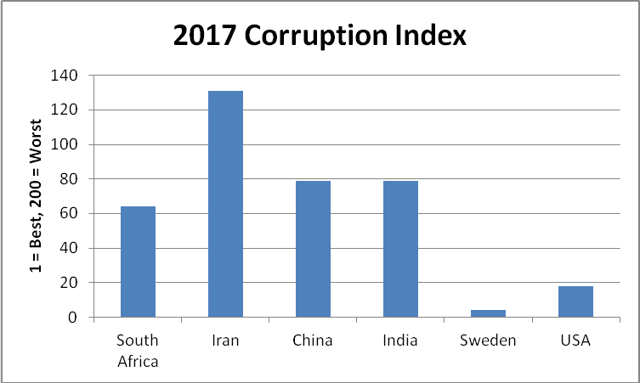 The third is the political turmoil that has gripped the country over the past four years. This has a number of economic consequences but probably the most important is that the White settlers, remembering Rhodesia and its Zimbabwean aftermath, are getting pessimistic about their future. Their numbers are declining due to emigration.
And then there are two South African Toy Markets
As South Africa is two countries, so is its toy market. The smaller segment is the "organized one", the one catering to the more affluent, urban, and mainly White and Asian/Indian, consumers estimated at 7 million. The products included in it are mainly imported and virtually all Western brands sold in Western-style supermarkets, warehouse chains and specialty stores . This market is estimated at rand 4.5 billion or US $342 million, which equates to $48 per person per year (the U.S., in comparison, spends about $93 per person per year). As more blacks and coloreds migrate into this group, its toy market will expand.
The larger is the market catering to the rural and semi-rural population. This consumer group is thought to be 48 million. This market is estimated at rand 5.1 billion or US$390 million. These products are mainly handmade or produced in very small workshops, do not usually carry any brand names, and are sold in cooperative village stores, community fairs and bazaars. These toys are often made of wood or cloth and come mainly as dolls and other soft toys, wooden swords and shields, skipping ropes, Mancala (the stone game), marbles, etc. This market is estimated at rand 5.1 billion or US $390 million which equates to $8 per person per year. As the economic prospects of the semi-rural population improve, migration to the "organized" toy market will occur.
The organized South African toy market was traditionally totally handled by distributors. However, both Mattel (NASDAQ:MAT) and Hasbro (NASDAQ:HAS) have recently decided to go it alone, at least in part.
According to a 2015 Marketing Spread article, "Global toy company Hasbro makes South African debut",
"Previously, Hasbro's products were distributed in South Africa by Prima Toys. In line with the company's commitment to investing in emerging markets, Hasbro has now taken up the role of direct supplier servicing South Africa's top 10 toy retailers ranging from toy specialists to mass retail giants. Hasbro's entry in South Africa enables the Company to directly engage with key retail outlets servicing the toy industry. Specifically, Hasbro will supply Toys "R" Us, Toy Kingdom, Toy Zone, Toy Adventure, Aladdin's, Lilliput Toys, and the recently launched Hamley's, Pick 'n Pay, Shoprite Checkers, Game, Makro and CNA. Notably, while Hasbro will service the big name brand stores, Prima will continue to supply South Africa's smaller retailers ensuring Hasbro brands will reach across South Africa."
Mattel decided to follow suit in the middle of last year and is now selling the key accounts directly as well. However, Just Fun continues to partner with Mattel as far as the other retailers are concerned.
This is how the "organized" South African Toy Market is estimated at for 2017: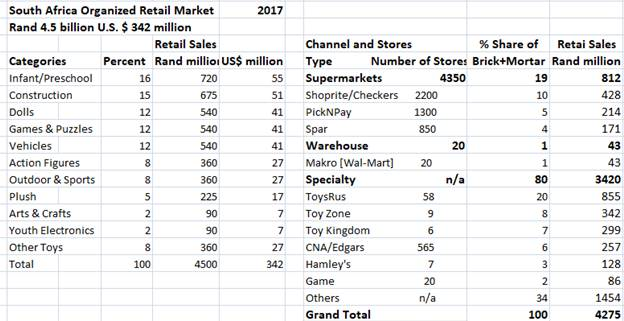 Source: Klosters Retailer Panel
As the table above shows, distributors continue to play a major role in the organized toy market. This is further emphasized when looking at who is selling the top brands in the major four product groups:
Retailer

Best

Second

Third

Fourth

Fifth

Fashion Dolls

ToysRUs

Barbie

Mattel

Steffi Love [Simba]

SisoToy

My Little Pony

Hasbro

Caylee Mermaid

Evi Love

Dis Princess

Hasbro

Takealot

Barbie Mattel

Steffi Love [Simba]

Siso Toy

Kitchen [Sylvanian]

Pegasus

Bullyland

Pops Toys

My Little Pony

Hasbro

Action Figures

ToysRUs

DC Super Hero Girls Mattel

Paw Patrol [Spin Master]

Just Fun

Transformers Hasbro

TMNT [Playmates] Prima

Star Wars Hasbro

Takealot

Paw Patrol [Spin Master] Just Fun

Star Wars [Hasbro] Prima

Avengers [Hasbro] Prima

Champion Horse [Simba] Siso Toys

Dragon [Spin Master] Just Fun

Learning Space

ToysRUs

Reggies

Shining Galaxy

ToysRUs

Talking Lap [Leapfrog] Prima

Chat and Count [Leapfrog] Prima

Animal Alphabet [VTEch] Prima

ABC Text+ Go [Vtech] Prima

Takealot

Scribble + Write [Leapfrog] Prima

Hexcalator [Hexbug] Pops Toys

Leapband [Leapfrog] Prima

Supermarket Jeronimo Toys

Talking Phone Winfun

Board Games

ToysRUs

Monopoly Hasbro

Mouse Trap Hasbro

Pictureka Hasbro

Connect Hasbro

Wikipedia Prima

Takealot

30 Seconds Calco Games

Alphabet Puzzle Grafix Toys

Catan Boardgame Co

Bananagram Next Step Trading

Sofia Puzzle

Prima
Given the importance of distributors in South Africa, I thought it would be helpful to hear from one of them as to what a toy company tying up with a distributor could expect. This is what I was told:
"A good distributor has its own sales and merchandising force but also utilizes merchandising agents in certain areas. Advertising and promotion of distributed brands is normally handled in-house through full time marketing staff. This is typically paid for by the distributor but some campaigns may be co-funded by the suppliers and/or licensors. Such campaigns usually include TV advertising, Digital marketing, Print, PR and in-store point of sale material, as well as direct retailer advertising. Pricing is still pretty much determined by the market and the anticipated landed cost of each item. Pricing is not dictated by the suppliers [which would anyway be illegal in our market) but rather by retailers. A distributor is normally covered by contracts – distribution agreements – which include exit or termination clauses. However, the key of any good agreement is that the needs of both parties are fully recognized. "
In summary, South Africa has a lot of problems but also a lot of promise. The problems have been covered exhaustively by what has been said further above but the promise has not. But it is there. South Africa is inherently an extremely rich country in minerals, agriculture and manufacturing. It is also a bridgehead into the rest of Africa – a continent that will between 2015 and 2050 add 1.3 billion people as compared to the rest of the world which will only add 900 million. Equally important, in a world where the aging population will represent an ever increasing percentage of the total, the opposite is true in the case of Africa. It is easy to see how this could impact the worldwide toy market and the companies active in it. This is probably the reason why both Mattel and Hasbro decided to establish their own base camp in South Africa regardless of the risks this strategy entails at least in the short term.
For any other company wishing to become active in the South African toy market, going it alone today is only for the very strong or the very brave. Going with a distributor of repute appears to be the most sensible route. The two most potent distributors have lost some of their business since Mattel and Hasbro now are at least partly going directly to the large retailers and this may make it easier for a new company to make a deal with them.
Disclosure: I/we have no positions in any stocks mentioned, and no plans to initiate any positions within the next 72 hours.
I wrote this article myself, and it expresses my own opinions. I am not receiving compensation for it (other than from Seeking Alpha). I have no business relationship with any company whose stock is mentioned in this article.