Welcome to the weekly recap edition of Oil Markets Daily!
WTI finished the week higher by 7.04%.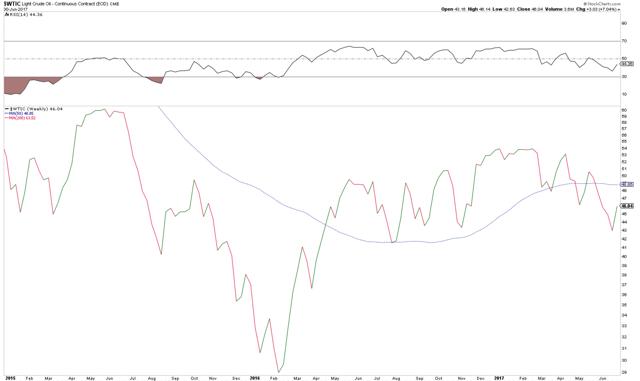 A confluence of factors saw the making of a short squeeze come together this week in the oil markets. Bearish positions, as we reported in our last week's weekly recap, were at 40% of open interest, and were historically followed by a short squeeze rally. We also believed the market's overconcentration in the theme of "long tech and short energy" contributed to the squeeze as second quarter ended on Friday, which saw many funds drop several percentage points of performance in just the last three days of the quarter.
These short-term volatile movements are making life difficult for both bears and bulls. On one hand, bulls argue that oil market fundamentals have not been as dire as the price action suggests. OECD storage relative to the five-year average has been compressing and the biggest draws are expected in the second half of the year.
On the other hand, oil bears point to surging shale production, Libya and Nigeria bouncing back after outages, and rising floating storage as signs that the supply deficit currently in place will result in oversupply in oil in the future. In addition, bears contend that rising shale production might force OPEC, mainly Saudi, to pursue market share strategy again, resulting in the global oil markets tipping into 1 million b/d surplus in 2018.
Figuring out what's what
Both sides make valid arguments, and hence oil prices remain within the consensus's "shale band price range." But what's often not said about the markets in general is everyone's obsession with putting a story behind a price move; Media make believe that prices are falling because of glut issues, or that prices are rising because the market is undersupplied. In the short term, it's difficult to discern what's really moving the market.
In early June, we reported to HFI Research subscribers that the potential Mexico 2018 hedging program could put downward pressure on the oil markets as the market makers hedge their exposure to selling Mexico puts. As a result of the hedging taking place, market makers were hitting bids whenever they can to hedge their exposure in underwriting the put deals. In the following weeks through CFTC position disclosure, it was revealed that most of the downward price move came from short-sellers piling back into the oil markets at the fastest pace over the last three years. Even after a price rally, CFTC disclosed that positioning up to June 27 showed shorts increasing their overall exposure rather than reducing it.
Were global oil market fundamentals that bad to justify prices selling off from $50 to $42, or was it just the sentiment tilting too fast to extreme that caused the sell-off?
As a service to our readers, we won't put a story behind the sell-off, but what we do know is this. Consensus, via an aggregate analysis of what all the research reports we've read recently wrote, is no longer bullish on oil. In fact, many of the firms we read point to a potential oversupply in 2018 as one of the main bear themes of 2017. Their assumption assumes that OPEC will ramp production to 34 million b/d following Q1 2018. In addition, they expect US liquids production to grow another 1.2 to 1.4 million b/d in 2018.
Consensus thinking and what it means
Understanding the viewpoint of the consensus is one of the most important elements to successful investing. The question all investors should ask themselves is, is the bearish forecast priced in?
In our analysis, US shale producers at the current juncture are pricing in on average $56 WTI, while Canadian producers are pricing in $51 WTI. This compares to the current 2018 STRIP of $48.12/bbl.
For Canadian E&Ps, most of the producers are pricing in the new STRIP, while some US names, mainly in the Permian, are still pricing in a considerable premium to STRIP.
What does this mean?
If oil prices rally to our target by year-end, producers that are currently pricing in the lowest oil price into the valuation will rally the most, while producers that are trading at a premium will underperform.
Therefore, it's very important for investors not only to have a view of where oil prices are headed, but also understand the embedded assumptions into the current valuation.
Bottom-line: Going forward, with consensus pricing in the bearish STRIP assumption to many of the E&P names we follow, we see these producers outperforming in the second half, while producers that are pricing in a higher STRIP valuation underperform.
For investors interested in what E&P names we like, we think you should give HFI Research a try. To see more info, you can click here.
Disclosure: I/we have no positions in any stocks mentioned, and no plans to initiate any positions within the next 72 hours. I wrote this article myself, and it expresses my own opinions. I am not receiving compensation for it (other than from Seeking Alpha). I have no business relationship with any company whose stock is mentioned in this article.