International Economic Week In Review: The Data Is Clearly Improving
For a long time, the global economic recovery was barely noticeable. Yes, there was growth. But it just was this side of positive. This started to change in 4Q16, when the Markit Economics' sentiment indicators highlighted the first solid evidence of rising confidence. The trend started to accelerate in 1Q17 as both the EU and Japan saw rising growth rates. The week before last, Gavyn Davies of the Financial Times also showcased this development with his economic "Nowcasts." Adding to the evidence is the latest report from the Bank for International Settlements, titled, "The global economy: maturing recoveries, turning financial cycles?" Both clearly document that global economic activity has risen. Although it's still too early to conclude the global economy has reached the elusive "escape velocity," the global macro trend is encouraging.
Recent data from the FT's "Nowcasts" shows a recent uptick in activity.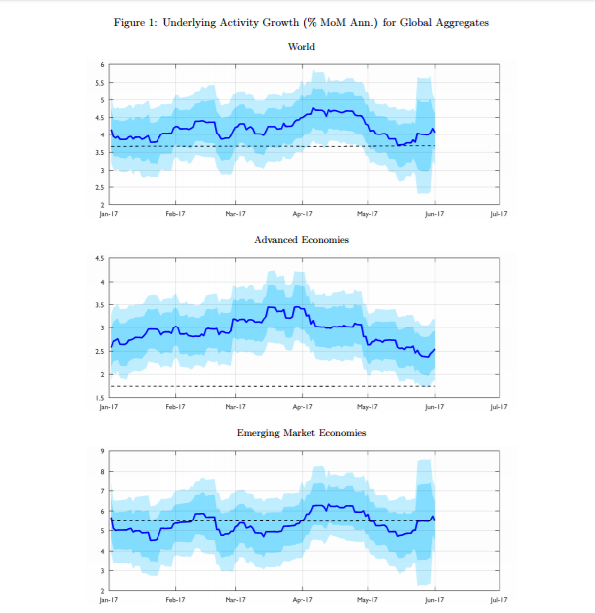 The Nowcasts for global (top chart) and emerging economies (bottom chart) both ticked higher starting in June. The increase in advanced economies started to increase a bit later. The primary reason for the decline in advanced economies was the US, whose data has been decreasing since April; all other advanced economies have been steady over the same time (due to the US' size, it has a disproportionate impact on the number).
Let's turn to the BIS's data, starting with the following charts: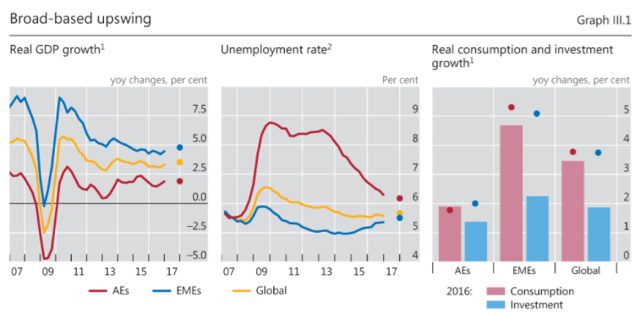 Since the beginning of 2011, advanced economies' growth (in red) has consistently fallen below the 2.5% level. Emerging economies (in blue) have done somewhat better; since 2014 the average growth rate has fluctuated around 5%. The BIS is projecting a growth rate slightly above the averages for the last 3-4 years. The second chart shows the sharp decline in AE unemployment (in red); in contrast, emerging economies have had remarkably low unemployment. The third chart shows that consumption spending has dominated both types of countries. Pay attention to the sharp uptick in projected investment spending in emerging markets, which is the direct result of the following data: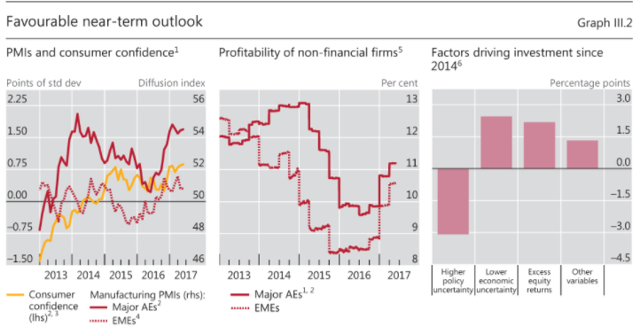 The left chart shows the sharp increase in PMIs that started in the 2H16 and which has continued into this year. There's also been an uptick in corporate profitability (middle chart) and less economic uncertainty (right chart). All three of these factors support the conclusion that investment spending will increase this year.
Finally, we see a decrease in economic slack.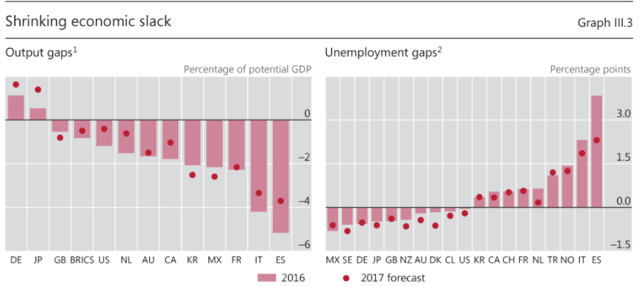 The conclusion from all this data is clear: the global outlook is clearly improving.
This article was written by
Hale Stewart spent 5 years as a bond broker in the late 1990s before returning to law school in the early 2000s. He is currently a tax lawyer in Houston, Texas. He has an LLM in domestic and international taxation (MagnaCumLaude). He is the author of the book The Lifetime Income Security Solution. Follow me on Twitter at @originalbonddadYou can read his legal analysis on his law office's blog.