In the comments sections of my articles recently, there has been a growing din of "Bellicum, Bellicum, Bellicum" from the true believer investors who read my stuff. First, let me thank you straight away; I truly appreciate all of my followers who read my daily blurbs in "3 Things In Biotech You Should Learn Today." And I love to parlay that into new larger article ideas to take a closer look at companies, especially in the oncology space.
So...what is Bellicum Pharmaceuticals (NASDAQ:BLCM)? In short, it is a biotherapeutics company trying to move a novel form of cell therapy through the clinical trial process. At the time of writing, it sits at a $375 million market cap, placing it firmly in the mid-cap size for a developmental biotech.
Today, we're going to focus on two aspects of BLCM: the science and financial outlook, with some consideration for its long-term prospects and potential. My readers have indicated to me that the company is likely to transform the face of cancer therapy as we know it. Can it possibly live up to that hype in the era of immune checkpoint inhibitors and CAR-T cells?
Flagship: BPX-501 for haploidentical hematopoietic stem cell transplantation
To my best understanding, the near-term promise of BLCM starts and ends with its flagship technique dubbed BPX-501, which is currently being evaluated in patients with leukemia and other forms of hematologic cancer.
And spoiler alert: I think this technology is cooler than hell. But if you're not initiated, it will take some explaining to understand why. So kindly bear with me!
The big problem
In blood cancers, one of the most powerful techniques in the clinical toolkit is the allogeneic hematopoietic stem cell transplant, which I'm going to shorten to HSCT, as per standard use.
Let's break that down quickly:
Allogeneic: Tissue coming from another human, but that does not have identical genetics.
Hematopoietic stem cell transplant: Using high-dose radiation or chemotherapy to wipe out the patient's bone marrow (and cancer, hopefully), then replacing the patient's bone marrow with a volunteer's.
So this technique serves several functions:
High-dose chemotherapy annihilates the majority of tumor cells floating in the blood and bone marrow to a point where the patient is often clinically "cured."
Elimination of the bone marrow would obviously be fatal, often due to infections, and the body can't rebuild it at that point, so replacement is essential.
Healthy donor bone marrow can also act as a new immune system to wipe out residual cancer cells.
It's for these reasons that allogeneic stem cell transplant is regarded as a sort of nuclear strike against blood cancers. And, in many cases, it is the only curative option available to patients. But it comes with major downsides. First, high-dose chemotherapy can obviously have major toxicity concerns aside from wiping out the bone marrow. Perhaps most alarming can be veno-occlusive disease, where the liver gets badly damaged and risks killing the patient.
There are also long-term complications to consider since many of the patients who undergo this technique will be young children: growth impairment, chronic pain, and increased risk of a different cancer later in life.
But perhaps the scariest risk of all for patients and clinicians is graft versus host disease. We're all familiar with the phenomenon of rejection of an organ transplant, and how patients who get a new kidney often have to take immunosuppressive drugs for the rest of their lives.
Well, in the case of an allogeneic HSCT, the healthy volunteer's immune system might start to reject the patient's tissue since it doesn't recognize itself. This leads to serious complications and is often life threatening.
It's the double-edged sword to point #3 above...
Now, the risk of graft versus host disease has been reduced through very careful experimentation over decades. If you select donors extremely carefully, you can give patients a reasonable chance at successful engraftment without long-term complications.
But, as you can imagine, this is extremely burdensome, and graft versus host disease remains a huge looming specter, the risk alone carrying the possibility that a patient will not receive the best therapy possible.
Suicide as the solution
Enter BLCM and its flagship technique: BPX-501. This technique takes a donor's T cells and engineers them to express a drug-inducible "suicide gene," which is caspase 9 that is responsive to a drug called rimiducid.
In an early proof-of-concept study, BLCM was able to grow a large number of cells from a haploidentical (tissue matched but only on one out of two chromosomes) T cell donors. By delivering a large amount of cells, patients were able to reconstitute the immune system within around three months compared with the 12 months it can normally take if you don't supplement the body with T cells.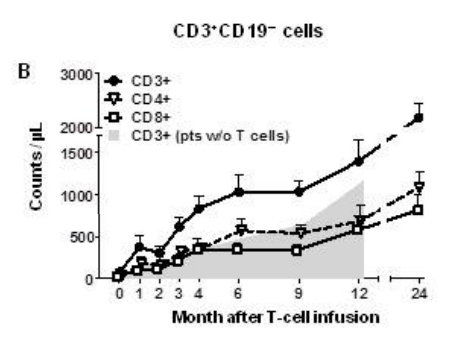 From Zhou et al. Blood 2014. The top curve with black circles represents experimental amplification of T cells. The gray shaded curve represents recovery for patients who did not have T cell "addback." As you can see, the T cell recovery at three months in the experimental arm took almost 12 months in the control.
But the reason that doctors will be very careful about adding in extra T cells is because it confers an increased risk of causing graft versus host disease.
But in the study, BLCM showed that patients who developed this complication could very quickly be rescued with rimiducid treatment, which quickly and permanently eliminated the offending T cells.
This proof of concept has been followed by remarkable progress through the clinic and regulatory bodies. In early 2016, BPX-501 received orphan drug designation in the United States and in Europe for use in the context of HSCT. Interestingly, this was not tied to a specific disease area.
Ongoing progress
Since this proof of concept, BLCM has moved forcefully into clinical trials for various populations. In 2017, we have seen a steady flow of data from these studies as the company has provided updates at big hematology meetings.
At the BMT 2017 tandem meetings, BLCM provided updated results from the BP-004 study, which included 91 patients who had at least 100 days follow up. BPX-501 continued to provide robust immune reconstitution by six months, and one-year survival rate in patients spanning a variety of blood cancers and genetic disorders was 98.4%. In the patients who developed graft versus host disease that could not be controlled by normal means, rimiducid rapidly resolved all symptoms.
At EHA 2017, the BP-004 results were considered again, this time focusing only on children with acute myeloid and acute lymphoblastic leukemias (AML and ALL). Nearly 85% of patients remained disease free after a median eight months follow-up. Of the 12 patients who developed grade 1-3 acute graft versus host disease, everyone had resolution with rimiducid treatment. One patient died after viral reactivation following T cell elimination for chronic graft versus host disease.
Now, BLCM has initiated mid-stage trials in patients with hematologic cancers, such as BP-008 and BP-005.
All in all, the preliminary findings shown from BLCM are unambiguous and very promising. It appears clear so far that BPX-501 can help patients recover immune function and that the suicide safety switch works. Given that, I will not be surprised if this technique receives breakthrough designation for bone marrow transplantation in blood cancers once the phase 2 data start to come out.
From there, who knows? It could be a reasonably quick path to approval.
The caveat...?
This does not mean there is no risk for the technique, of course. Perhaps most important is the technical complexity of BPX-501, which requires extensive manipulation of donor T cells. This could heavily drive cost of the technique, and bone marrow transplants are already known to be incredibly expensive.
Of course, if BLCM has on its hands a method to dramatically reduce the risk of graft versus host disease, then the cost would be justified. Furthermore, while we don't have data to support it, the fact that patients can be discharged from the hospital in as early as around a month could mean substantial offsetting benefit when it comes to financial impact. Not to mention the fact that you can't really put a price tag on the prevention of treatment-related mortality.
Financial Outlook
On top of these highly encouraging early-stage findings, the current financial situation for BLCM looks very strong. As of its second quarterly filing, the company maintained cash and investments of just north of $150 million, with total assets reaching almost $190 million.
Its total loss from operations in the second quarter was $21.4 million, translating to seven quarters of cash runway left. This is a $6 million increase from Q2 2016, most of which came from expanded research and development.
Most recently, the company filed an S-3 "shelf" registration, whereby it authorized itself to sell up to $150 million in common shares to fund future operations. This news drove a significant move downward for the company, as would-be shareholders predict dilution. This has taken a little of the momentum BLCM has accrued in the month of June.
However, a shelf registration is not a guarantee that it will sell those shares. And its seven quarters of cash runway indicate that the company will not need to sell shares for at least a year, which gives plenty of time to build up more steam and move its trials along.
I'm also encouraged by the fact that BLCM's priorities are aligned strongly with forward progress, as most of the expense growth has come from further R&D. This is always a highly promising sign to me, personally, as I am a big nerd.
And we haven't even discussed the possibility of a lucrative partnership with a bigger pharma. I would be incredibly surprised if other companies are not sniffing up the BLCM tree right now looking to get in on the action at play here. And with results like these, BLCM may be looking at the potential for an incredibly lucrative partnership. But that's all speculative at this point. But recall that Mesoblast's (MESO) Prochymal stem cell-based platform for graft versus host disease received a landmark $1.25 billion partnership way back in 2008.
So there is historical interest in this field.
Disclaimer and conclusions
All in all, BLCM appears, from my perspective, to have a highly intriguing flagship heading through the choppy waters of development. There are serious risks to be sure since we don't yet know how the FDA and EMA will handle cell therapy on the regulatory level (though as the PDUFAs for CAR-T cell therapies come up, we should get a clue as to how the regulatory bodies evaluate these techniques in general). The trials could certainly go belly up, but that's a risk with any product still in early stage study.
To me, the benefits outweigh the risks by a wide margin at this stage. The company has a lot of cash on hand, no indication of imminent dilution (though that's now a risk in play with the S-3 filing), and highly encouraging early stage data in an area of huge unmet need. And all of that is before you get into the other platforms, like BPX-601, a CAR-T cell platform that is being tested in pancreatic cancer. But this is such a tough area for treatment, and it's so early that I'm keeping it off my radar for now.
In conclusion, it was an oversight not to see BLCM in the clinical space, and it would be a mistake to ignore it from here on out. I highly recommend that you undertake further due diligence and keep an eye on this company as it moves forward. With heavy unmet needs like graft versus host disease, you'd be surprised as to how quickly companies can move.
Author's note: Thank you for taking some time out of your day to consider some thoughts on Bellicum. If you found this explanation helpful, I hope you'll consider becoming a follower of mine on Seeking Alpha, as this will allow you to receive real-time email updates when new articles go live, including my daily digest series "3 Things In Biotech You Should Learn Today."