Last Time Out
In 2014, $15B monthly came off the table, this time the MONTHLY ante is Q1 $10B, Q2 $20B, Q3 $30B, Q4 $40B, Q5 $50B. Again, we suspect the final piece of critical information is coming July 5th in the release of the FOMC minutes. viz. temporal proximity as in WHEN.

YTD WTI oil has plunged -22%, and since November, coffee futures are in a 38% nosedive. Despite the Fed and MSM happy daze mantra, the not so cheerful economic correlations are manifesting in commodities, and have been amply reflected in Eurodollar futures and the bond yield curve for quite some time.

Now that's what the Nattering One calls, Ro-BUST-a enough economic momentum to justify further central bank rate hikes and tightening. Proving the oxymoron, truth in marketing? - Coffee, Crude Tea Or Me?
Are these and other signs pointing to a future of stark economic reality?
Vulture Culture?
Alan Parsons produced Abbey Road, Let It Be, Ambrosia and Dark Side of The Moon. The duo of Parsons and Eric Woolfson were the core of the Alan Parsons Project, whose 8th studio album was released in December 1984 (which can be statistically inferred as the peak of our civilization here, here, here and here).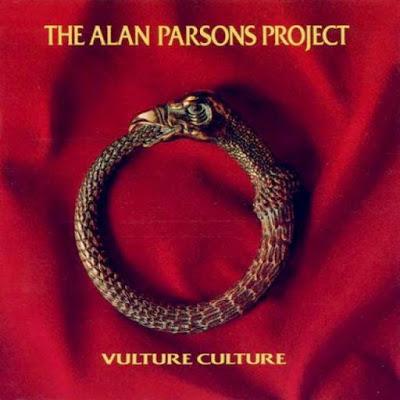 The album title is a twist on the expression used to describe unworldly people steeped in the arts (Culture Vulture) and reflects the ever increasing ruthlessness of mankind in a world of stark economic reality.
On holiday, lead vocalist Eric Woolfson met some people who lived in Las Vegas and who talked enthusiastically about the opportunities there for taking advantage of those who had fallen on hard times. It was apparently common that people with financial problems would be forced to sell their homes virtually overnight at ridiculously low prices, and these people would acquire such houses, redecorate them and sell them on for much higher prices.

Bearing in mind the well known phrase 'Culture Vulture' used to describe a person well versed in the arts, Eric described these activities as part of a 'Vulture Culture' and this concept of man's inhumanity to man was the underlying theme of this album. - Alan Parsons Memories
In tonight's journey with The Traveller (Days Are Numbers - Track 3), much like speculative (non-GDP) investment, days are numbers. Along the way, we shall touch upon some economically relevant data with apropos musical selections. Moving West...
The Portfolio?
An investor who constantly curses investments gone astray, much to ours and others amusement, utilizing an apropos naming convention for the portfolio of late...
Jabo – "new low for /CL and JO again today. New low for M soon? Man, the FU portfolio is getting clobbered this week (M, F, GNC, FTR, XOM, TGT, TEVA, LB, TSLA, AMZN) dangit!"
Whats covered? Oil (Energy); Coffee (Discretionary or Staple? Depends on the Traveller in you); Macy's (M) – Luxury Retail; Ford (F) – Automotive, Manufacturing, Financial; GNC Holdings (GNC) – Discretionary Retail; Frontier Communications (FTR) – Telecom; Exxon Mobil (XOM) – Energy, Exploration; Target (TGT) – Retail, Grocer, Transport; Teva Pharmaceutical (TEVA) – Pharma; L Brands (LB) – Discretionary Retail.
Online Retail (AMZN) and Electric Cars (TSLA), necessary stuff that a real Traveller cannot live without? So what's not covered? Excepting the latter tulip crazed stocks, since late last year said portfolio is on the same trajectory as oil and coffee, as in down and out. Travellers can take intelligent nibbles and nips on the dips, but where's your sign?
Does this not tell the Traveller in you, perhaps something might be slightly farkakte and meshuggeneh? Many Travellers have commented as much, and have been diligently beating the drum of reality…
"When (PG) Proctor and Gamble (tampons and toothpaste) which are essential non discretionary start heading down, anything that requires discretionary spending is going to get its head lopped off in short order. Just sayin, I've seen that movie too."
A Real Amazon?
"AMZN can't get past that $200M mark in on-line sales and, if they didn't have 80M prime customers paying them $50/yr ($4Bn) and their AWS revenues – you'd see a Retail Operation that is simply hemorrhaging cash at an alarming rate. That's why companies like AMZN and TSLA can't afford NOT to make a deal every year. If they don't make large deals, then their books are static and people start to figure out their real operating financials." - Philip Davis
As the cloud goes, so goes Amazon – AWS (Cloud Services) hopped over IBM (IBM) and Microsoft (MSFT) at a $14B annual run rate. With $926M in operating income for Q4, AWS accounted for more than 71% of Amazon's $1.3B in operating income. Q4 2016; Q1 2017.
Isn't it rich, isn't it queer… following up on 40 years of history repeating as IBM the former leader, passed up by an online merchandiser and soon to be grocer. I don't know what disturbs me more, Amazon as the leader or IBM losing their timing this late in my career… Send in the clouds, er clowns...
The Germans Are Coming?
"They [Amazon] did not buy Whole Foods for brick and mortar they bought it to expand their database of customer info and attack Walmart. The reach of AMZN's databases will allow them to dominate grocery bc [because] look at their competition. Old grocery is dead." - Gin
Old grocery may be in for some disruption, but it is far from dead. IMHO, Amazon is in for a big surprise with their foray into the grocery business. A German grocery chain with the power to cripple Aldi, Whole Foods (WFM), and Trader Joe's is about to invade America, LIDL is coming.
There's nothing little about Lidl. The German discounter sells everything from purses and peas to produce and PCs. Lidl operates more than 10,000 deep-discount department stores and no-frills Lidl supermarkets throughout Europe (about a third are in Germany), making it one of the leading discount store operators in its home country and in Europe. The stores commonly carry about 800 different items, mostly under Lidl's own brand. By emulating ALDI's low-cost operating methods, Lidl is challenging and even outpacing its rival in some markets, notably France. - Hoovers
When I'm on the Continent, I do 90% of my grocery shopping at Lidl. The uber low cost, high quality model works, 10K stores in 27 European countries. In coming stateside, even though both are German based, Lidl is really competing with another German firm Aldi.
ALDI keeps it cheap so shoppers can, too. How has discount food retailer ALDI Group become one of the world's biggest grocery chains, running more than 10,000 stores worldwide? By offering deeply discounted prices on some 2,000 popular food items (a typical grocery store has 45,000). ALDI (short for "Albrecht Discounts") buys inexpensive land mostly on city outskirts, builds simple warehouses, employs a modest staff, and carries mostly (95%) private-label items, displaying them on pallets rather than shelves. The chain has nearly 1,300 stores in 30-plus US states, but Germany (where ALDI has about 4,300 stores) accounts for about two-thirds of sales. - Hoovers
Aldi is growing into a considerable threat to American grocery staples like Wal-Mart (WMT), Kroger (KR), and Whole Foods, among other national and regional grocery store chains.
Aldi Nord operates 2.5K stores including Trader Joe's, Aldi Süd operates 1.6K. With German supply chain efficiency, ATD (attention to detail) and a footprint much like Trader Joe's, the question is can Lidl compete with Wal-Mart and Aldi in the US?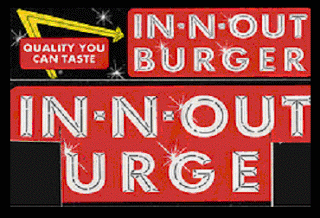 Much like the In-N-Out Urge (own all their RE, never rent or borrow, cash basis, debt free and privately owned) for a low cost quality burger, I wish there was a way that one could sink their money into both of these privately held supermarket chains. Bottom line, both Lidl and Aldi will be very successful in the US and will be making life difficult for those following traditional models or otherwise, including Amazonian Whole Foods.
Will the Aldi and Lidl model appeal to some millennial Travellers? Perhaps most can't afford not to like that model? Otherwise, they can always sit around in a cafe, heads bowed, twittering or posting to social media. Or God forbid, communicate old school with one another, either way it might go like this... Let's Talk About Me? (Track 1).


Millennial Markets?
Speaking of Millennials, here are some valuations of millennial focused enterprises...
Media: Vox $1B, BuzzFeed $1.7B; Vice $5.7B; Pinterest $12.3B; Snap (SNAP) $34B and the venerable NY Times (NYT) drum roll please... a paltry $1.8B.
Ridesharing: Uber (UBER) $70B; 2016 Total US Taxi Revenue drum roll please... only $11B.
There were 10 unicorns at the peak of dot com, today there are 245 Unicorns with a value of $850B. By common sense metrics, all are unprofitable, unstable and have massive cash burn rates. When utilized properly, TA and fundamentals serve a purpose to illuminate when investors like moths are blinded by the light.
A Vice?
Vice went from print media (books) to digital media (music, TV channels) to TV Production to News. Viceland – TV Channel; Vice and Vice News – HBO (Bill Maher Executive Producer).
Vice investors include: the world's largest advertising group WPP (WPPGY) 8% = $450M; Murdoch's 21st Century Fox (FOX; FOXA) 5% = $300M; Walt Disney (DIS) paid $400M to double down at 10%; while AE Networks, a television group it owns with Hearst, invested in and launched Viceland, Vice's cable channel.
Vice is valued at almost $2bn more than Tribune Media (TRCO) fetched when the owner of 42 US television stations was sold recently to Sinclair Broadcast (SBGI). It is more than double the market value of the New York Times, four times what the Financial Times cost Nikkei when the Japanese company acquired it two years ago and more than 22 times what Jeff Bezos, the Amazon founder, paid for the Washington Post in 2013. - FT
Big names, big money, uber amazonian lofty valuations (pun intended), and a lot of this. But are those valuations based upon current, anticipated returns or the demographic they seek to cater to, justified?
Millennial Valuations?

Remember those lofty valuations above are based upon firmly anchored economic expectations and the consumption capabilities of their target demographic. Now, let's see just how well off Millennials are doing.
Many companies that are trading at ridiculous multiples of earnings. How are they all going to grow and double up their business? The US Economy is barely growing at 2% and the Global Economy is staggering... AMZN will shut down malls and throw all those people out of work, TSLA will shut down auto dealerships and gas stations, (NFLX) will kill all the movie theaters and cable companies… Philip Davis
According to a recent US Census Bureau study, in 1975, workers aged 25 to 34 (Millennials): median personal income of $37K in modern dollar terms with 22.8% possessing a bachelor's degree.
A staggering 41 YEARS LATER, in 2016, 37% have obtained a bachelor's degree, yet this groups income has declined to $35K, which works out to $675 GROSS per week. It's getting better all the time. Really?

Above of late, overall US home ownership has been at and near the all-time low 62.9%.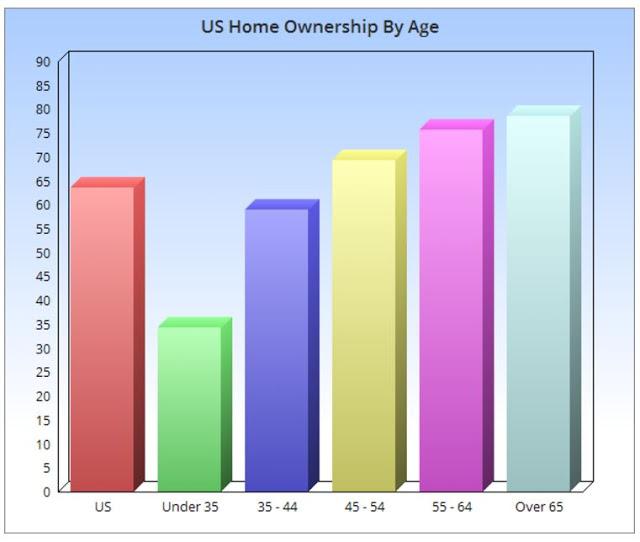 Above, home ownership 35 to 44 = 59.0%; 45 to 54 = 69.4%; 55 to 64 = 75.6%; over 65 = 78.6%; while Millennials have 15% degrees of separation as under 35 = 34.3%.
Aside from pernicious double-digit inflation being advertised as tame, today's kids have an additional burden that came with the increase in education level and said "tame" inflation; an average of $28K in student debt with a $351 monthly payment.
Most data exclude negative net worth for those Millennials buried in student loan debt. Hence, the median of Millennial net worth is a lofty $10K, whereas it is probably closer to $8K, negative that is.
An explanation as to why many are banding together to rent, or the majority still live with, or have returned to the nest? Much like our zombie economy wrought with idle capital, one in four or 25% of those still at home, are neither in school or working.
Based on all the above, retail and discretionary grocers will be subject to Aldi, Lidl and a morphing of the business model, in which they may not be alone. Additional Data: Fed SCF.
End of the Traveller's Road?
"AMZN's data is where the value is [and] is going after those industries where it believes its data mining will provide it with a superior edge. Old grocery is dead. Millenials would much rather shop at Whole Foods than Walmart – so good luck Walmart with trying to compete in this space over the long term." - Gin
Where Millennials would rather shop may be germane to some with big data champagne and caviar dreams, but may lead them astray and just a bit outside. Those who have lived through a few cycles and are attenuated to the frequency or wavelength, can already see what's here and on the rise, the stark reality of beer and nachos budgets.
Hope is always high, but at the end of the day, what is the Beast of Bentonville more worried about? Amazonian Whole Foods? Smelling the potential of another rooster or two in the hen house, Wal-Mart recently ran a "stealth price comparison test" in nearly 1,200 of its U.S. stores in the hopes of closing the pricing gap between itself and competitors, including Aldi. Does this sound like Mega-lomart is worried about upscale grocers?
Where's your sign? Closing the pricing gap means the obvious answer is the Germans are coming and it's time to bunker down, in more ways than one. The continuance of economic contraction coupled with stagnant wages and increasing inflation, viz. stagflation and economic strangulation resulting from tight monetary policy, will not help matters for many, including Millennials.
The GDP pie isn't growing fast enough for millions of people to find other work. What happens to 1.1M employees at Wal-Mart when AMZN "wins"? What happens to 5M retail employees in the US? If "winning" for AMZN leads to more unemployment – who will have money to shop? That means all this "winning" will likely lead to another massive Recession... Philip Davis
Living paycheck to paycheck, many are fortunate enough to have a roof over their head and the proverbial pot to piss in, much less indulge at upscale grocers. The Wal-Marts, Aldi's and Lidl's of the world know that practical austerity is the order of, and may soon carry the day.
Disruption?
Past performance is no guarantee of future results and there's gonna be an Amazonian disruption alright. Is anyone reading this old enough to remember how Amazon destroyed the publishing model and retail book business?
In search of margin, a squeeze on local, small and mid size producers will ensue, which Whole Foods has been supporting with higher prices. In the end, less independents, less jobs, more food chain consolidation and lower quality.
What about those lofty Amazonian uber valuations based upon demographic and economic expectations, which are firmly anchored indeed? Perhaps what happens 9 times out of 10, when old school Nicky, Vinny and Tony who shop at Wal-Mart, meet up with Whole Foods shoppers, new age Todd, Kyle and Tucker?
Reality check on tap? Commodities, Eurodollar and Bonds Hinting? History Repeating? How about worst merger ever...
Jan. 10th, 2000, America Off Line acquired Time Warner (TWX) for $164B, commencing an investor valuation epiphany, triggering the dot com bust. AOL's market cap went from $226B to $20B and the rest was history.
Vulture Culture - A workplace or organization that seems to feed on itself, picking over the bones of failure and blaming everyone else, rather than itself. Vulture Cultures are particularly damaging because the enemy is within, and not always easy to pinpoint.
In this Traveller's journey through our Vulture Culture, we have touched upon many facets within, hopefully provoking some "pinpointing" introspection. In your journey, don't forget to pay attention to what could be the next signpost up ahead on July 5th.
This Traveller for one is smellin the familiar odor of something nasty out in the woodshed and knows all too well, Days Are Numbers and Out.
Happy Trails?
Hope you folks enjoyed yourselves, catch you later on down the trail. Would like to thank you folks fer kindly droppin' in. You're all invited back again to this locality. To have a heapin' helpin' of Nattering hospitality. Naybob that is. Set a spell, take your shoes off. Y'all come back now, y'hear!
This is our 123rd in a series of thematically related missives which will attempt to identify the macroeconomic forces with potential to adversely effect capital, commodity, equity, bond and asset markets.
I wish to dedicate this missive to one of my mentors, Salmo Trutta, who is a prolific commenter on SA. Without Salmo's tutelage, and insistence on not masticating and spoon-feeding the baby ducks, as in learning the hard way by doing the leg work and earning it, this missive would not have been possible. To you "Proximo"... "win the crowd and win your freedom" - Spaniard.
Disclaimer?
Investing is an inherently risky activity, and investors must always be prepared to potentially lose some or all of an investment's value. Past performance is, of course, no guarantee of future results.
Before investing, investors should consider carefully the investment objectives, risks, charges and expenses of an investment vehicle. This and other important information is contained in the prospectus and summary prospectus, which can be obtained from the principal or a financial adviser. Prospective investors should read the prospectus carefully before investing.
Market Plays?
As for how all of the above ties into the potential and partial list of market plays below... the market as a whole could be influenced, and this could tie into any list of investments or assets. Those listed below happen to influence the indices more than most.
There are many macroeconomic cross sector and market asset correlations involved that affect your investments. Economic conditions, the eurodollar, global dollar debt and monetary policy all influence the valuation of the above and market plays below, via King Dollar's value, credit spreads, swap spread pricing, market making, liquidity, monetary supply and velocity, just to name a few. For a complete missive series listing covering those subject and more, click here.
The potential global economic developments discussed in this missive could affect numerous capital and asset markets, sectors, indexes, commodities, forex, bonds, mutual funds, ETFs and stocks.
A List of Additional Potential Market Plays (Long or Short?): Apple (NASDAQ:AAPL); Google (NASDAQ:GOOG) (NASDAQ:GOOGL); Facebook (NASDAQ:FB); Microsoft; Citigroup (NYSE:C); General Electric (NYSE:GE); Cisco (NASDAQ:CSCO); Bank of America (NYSE:BAC); Amazon; Tesla (NASDAQ:TSLA); S&P 500 Trust ETF (NYSEARCA:SPY); Ford; Starbucks (NASDAQ:SBUX); Intel (NASDAQ:INTC); ATT (NYSE:T); IBM; Exxon Mobil.

Disclosure: I/we have no positions in any stocks mentioned, and no plans to initiate any positions within the next 72 hours.
I wrote this article myself, and it expresses my own opinions. I am not receiving compensation for it (other than from Seeking Alpha). I have no business relationship with any company whose stock is mentioned in this article.