Outlook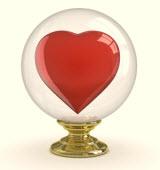 Source: Functional Medicine University
Rather than gaze into the crystal ball of market projections this month, I wanted to pen a love letter to you (my readers) for the tangible value you add to my net worth every month. I'm not referring to the meager payments that Seeking Alpha gives me in exchange for the ads that appear on the page (though they are great for a nicer dinner out with my wife each month); I am referring to the commenters that suggest, debate, question, and ridicule all elements of my portfolio. I take the time to respond to virtually all of you because your insights are what drive me to be better (side note: on most Seeking Alpha articles, the comments section is the most valuable part of this crowdsourced knowledge platform that is Seeking Alpha).
Your comments are helpful at all levels and take many forms:
Strategy ('Aren't you chasing sucker yields with those super high dividend stocks?' and 'How do you prefer value over growth since you are so young?')
Tactics ('Don't you have too many positions?', 'Are CEFs a good idea?', and 'You hate America because you have so many foreign stocks!')
Ticker Specific ('What do you think about XYZ stock?' and 'That stock you own is total crap and you should dump it!')
General Feedback (mostly encouragement but sometimes a good kick to the head helps me to focus)
Random Thoughts (the weirder the better…for my first article, commenter Uncle Pie did a treatise on my pseudonym (Dividend Disco) that is precious to me and easily my favorite comment)
While I don't take immediate action on all of your suggestions (this is a marketplace of ideas after all), there are many that I do. Back in 2015 when I started monthly portfolio series, many of you commented that I had a number of sucker yield stocks that had insane payout ratios and were not financing their dividends through sustainable profits…so I took action to eliminate these holdings and avoided a number of wipeouts (though I should have listened closer and I probably would have dodged even more bullets, especially in the MLP sector). Nonetheless, the loss avoidance advice that I did heed has benefited me to the tune of tens of thousands of dollars!
But you didn't stop there, after I got overly cautious (aka lots of cash and short positions) heading into the 2016 election, you kicked me in my butt right over my personal wall of worry to stay invested. I mostly listened and made additional tens of thousands of dollars because of it in the Trump Rally that followed.
Your specific suggestions have also been immensely profitable and (while I value them all) I want to call out just 2 of them:
On June 8, 2016, Seeking Bourbon suggested that I look at Western Refining (WNR)…I liked what I saw so I bought 100 shares that day (and another 100 the next month). It was a bumpy ride, but I sold these shares less than 6 months later for a ~100% profit after WNR was acquired! (thanks, Seeking Bourbon! …awesome name, by the way)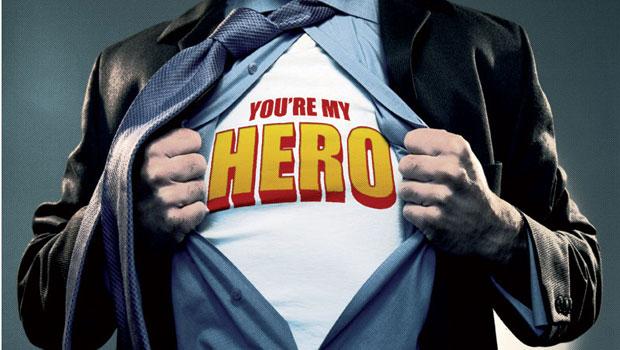 Source: Steemit
If all this sounds like a desperate plea for comments from you --- IT IS! (without you and your comments, writing these articles is just a waste of time or worse -- just a forum for my narcissism)
June 2017 Review
On to regular business, June was a productive month for my portfolio as I managed a solid 0.9% finish (versus 0.6% for the S&P 500); however, my realized dividends trove was outstanding as I cleared $2,000 in monthly dividends for the first time! With only a 3.4% capital gain for the year, I am definitely behind where I want to be at this point in the year but my dividend yield focus is paying me well for my patience.
For the 12 months ending June 2017, my portfolio delivered $12,228 in cash to me. I remain confident that I will make my $13,000 2017 goal, even with my sizable cash and short positions. In June 2017, I earned $2,121 in cash (which was 43% greater than June 2016!!). Fear and greed are hard to balance, but overall I am more happy with where I am. My yield focused strategy still makes the most sense to me as paper gains may come and go but cash is forever!!
Background
Since I write for Seeking Alpha primarily to improve my own investment portfolio, I think it is important that you know my objectives. Please consider this context when you look at any advice I give and form your own opinions based on your needs and desires.
GOAL: Attractive, risk-adjusted, absolute returns (5-15% annually) over a long-term time frame while minimizing capital loss and extreme drawdowns.
STRATEGY: 'Enhanced' dividend growth or DGI strategy that focuses on a core of diversified holdings (ETFs and individual companies -- my general screening criteria: growing companies (YoY EPS growth >0%) with attractive valuations (PEG <1.5 and P/E <20) and strong and safe dividends (yield >4%, payout <90%, and market cap >$500MM)…no tobacco stocks or micro caps), supplemented with return enhancing tools like hedges (derivatives and shorts), commodity exposure, etc., as well as some crazy picks.
BALANCE: Blend of ETFs (domestic and international) and individual companies (where there is a compelling reason to own). Seek to not overweight any one sector unless there is a compelling reason to do so (although the nature of these investments lead me to be overweight in traditional dividend paying sectors like financials, REITS, and energy).
Note: I violate these guidelines constantly, so please call me out on it!
Portfolio Composition as of June 30, 2017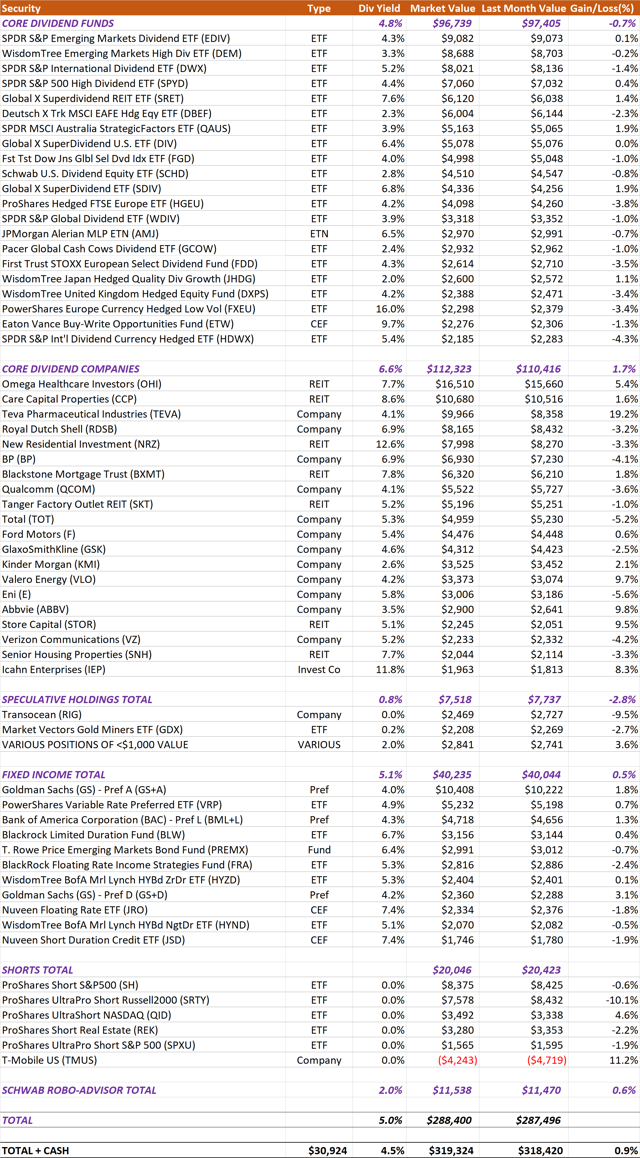 Portfolio Moves in June 2017
New Positions
SHARE BUY – Tanger Factory Outlet Centers (SKT): Bought another 100 shares of this outlet center REIT at $26.45 on June 1.
Reasoning: With Amazon looming over the retail sector, this outlet center REIT's stock was unfairly punished (in my view and now yielded over 5%.
SHARE BUY – Store Capital (STOR): Bought 100 shares of this single tenant property REIT at $20.46 on June 22.
Reasoning: Just before Berkshire Hathaway did the same thing, I bought this REIT stock that had been heavily punished and yielded over 5.5%.
Exited Positions
None
Final Thoughts
As the market ebbs and flows (but most ebbs these days), I know that I'll never be able to call every top or bottom but I do now that taking this investment journey together with my readers has produced tangible results in my portfolio's performance that can be quantified in dollars and cents. My ledger thus far is tens of thousands of dollars to the upside and I hope that you all will continue to provide me with your wisdom, guidance, wit, sarcasm, and the rest of it. But my biggest hope is that you get at least a small percentage of the value from reading my work as I get from you reading it.
Comments welcome and encouraged. (bonus points for stock ideas!)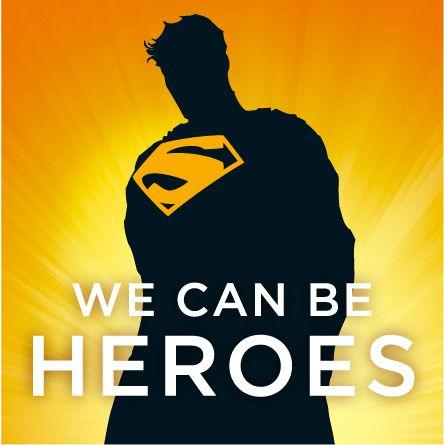 Source: Steemit
Disclosure: I am/we are long ALL. I wrote this article myself, and it expresses my own opinions. I am not receiving compensation for it (other than from Seeking Alpha). I have no business relationship with any company whose stock is mentioned in this article.
Additional disclosure: The author is an amateur who has a history of getting calls both right and wrong with zero predictive power. Trade at your own risk and never rely solely on this author's opinion. Also, as I have no knowledge of your circumstances, goals, and/or portfolio concentration or diversification, readers are expected to complete their own due diligence before purchasing any stocks mentioned or recommended.