In early February, just ahead of its Q4 report, NETGEAR (NTGR) traded around $57. With expectations for ~$3 in 2016 EPS, and ~$12 per share in cash, the stock was priced at around 15x earnings plus cash. That multiple made some intuitive sense. As I pointed out in November, NTGR's 2016 figures (at least based on Q4 guidance) were almost exactly in line with those from four years earlier.
NETGEAR would post a blowout Q4, beating consensus on the top and bottom lines. It would post another beat in Q1, which marked the seventh straight quarter NETGEAR came in ahead of the Street in both sales and earnings. Yet since February, NTGR has declined about 25%: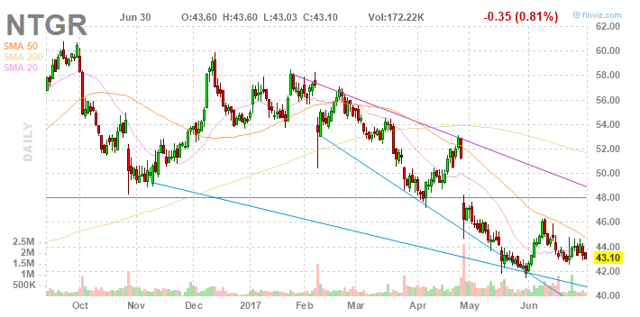 Source: finviz.com
Admittedly, it wouldn't be true that there's been no reason for the decline. NTGR fell following both Q4 and Q1 due largely to disappointing guidance. Commentary following Q1 suggests increased spending behind several key growth products, and fears of increased competition both have some validity, and drove a March downgrade from Off Wall Street.
But the decline has been simply far too steep. On an enterprise basis, NETGEAR's valuation has dropped over 30% in four months with little real news. 2017 earnings expectations have come down, given needed investments this year. But the long-term impact of those investments - even if they fail - should be relatively minimal, and there simply hasn't been that much of a change in the NTGR story YTD. With the stock now trading at 12.6x 2017 consensus EPS - estimates that look low to my eye - plus cash, and an even lower multiple to free cash flow, the sell-off has been overdone. And it's created a buying opportunity in NTGR.
Q1 Earnings
NETGEAR's Q1 report was a tale of good news in reported numbers - and bad news in guidance and outlook. On the Q4 conference call, NETGEAR had tipped a weaker Q1, guiding for revenue of $300-$315 million - down YOY at the midpoint - and non-GAAP operating income margin of 9.5-10.5%. Sales of $323 million represented a 4.3% increase year-over-year however, and handily beat guidance, driven by strength in the Retail segment.
Segment revenue fell 21% Q/Q, which looks to be better than expected given more pronounced seasonality in that business and a record Q4. Meanwhile, operating margin of 10% came in right at the middle of the guided range, leading to a $0.02 consensus beat on the bottom line.
The issue in the quarter was guidance. Q2 revenue guidance looks reasonably solid, and full-year targets excluding service provider revenue were reaffirmed on the Q1 conference call. But operating margin targets imply a big dip in EPS.
Implied guidance for Q2 suggests ~$0.54 in EPS at the midpoint. That compares to $0.72 a year ago and consensus estimates of $0.70 heading into the quarter. The major driver of the earnings 'miss' - at least on a forward basis - is that NETGEAR said it would ramp up marketing spend behind its retail products in a bid to increase market share. That will impact margins and profits for at least the rest of the year.
As a result, full-year consensus EPS estimates have come down sharply, to $2.65 from $3.16. That in turn implies a rather sharp decline in profit YOY for 2017 (-15%), and the 16% drop in earnings expectations would seem to support a double-digit percentage decline in NTGR shares, given the $10+ in cash on the balance sheet.
But again, NTGR now has dropped 25%. By itself, that seems like too large a drop simply from a fundamental standpoint. That decline suggests a material change in the mid- to long-term outlook for NETGEAR beyond the simple math relative to FY17 and FY18 earnings expectations. It's only valid if the news from Q1 suggests that margins will weaken with no corresponding increase in market share.
That in turn seems to imply a belief that NETGEAR's increased marketing spend a) won't be limited to FY17 and FY18 and b) won't work. Again, per management, the spend is coming to move market share higher - not what is required to maintain share in IP cameras and Wi-Fi routers, in particular. The current valuation suggests not only that management is wrong, but unable to change course. It implies that the story at NETGEAR post-Q1 is notably different than it was coming out of Q4. But that simply doesn't appear to be the case.
NETGEAR's Revenue Outlook Looks (Relatively) Unchanged
First, the revenue story here remains intact. Indeed, what's most comforting about the quarter from the bullish perspective is not just the revenue beat, but how NETGEAR drove the revenue growth. Over the past few years, total revenue has been relatively stagnant ($1.37 billion in 2013, $1.33 billion last year). But the contribution from service providers (cable companies and telcos that lease NETGEAR routers to customers) has declined notably: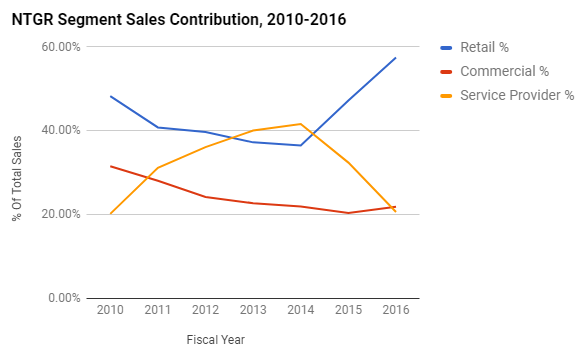 Source: author from NETGEAR filings
Service provider revenue has fallen sharply of late, with NETGEAR focusing on maximizing profitability in that business last year (and seeing a big jump in EPS as a result). Commercial sales - Ethernet switches, wireless controllers and unified storage - rebounded last year, driven by strength in switches. And Retail growth has impressive the last two years: 21% in 2015 and 24% last year, driven by Nighthawk routers, Orbi 'mesh' Wi-Fi systems, and Arlo IP cameras.
The bull case for NTGR heading into Q1 was that those retail drivers would continue to improve sales, with the long decline in service provider revenue stabilizing at lower back-half levels (~$55M/quarter) while commercial and retail revenue increased.
(The company itself targeted 10%+ growth in those two segments combined). Lapping an additional leg down in service provider sales last year in that scenario would lead to rather modest, if back-half-weighted, growth in 2017: about a 4% increase in sales and a similar gain in EPS, based on operating margin targets. But that also laid the groundwork for further growth going forward, given the steadily diminishing importance of those service provider revenues.
On the top line, nothing has really changed after Q1. NETGEAR changed its segment reporting in the quarter, breaking out Arlo revenue separately and adding "Connected Home" and "SMB." But the service provider business - still detailed in the Q1 release - looks on track, and there was no evidence of another leg down in that business. Excluding service provider sales, as CEO Patrick Lo, pointed out on the Q1 call, first-half revenue is expected to grow ~15%, nicely ahead of that full-year 10% target. That includes 18% growth in Q1, decelerating to ~12% or so in Q2.
Meanwhile, Arlo looks like a winner, with Q1 revenue of $60.7 million increasing 150% year-over-year. That business still is barely profitable - EBIT margins of 0.5% in Q1 - but margins will come at some point. Connected Home revenue declined 10% year-over-year; but increased 1% excluding service provider revenue. Margins did decline there, due to the shift from legacy routers toward Nighthawk and Orbi, but that decline seems reasonably within expectations.
Management said an overall drop in gross profit was due to one-time benefits in the year-prior quarter from service provider sales, which were concentrated in the renamed CH segment. SMB sales did disappoint, which management attributed to weakness in Europe, but the business posted a nice jump in margins.
Again, nothing in either Q1 or guidance really changes the top-line story here. The new data relative to Arlo shows the product generated nearly $190 million in revenue last year. A 40%+ growth target for 2017 implies ~$270 million - and Arlo still isn't contributing to profit. Even a 10% margin at that level would add ~$0.55 to EPS, 20% growth from revised 2017 consensus. There's simply a huge opportunity in that product, one that has the potential to get NTGR EPS back above $3 over the next two years even with no help from the rest of the business.
All told, the revenue story hasn't changed much here. The one potential concern is an apparently quicker-than-expected adoption of 'mesh' Wi-Fi solutions like Orbi. That shift from single-point routers (like NETGEAR's Nighthawk) to mesh moves demand from an area where the company has ~55% market share to one where it has ~35% share. And even excluding service provider revenue, it does look like router sales growth was muted (~1%) in Q1.
On the Q1 call, CEO Lo cited the shift to mesh as providing some pressure. And there may be some competitive concerns there. Alphabet Inc. (NASDAQ:GOOG) (GOOGL) is focusing on mesh through its Google Wi-Fi, and startup eero has a mesh product that garners solid reviews.
But it's not as if NETGEAR has no position in mesh - it has top share there as well, just not to the same extent it does in single-point. It's not as if Google has been some massive steamroller in consumer areas (Nest has disappointed, Pixel sales don't move the needle, etc. etc.). Apple (NASDAQ:AAPL) is exiting the router business. There's an opportunity for NETGEAR to attain the same dominance in mesh as it has in single-point, and the company is spending in the near term to establish that dominance. That's a strategy that seems logical - and proactive, not reactive.
There's clearly a risk that NETGEAR will fall beyond in mesh. But that, truthfully, has been a risk for some time - as it is for any market leader in a market that's shifting to new technology. But that shift is taking NETGEAR from 55% share to 35% share - not 80% to 5%. And it's gained that 35% share in two quarters, as Lo pointed out on the Q1 call: Orbi was launched ahead of the holiday season.
It's also moving the company into an area with higher price points, which could help offset any potential share loss. The shift to mesh simply is not a risk that changes the long-term outlook for NETGEAR - nor does it justify a valuation that suggests NETGEAR is basically done growing profits.
Margin Questions
Of course, the other near-term change is that NETGEAR is ramping up marketing spend over the next few quarters. And that spend will have a major impact on margins. Q2 guidance suggests non-GAAP EBIT margins of just 8-9% against 11.6% the year before. The midpoint of that guidance suggests EPS of roughly $0.54, down 25% against the year-prior quarter.
As noted above, analysts slashed 2017 EPS estimates in response to the decision - and logically so. 2018 estimates have come down as well - moving from $3.63 down to $3.06.
But there's a sort of 'one or the other' problem with the stock's reaction to the margin concerns. If the marketing spend works, then margins should improve next year (or in 2019 at the latest), as NETGEAR should (in theory) be able to pull back somewhat on that spend and/or enjoy the scale benefits of getting mesh to 40%+ share and 50%+ in IP cameras. Arlo likely will generate somewhat close to 20% of 2017 revenue - and at close to zero margin. Simple normalization there alone should add 100 bps+ in EBIT margin.
Similarly, if the ramped-up spend doesn't work in terms of getting share to the targeted levels in mesh and cameras, at some point it can be reduced. Over the past few years, NETGEAR has at the least shown its ability to manage margins in low-growth areas. The market seems to be throwing that history out the window in reacting as if it won't be able to do the same in areas where category growth should be solid and market share is already well-established.
Reverse-engineering the current valuation suggests that margins are the "new normal" and that marketing spend will stay elevated simply to maintain current market share. That's a possibility, to be sure. But it's also a rather bearish outcome - and there really isn't much in the Q1 results to suggest a near-term return to flat sales and no margin expansion. Again, Arlo sales grew 150% in Q1, and should rise 40%+ for the full year.
Even flat market share for Orbi should keep Connected Home operating profit reasonably stable, as margins in the newer space should be higher and mesh demand should help growth in the router market as a whole (which has barely grown the past few years).
Basically, before Q1, the market priced NTGR as if profits would grow. Now, it's not. That simply looks like an overreaction to what management expects to be a relatively short-term spike in marketing spend. Maybe management is wrong. But at this point, being wrong looks close to priced in, if not fully so.
Zero-Growth Valuation
With NTGR below $44, it is now trading at about 12.6x 2017 EPS estimates plus cash. Those figures are non-GAAP, and exclude ~$17 million pre-tax stock-based compensation. But NTGR's free cash flow also generally outpaces earnings, as D&A is much higher than capex (D&A has averaged $34 million-plus the last three years; capex just $15 million, including $10 million last year).
In other words, even backing out dilution, NTGR is trading at ~12x 2017 FCF. That in turn implies a company providing basically zero growth going forward - and that's far too conservative. 2017 marketing spend will either provide ROI, or be reduced in 2018. Arlo is a legit growth driver; service provider revenue has stabilized, and commercial revenue have some growth opportunities (even after a weak Q1). Basically, the market is pricing NTGR as if the next five years will look like the last five.
That's despite the fact that Arlo, Nighthawk, and Orbi - even if market share goals are too optimistic - offer better growth drivers than NETGEAR has had in some time. And that's despite the fact that the overall impact of service provider revenue declines largely has played out.
At $44, NTGR looks like a classic "heads I win, tails I don't lose much" opportunity. A return to ~zero growth is largely priced in. Any share gains in mesh or IP cameras are not. Arlo Baby was launched this quarter, and even a much smaller rival like VOXX International (VOXX) has cited IP baby cameras as a growth driver. Arlo Go (essentially a cellular version) is on the way, as is a new Arlo product in a "non-camera product category" later this year.
Stable market share in mesh still implies growth in Orbi as that market grows - and likely enough to offset erosion in the legacy single-point business. And mesh isn't going to take 100% of the router market - it simply isn't necessary in many homes, and NETGEAR's recent history of substantial gains in single-point should continue (particularly with Apple's exit removing a competitor for high-end Nighthawk).
None of those potential drivers look priced in at the moment. Modeling low- to mid-single-digit revenue growth, a jump in EBIT margins next year (thanks to either lower marketing spend and/or improvement in Arlo) and 10-20 bps from 2019 onward implies low-to-mid single-digit free cash flow growth.
That gets NTGR back above $50, assuming a ~15x multiple plus cash and/or reasonable DCF expectations ($3 in FCF in 2018, growing at 4% with a 1% terminal rate and an 8% discount rate). In a bull case where one of the growth drivers takes off and NTGR can leverage the current marketing spend, $60+ isn't off the table (16-17x FCF and/or 8% growth for a few years before leveling off).
It's not the sexiest bull case in tech, to be sure, and there is some downside risk. Share erosion from competition in growth drivers, combined with another leg down in service provider revenue, could lead FCF to actually decline going forward. But that's a rather aggressive bear case, which implies that basically none of NETGEAR's current potential is realized and that key risks materialize in retail and service provider revenue.
At the least, $50+ looks like a more reasonable fair value at the moment looking at blended bull/bear/base cases. That might be only 15%+ upside from current levels, but the cash on the balance sheet and the relative lack of downside risk makes that figure more attractive than it might appear on an absolute basis.
Again, I can see the case for some downside coming out of Q1, based on the higher marketing spend (which in turn might imply that NETGEAR is seeing more competition, likely from Google Wi-Fi), the shift from single-point to mesh, and a modestly disappointing quarter in equipment. But a 30% decline in enterprise value just since mid-February is simply too negative a reaction. The bet in going long NTGR at current levels is basically very simple: it's a bet that NETGEAR's cash flow will grow going forward. And there's been nothing in either Q4 or Q1 results, or guidance, to suggest that bet isn't worth taking.
This article is part of Seeking Alpha PRO. PRO members receive exclusive access to Seeking Alpha's best ideas and professional tools to fully leverage the platform.
Disclosure: I am/we are long NTGR. I wrote this article myself, and it expresses my own opinions. I am not receiving compensation for it (other than from Seeking Alpha). I have no business relationship with any company whose stock is mentioned in this article.