Since the election of Donald Trump, the economy has seen some massive growth and major returns. Investors have continuously seen positive earnings reports and have read one optimistic news article after another. "'Very rare' market signal is putting the S&P 500 on a rocket ship to 2500, BofA analyst says" and "Dow and S&P 500 close at records as tech stocks surge" read some headlines. But now, it's becoming harder and harder to find positive news articles. Just scroll through CNBC and Bloomberg's 'economy' section, and you'll be surprised at the number of articles with negative headlines.

(Rapid economic growth seen after the US presidential election)
Reading through these articles, I became increasingly worried that the 'Trump Bump' may have run its course and is soon to pop. Recently, a number of surveys have come out with 'recession' written all over them. Recent economic reports show a slowdown in economic growth, and some major analysts are getting jittery. And it's not just the US; South Africa, China and Great Britain aren't seeing satisfactory economic performance as well.
In the remainder of this article, I will present my findings on the state of the economy, both in the US and the world.
A Refresher On The Trump Bump
The Trump Bump refers to the positive market rallies starting in November 2016, after Donald Trump was elected to office. Before that, the markets had experienced quick growth were recovering from the Great Recession. Up until November 2016 was a series of ups and downs, not seeing much growth. The stock market got off to its worst two-week start ever, stoked by concerns over China's slowing economy, and experienced a free fall. Consistent with the economy, oil also plunged but recovered due to supply rebalancing. As oil recovered, the stock markets did as well. Investors experienced the bursting of the 3D printing bubble and other negatives up until November. It was the worst year for IPOs since 2003, and was looking to be a bad year altogether. Pre-November, 2016 saw a high in July and proceeded to slump downwards until November.
Then the US elections happened and everything changed. Overnight, major indices added between 6 and 12 percent through the end of the year as investors bid up stocks in anticipation of deregulation, lower taxes, inflation, and infrastructure spending. In December, the Fed grew interest rates, having little short term impact. The markets began hitting record highs, and before the end of the year, the Dow hit the 20,000 milestone.
It's important to realize that the market rallies grew mainly based on anticipation of future policies. 2016 didn't see any crazy economic growth or other reports to warrant such rapid growth of the economy. And as the late economist Herbert Stein states, "If something cannot go on forever, it will stop." The present economic situation cannot sustain itself (as seen later in this article), and it will eventually stop or slow on its own accord.
Countries Aren't Seeing The Growth That They Need
USA
"The USA economy is about to begin its ninth year of expansion. It has two years to go to be the longest period of expansion in modern USA post-WW2 history. It also one of the weakest expansions, but at this point is much better than the annual 1.4% growth seen in the Nov 2001 - Dec 2007 expansion," states an article by a fellow SA contributor. Looking closer into the US economy, many major companies are failing. Ford (F), Sears (SHLD) and US Steel (X) have all been stagnant or negative in growth. Other companies, such as General Motors (GM) are going through major layoffs.
United Kingdom
Data published June 30th confirmed the economy grew just 0.2% in the first three months of the year, putting Britain in last place for EU growth by county. Azad Zangana, a senior European economist at Schroders, said that data published Friday suggest that families are now borrowing or using past savings to cover their expenses reports a CNN article. In addition many investors both based internationally and in the country are holding off on investing until Brexit is complete. "There is a large amount of business investment that is being postponed until business can see more clearly what the likely outcome of [Brexit] is," Treasury chief Philip Hammond said. This isn't too good because the Brexit is supposed to be finalized in 2019. Two years of limited investments could send the country into a major recession.
China
The stock markets during the first two weeks of 2016 were sent into a freefall due to fears that China's weak economy could pull the dependent US down with it if it were to go into recession. This risk has not gone away. A recent article published in Bloomberg View perfectly summarizes the situation with China. "China's total debt has surpassed 300 percent of GDP; for reference, the U.S. was at about 380 percent on the eve of the Great Recession. Government officials have warned that Chinese banks are highly leveraged. And some economists point to signs that China's real estate market is in a bubble." The US is dependent on China for many products and services, and if China were to go into recession it would bring the US with it.
South Africa
Unlike the other countries listed above which aren't in an actual recession, South Africa is. For the second time in eight years. Gross domestic product receded an annualized 0.7 percent in the first quarter from a contraction of 0.3 percent in the previous three months. The median of 19 economists' estimates in a Bloomberg survey was for 1 percent expansion. There was only one forecast for a contraction. This recession came as a complete surprise for analysts.
Nervous Analysts and Scary Surveys
A recent survey by Bloomberg shows that analysts are getting nervous about the economic growth fueled by the Trump administration.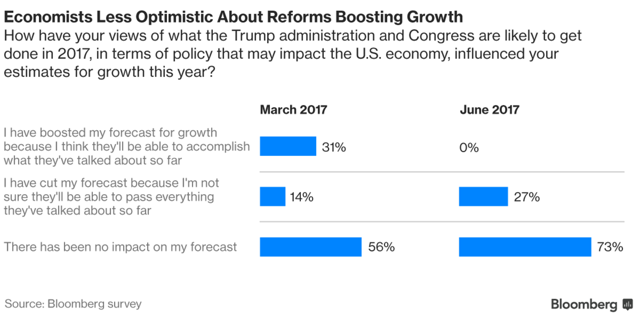 The above survey shows that analysts that have cut their forecast because they aren't sure that the administration will be able to pass everything (such as trade agreements and corporate tax cuts) have grown by 13% between March and June.
A new survey conducted for GOBankingRates states that forty-one percent of men and 56 percent of women say that they are in that kind of precarious financial position. Meanwhile, a total of 61 percent — 52 percent of men and 69 percent of women — report that they don't have enough in an emergency fund to cover six months' worth of expenses.
If and when the markets begin to correct themselves, 49% of Americans (according to the survey) may not be able to repay debt or make rent after one month. If a large number of Americans were to lose their jobs, a six-month buffer wouldn't give them enough time to find another job. We could see a tsunami effect - if one small thing went wrong it may be amplified until it came to shore with devastating effects.
Many analysts are becoming nervous or taking a pessimistic stance on the current economy. David Rosenberg, chief economist and strategist at Gluskin Sheff, stated that "We're closer to a recession than people think". He takes the stance that with Fed interest rates growing and overvalued tech, the markets may see a negative trend soon.
Scott Wren, a senior global equity strategist at Wells Fargo Investment Institute, stated that "The U.S. market won't trade much higher before rolling over. Fiscal policy from D.C. will come at best in 2018 and if there is nothing, investors need to think about a recession in 2019." Mark Eibel, a director at Russell Investments agrees, stating that "You're banking on Congress at this point to take you higher. I don't know if I want to be on that side of the trade."
Conclusion
In the future, if the Trump administration is unable to make the anticipated changes to the already fragile economy, we could see a recession. Also, if China begins to go into recession, so would we as we are dependent on the country for a variety of services. However, like Scott Wren stated, if they are able to go through with corporate tax cuts and other economic based reforms, a recession may not happen at all.
Both myself and other analysts are unsure of what the recession would look like. At best, the market would simply correct itself and we would be back a November 2016. But, as seen in the financial health survey, we could see a tsunami effect. As the markets adjust (downwards), companies may make changes such as layoffs. With so many Americans not financially secure for over 6 months, we could see a tsunami effect ripple through the economy, eventually washing up on shore with devastating effects.
I hate to be writing a 'doomsday article', and if you read my other articles published on SA you would see all positive pieces. But I feel that many investors are not prepared for a potential recession. In my next article, I will discuss how investors can make a recession resistant portfolio with only a few changes and some of my stock picks.
For more reading on this topic, check out our article: The Industries That Grew In The '08 Recession Are (Not Surprisingly) Doing Very Well Now
Disclosure: I/we have no positions in any stocks mentioned, and no plans to initiate any positions within the next 72 hours. I wrote this article myself, and it expresses my own opinions. I am not receiving compensation for it (other than from Seeking Alpha). I have no business relationship with any company whose stock is mentioned in this article.