Our Core Portfolio's Run Slowed Down in Q2, 2017, But Still Meets Our 2017 Goal So Far
I am more and more a believer that last year's star may become this year's dog.
Our Core Portfolio grew from $341k to over $533k or up 56.20% in 2016. I knew that it will be very difficult for the Portfolio to repeat last year's performance.
The very first thing I wanted to do for 2017 is to the the Portfolio from becoming this year's dog.
In my previous article, I set our next target as follows:
Coming into 2017, it may be difficult for us to repeat the performance we made in 2016. But we still set our bar very high. We hope to make 36% return in the next two years so that the Portfolio can reach $1 million mark by the end of 2018.
The Core Portfolio did very well in Q1, 2017. We achieved a 14.23% return vs S&P 500's 5.53% gain and the Portfolio's balance was at $609,486.07 by the end of March.
But the Portfolio's run slowed down considerably in Q2, 2017.
The Portfolio under-performed S&P 500 two months in a row during the months of April and May. It only gained big in June due to biotech stocks' huge runs. The total return for Q2, 2017 is only 4.09%.
See the table below for the Portfolio's month-by-month performance so far in 2017:

* from January 2016
The Portfolio's balance is at $633,986.81 by the end of June with $165K in cash. To achieve our goal for 2017, we need to make an additional 17.18% gain in the second half of 2017 and grow the Portfolio into $725K level, a very tough job. But I will try.
Discussion of Portfolio's Current Holdings
Before discussing our current holdings, I would like to show the closed trades we made during the month of June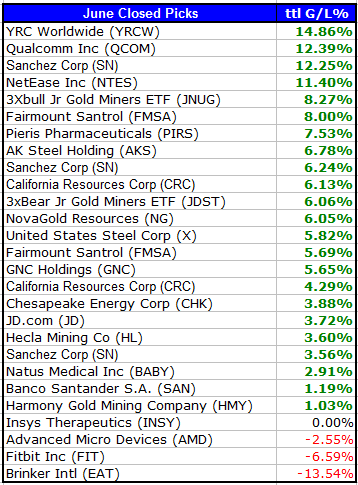 During the month of June, we closed 27 picks with 23 wins, 1 break even and 3 loses.
YRC Worldwide (YRCW), Qualcomm Inc (QCOM), NetEase Inc (NTES) - Booked our profit when they reached our sell target.

Insys Therapeutics (INSY) - A break-even trade. Actually we can sell it for a good profit. We were a little greedy and wished to see $15.00 to sell, which did not happen.
Most other stocks were sold using our profit protection rules and quite few were bought back later at lower prices such as AK Steel Holding (AKS), Fairmount Santrol (FMSA), Pieris Pharmaceuticals (PIRS), United States Steel Corp (X), JD.com (JD), California Resources Corp (CRC), etc.
3Xbull Jr Gold Miners ETF (JNUG) and 3xBear Jr Gold Miners ETF (JDST) - We made two trades on the 3xleveraged ETF and both were quite profitable.
We also switched our focus in energy stocks during the month of June and did have made quite few trades on them such as Sanchez Corp (SN), CRC, FMSA, etc.
Our Portfolio current holdings and their June performance are as follows: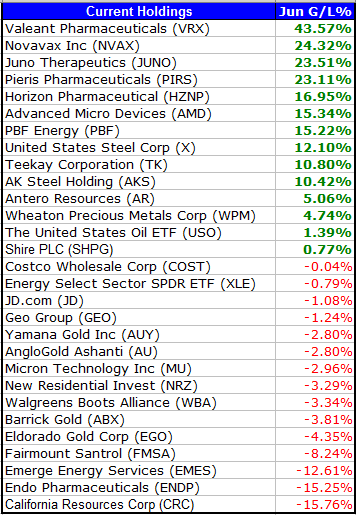 The above table shows that we are currently overweight on biotech, energy and gold miner stocks.
Our Portfolio currently holds 7 picks in biotech sector: Valeant Pharmaceuticals (VRX), Novavax Inc (NVAX), Juno Therapeutics (JUNO), Pieris Pharmaceuticals (PIRS), Horizon Pharmaceutical (HZNP), Shire PLC (SHPG), and Endo Pharmaceuticals (ENDP). Among the picks, 5 of them are the best performers for the month. Only ENDP is a loser, down 15.25%.
Valeant Pharmaceuticals (NYSE:VRX) - $17.30, up 43.57% for the month, the top gainer among all of our picks. This stock has gained over 100% from its recent low of $8.31 and now the trend has turned up.
VRX was the top loser in March among all of our picks. Below is what we said about VRX in my previous article:
Valeant Pharmaceuticals (NYSE:VRX) – $11.03. This was the top loser of all of our picks in March, having lost 23.29% for the month. It is also the only stock we are overweight right now. We doubled our position at $10.40 on March 21 as planned.

So far VRX has made all the right moves on the company's business. It just needs time for the market to realize it. We have never lost money when closing a VRX position.
Below is one of the comments on VRX after my article was published, which won 6 likes:

Good thing is, I did not follow it.
I showed a chart "MU via VRX" at that time to compare Micron Technology Inc (MU) and VRX trend. They are very similar as both dropped from 32 to under 10: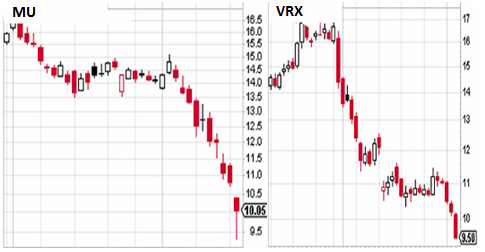 Now VRX did exactly as what I expected: It dropped to $8.31 low in April and then made its huge run.
My view on VRX: It will continue following MU's footsteps to move to $30+ level in one year.
Endo Pharmaceuticals (ENDP) - $11.17. This stock was hit after FDA notified the company that it wants opioid pain med OPANA ER (oxymorphone HCl) removed from the market due to its abuse potential on June 8. We will hold it.
Our Portfolio currently holds 5 stocks in gold miner sector: Wheaton Precious Metals Corp (WPM), AngloGold Ashanti (AU), Eldorado Gold Corp (EGO), Barrick Gold (ABX) and Yamana Gold Inc (AUY). We will add more gold miners this month on further gold price drops. We will also make short term trade on JNUG/JDST pair from time to time.
For gold miner picks, we will apply our profit protection rules when we have enough profit on any pick - otherwise, hold.
Our Portfolio currently hold 7 stocks/ETF in energy sector: Energy Select Sector SPDR ETF (XLE), The United States Oil ETF (USO), FMSA, Emerge Energy Services (EMES), PBF Energy (PBF), Antero Resources (AR), CRC and two in material sector: United States Steel Corp (X), AK Steel Holding (AKS).
Among the picks, PBF, X, AKS, AR are the winners and CRC was the biggest loser.
We started buying energy stocks after oil dropped three weeks in a row believing that oil will rebound in the following week.
The market may have the same expectation as some of our energy stock picks moved high after our buys even oil continued dropping such as SN, CRC, FMSA.
But oil only started its moves last week after 5 weekly drops.
CRC - $8.53. We bought and sold this stock twice this month, both with good profit. Our latest buy price was $10.15. Stock was hit hard last Friday, down 8.85% in one day on Bank of America downgrade even oil made a 2% run that day. We believe that this stock is undervalued and will add position on its further down.
FMSA, EMES - Two stocks in frac sand sector. US rig count saw its first weekly drop, by one only, last week, after raised 23 weeks in a row. The active US rig count more than doubled in a year. This should benefit frac sand companies. In FMSA's May 17 conference present ion, the company gave a bright Q2 guidance:
It expects Q2 volumes of 3.2M-3.5M tons, with raw frac sand prices rising $7-$9/ton on average during the quarter and extending those gains during Q3."

FMSA says proppant solutions volumes should be driven by continued strong demand and additional capacity coming online at Brewer and Maiden Rock locations.
But the market ignored the guidance and stocks dropped from $5.56 to $3.41 low since May 17. Its year high was $13.12 and stock has lost 75% of its value this year even it fundamental continues improving. We are not going to sell any stocks in this sector and will add position on their further drops.
AMD - $12.48. We could have booked our profit when it ran to $14.50. But we did not. Here is what we will be doing: We will add position later when it drops to $10.00 level again. One position will be used for long term investment and another position will be used for short term play.
Where To Put Our Money Next
- We are constantly looking for beaten down stocks with strong fundamentals. We have quite few in mind and will do further study before taking our positions.
- As our target is to make 17.18% return in the second half this year, we will be looking for stocks which can run 8%-10% within 3 months, or run 20%+ in six months.
- We will add positions on fundamental sound gold miners on their further weakness. We believe that gold will have a run within the next few months. Prepared for it.
Disclosure: I am/we are long ABX, VRX, AMD, AKS, AR, JD, MU, PBF, CRC, FMSA, EMES, X, EGO, AU, AUY, XLE, USO, ENDP, JUNO, PIRS, HZNP. I wrote this article myself, and it expresses my own opinions. I am not receiving compensation for it (other than from Seeking Alpha). I have no business relationship with any company whose stock is mentioned in this article.