Introduction
Chipotle Mexican Grill, Inc (NYSE:CMG) is a "fast casual" restaurant chain which first opened in 1993 and today has over 2,200 operating restaurants. It's an $11.8bn market cap company with a sales last year of circa $3.9bn, a highly under geared balance sheet (net cash and short-term investments of $577m as at March) and with a track record (for the most part) of generating robust sales growth at stable, attractive margins.
Around July 2015, the chain suffered an E-coli breakout at several of its restaurants and the stock price (along with financial performance) plummeted as customers deserted what was a very successful business up until that point. In all 52 people were affected, with most of the financial fallout occurring from late 2015 through to last year. 2016 sales were off over 13% with comparable revenue falling over 20%. You can see the effect of the outbreak below; with the share price falling from its peak of $750/shr to around $350 late last year.

Source : Google Finance.
Disappointing Q2 guidance...
Just when things started to look up for the stock with investor confidence seeming to return mid-May this year, management released what, on the face of it, looks pretty much like a bland SEC Form 8-K market update. The statement, all of 6 lines or so, mentioned food costs would be 30bps higher in Q2 than Q1 (at 34.2% of sales) and that marketing and promotion costs would be 20-30bps higher.
Management also reiterated its target to open 195-200 new restaurants this year, for comparable growth to 'increase high single digits' over 2016 and the tax rate this year to fall from 40.8% in 2016 to 39%. So there was also some good news in the release. Also, technically speaking, the higher marketing and promotional costs flagged were not new news. Management flagged them earlier in the year in the Q1 release; saying it expected the costs to be higher for Q2 owing to the planned TV campaign the company was planning that quarter. So really, it was only a 30bps increase in food costs that was new. Notwithstanding this, the stock promptly sold off - falling 10% to where it is now, around $415/share.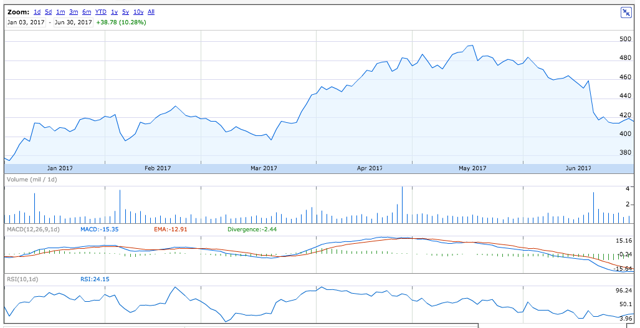 Source: Google Finance.
The reaction to such a small widening of costs put the company on my radar and I decided to do a bit more research. Perhaps the market had simply over reacted.
A strong track record of sustainable revenue and margin growth...
The first thing that struck me upon lifting the hood on this business was how attractive it was pre-2015. As far back as 2008, the company has continued to post good stable comparable growth rates and stable margins. Every year, even during the E-coli crisis months in 2016, CMG has increased the number of restaurants by over 12%.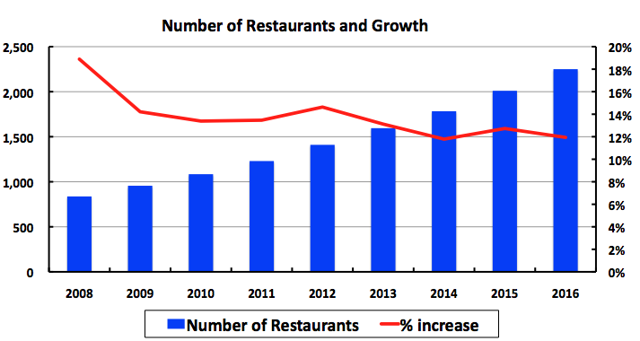 Source : Author, SEC filings
Further, right up until the E-Coli crisis, the comparable revenue per restaurant has improved as well. In fact, the scale of the impact of the crisis can be seen clearly.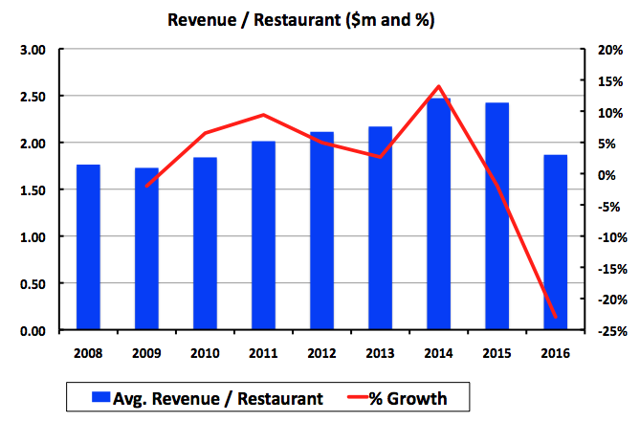 Source: Author, SEC filings
The third impressive thing about CMG's pre-2015 performance is that all this top line growth shown above was achieved whilst the company was able to increase its margins, owing to positive operational leverage. Again, just how badly things had gone awry post-2015 is clearly evident.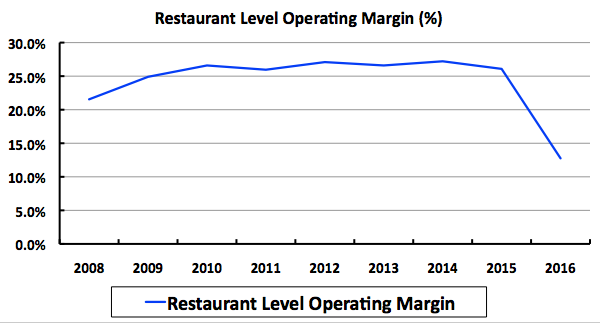 Source: Author, SEC filings
Strong free cash flow generation
Anyone who follows me or has read my articles in the past (admittedly, it's been a long time between them) will know how much I bang on about free cash flow. For me, its a primary prerequisite that any company I invest in must have a positive unlevered free cash flow every year for the past 5 or so. CMG passes this test - even last year when sales were plummeting.
One thing I always adjust for in my free cash flow calculation is stock based compensation. My definition of free cash flow will always reverse out the positive cash flow effect of stock based compensation, even though technically it is a source of cash. As a result, my free cash flow is always conservative as so represents a margin of safety.
Based on 2016 free cash flow of 28m, the current share price implies a free cash flow yield of 0.2%. Not great, but remember 2016 was in the midst of the E-Coli washout. The year before that, 2015, using the year end stock price, the yield was 2.5%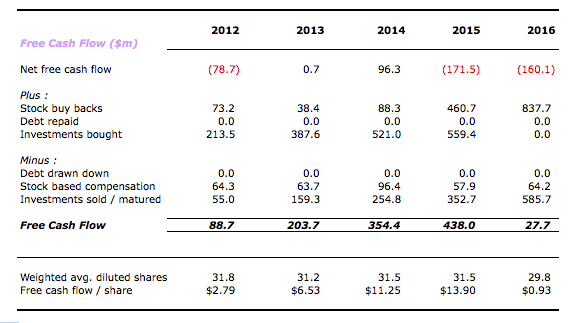 Source: Author, SEC filings
The beginnings of a recovery...
Finding value in stocks that have been hit by huge events as CMG has is all about figuring out IF a recovery will happen and WHEN (if it will) it will take root. I would suggest that in CMG's case, that recovery has now begun with the release in March of the company's Q1 results.
The Q1 results represented the first increase in YoY quarterly revenue since the E-Coli outbreak - a 28% increase over Q1 2016 total revenue. Also average (annualized) restaurant revenues per restaurant up 3% on Q4 2016 figures; the first positive QoQ increase since the outbreak.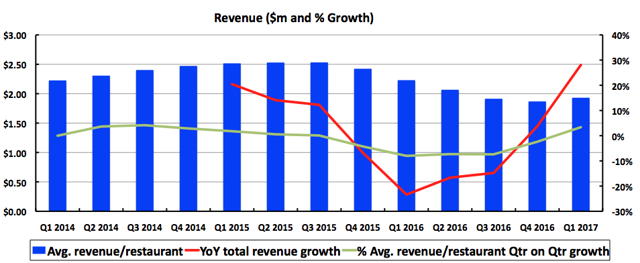 Source: Author, SEC filings
Similarly, operating margins also continued to build on the recovery with 400bp improvement over last quarter.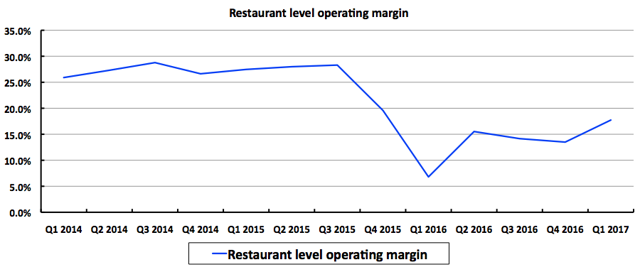 Source: Author, SEC filings
Can CMG recover to pre E-Coli levels...?
The sixty thousand dollar question with CMG is whether or not the business will ever get back to the halcyon days preceding the E-Coli outbreak. In my research, I've read a few articles that suggest not; suggesting instead that investors need to evaluate CMG in the context of its current performance. Suggesting that now is the 'new normal' for CMG. My sense is that this is not correct; I can see no reason why the business shouldn't again hit operating margins of 25+%. Nothing really has changed and history shows that restaurant chains DO eventually climb out from underneath disruptions such as CMG's E-Coli outbreak.
There are numerous examples of this. KFC famously became embroiled in a chicken scandal in 2014, with revenues at Yum! Brands (parent of KFC) falling in Q3 2014 following the scandal in July by 9% in total and 14% on a same store basis. You can read about it here. History shows that Yum! Brands recovered from the crisis with the stock increasing 12% over the price immediately before the scandal inside of a year, notwithstanding the 16% fall in the weeks following it.
How does the current CMG valuation stack up...?
Having concluded then that CMG will be able to reclaim its former pre E-Coli glory, the question then turns to its current valuation. Unfortunately, it appears that other investors and the analyst community also believe the stock will recover as there is a high level of earnings growth built into the stock's current valuation.
Current consensus EPS for CMG for 2017 is $8.22 and $12.08 for 2018 according to Yahoo Finance - compared to 2016 EPS of $0.80. This corresponds to a PE of 50.6x and 34.4x for 2017 and 2018 respectively based on Friday's close of $416/shr. This is extraordinarily high, given the current market is trading circa 19x.
Looking at this another way and focusing on the PEG ratio shows a multiple of 0.05x for 2017 and 0.73x for 2018 based on consensus. Both very attractive and both suggesting CMG is a bargain at $416/share - assuming of course that you believed the current consensus earnings estimates.
What does the current CMG valuation say about financial performance expectations...?
As another check on value, I set out to understand exactly what CMG's current valuation said about where the market currently expected the company's performance to improve to over the short term. To measure this, I focused on the 3 business drivers that I thought contributed the most to bottom line performance, ie, growth in the number of restaurants, the average revenue / restaurant and the restaurant level operating margin - the same 3 metrics I have discussed earlier in the article.
I look at 2 "bookend" scenarios at the opposite ends of the profitability spectrum. The first is a continuation of the latest financial performance in Q1 17 - ie, avg. annual revenue/restaurant of $1.9m. I also apply management's growth forecast in the number of restaurants for the year - 195-200 but, crucially, I ignore management's forecast that average revenue/restaurant will be "high single digit" percent above 2016 levels. Further, I assume that the forecast worsening of the operating margin expected in Q2 vs Q1 (50bps) will continue for the rest of the year - ie, restaurant level operating margin for the year will average 17.2% (compared to the Q1 actual of 17.7%). For the remaining costs, I simply assume the same for Q1 (except tax, for which I assume a rate of 39% - as per management's latest guidance).
When you crunch the numbers based on the above, you get the financial results below:
Revenue $4.4bn (compared to consensus estimates for 2017 of $4.6bn)
Restaurant level operating margin of $758m
EBITDA of $445m
NPAT of $178m, (ie EPS of $6.2/shr compared to 2017 consensus of $8.2/shr)
When compared to consensus and management's own estimates for the year, the above case is very conservative. That said though, the results are still higher than 2016 actual results (revenue: $3.9bn, EBITDA $181m and NPAT $23m).
Based on the above and a current share price of $416/shr (last Friday's close), this gives the following valuation multiples:
EV/EBITDA: 25.5x
PE: 66.9x
At the other end of the range, I adjust the key assumptions mentioned above to reflect a mix of management's own estimates AND what the business was achieving BEFORE the E-Coli outbreak (taking 3Q 2015 results for this purpose). The chosen set of assumptions are set out in the table below.

Source : Author
Based on these assumptions above, the following financial results are achieved.
Revenue: $5.9bn
Restaurant level operating margin: $1,328m
EBITDA: $955m
NPAT: $276m (ie, EPS of $9.6/share)
Based on the above and a current share price of $416/shr (last Friday's close), this gives the following valuation multiples:
EV/EBITDA: 18.9x
PE: 43.1x
The interesting thing about the above result is that even if you assume that the business reverts back to its pre E-Coli operating metrics (in terms of average revenue / restaurant and restaurant level operating margin) the current valuation of CMG is still very high from a multiples perspective - implying the market is assuming a significant continuation of earnings growth beyond this.
Conclusion/takeaway
The key takeaway from my back of the envelope analysis is that the current valuation of CMG assumes a substantial amount of growth over the next few years. It also more than likely assumes the business is able to once again achieve similar margins to what it enjoyed before the E-Coli outbreak in 2015.
Whilst I believe the company's future is bright and that I think ultimately it will achieve the same margins of previous years, the current valuation leaves very little room to error. In short, buying the stock at today's price pays the seller almost 100c/dollar for this growth and also almost completely discounts the chance that the business does not again reach the same margins it did.
I guess this is a long way of saying that at today's price CMG looks very expensive relative to the (albeit in my mind quite low) risks.
On the basis of my analysis, I will be looking to initiate a position in the stock should it fall into the $350 - $390/share range. The next value catalyst is possibly in 3 weeks, with the company's release of its Q2 2017 results on July 25.
Disclosure: I/we have no positions in any stocks mentioned, and no plans to initiate any positions within the next 72 hours. I wrote this article myself, and it expresses my own opinions. I am not receiving compensation for it (other than from Seeking Alpha). I have no business relationship with any company whose stock is mentioned in this article.