The IPO
PennyMac Mortgage Investment Trust (NYSE:PMT), 8.00% Series B Fixed to Floating Cumulative Redeemable Preferred Shares, is to start trading on NYSE after 06/27/17. Here, you can see the basic fundamentals about the preferred stock.

Prospectus: SEC Filing
OTC ticker: PNNMP
Company overview
PennyMac Mortgage Investment Trust is a specialty finance company that invests in a variety of residential mortgage loans and mortgage-related assets. The company's objective is to provide attractive risk-adjusted returns to its shareholders over the long term, primarily through dividends and secondarily through capital appreciation. The company targets investments in the U.S. residential mortgage market and is focused on investing in distressed mortgage loans available for acquisition from financial institutions and engaging in correspondent lending. PMT is managed by PNMAC Capital Management, LLC, an indirect subsidiary of PennyMac Financial Services, Inc. (NYSE:PFSI). PennyMac Mortgage Investment Trust has elected to be taxed as a real estate investment trust (REIT) for U.S. federal income tax purposes.
The corporate structure is illustrated below: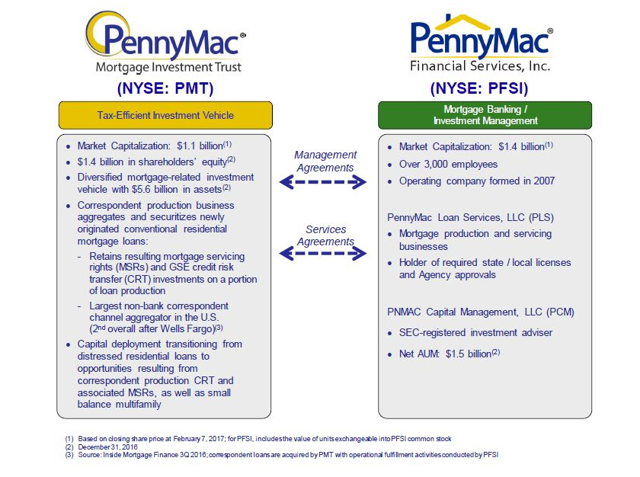 Please see the graph below for more information on stock price, profitability, and dividend history: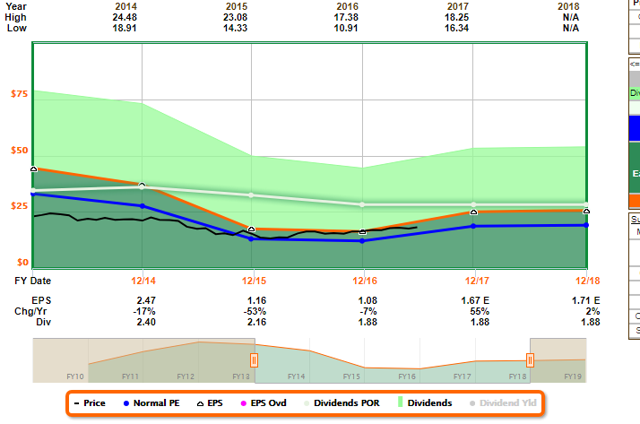 Dividend safety:
PMT is rated neither by Standard & Poor's nor by Moody's.
The common stock pays regular quarterly dividend of $0.47 to its 66.7 million outstanding shares, which amounts to 31.34 million in dividends paid. The preferred stock dividend paid quarterly is roughly 6.30 million. This means that there is a buffer for preferred stocks because the preferred stock dividend is senior to the common stock distributions. Since REITs do not retain capital, a large ratio of common stock dividend divided by preferred stock dividend is the main parameter we monitor. Any weakness in the common stock price or a dividend cut in the common stock dividend will be the trigger for us to cover a long position in the preferred stock. There has to be something really unexpected in the company that will leave us without a reaction.
Another positive for the long-term investor can be seen on the graph below: It shows that PMT shifted from distressed loan investments towards Charitable Remainder Trusts, Mortgage Servicing Rights, and Excess Servicing Spread. Please note that PMT-A is included in 1Q 2017.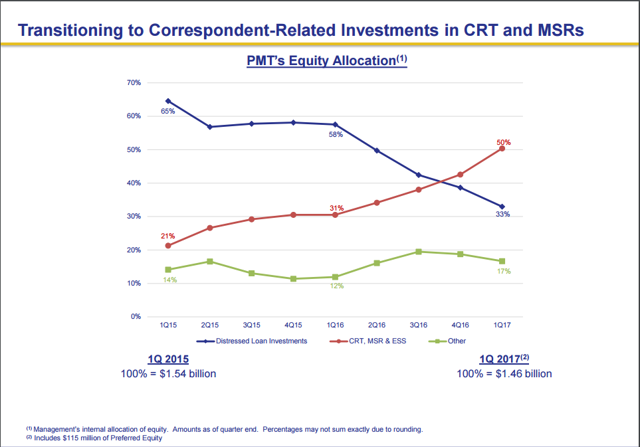 For us, this means almost nothing, because our main reaction will be based on the common stock performance. As long as they pay such a dividend on its common stock, the safer dividend from the preferred stock is good enough for the income investor. In any company's presentations, it is not rare to see what it would consider a great shift to less risk and more profit; this means nothing in reality.
Comparison with preferred stocks from the family
PMT-A fundamentals:

PMT-A is the only sibling PMT-B has. It has slightly higher yield than PMT-B; but once it becomes callable and the fixed to floating clause is in effect, PMT-B yield becomes greater, because it will have Fixed LIBOR + spread of 5.99% in comparison to PMT-A's Fixed LIBOR + spread of 5.831%. PMT-B becomes callable just three months after PMT-B, so with all of these factors in mind, we expect them to be trading very close to each other. Still, bear in mind that PMT-B has more shares issued which may result in a liquidity difference. They both have the fixed to floating clause, which limits their exposure to interest rate risk in the long term.
Comparison with other securities issued by Mortgage REITs
The image below contains all preferred stocks and baby bonds issued by mREITs by their nominal yield: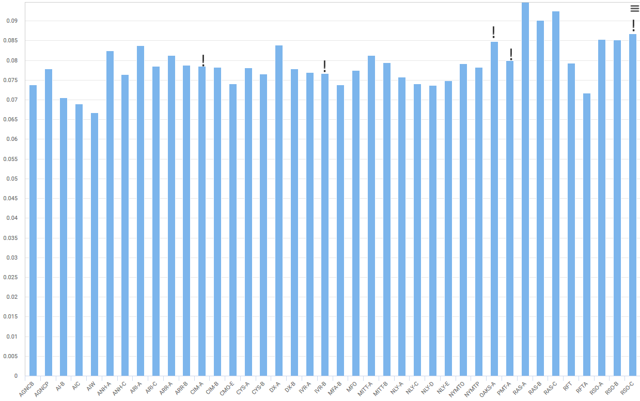 From the data displayed above, a statement could be made that PMT finances itself on a rate that is suitable for a company from this industry. Even leaders in this industry, such as AGNC Investment (AGNC), financed themselves at 7.75% and 8%. An annual yield of 8% and more sounds appetizing, but the fact that these stocks trade so close to par shows that market prices them cautiously in times when BBB rated companies finance themselves at 5%.
Even securities that possess the magic Fixed to Floating don't trade at a bigger premium than their peers. Please note that they are marked with an exclamation mark.
Another important aspect of PMT-B is that it is not eligible for the 15% tax rate. A stock that is eligible for the 15% tax rate and has nominal yield of 6.6% will have the same after tax yield if you are in the 30% tax bracket, for example. REIT preferred stocks are very suitable for tax advantaged accounts, and if you have a way to not pay taxes in some of your accounts, try putting in as many REIT preferred stocks as possible and leaving the qualified dividends for your ordinary accounts.
Special clauses in prospectus
Nothing out of the ordinary.
Addition to the S&P preferred stock index
PMT-B meets all the criteria needed in order it to be added to the index, which may boost its price in the short term due to index funds buying it. So, there is a good technical reason to own the stock, but whether it will sustain probable gains after its addition is very questionable.
How we trade it
We don't find the stock very attractive on its own, but in such times, we are adding this stock to our "main portfolio" because we cannot pass up this 6.6% (qualified equivalent) yield. If it opens on the NYSE at the price where it currently trades on the grey market - $24.75 - it might be a good long in the short term. However. PMT-B's introduction on the market presents numerous opportunities for pair trades with its sibling, PMT-A. We expect them to be priced similarly by the market, and if they drift away from each other, an arbitrage opportunity will arise. We have our eyes on them for the PFF rebalancing, as we assume PMT-B will be an addition, and this might drive its price above PMT-A, enabling a perfect arbitrage to be executed.
Conclusion
Lately, the only place where we find decent yields and the stock trading close to par is in the mREIT sector. There are certainly pitfalls, but we are taking nothing for granted and depend on the fact that preferred stocks are safer than common stocks, and this gives us some reaction.
Disclosure: I/we have no positions in any stocks mentioned, and no plans to initiate any positions within the next 72 hours. I wrote this article myself, and it expresses my own opinions. I am not receiving compensation for it (other than from Seeking Alpha). I have no business relationship with any company whose stock is mentioned in this article.