A quick round up of closed trades in addition to the running tally. You can view the previous week's plan here.
AUDUSD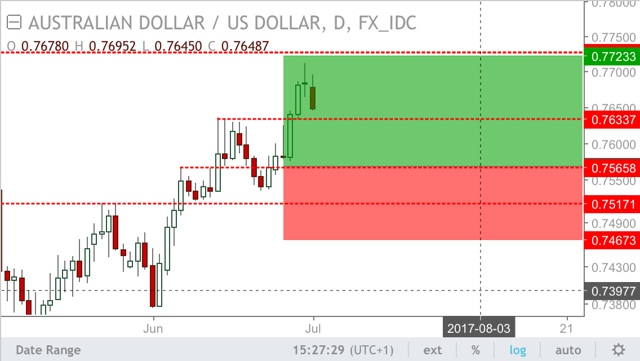 Still long AUDUSD. I want to see whether the next support holds. If not, I shall close out for half of my initial reward.
AUDJPY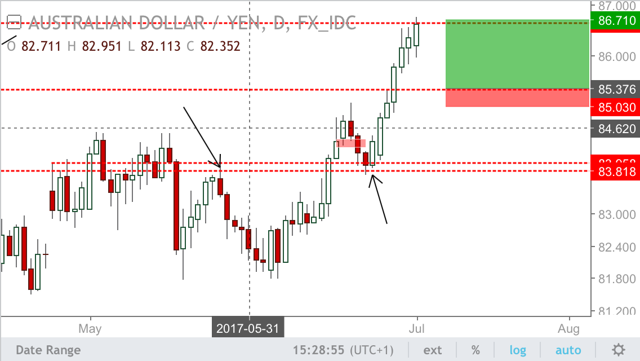 Out for +3.28R.
Running total cumulatively is +3.40R
GBPUSD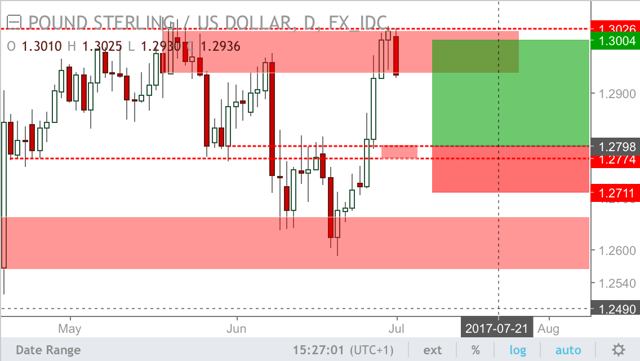 Knocked out at target of 1.30 for +2.5R.
Running total cumulatively is +5.9R.
This week's trades
Direction: Long

Entry: 85.59

Target: 88.20

Stop: 85.09

R: 5.31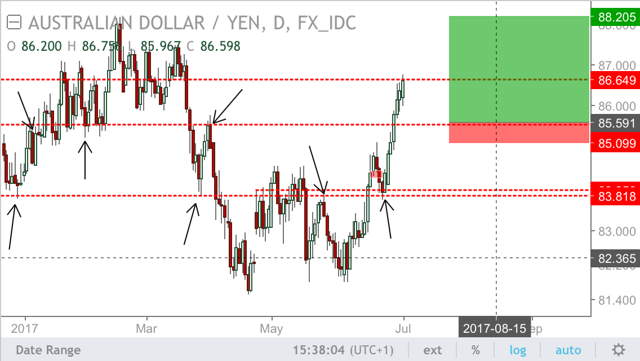 I still remain very bullish the pair, although I believe there should be a relief rally. We can see previously that at 83.81, the pair found broken resistance as key support and rallied off hard, and I believe that the same buying pattern will occur here, with a key broken resistance being at 85.59. I want to keep risk quite tight here to maximise the potential reward, so I shall only enter if we see strong support being made at the 85.59 mark. Target is a run to the untouched highs above 88.00.
EURNZD (NYSEARCA:FXE) (NYSEARCA:ENZL)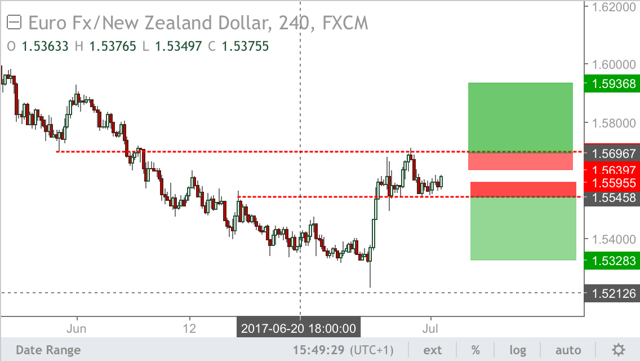 Direction: Long or Short

Entry long: 1.5698

Target: 1.5936

Stop: 1.5639

R: 4.21

Entry short: 1.5544

Target: 1.5328

Stop: 1.5595

R: 4.38
Again, I simply am looking for a momentum breakout and retest of a broken level for confirmation. There has been a temporary range created from a large bullish impulse move. The preceding downside wick would lead me to believe that an upside break out of this range is more likely. You could almost describe it as a flag pattern.
Those are the two trades I am looking at this week. Potentially something may arise later on in the week that I will make a part two of this article for.
Central banks turning the monetary screw
First we had the Fed. Now we have the BoE and ECB becoming increasingly more hawkish, first with Andy Haldane's comments two or three weeks ago suggesting a battle against Carney in terms of the MPC vote, but then with Draghi hinting towards more tightening in from the ECB hinting that inflation is approaching levels where a rate rise could be in order, and the euro has reacted strongly to the data. I'd expect both GBP and the euro to maintain short-term strength vs. the dollar; however, GBP may be facing downside pressure as sellers step in at just above 1.30.
This week we have the non-farm payrolls report and the Fed is going to want to see a good print considering May's number was less than good. Considering US equities have faced some pressure downwards recently, the Fed will breathe a sigh of relief on a good number since, in my opinion, traders will be sensitive to any bad hard data considering we have hiked now to above 1%. The expectation is 185k, although this may not be that great at this stage of the cycle.
A good indicator of the US economy's strength is the ISM manufacturing survey. It hit 57.8 today in what signifies a three-year high. This index was found to have the strongest trending effects on markets even more so than NFP which tends to just create short-term volatility. This could indicate a stronger USD in the midterm if we begin to get strong increases in US data generally (see Friday's NFP), yet hawkishness from other central banks could dampen the bullish efforts. Dealers have been pretty apathetic toward the USD (NYSEARCA:UUP) hike cycle, but funnily enough this is quite normal as the Danske Bank found out. See below: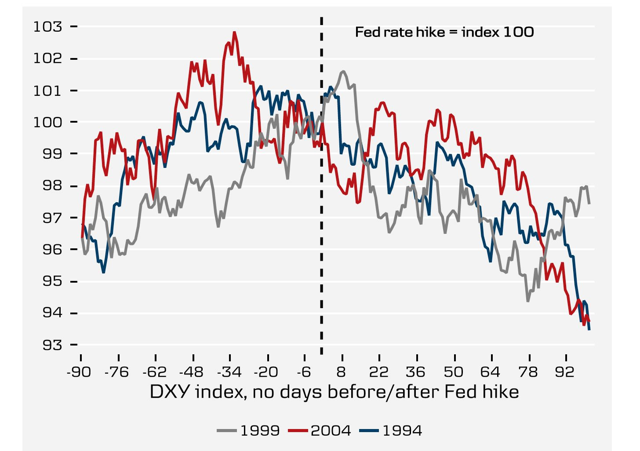 Chart from Pound Sterling Live
Follow me for each update, and every Monday I release my weekly FX trade plan with cumulative R-multiple metric, so you can see the total running win/loss in terms of R. It'd be great to get even more FX discussion going in the comments as well.
Disclosure: I/we have no positions in any stocks mentioned, and no plans to initiate any positions within the next 72 hours. I wrote this article myself, and it expresses my own opinions. I am not receiving compensation for it (other than from Seeking Alpha). I have no business relationship with any company whose stock is mentioned in this article.