Introduction
In my last article, I presented a list of 12 companies that appeared to be priced at a value to their intrinsic worth. The companies on that list were members of either the Dividend Champion list (25+ years of annual dividend increases) or the Dividend Contender list (10+ years of annual dividend increases).
As an investor who practices the strategy of Dividend Growth Investing, most of my stock selections are naturally going to come from the Dividend Champion, Contender, and Challenger lists. Why is that?
Well my first goal is income from dividends, but I don't want that income to be fixed income. Instead, I want to own dividend growth companies that, as a complete portfolio, increase dividends at a rate that is greater than inflation on an annualized basis.
You can think of this approach as working at a job that gives you a salary review every year and that company gives you a 6% or better increase in your salary, every year. Well, if you've worked for companies like I have over the last 15 years or so, salary increases have been pretty hard to come by. Not the case with DG stocks.
My second goal is appreciation of capital. Unlike some people, I do care about the value of my portfolio, but maybe not for the reason that you think. I plan on leaving this portfolio to my kids, when I pass. I want the stock in this portfolio to appreciate because when my kids inherit this portfolio, they will receive a "stepped up" cost basis for each holding in the portfolio. For all intents and purposes, that "stepped up" basis all but eliminates any capital gains taxes that the portfolio would have had, based on my cost basis, vs. their new cost basis.
Those goals, by the way, are not always "one over the other." They are very much equal in my own investing. Now, I want income. Later, I want to give my heirs the capital appreciation.
Our Current Buy List
The 12 Dividend Champion and Dividend Contender companies that made our list are VF Corp (VFC), Hormel (HRL), Helmerich and Payne (HP), WW Grainger (GWW), Exxon Mobil (XOM), T Rowe Price (TROW), CVS Health Care (CVS), General Mills (GIS), Occidental Petroleum (OXY), Gap Inc.(GPS), International Business Machines (IBM), and Qualcomm (QCOM).
On 6/29/2017, I purchased five companies from this list of 12. Here are the companies that we purchased and the Schwab Trade Notifications for each of those purchases: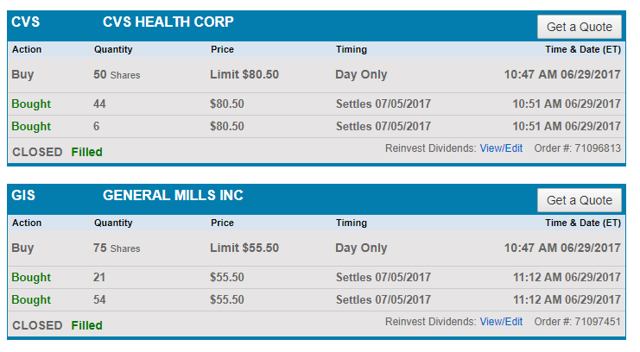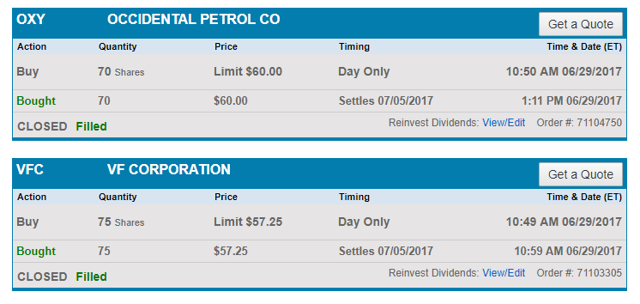 In keeping with my own investing philosophy, I am making purchases that puts money at risk, not for a short term trade, but for a longer term hold. The money being invested here is not needed for any current expenses or contingencies. It is money that can be allowed to work and will not be needed for at least 5 years, if not longer.
At the writing of this article and the time of its eventual publication, I have no idea as to whether the companies purchased on 6/29/17 will be trading at higher or lower prices when you read this article. But keep in mind, I'm not trying to time the market and "catch the low." I have a price in mind for most of my purchases, but I'm not going to let a buck either way keep me from owning stock in a company that I want to have as part of my portfolio.
Investment Status Table
To get a more clear idea of how these purchases impact The Perfect Portfolio, I've created this table to show a consolidated view of the 5 company addition.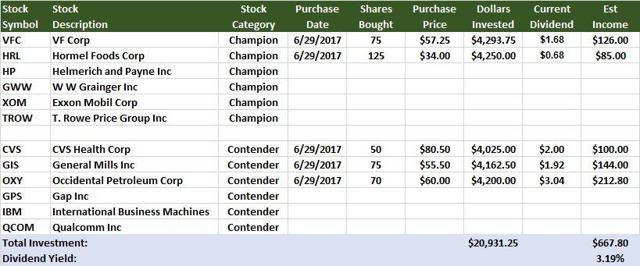 We have invested almost $21k in the 5 new positions. The share counts, purchase price, dollars invested and dividend information are on display with this table. As you can see, these 5 companies have an estimated income projection of $667.80 over the next 12 months and that would indicate a yield of 3.19%.
I have not initiated limit orders for Helmerich and Payne (HP), WW Grainger (GWW), Exxon Mobil (XOM), T. Rowe Price (TROW), Gap (GAP), International Business Machines (IBM) or Qualcomm (QCOM).
Is That All There Is?
While we have culled a list of Dividend Champions and Dividend Contenders to a workable watch list, what about those Dividend Challengers? These are companies that have increased dividends annually for at least five years in a row. So which companies made it through our initial screen?
The Dividend Challengers
Our initial screening process identified 37 Dividend Challengers as potentially undervalued. Those 37 companies run the gamut of "diversity" and when you look at the list, there is something for everyone.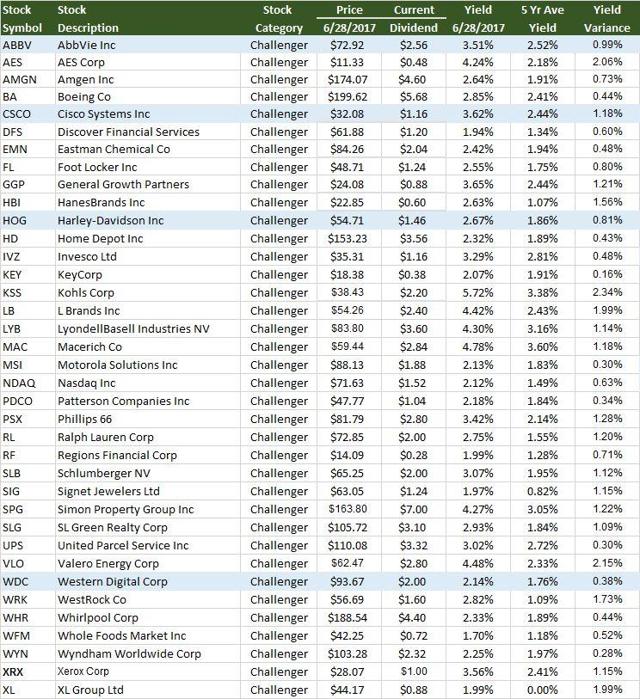 Of the 37 companies that the screen produced, The Perfect Portfolio currently has positions in 4 of them. Those 4 are identified in blue and are AbbVie (ABBV), Cisco Systems (CSCO), Harley Davidson (HOG), and Western Digital (WDC).
One of the companies on the list, WestRock (WRK) is a company that we discovered last year, but we did not make a purchase, because the stock "got away from us."
After looking at the companies on this Challenger list, there are only two companies that interest me, at this particular point in time. You might be surprised by which two companies, but they are Amgen (AMGN) and Hanes Brands (HBI).
While one could make the argument that Kohl's (KSS) L Brands (LB), Footlocker (FL), and Signet Jewelers (SIG) look interesting but are more retail than I want to invest in right now. I will take a wait and see approach with retail stocks, including those on the Champion or Contender list. Target (TGT), for example.
I would also think that the oil related companies, like Schlumberger (SLB), Phillips 66 (PSX), and Valero (VLO) may be of interest with a pullback in prices as the year moves forward, but that it might be a bit early, here.
The screening process that uses the dividend yield metric presents a constantly moving target for investors. Thirty days from now, many of the companies on the four lists will no longer be on the list as their prices have risen and thereby caused the current yield to fall in line with the 5 year historic yield.
Likewise, there are a lot of companies that are not currently on the list of stocks with a variance between the current yield and the 5 year historic yield. That will come as a result of the stock price dropping to a point that gives us the variance that we seek, in order to do additional due diligence.
Summary and Conclusion
Investing in individual stocks requires a certain amount of patience. Often, investors get in a hurry to make a purchase and might often make a purchase when a given stock is not priced at any value inflection point.
Don't be that investor.
Investing is very different from trading. We can get hung up on nuance, here, but a trader is looking for more immediate results than would an investor. In the next few weeks months, or even a year, I won't become very concerned with how these new purchases "are doing."
I didn't purchase shares in these companies for immediate gratification. I am content to collect dividends and let the stock in each company do what it will do. While I want the stock to go up in price, bear in mind that if a company is worth owning, then even if it declines in price, it might very well be worth taking a new look and perhaps adding to your existing position. Just food for thought.
The important thing here is that we don't go and overthink this stuff. The market may trade sideways from here. There may be a tremendous rally. There might be a tremendous crash. I have no idea which way the market is going to go and there is no crystal ball with this process
The best we can hope for is that we have made good decisions, based on experience gained over time, and then let things play out. It is what it is.
Disclosure: I am/we are long VFC GIS CVS OXY HRL.
I wrote this article myself, and it expresses my own opinions. I am not receiving compensation for it (other than from Seeking Alpha). I have no business relationship with any company whose stock is mentioned in this article.
Additional disclosure: I may initiate positions in AMGN, GILD, HP, QCOM, IBM, XOM, GWW TROW GPS in the next 72 hours