It's Time To Pay Attention To Lam Research Corporation
Summary
The company's growth outpaces the wafer fabrication equipment segment.
Miniaturization is a booming business.
Lam Research benefits from the growing field of artificial intelligence within data centers (aka the cloud).
Data centers are becoming insatiable consumers of DRAM and Nand memory chips.
Wearables, smartphones, the automotive application segment, defense and medical industries are now in play.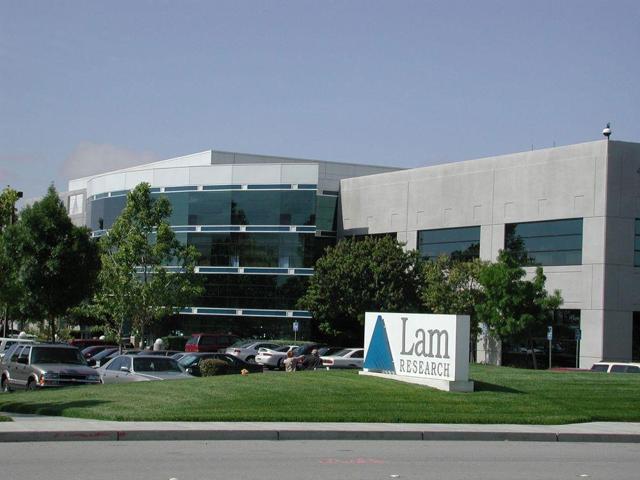 Preface
We continue to find opportunities in the burgeoning fields of technology within the semi-conductor, component and manufacturing realm and Lam Research Corporation (NASDAQ:NASDAQ:LRCX) is now officially on Top Pick watch. Before we get into the company, as always, we get into the themes.
Themes
Lam Research Corporation is a leading supplier of wafer fabrication equipment and services to the global semiconductor industry. The company develops innovative solutions that help its customers build smaller, faster, more powerful, and more power-efficient electronic devices - the kind that is driving the proliferation of technology into our everyday lives.
It's the "smaller, faster, more powerful, and more power-efficient electronic devices" themes that we are focusing on.
Producing the tiny, complex chips used in these devices (often times referred to in whole as "advanced microchips") involves the repetition of a set of core processes and includes hundreds of individual steps. To do this successfully, semiconductor manufacturers require sophisticated processes and fabrication equipment.
Lam's products play a key role in this, allowing chipmakers to build device features that are more than 1,000 times smaller than a grain of sand. In fact, nearly every leading-edge integrated circuit made today has been processed with Lam Research equipment (Source: Lam Research).
Wafer Fab Equipment
Wafer fab equipment (WFE) are the broad space where Lam Research sits and spending in this segment is expected to reach over $36 billion by 2018. The recent increase in the sale of consumer electronic devices, such as smartphones, hybrid PCs, wearables and video game consoles, is likely to augment growth in the semiconductor market, which in turn will compel growth in the wafer fab equipment market.
Lam Research Corporation has been significantly expanding its market share in the wafer fabrication equipment market. We note that the number one market share position here is another of our Spotlight Top Picks.
While the WFE market isn't projected to grow quickly, it's stable, profitable and growing: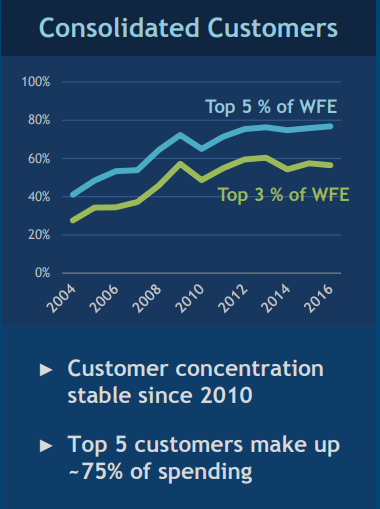 Source: Lam Research
Memory
Lam Research benefits from the growing field of artificial intelligence within data centers (aka the cloud). It's not the sexy part, but it's a critical part – these data centers are becoming insatiable consumers of DRAM and Nand memory chips.
We can really think of memory as the initial point from which the new digital economy will launch. Just as demand for memory explodes, so too is the demand for better, faster, more energy efficient and smarter memory. Lam Research addresses this market (advanced memory applications) and is positioning itself to reap the rewards of the growth opportunity that is just beginning and appears to have no end in sight.
Lam Research shared some nice charts specific to this market noting that the connected, data-centric world is driving content increases.
Data Center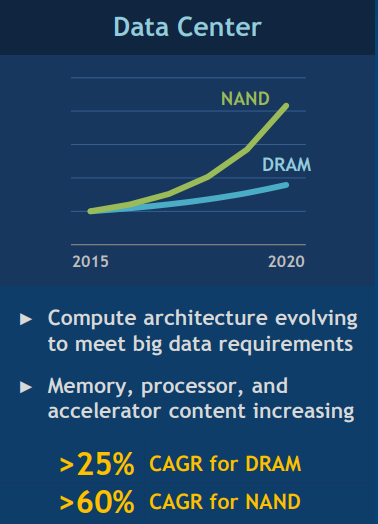 Source: Lam Research
Mobile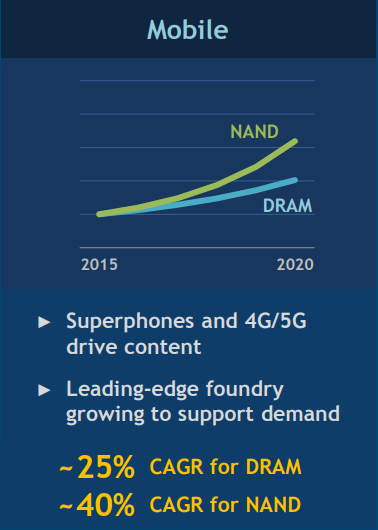 Source: Lam Research
Connected Devices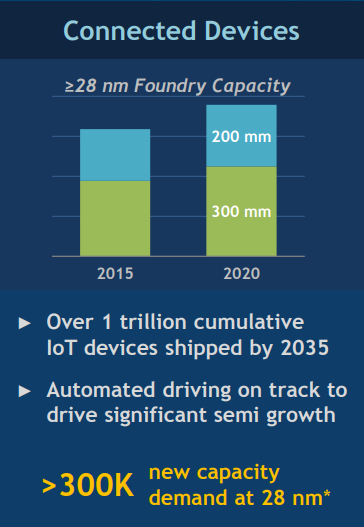 Source: Lam Research
The company goes further to illustrate a "healthy" multi-year demand profile across segments.
Miniature Magic
Lam Research calls its processes to miniaturize "miniature magic" on its website. One area it does this is in the Micro-electromechanical systems (MEMS) market which is the technology of microscopic device that has both electrical and mechanical components.
These technologies are increasingly being used in consumer products, such as ink jet printer heads, inertial sensors, and mobile and communications applications. They are also being developed for evolving technologies such as the application of augmented reality (AR) for enhanced gaming experiences.
Here is the projected growth for the MEM industry worldwide: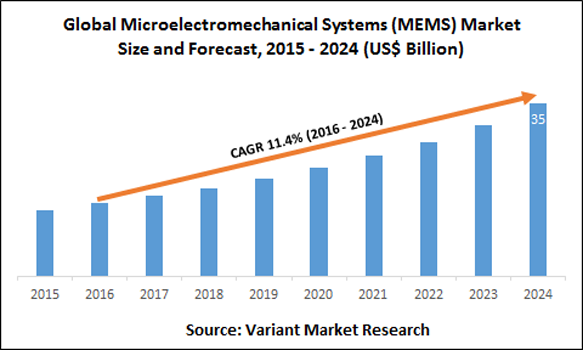 Source: Variant Market Research
But the evolution, or revolution, of technology means that the MEM market now spills over into the automotive world. Increasing growth in consumer and automotive application segment and consumers' inclination towards enhanced features in their vehicle could support the growth of the market (Variant Market Research).
This market also spills over into the wearables market, and if you have been with CML Pro for a while, you know how bullish we are on the technologies that power this move. And to complete the enormous opportunity here, MEM is also going to serve in the defense and medical industries.
Suffice it to say, just the MEM business for Lam Research is worth a note, but this is one tiny piece of a gigantic offering.
LED
Lam Research has extensive experience with plasma etch, thin film dielectrics, metallization, and photoresist strip technologies that can be applied to the LED manufacturing market. We have discussed the rather unsexy but wildly important theme in the lighting revolution and we will reprise a little bit of it here.
First, here is the use case from Statista with our emphasis added:
A light-emitting diode is an electronic semiconductor device which is used in digital displays and lamps. In general lighting, incandescent light bulbs are still the most widely used electric lights today.

However, many countries, including the United States, have begun to phase out incandescent lamps in favor of more energy-efficient light sources such as light-emitting diodes and organic light-emitting diodes. Residential LED products are expected to use at least 75 percent less energy and last up to 25 times longer than the traditional incandescent lamps.
There's much more to it, especially when we reach into OLED, but this is another gigantic market segment. Here is a visual to help understand the market growth from Statista: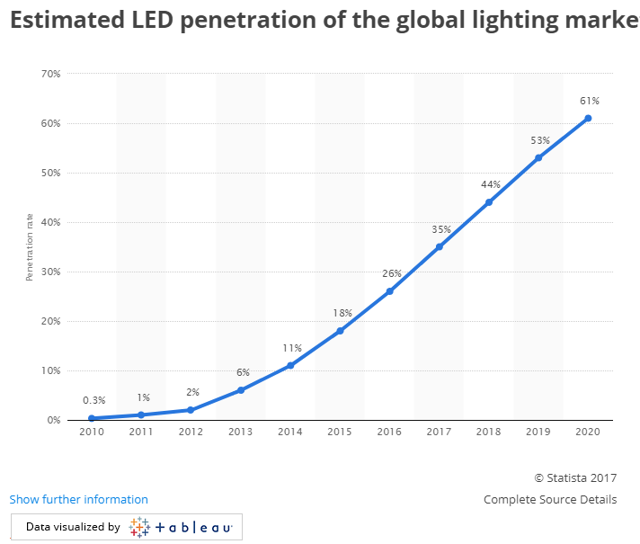 In 2020, light-emitting diodes are expected to reach a penetration into the lighting market of approximately 61%, up from 35% in 2017.
Lam Research benefits from this massive shift by using its technologies to develop a wide range of LED-specific process solutions for front-end chip manufacturing and back-end packaging that address the challenges of cost-efficient, high-volume production.
We could go on and on to cover the nooks and crannies of where Lam Research sells, serves and has opportunity to grow, but we'll stop here and just go back to the broader view of the company that we introduced above:
The company develops innovative solutions that help its customers build smaller, faster, more powerful, and more power-efficient electronic devices - the kind that is driving the proliferation of technology into our everyday lives.
China
China remains another growth opportunity for the various segments that Lam Research sits in. Here are the highlights from the company's "China Perspective."
* China 2025 initiative targets 4X growth in China's semi revenue
* Significant increase in fab activity across China
* Emerging semiconductor industry labor force
* Fabless ecosystem focused on driving semi innovation and demand creation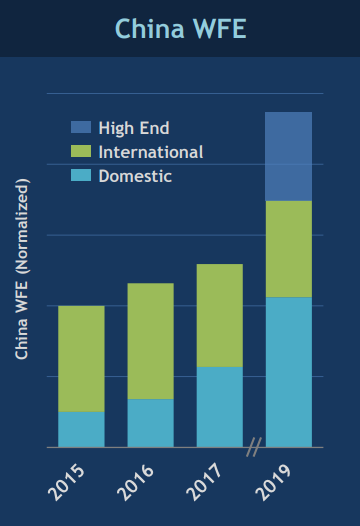 Diving Deeper – Financials
We have snuck in a lot of details about Lam Research already, but let's dive deeper. We can start with the financials:
Revenue (TTM US$ Millions) for LRCX is $7.2 billion which is up from last year's $5.8 billion, for a 23.9% one‑year change. Next, we turn to net income (after-tax profit).
Net Income (TTM US$ Millions) for LRCX hit $1.43B which is up from $786 last year, for an 81.9% one‑year change. Finally, we turn to cash from operations:
Cash from Operations (TTM US$ Millions) for LRCX is $1.7 billion, up from $1.2 billion, which is a 41.5% one‑year change.
Next, we turn to the latest earnings call to get up to speed on right now.
Earnings Call
The following are our hand-picked highlights from the latest earnings call:
*We delivered record financial results once again in the March quarter.
*We delivered record levels of shipments, revenue, gross margin dollars, operating income dollars, and earnings per share. Each of these metrics grew double-digits quarter over quarter.
*We believe LAM is in an excellent position with our leadership and competency in etch, deposition, and clean product conservative to facilitate some of the most significant innovations in semiconductor device manufacturing for many years to come.
*Silicon continues to sit at the very center of long-term electronics technology and applications innovation. That is the fundamental opportunity for our industry and specifically for Lam Research.
*Demand continues to be strong for NAND in the SSD and embedded markets, driving increased spending activity for NAND in 2017.
*We continue to anticipate double-digit growth in equipment spending in calendar '17 year-over-year, with investments being dominated by technology conversion.
*We believe that the secular demand trends and outlook for the world of technology and electronic applications are more compelling than ever with the silicon roadmap and the role of Lam Research front and center.
Risk And Competition
Lam Research sits right in the middle of several booming themes, but the WFE theme is only pegged to grow at 4% CAGR. The first risk for the company is that it does not outpace the segment in general. So far, that is not an issue: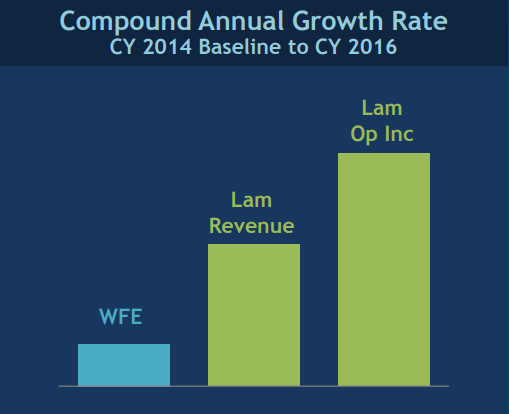 While the WFE market is pegged to grow at 4% CAGR, the company achieved more than three times the industry growth rate. But, there is risk here. Further, Lam Research has a lot of competition in every field it is pursuing. The most common competitors are Applied Materials (AMAT) and KLA-Tencor Corp. (KLAC).
Finally, with respect to stock price, there is simply a risk that the market has gone up too far too fast and that even if business continues to do very well, the stock price may waver.
Conclusion
Lam Research lives in strong, profitable, and healthy industries. Its business lines are supported by the booming technology themes that we focus on, namely, the cloud, artificial intelligence, self-driving cars, the Internet of Things and mobile anything.
The company continues to deliver record earnings and revenue while beating its own guidance. As of today, we are adding Lam Research Corporation to our "Companies to Watch" list, with an eye on potentially adding it to Capital Market Laboratories Top Picks, later.
Thanks for reading, friends.
The author has no position in Lam Research Corporation at the time of this writing.
Please read the legal disclaimers below and as always, remember, we are not making a recommendation or soliciting a sale or purchase of any security ever. We are not licensed to do so, and we wouldn't do it even if we were. We're sharing my opinions, and provide you the power to be knowledgeable to make your own decisions.
Legal
The information contained on this site is provided for general informational purposes, as a convenience to the readers. The materials are not a substitute for obtaining professional advice from a qualified person, firm or corporation. Consult the appropriate professional advisor for more complete and current information. Capital Market Laboratories ("The Company") does not engage in rendering any legal or professional services by placing these general informational materials on this website.
The Company specifically disclaims any liability, whether based in contract, tort, strict liability or otherwise, for any direct, indirect, incidental, consequential, or special damages arising out of or in any way connected with access to or use of the site, even if we have been advised of the possibility of such damages, including liability in connection with mistakes or omissions in, or delays in transmission of, information to or from the user, interruptions in telecommunications connections to the site or viruses.
The Company makes no representations or warranties about the accuracy or completeness of the information contained on this website. Any links provided to other server sites are offered as a matter of convenience and in no way are meant to imply that The Company endorses, sponsors, promotes or is affiliated with the owners of or participants in those sites, or endorse any information contained on those sites, unless expressly stated.
This article was written by
Ophir Gottlieb (CEO & Co-founder) — Ophir Gottlieb is the CEO & Co-founder of Capital Market Laboratories (CML).CML is a member of the famed Thomson First Call roster, but our purpose is to provide institutional research to all investors and break the information monopoly held by the top .1%You can follow his stock research, called CML Pro, here: http://bit.ly/CMLProYou can use the option-backtester here: http://bit.ly/Option_TradingOphir Gottlieb is the CEO & Co-founder of Capital Market Laboratories. He is a former contributer to Yahoo! Finance, CNNMoney, MarketWatch, Business Insider, and Reuters. He was rated the 14th best finance follow on all of Twitter. ​ He has turned away from institutional finance and re-dedicated his life to helping all people find the capacity and facility to invest with the same confidence and information available to only the top 0.1%. In many ways, Ophir was unintentionally a part of this asymmetry, but now, he is here to tear it down. ​ Ophir Gottlieb is inventor of the Forensic Alpha Model (FAM) and a co-inventor of Accounting and Governance Risk Model (AGR), both now owned commercially by MSCI. SSRN lists his research, and as far as we can tell, he was one of the earliest scientists to identify deep learning, and in particular, neural networks, as a novel approach to examining financial markets while also whole hardheartedly incorporating corporate governance. ​ Mr. Gottlieb's methodological approach taken in creating FAM was endorsed by the head of artificial intelligence for the state of Germany as a novel and extraordinary application of advanced machine learning and quantitative finance. ​ FAM and AGR are used by asset managers worldwide with over $1 trillion of assets under management. The FAM model has made Mr. Gottlieb one of the most recognized names in all of quantitative finance. ​ The Huffington Post dedicated an article to Ophir's views in the dossier Financial Services Third Wave of Innovation: AI & Machine Learning. A rare view into his vision of the world of finance, including a 20 minute video session. Mr Gottlieb's mathematics, measure theory and machine learning background stems from his graduate work in mathematics and measure theory at Stanford University and his time as an option market maker on the NYSE and CBOE exchange floors. He has been cited by various financial media including Reuters, Bloomberg, Wall St. Journal, Dow Jones Newswire and through re-publications in Barron's, Forbes, SF Chronicle, Chicago Tribune and Miami Herald and is often seen on financial television. Mr. Gottlieb was an option maker on the NYSE ARCA exchange floor and simultaneously on the Chicago Board Option Exchange (CBOE) remotely. He first gained notoriety as the managing director of client services and algorithmic trading for Livevol Inc, recently acquired by CBOE. He created and authored what was believed to be the most heavily followed option trading blog in the world for three-years. ​
Analyst's Disclosure: I/we have no positions in any stocks mentioned, and no plans to initiate any positions within the next 72 hours. I wrote this article myself, and it expresses my own opinions. I am not receiving compensation for it. I have no business relationship with any company whose stock is mentioned in this article.
Seeking Alpha's Disclosure: Past performance is no guarantee of future results. No recommendation or advice is being given as to whether any investment is suitable for a particular investor. Any views or opinions expressed above may not reflect those of Seeking Alpha as a whole. Seeking Alpha is not a licensed securities dealer, broker or US investment adviser or investment bank. Our analysts are third party authors that include both professional investors and individual investors who may not be licensed or certified by any institute or regulatory body.