Microsoft: Technology
Though it might look like a surprising pick for a dividend portfolio, Microsoft (MSFT), one of the world's leading technology companies, has emerged as an entity that can sustainably expand its revenues for the next ten years and more. After struggling briefly in 2015 and 2016, Microsoft returned to growing its revenues over the past two quarters. With revenues from cloud computing services surging every quarter, Microsoft's ability to expand revenues is extremely strong.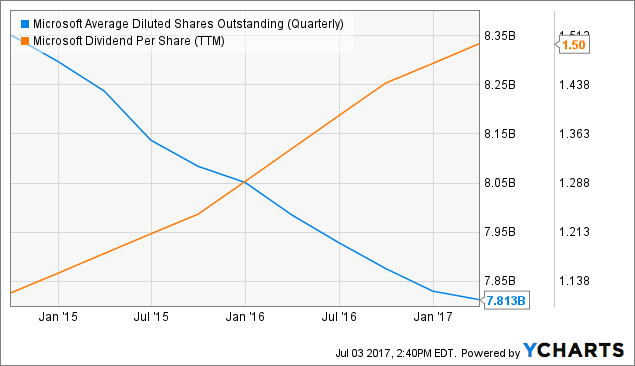 Microsoft has more than $125 billion in cash and short-term investments, which provides enormous fire power for the company to keep buying its own shares and keep doling out dividends. In the last ten years the company has not only kept reducing its number of shares outstanding, but also kept increasing its dividends. One can clearly see the divergent nature of these two metrics in the above graph, which goes to show how much strength Microsoft has to keep increasing its dividends over the next decade.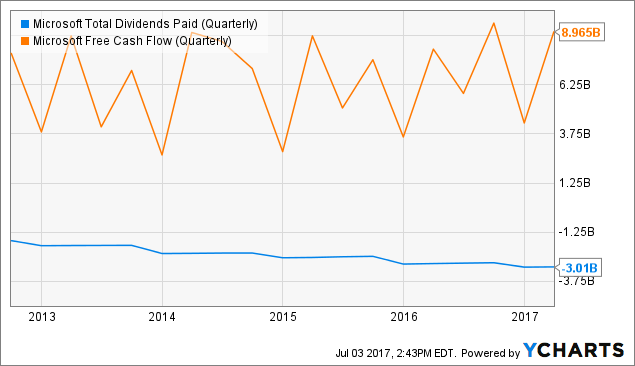 With long term debt of $76,222 million against a cash pile of $126.018 billion, Microsoft's potential for dividend increase is as good as it gets.
"Global cloud IT market revenue is predicted to increase from $180B in 2015 to $390B in 2020, attaining a Compound Annual Growth Rate (OTCPK:CAGR) of 17%." - Forbes
As cloud computing revenues keep growing at double-digit rate, Microsoft's current single-digit quarterly growth rate can only increase from here, with the global cloud industry expected to grow at 17% till 2020. Not many companies have a huge amount of cash on hand, while also possessing a clear view towards strong revenue growth. Microsoft has both. With a dividend yield TTM of 2.2%, Microsoft is my top pick for a long-term dividend play.
Johnson & Johnson: Medical Devices, Pharma and Consumer Packaged Goods
If you want a well-diversified pharma company with a strong balance sheet, look no further than Johnson & Johnson (JNJ). 131-year-old J&J has raised dividends for 55 consecutive years, and has declared a 5% dividend increase from $0.80 to $0.84 during the recent quarter.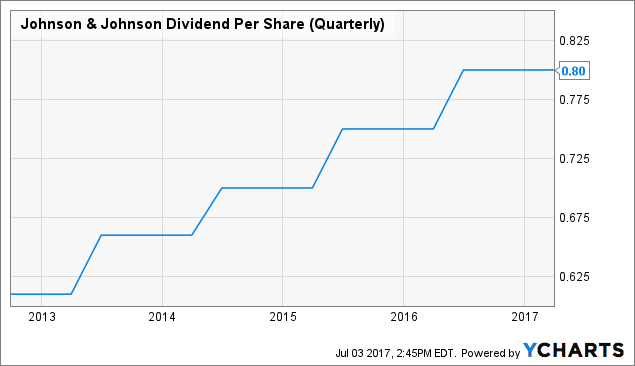 J&J's revenue streams are well diversified, being spread across consumer packaged goods, pharma and medical devices. All three segments grew during the first quarter of 2017.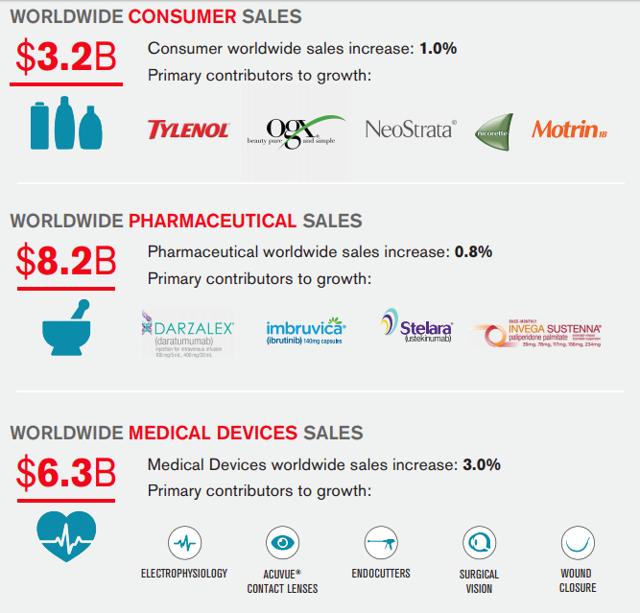 Source: J&J Q1-17 Earnings Infographic
J&J's balance sheet is one of the strongest in the industry, and will help the company weather any short term problems. At the end of the most recent quarter, J&J had $20,900 million in cash and cash equivalents, and $18,434 million in marketable securities, for a total of $39,334 million - more than enough to cover for the long term debt of 27,015 million.
J&J is also a steady buyer of its own shares, buying back $3,342 million worth of shares during the recent quarter.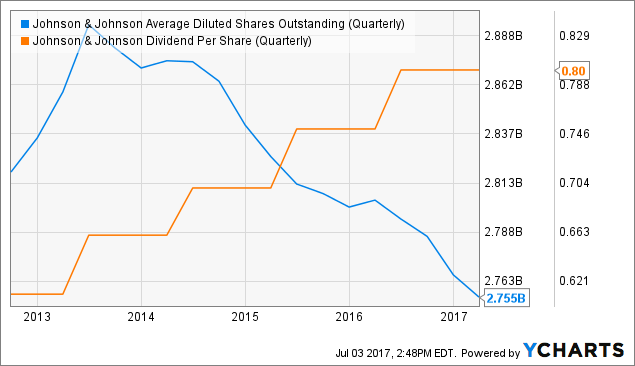 A strong balance sheet, a payout ratio of just over 52% and a dividend yield of 2.45% makes J&J one of the best large-cap dividend plays for the long term.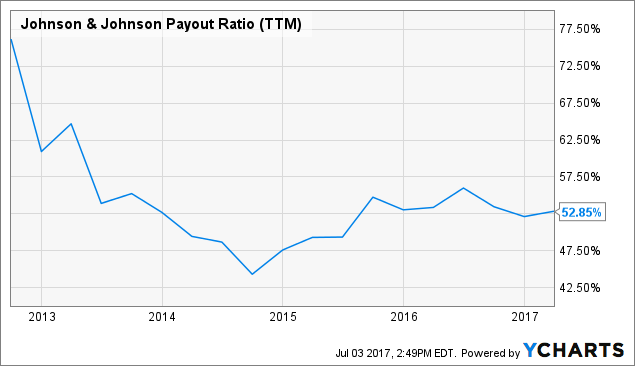 Wal-Mart: Retail
After a bit of a struggle during the 2015-2016 period Wal-Mart (WMT) made some aggressive moves, narrowing down its store formats, expanding Neighborhood Market stores and buying e-commerce companies. This allowed the world's largest retailer by revenue to get back to growth. Considering the state of the competition in the United States retail sector, Wal-Mart's ability to grow its revenues clearly highlights its ability to expand its revenues for the next several years.
Wal-Mart has increased dividends for the past 44 years, and it certainly looks good to add many more to that number. At the end of first quarter 2018 Wal-Mart had long term debt of $33,774 million, which is 6.44 times its operating income of $5,237 million. The retailer had $6.54 billion cash on hand and the payout ratio is 45.52%, both of which allow enormous room for the company to keep dividends flowing even if it faces short-term revenue growth issues.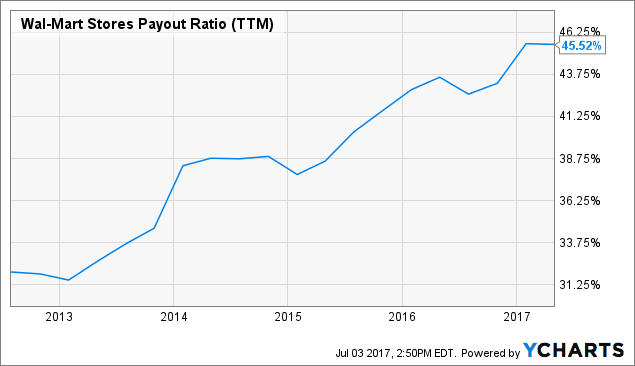 Wal-Mart is also a steady buyer of its shares. The company reduced nearly one billion shares outstanding in the last ten years, which significantly improved its ability to increase dividends.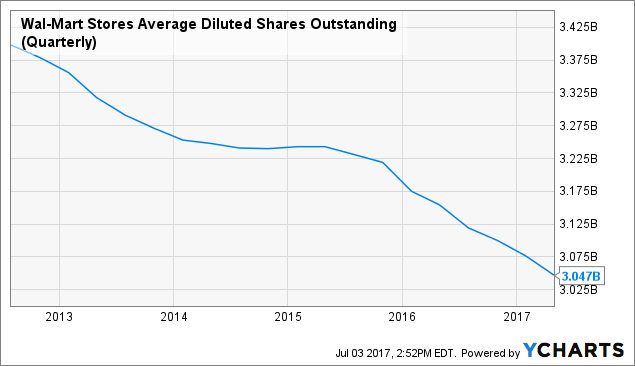 With a dividend yield in excess of 2%, Wal-Mart is an excellent long term dividend play.
Home Depot: Home Improvement
The home furnishing market is one of the bright spots of the economy as the two largest home improvement companies, Home Depot (HD) and Lowe's (LOW), both reported strong identical store sales last year, and expect a solid 2017 as well. The e-commerce bandwagon has, so far, come away nearly empty-handed against home improvement stores; considering the size, scale and reach of this duopoly, it will be an extremely difficult industry to disrupt.
Home Depot has seen its revenues steadily rise over the past five years, and the company expects sales to increase by 4.6% this year.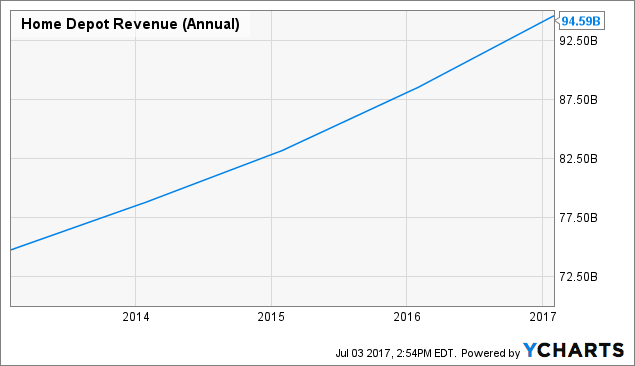 Home Depot carried $22,393 million in long term debt against $3,565 million cash on hand. Both home improvement retailers carry large amounts of long term debt, but when weighed against the operating income, Home Depot comes out on top.
During the recent quarter, Home Depot had $22,393 million in long term debt, or 6.68 times its operating income of $3,349 million. Lowe's had long term debt of $15,770 million, which is 10.11 times its operating income of $1,559 million.
Home Depot's payout ratio is only 44.21%. With the company still growing at a steady rate and the fact that it is the number one company in a duopoly with a huge moat, the opportunity is still wide open for revenue expansion as well as dividend growth.
During the 2008-2009 recession Home Depot saw its revenues decline, but very quickly got back on its feet and started growing again.
It may not be recession proof, but it definitely had the strength to withstand the greatest housing collapse we have ever witnessed.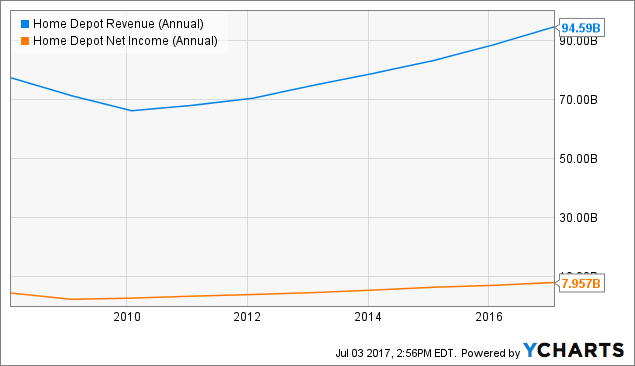 Conclusion
These four companies are some of the best in their respective industries, and have proven that they can keep expanding their revenues for the next several years. Their strong balance sheets also puts them in a position to keep increasing dividends in the process, making them unusual but ideal dividend plays for the long term.
Disclosure: I/we have no positions in any stocks mentioned, and no plans to initiate any positions within the next 72 hours.
I wrote this article myself, and it expresses my own opinions. I am not receiving compensation for it (other than from Seeking Alpha). I have no business relationship with any company whose stock is mentioned in this article.