Starbucks (NYSE: SBUX) fell below its 50-day moving average recently – a bearish technical indicator. It has fallen to $58.25 from a recent high of $64.57. Anyone looking to make an entry can wait for the stock to go down a little further – near $57, where it may find a support. However, before that, investors would want to know how the recent concerns, including softness in SBUX's comparable store sales growth, impact their decision.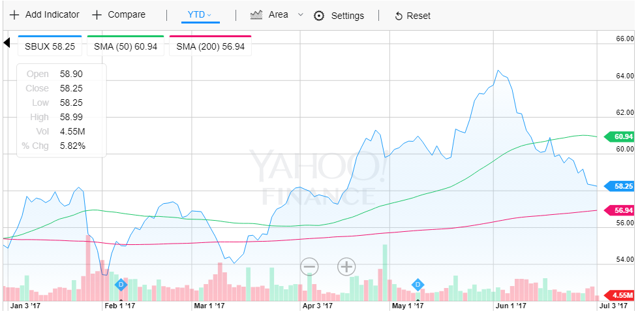 Source: yahoo finance
Starbucks currently has around 26,000 stores around the world. The company has been consistently adding newer stores globally, as the below chart highlights.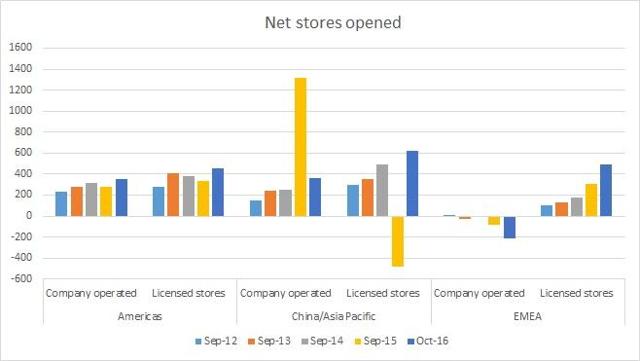 Source: Starbucks reports
Starbucks' strategy of shifting to a licensed store model from company-operated stores helped company grow its store footprint more rapidly, while allowing it to expand its underlying operating margin. Notably, the net stores opened numbers over the last two quarters is also decent, as the chart below shows.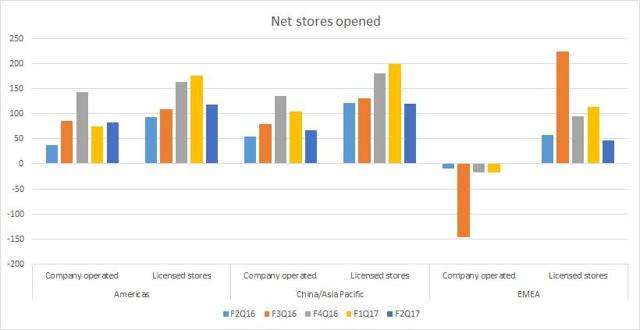 Source: Starbucks reports
However, Starbucks' comparable store sales in the U.S. have slowed in the latest two quarters as the below graph shows. What has caused this?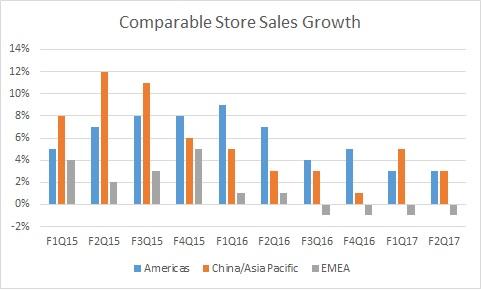 Source: Starbucks reports
As the two charts below show, it's the fall in transactions in the Americas that contributed to the decline in comparable store sales, even though the ticket size per customer increased.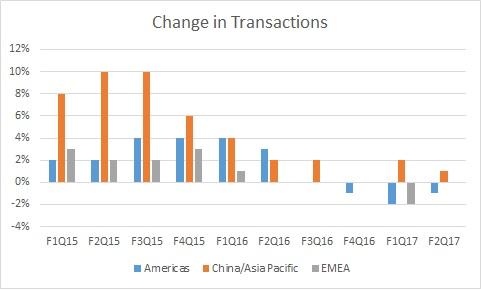 Source: Starbucks reports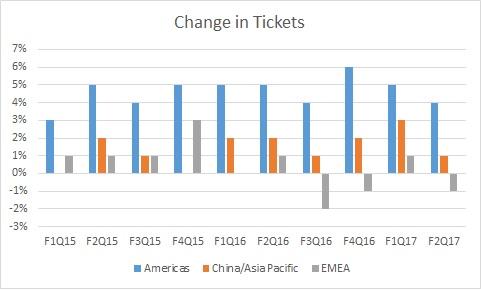 Source: Starbucks reports
The company has given some reason for this every quarter, including technical issues with mobile orders that it is working on, still, four consecutive quarters of flat to negative transactions growth is indeed worrying.
It's worthwhile to note that "continuing to accelerate comp sales and transaction growth in the U.S." is one of the company's top five priorities. I don't see reason to believe that innovations that Starbucks is trying to bring in the U.S. market, including food for the lunch day-part and Reserve brand, will fail.
The reason I believe that Starbucks' growth is there to stay for long is due to the absence of a competitor brand in the high-end coffee market segment. The company can be currently said to have virtually no competition in its target segment – specifically no competitor with such a presence and reach that Starbucks already has. I would believe that a brand like Starbucks will not fade automatically. It'll be done only if there is a perceived superior alternative offering superior experience, even if at a slightly higher cost.
Having said that, what if Starbucks' U.S. market is simply saturated? The growth may not decline, but it may not pick-up as well.
China growth
I'll now take a look at Starbucks' Chinese market growth and what it means for the company. Another of the company's top five priorities is "enabling long-term growth in China."
Comparable store sales were up 7% in China in the latest quarter against 3% growth in China and Asia Pacific region. The comparable store sales growth in China was 6% in the previous quarter.
China/Asia Pacific segment contributed 14% to Starbucks' operating income in the latest quarter – this is substantial. And the potential for this market to fill the slowing growth in U.S. sales is huge.
According to a report by International Coffee Organization, coffee consumption in China is growing at around 16% per annum over the last ten years. This makes China the 17th largest coffee consumer in the world. However, the per capita consumption is just 5 to 6 cups per year.
The report further compares the growth in China with Japan's coffee consumption growth 50 years ago – from 1964 to 1973. As the graph below shows, coffee consumption levels in China and Japan grew at similar rates over a ten-year period. Japan continued growing strongly until the mid-2000s when it became the world's fourth largest coffee consumer. The coffee consumption in China could follow a similar growth.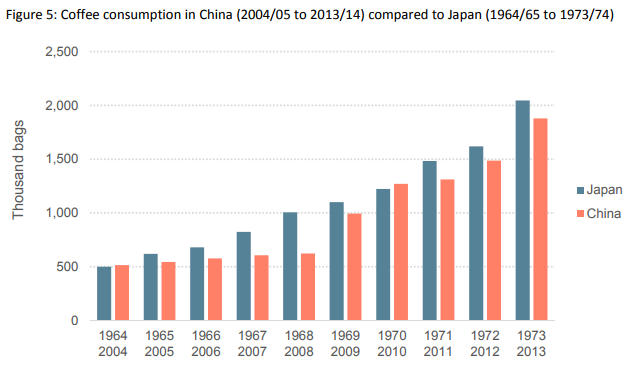 Source: International Coffee Organization
The point I want to make is that Starbucks' prospects in China are strong. Though, strong consumption growth in China does not automatically translate into growth for Starbucks, the company has distinctive advantages of being an early mover, having a strong brand, and an ability to materially influence the development of the market.
Even though China looks promising, I would not completely rely on the potential growth there. Let's say, in worst case, Starbucks' growth does slow down a bit. Does that make it a non-buy or a sell?
Valuation
Excluding the impact of year 2013, when Starbucks paid a fine of $2.8 billion to Kraft Foods, the company's EPS has grown at an average of 27% over the last ten year period. Compared to that, McDonald's (NYSE: MCD), Yum Brands (NYSE:YUM), Darden Restaurants (NYSE:DRI), and Panera (NYSE: PNRA) grew EPS at an average rate of 15%, 12%, 21%, and 16%, respectively, over the last ten years. Dunkin Donuts' (NYSE: DNKN) EPS grew at an average rate of -7% since 2009 (DNKN became public in 2011). So, SBUX's average EPS growth looks better.
In light of the above numbers, SBUX's PE of 29.8 looks slightly better compared to an average of 31.0 for MCD, YUM, DRI, PNRA, and DNKN. Moreover, it looks good even if there is some slowdown in SBUX's growth.
Though, given the uncertain growth prospects in China and the falling transaction growth in the U.S., I would keep a watch on the company's growth over the next few quarters, instead of buying and forgetting the stock.
Disclosure: I/we have no positions in any stocks mentioned, and no plans to initiate any positions within the next 72 hours.
I wrote this article myself, and it expresses my own opinions. I am not receiving compensation for it (other than from Seeking Alpha). I have no business relationship with any company whose stock is mentioned in this article.