By Maria Halmo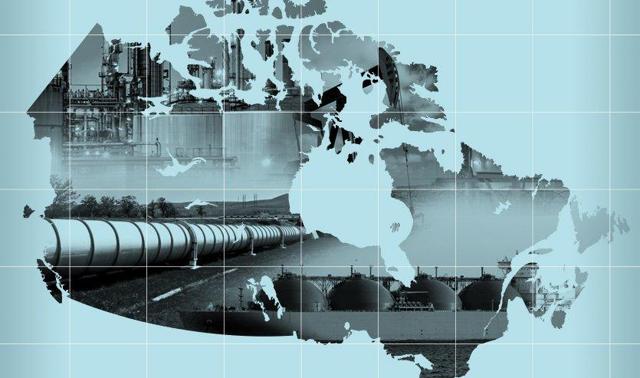 Whoever first quipped that "Americans are benevolently misinformed about Canada" was pretty on the nose. Canadian investors tend to be quite familiar with energy infrastructure south of the 49th parallel, but American investors are often unaware that there are energy infrastructure investment opportunities north of it, and equally unaware that the MLP structure ends at the border.
If you need another reason to be interested, the Kinder Morgan Empire, founded by Rich Kinder, is famous for taking their companies public, taking them private, taking them public again, merging with its own subsidiaries, and generally benefiting investors [1] along the way. Its latest move was an IPO of their Canadian business, as a Canadian company: Kinder Morgan Limited (KML). Before this month, the only other way to get exposure was to buy shares of the encompassing C corporation, Kinder Morgan Inc (NYSE:KMI).
Do MLPs Exist in Canada?
If we're being sticklers about it: no. The MLP structure is a U.S. tax designation. Something similar did exist in Canada years ago known as the Canadian Income Trust, but that structure hasn't existed for a decade. However, if the question is, "does energy infrastructure exist in Canada with similar investment opportunities?" then the answer is a resounding yes!
There are many Canadian companies that own Canadian energy infrastructure assets. A short list of them can be found by looking at that component of the Alerian MLP and Energy Infrastructure Index (AMEI). To save you the trouble, they're listed below: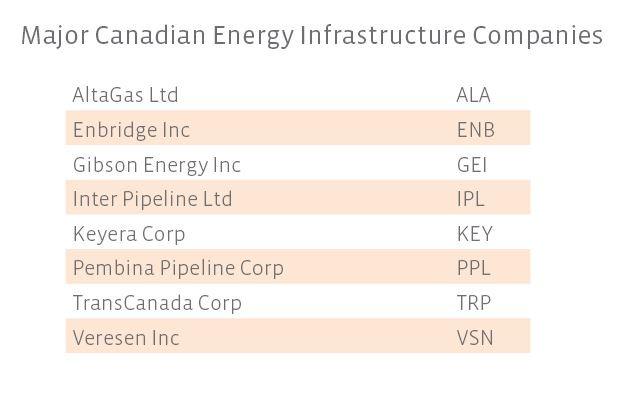 Most U.S. investors have heard of TransCanada Corp (NYSE:TRP), thanks to the Keystone XL pipeline controversy. But the rest aren't as unfamiliar as you might think. As a brief example: Pembina Pipeline Corp (NYSE:PBA) "transport[s] approximately half of Alberta's conventional crude oil production, about thirty percent of the NGL produced in western Canada, and virtually all of the conventional oil and condensate produced in B.C." and that's just their conventional pipeline division. It also owns a gathering and processing business which has 73% take-or-pay contracts, as well as crude and heavy oil pipelines, plus growing its NGL fractionation capacity. PPL's Vantage System even reaches into North Dakota.
However, U.S. MLPs can also own assets in Canada. For example, Plains All American Pipeline (NYSE:PAA) owns significant assets in the Canadian oil sands. (View their asset map for more detail.) Spectra Energy Partners (NYSE:SEP) [2] owns the Express Pipeline which carries crude oil from Hardisty, AB to Casper, WY.
In addition, keep in mind that in the Enbridge family of companies, when a pipeline crosses the border, the Canadian side is owned by ENB, while the U.S. side is owned by Enbridge Energy Partners (NYSE:EEP). Their asset map makes this readily apparent.
The nature of the hydrocarbon resources in Canada means that most of these assets will carry crude oil, NGLs, or potentially refined products.
Why Would Someone Want Exposure to These Assets?
In a single word: diversification. But that diversification includes: geographic, political, and basin diversification.
If an investor values an MLP which is active in many regions of the U.S., then that same investor would also see value in a company which owns assets north of the border. This spreads the risk of a location-specific incident (for instance, a hurricane striking a particular part of the Gulf Coast), as well as the risk of a single state or province enacting laws making it more costly to operate energy assets.
Additionally, while the Permian is the current darling of the energy space, the Canadian Oil Sands should not be too heavily discounted. We've previously written about the Montney, which is just north of the Oil Sands. As a small illustrative data point, in Alberta alone, there are about 168 billion barrels of recoverable oil.
Why Should U.S. Investors Be Wary of These Investments?
Liquidity Risk. The Toronto Stock Exchange (TSX) where KML and other Canadian companies trade is approximately one tenth the size of the New York Stock Exchange (NYSE), and one third that of the NASDAQ. If a stock is too thinly traded, just the act of one investor selling or buying a large position could move the share price.
Currency Risk. Any asset valued in Canadian dollars is subject to fluctuations in the exchange rate between USD and CAD. Should the Canadian dollar strengthen or the U.S. dollar weaken, this would benefit a U.S. investor, but the fact remains that the investment carries exposure not only to these assets, but also to Canadian currency.
Taxation at the border. Generally, Canada will withhold taxes from dividends, interest, and royalties earned by any foreigner, including U.S. citizens. While the normal rate is 25%, a special treaty with the U.S. allows it to be lower (generally 15%). More (and exhaustive) information on this can be found via PwC. Further, the SEC has a list of considerations and risk factors for international investments. Investors are, as always, encouraged to contact their accountants for further details.
The Bottom Line
Energy infrastructure investors can invest in Canadian assets via Canadian companies, U.S. MLPs, or a blended product. The benefits of diversification and access to lesser-known opportunities must be weighed against the potential risks and complications.
Footnotes:
[1] Many people have gotten rich investing alongside Rich Kinder. The famed Rich Kinder is now Executive Chairman, and has passed the torch for President and CEO to Steve Kean; however both still receive that famous $1 annual salary. To be fair, many investors also got a substantial tax bill when KMI bought in both previous MLPs (former tickers: KMP and EPB). Those folks may disagree with the "generally beneficial" assessment.
[2] Owing to the recent merger, the general partner of SEP is now ENB.
Disclosure: © Alerian 2017. All rights reserved. This material is reproduced with the prior consent of Alerian. It is provided as general information only and should not be taken as investment advice. Employees of Alerian are prohibited from owning individual MLPs. For more information on Alerian and to see our full disclaimer, visit http://www.alerian.com/disclaimers.
Maria Halmo is the Director of Research at Alerian, which equips investors to make informed decisions about Master Limited Partnerships (MLPs) and energy infrastructure. Ms. Halmo leads the firm's research efforts, which include examining MLP regulatory filings, monitoring legislative activity, and investigating industry developments. She also oversees Alerian's public communications strategy through investor and media outreach. Ms. Halmo is a former Associate at SteelPath Capital Management LLC, a Dallas-based MLP investment manager, where she conducted valuation analyses of petroleum transportation partnerships and researched macro-level energy issues. Ms. Halmo graduated with a Bachelor of Arts in Astrophysics from Barnard College at Columbia University. She is also a contributing author to Midstream Business, a monthly publication addressing the need for business market intelligence on North American energy infrastructure.
Editor's Note: This article discusses one or more securities that do not trade on a major U.S. exchange. Please be aware of the risks associated with these stocks.