Every month, I cover the orders and deliveries for Boeing (NYSE:BA) and Airbus (OTCPK:EADSY) (OTCPK:EADSF). Now, there is a lot more than just orders and deliveries. Some subjects are worthy of more detailed analysis and some are not. The subjects that are not are not necessarily unimportant. Therefore, I have been running a monthly article that bundles some of the most interesting news items that do not justify a separate article or deserve to be mentioned again. You can read the May report here.
Stock price in June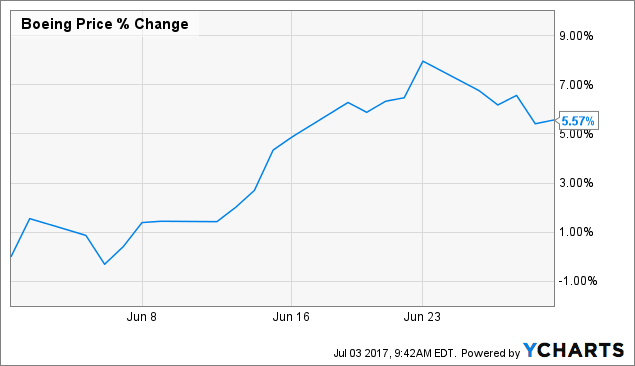 In May, Boeing's shares gained 5.6%, after gaining 2.9% a month earlier. For the company, the positives of increased defense spending and cuts in corporate taxes are still looming, but these positives for the company still have to materialize. Boeing still is benefiting from the potential of increased defense budgets all around the world, but the big momentum driver for Boeing in June was the Paris Air Show, used as a stage to launch products, announce orders, and reveal customers, which helped the company to reach new highs.
Commercial Orders and Market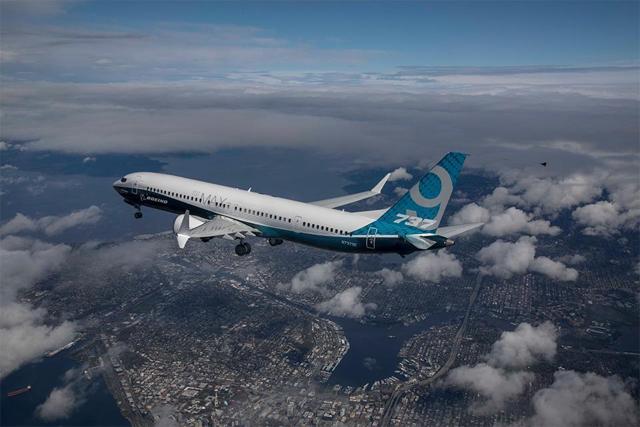 (Source)
In June, everything was about the Paris Air Show. Beforehand, analysts expected that Boeing would launch a stretched version of the Boeing 737 MAX 9: The Boeing 737 MAX 10. This indeed did happen. Boeing launched the Boeing 737 MAX 10 with 361 orders and commitments, most of which are conversions of existing orders. If you would have asked analysts what they had expected for the air show, they would have likely said that they had expected to see some weakness in order inflow for this year's show. Filtering out conversions and options, Boeing secured over 600 orders and commitments with a list price value of $76B. So, I feel safe to say that Boeing beat expectations when it comes to order inflow on the Paris Air Show 2017.
Orders from Vistara and SaudiGulf remained absent, but Ryanair (RYAAY) indeed did order some Boeing 737MAX 200 aircraft as expected. After the air show, Boeing also added the order from Singapore Airlines for 20 Boeing 777-9 aircraft and 19 Boeing 787-10 aircraft, which is in an important order for Boeing's presence in the fleet of the South-East Asian carrier.
During the show, Boeing also gave a presentation about the NMA aircraft, which shows that Boeing is already looking at future aircraft developments. Thus far, the conceptual aircraft has been well-received by airlines and lessors.
After Boeing grounded the 737 MAX in May, June was all about momentum for the Boeing 737 MAX 10, but orders for Boeing's widebody jets was there as well.
South East Asian airline Thai International Airways currently is looking at expanding its fleet beyond 100 aircraft up from the 75 aircraft now. The airline is in talks with Boeing and Airbus to see which jet maker will offer the best deal.
Defense and Space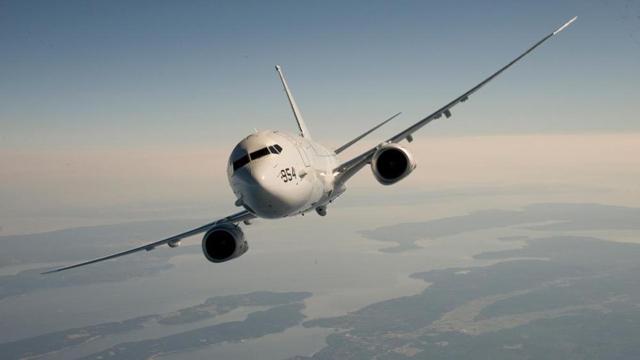 Source: The Boeing Company
Last month, the Saudi arms deal was the highlight for Boeing. This month, the company's focus on cutting cost in the Defense unit was notable. In order to cut costs, Boeing will split the Boeing Military Aircraft and the Network & Space Systems segments. The segments will be split as follows:
Autonomous Systems: Insitu and Liquid Robotics subsidiaries; Echo Voyager maritime vehicle; vertical lift unmanned systems; and certain electronic and information systems.
Space and Missile Systems: Satellites; Boeing's share of United Launch Alliance; the International Space Station; Ground-based Midcourse Defense; Ground Based Strategic Deterrent; Joint Direct Attack Munition and Harpoon weapons, among others.
Strike, Surveillance and Mobility: F-15 and F/A-18 fighters; P-8 maritime patrol aircraft; Joint Surveillance Target Attack Radar System; modifications/upgrades to fixed-wing aircraft.
Vertical Lift: AH-6i, AH-64 Apache, and CH-47 Chinook helicopters; V-22 Osprey tilt rotor.
The changes are expected to affect 50 executive positions. By eliminating a management layer, the Defense arm should be able to better compete when it comes to costs, but also accelerate its decision-making process.
To support air crew training away from home, Boeing has reached an agreement to deliver P-8A Poseidon Trainers to the US Navy. The US Navy will receive the first out 7 Deployable Mission Readiness Trainers (DMRTs) in 2019.
Early in June, Boeing received a three-year contract to support the Indian Navy P-8I fleet. The contract includes engineering, support, planning, logistics, and component service programs.
Boeing recently also reached an agreement for the support of 450 F-15 jets. The contract is valued at $371 million and aims to support the material availability for the coming five years at lower costs.
Conclusion
In June, Boeing's share price gained another >5%. On Commercial Airplanes side, the Paris Air Show was the big thing for Boeing, led by the launch of the Boeing 737 MAX 10.
On the Defense side, we are seeing that Boeing continues to land support contracts, and we are seeing the company emphasizing cost efficiency of these contracts each time. The company is also restructuring the Defense arm to make it more competitive and allowing for a smoother decision-making process.
I view the split as the result of continued pressure on parts of Boeing's defense business. The split into smaller entities would, however, allow Boeing to better focus on growing certain business such as Vertical Lift and Autonomous Systems.
If you would like to receive updates for my upcoming articles, please click the "Follow" text at the top of this page next to my profile.
Disclosure: I am/we are long BA. I wrote this article myself, and it expresses my own opinions. I am not receiving compensation for it (other than from Seeking Alpha). I have no business relationship with any company whose stock is mentioned in this article.
Editor's Note: This article discusses one or more securities that do not trade on a major U.S. exchange. Please be aware of the risks associated with these stocks.