Microsoft's (NASDAQ:MSFT) decision to do a walled-garden approach for Windows 10 S computers can be easily explained. It is a big part of Microsoft's strategy on how it could slow down the quick rise of Alphabet's (GOOG) (GOOGL) ChromeBook. While Apple (AAPL) is only discounting its new iPad for its education system customers, Microsoft is more aggressive with its Windows 10 S campaign. Windows 10 S only allows installation of UWP-compliant software.
The Windows 10 S is Microsoft's carefully thought-out love letter to the K-12 education market. The chart from Future Source Consulting clearly illustrates just how easy it was for Alphabet's ChromeBook's to displace Windows and Mac OS/iOS devices in the U.S. K-12 education market.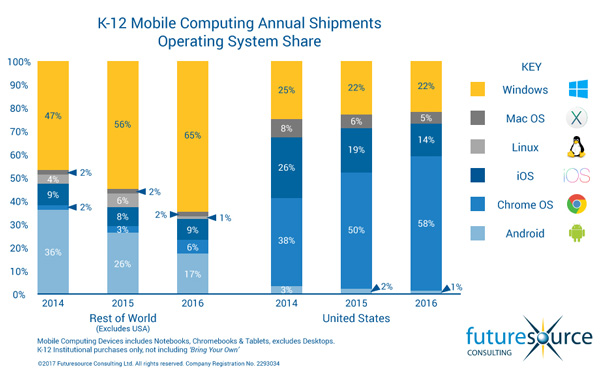 (Source: Future Source Consulting)
It took just three years for ChromeBooks to capture 58% share of the K-12 computing market. This cakewalk victory by Alphabet is why Microsoft came up with its Windows 10 S strategy. Nadella thinks low-cost Windows 10 S computers can beat low-cost Chromebooks.
A Windows machine that won't run legacy custom or commercial Win32 apps like Photoshop, QuickBooks, and AutoCAD is not going to succeed in the corporate world. On the other hand, the K-12 education market will not mind buying a cheap Windows 10 S computer that only allows installation of UWP (Universal Windows Platform) programs.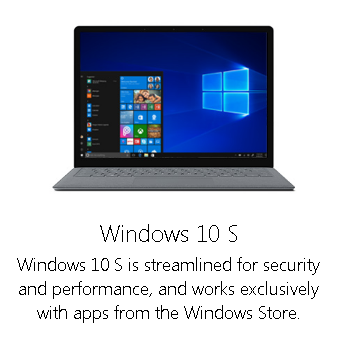 (Source: Microsoft)
Why Microsoft Has To Defend Its Presence In The Education System
The long-term consequences of letting Alphabet Chromebooks rule the education system could lead to disastrous results for Microsoft and Apple. The K-12 students of today are going to be the future employees and corporate movers. The clear and present danger to Microsoft and Apple now is that 58% of the U.S. K-12 students are being converted to Alphabet's software ecosystem.
I admire the brilliant Google employees who concocted the education-focused Chromebooks strategy. They are like Che Guevarra's army who created a long-term plan to overthrow the long-running Windows/Mac OS duopoly on consumer/enterprise computing.
Before Alphabet launched low-cost Chromebooks, American students were learning lessons using Windows and/or Mac OS software. Now the majority of American K-12 kids are being indoctrinated with Chrome OS, Google Docs, and Android apps.
Microsoft easily trounced Google Docs in the enterprise market. However, the future might not be so rosy if Chrome OS computers continues to dominate the K-12 education market.
Ten years from now, companies will start looking for employees versed in Chrome OS and Google Docs, not in Microsoft Office and Windows. This future scenario is a big threat to software/hardware vendors like Microsoft and Apple. The choices/proficiency of people also drives hardware sales.
Enterprise customers won't be buying Windows and/or Mac computers when the majority of future college graduates are already trained in Chrome OS and Google Docs.
Microsoft has a lucrative software-as-a-subscription service in Office, and Apple has a great time selling overpriced Mac computers. They really cannot afford to be complacent against the rising popularity of Chrome OS computers. A check on Amazon's (AMZN) marketplace told me that Chromebooks are now the best-selling 2-in-1 laptops. These customers are obviously no longer under the K-12 education category of buyers.
Chromebooks' popularity has apparently infected home/office computer users too.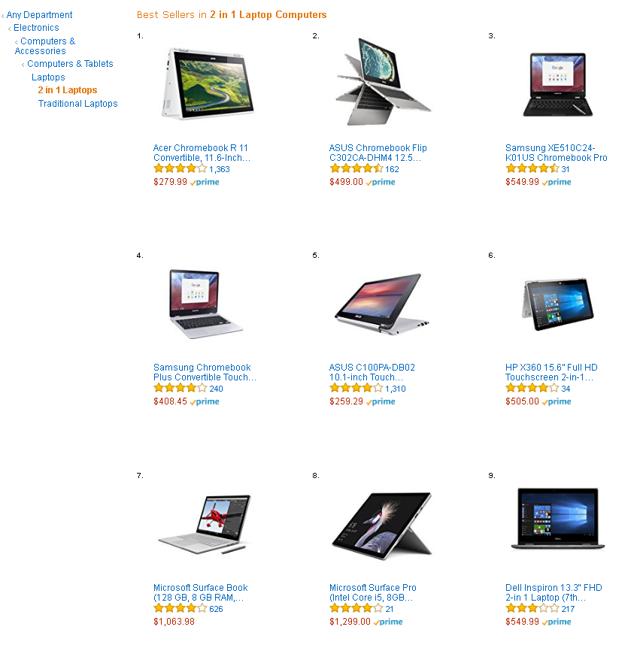 (Source: Amazon)
Those $400+++ Chromebooks from Asus and Samsung (OTC:SSNLF), which are among the top-selling 2-in-1 laptops at Amazon, definitely appealed to some home/office users. They were not meant to be cheap machines for the K-12 education market.
This is the long-term threat now, Chromebooks are already being appreciated outside its core education market.
Conclusion
I am long and I'm endorsing MSFT as a buy. I approve of Microsoft's decision to build a walled-garden around its Windows 10 S strategy. By forcing students and educators to use only Microsoft-approved UWP-compliant software on Windows 10 S computers, Microsoft reduces the influential reach of Google's browser, apps, and search engine. It also inculcates kids with the new UWP format for Windows software. Legacy x86 Win32 apps are no longer necessary.
Our children are our future. Teach them well with Microsoft-only software, or else our shareholders will suffer. Show them all the beauty of Office 2016, Bing, Edge, Skype, and Cortana. Never give the chance to let Google indoctrinate all our children.
Microsoft and/or Apple should always do its best to remind educators and parents that a personal data mining expert like Google might not be the best supplier of computers/software for young kids at school. Google already denied that it is snooping on students who use Chromebooks. Unfortunately, the Google Search Engine and Chrome browser used on Chromebooks and Windows PCs are the same. Consequently, the more you use them, the more personal habits and information you share with Google.
Google's search engine and Chrome are still the best personal data sharing quicksand created by Google. This is partly why GOOG has outperformed AAPL and MSFT for the last five years.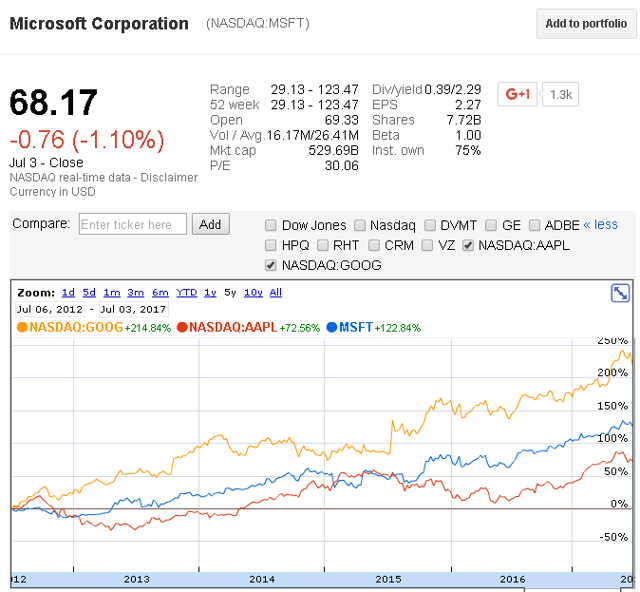 (Source: Google Finance)