Top North America Container Traffic Remains Strong Through May 2017
Summary
Top North America TEUs were up 8 percent through May, a 20 bps decline from April.
Collectively, May was up 6.3 percent versus last year, when considering top North America seaports.
Performance across all seaport regions was more mixed, with select U.S., Canadian and Mexican seaports leading the way.
Class I TEU traffic results have begun to display consistent positive momentum.
Top North America Seaport TEU Review
During 2016, top North America seaport 20-foot equivalent container units (TEUs) were on track to witness negative performance. This was the case through September for laden and empty imported/exported TEUs. It was not until October through December that positive momentum was sustained to close the year out with an overall approximately 1.2 percent gain.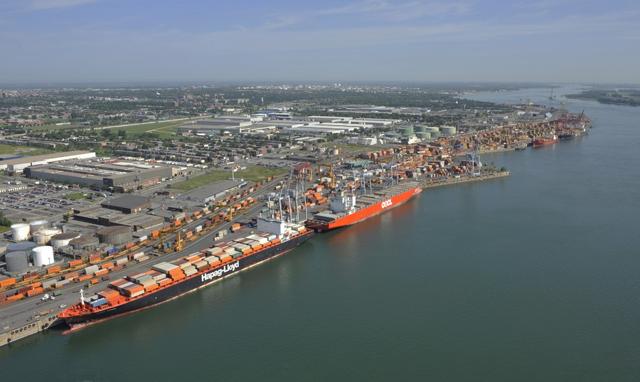 Port of Montreal; Source: Google Images
Through May 2017, performance has remained strong, with top North America seaports witnessing 8 percent growth versus last year. This performance declined by 20 basis points (bps) from the 8.2 percent performance recorded through April. Results have remained robust across the West, East and Gulf coasts for the year, but the month of May did witness more variance.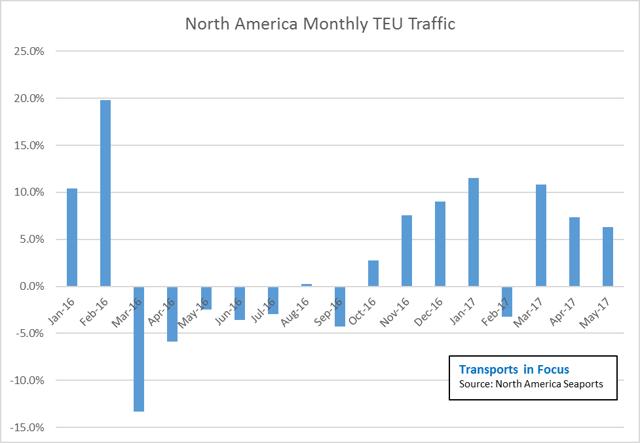 *Note: The seaports of Port Everglades, Jacksonville, Halifax, Wilmington DE and Mobile do not provide monthly TEU data. These mentioned seaports are excluded from the total calculation.
Despite the sequential declines in April and May, performance has now been positive in eight out of the previous 10 consecutive months. International trade continues to be robust for multiple modes, irrespective of how the trade policy rhetoric changes. Consumer demand continues to be a big driver for growth.
Gross domestic product (GDP) was revised higher to 1.4 percent from the initial 0.7 and second 1.2 percent estimates. This represents a more than doubling of growth from last year's quarter. Container TEU volumes continue to substantially outpace GDP. For second-quarter GDP, initial estimates were at 4 percent, which have dropped to 3.4, 2.9 and 2.7 percent, according to the Federal Reserve Bank of Atlanta's GDPNow forecast. The second-quarter 2016 number to beat is 1.4 percent.
The list below provides an overview of Top North America seaports. Collectively, these seaports reflected greater than 90 percent of total TEU traffic during 2016.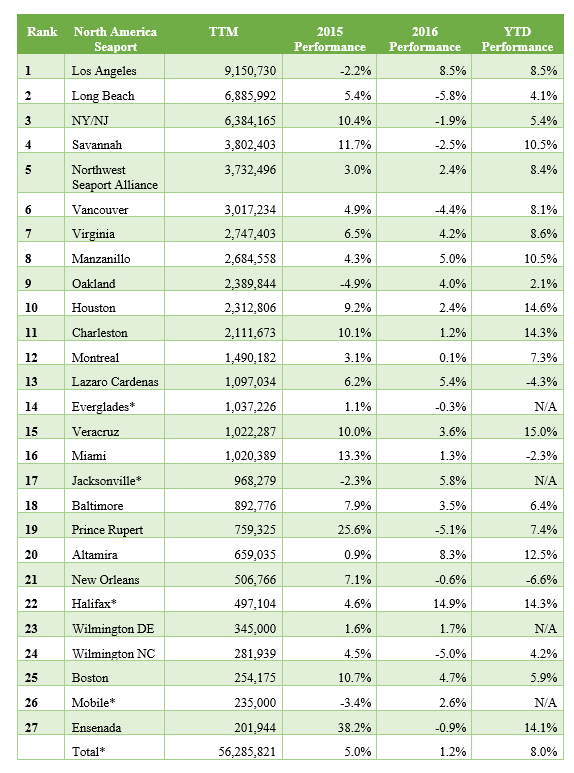 Source: Seaport websites, all numbers are subject to change based on revisions.
*Note: The seaports of Port Everglades, Jacksonville, Wilmington DE and Mobile do not provide monthly TEU data, and all TTM data is based on the most recent fiscal year. Port Halifax provides quarterly TEU data, so all information is as of the most recent quarter. These mentioned seaports are excluded from the total YTD calculation.
The mixed performance during May was reflective across all geographic areas. As an example, some of the larger seaports, including Los Angeles, Long Beach and New York/New Jersey, all witnessed slower growth during the month. But seaports including the Northwest Seaport Alliance (NSA), Houston, Savannah and Virginia all witnessed double-digit performance in May. Collectively, both Canadian and Mexican seaports were strong.
Top West Coast performers for the month included the seaports of Vancouver, NSA, Manzanillo and Prince Rupert at 16.2, 11.8, 10.1 and 8 percent respectively. For the East Coast, top performers included the seaports of Montreal, Boston, Virginia and Savannah at 22.9, 12.8, 12.5 and 11.7 percent respectively. Gulf Coast leaders included the seaports of Houston, Veracruz and Altamira, up 23.5, 20.9 and 15 percent respectively. The seaports of Vancouver, Virginia and Manzanillo and Oakland, Houston and Charleston are all within a range where changes could occur in the near term.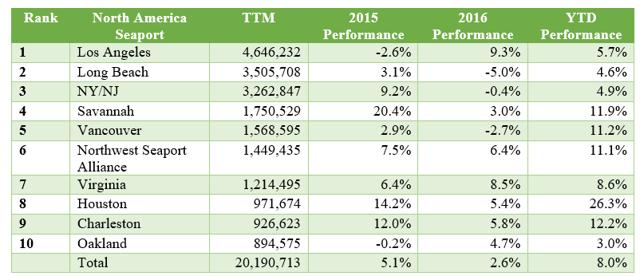 Source: Seaport websites, all numbers are subject to change based on revision.
Top performers from the West Coast included the seaports of Vancouver and the NSA, up 21.1 and 10.3 percent respectively. Manzanillo (total imported TEUs), Los Angeles, Prince Rupert, Lázaro Cárdenas (total imported TEUs), Long Beach and Oakland were up 3.6, 3.1, 3.1, 2.2, 1.8 and 1.4 percent respectively.
Top laden import traffic performers from the East Coast included the seaports of Savannah, Montreal (total imported TEUs), Virginia, New York/New Jersey, Charleston, up 13.5, 11.8, 8.8, 5.4 and 1.5 percent respectively. Miami, Baltimore and Boston were all negative for the month.
The Port of Houston's laden import TEU traffic continued its strong rise for the year. Houston's run of consecutive double-digit monthly year-over-year (YOY) performance now has extended for 12 months, setting a new record. Houston, Veracruz and Altamira (total imported TEUs) were up 42.8, 26.6 and 14.5 percent respectively. New Orleans (total imported TEUs) was down substantially at -34.3 percent.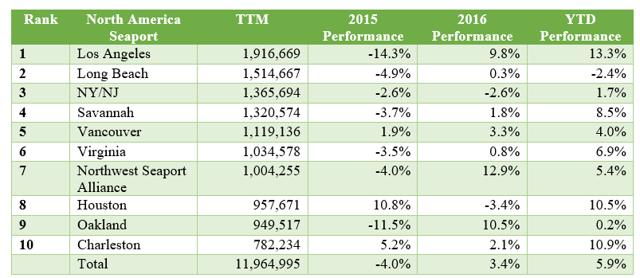 Source: Seaport websites, all numbers are subject to change based on revision.
West Coast seaport laden export traffic was mostly negative during May from last year. Leading seaports included the NSA, Los Angeles and Vancouver, up 8.2, 4.4 and 4 percent respectively. Prince Rupert and Long Beach were the laggards, down -17 and -14.3 percent respectively. Lázaro Cárdenas (total exported TEUs) and Oakland were both down at -6.4 percent, and Manzanillo (total exported TEUs) was down -2.5 percent.
For East Coast seaports, leaders included Montreal (total exported TEUs), Virginia, Miami, Savannah, Charleston, Baltimore, New York/New Jersey and Boston, up 34.7, 6.3, 6.3, 5, 5, 4.3, 3.5 and 0.7 percent respectively. Despite all East Coast seaports being positive, performance was more moderate; still, some diversion of laden exports appears to have occurred in the month.
Houston has once again passed the Port of Oakland. Veracruz was once again dominant with 53.5 percent performance from last year (this marks five consecutive months of greater than 43 percent performance), Altamira (total exported TEUs) was up 15.5 percent and Houston was up 6.7 percent. New Orleans (total exported TEUs) was weaker at -4.8 percent.
North America Class I Rail Container Review
Class I rail operators break down their container performance by international and domestic services. For international containers, traffic moved proportions were as follows: BNSF (BRK.B) and Union Pacific (UNP) near 50 percent, Norfolk Southern (NSC) near 60 percent and CSX Corp. (CSX) near 40 percent. Most container moves for both Canadian rail operators are international.
In addition to direct haulage of international containers, a substantial number of international containers are transloaded to domestic containers with proximity to seaports, for BNSF, Union Pacific, Norfolk Southern and CSX. From this perspective, a substantial majority of container traffic for Class I rail operators are driven by seaport TEU traffic.
Additional companies directly benefiting from these trends include J.B. Hunt Transport (JBHT) and Hub Group (HUBG). Many others in the freight sector also benefit, including ocean freight forwarders like Expeditors International (EXPD), major truck brokers like C.H. Robinson Worldwide (CHRW) and XPO Logistics (XPO), among others.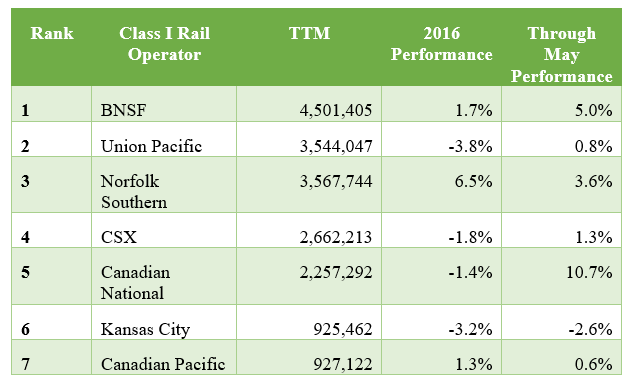 Source: Class I weekly container units carried
Performance in May was positive, as every Class I rail operator witnessed improvement from April. The top performers for the month were Canadian National (CNI) and Norfolk Southern with 200 and 100 bps gains respectively. Union Pacific, Canadian Pacific (CP) and CSX witnessed 90, 80 and 70 bps gains respectively. Kansas City Southern (KSU) and BNSF were up 30 and 20 bps respectively.
Canadian National continues to stand out as the closest correlating Class I rail operator to TEU performance. The company continues to benefit from the improvement in Canadian seaports on both coasts during 2017. The exclusive access to Prince Rupert and Halifax is understandable, but it appears that market share gains have occurred at Vancouver and/or Montreal as well.
All Class Is are now positive for the year, with the exception being Kansas City Southern. During the first quarter, the trucking industry witnessed a soft market, which led to weaker pricing. This impacted the intermodal segment for Class Is, but it would appear that the May trend suggests an improving overall environment.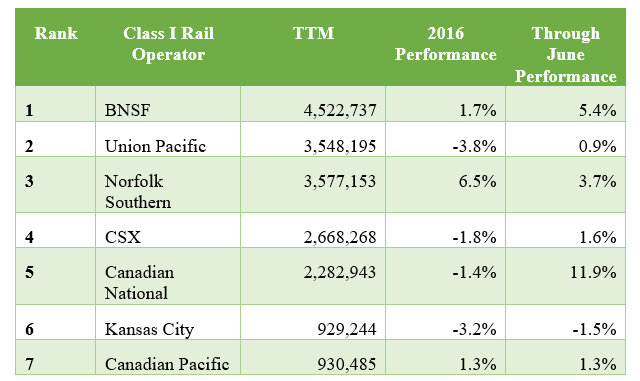 Source: Class I weekly container units carried
Looking to June, performance continued to accelerate for all Class Is. The most robust activity has impacted both Canadian rails as well as Kansas City Southern. The new AMP Terminal operated by Maersk (OTCPK:AMKAF) is expected to increase container volumes. This should provide Kansas City Southern the opportunity to get back to positive growth later in the year, especially with the collaborative intermodal partnerships with BNSF.
Transports in general have experienced a strong uptick in stock prices over the past few weeks. The trucking industry has been one of the strongest performers during this time, which suggests that the second half of 2017 could serve as a catalyst for both spot market and contract pricing.
Summary
Consumer demand continues to drive strong international trade flows. This has been the case for seaport, surface transportation and air cargo modes. The second-quarter initial GDP estimate will be a good barometer of how stable and/or strong the economy is looking. Expectations are for a solid uptick from last year's performance.
Some trade lanes for container shipping lines have been experiencing stronger pricing over the past couple of weeks, with some experts looking to a solid second half of 2017. All these factors set markets up for continued positive momentum, but most industries still remain cautiously optimistic, as visibility is not perfectly clear.
This article was written by
Investing can be very challenging, especially for those looking for growth opportunities. I like to consider aggressive growth opportunities, with my investments. These are the investments yielding the best returns.
Analyst's Disclosure: I am/we are long CNI, HUBG, JBHT, KSU, XPO. I wrote this article myself, and it expresses my own opinions. I am not receiving compensation for it (other than from Seeking Alpha). I have no business relationship with any company whose stock is mentioned in this article.
Seeking Alpha's Disclosure: Past performance is no guarantee of future results. No recommendation or advice is being given as to whether any investment is suitable for a particular investor. Any views or opinions expressed above may not reflect those of Seeking Alpha as a whole. Seeking Alpha is not a licensed securities dealer, broker or US investment adviser or investment bank. Our analysts are third party authors that include both professional investors and individual investors who may not be licensed or certified by any institute or regulatory body.