The oil market is an easy place to lose your speculative dollars if you are not careful, a one plus percent move in a day is commonplace for oil futures markets. The contract we are going to concentrate on is the WTI (West Texas Intermediate) Light Sweet Crude contract, CL for short. The price of this contract is historically based off of the movement of inventories at the storage facility in Cushing, Okla. If you trade oil, you probably are well aware that prices are affected by many other factors as well.
Price sentiment is mixed
Currently sentiment is pretty mixed, short term it is bullish at the moment. After the drop from $53 to $42 over the last month or so, price have risen about $4 in the last 7 trading days. This has lured speculators back into long positions and will likely continue to over the next week or two as price approaches $48. A good deal of trading has gone off at the $48 level; this is why I think it will make a good place for a turning, or stalling point in price.
Fundamentals do not support higher prices right now
Fundamentally, there remains an oversupply of oil around the world. This issue arose a couple of years ago, because the drop-in oil prices caused producers to have to sell more oil to pay the bills. I go over this in another piece on OPEC here. A recent article titled "Big Banks Wave Goodbye to Hopes for Year-End Oil Price Surge" talks about how banks have now cut their outlook for oil prices after the failure of an OPEC deal to reduce inventories around the world. This illustrates the overall bearish fundamental picture of the current state of the oil market.
Many analysts believe that these factors indicate that oil prices have not bottomed from the last high yet. While we still have room to go up before prices start selling off again, overall medium-term sentiment is bearish. In other words, it is not time to throw the kitchen sink in long yet. Let's get to the charts to see where we should be looking to reassess long positioning.
Technical overview of crude oil futures charts
I will start this with a warning, that my charts can get messy, I will do my best to make them as simple and clear as possible.
First, I will start off with a big picture chart: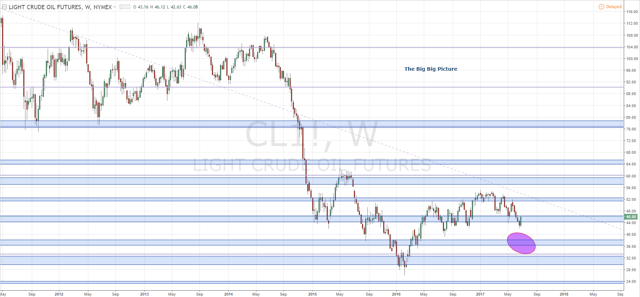 The blue boxes are Fibonacci confluence areas, I find that oil prices follow these harmonics well. I draw them on slopes that move from top to bottom left to right only, not the other way around as this method has always produced the best results for me.
With the overall bearish outlook on prices, my next downside target for CL is between $38.15 and $36.50. I am not yet short.
A four-hour chart below: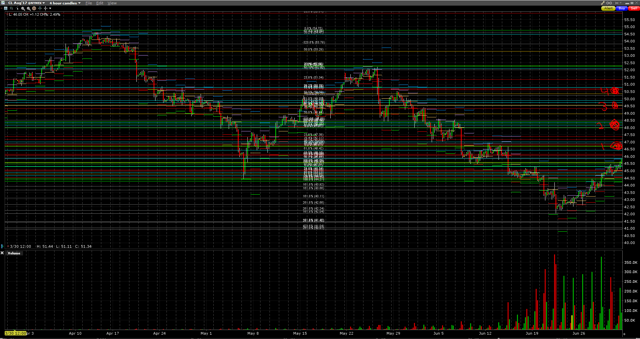 I have marked off the following areas as upside targets over the next few weeks. Based on the way crude prices move in the absence of war threats, OPEC deals or large forest fires; there is a high probability that we will make the $48 to $48.50 area with a stall possible between $46.50 and $47. Once we get into the $48 area, it will be time to reassess long thinking, using recent inventory reports, trader positioning and extraordinary news.
When we get to the $48 area there will likely be many people doing the same thing, stalling here is a good possibility. Prices could even extend into $50, but the probability of that happening is much lower. My suggestion with the oil markets is take the trades that you know and scale positions that are in question, or stay out of them entirely.
In the previous piece mentioned above; I said that price should pivot around $45 area within a +/- $5 range for some time to come, with +/- $10 range in extenuating circumstances. For example, when CL makes its next low around $36 or say if the U.S. and Russia start dropping bombs on each other, then we will probably see oil move into the high $50s pretty fast.
Positioning for the near-term future
A few trade ideas that will take you from here to $48 are to naked long an oil ETF such as United States Oil (USO), the ETN, VelocityShares 3x Long Crude Oil ETNs linked to the S&P GSCI C (UWT), the crude oil futures, or options on USO or the futures. As far as options, there are many ways to play it, but I would plan on prices reaching between $47 and $48 by the end of July; note, paying up for naked calls may not be the best way to go about this since oil can be volatile.
I have exited my positions for the fourth of July week, as I will be out of the office for most of the week and will not be able to monitor them, but plan to re-initiate upon my return.
Disclosure: I/we have no positions in any stocks mentioned, and no plans to initiate any positions within the next 72 hours.
I wrote this article myself, and it expresses my own opinions. I am not receiving compensation for it (other than from Seeking Alpha). I have no business relationship with any company whose stock is mentioned in this article.