Below is a look at the change in market cap experienced by the S&P 500 and each of its eleven sectors in the first half of 2017. The members of the S&P 500 had a combined market cap of $20.49 trillion at the start of the year, and they added $1.62 trillion in the first half. This leaves the S&P 500's current market cap at $22.11 trillion.
Of the eleven sectors, Technology gained the most in market cap at roughly $680 billion, moving from $4.26 trillion at the start of the year up to $4.93 trillion at the end of June. Health Care, Consumer Discretionary, Industrials, and Financials all added more than $150 billion in market cap.
Only two sectors lost market cap - Telecom and Energy. The Energy sector lost the most in market cap in the first half at -$177.6 billion.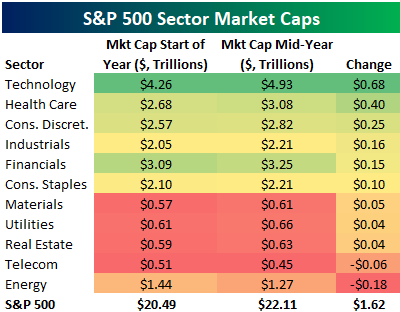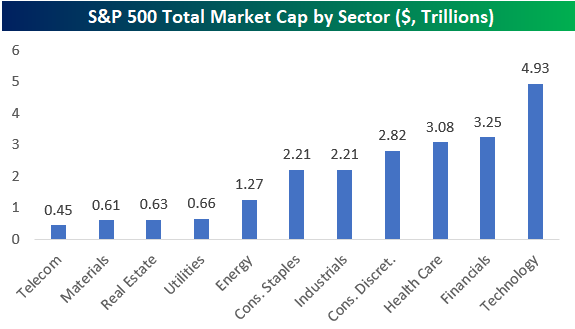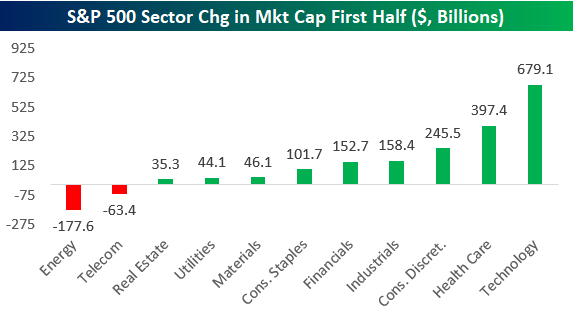 Thanks for reading the article. Follow our account to get our articles as soon as they're posted to Seeking Alpha. To get our full newsletter, sign up for Bespoke Newsletter PRO. Subscribers to that service get access to Bespoke's model stock portfolios, actionable data-driven insights, and in-depth analysis of everything that drives the markets, among other things.