Ford - When Perfect Isn't Good Enough
Summary
The story continues, light weight truck sales keep growing while car sales are crashing.
Ford is well positioned with a few well-selling brands and models.
Despite slowing credit growth and rising delinquencies: heavy duty truck sales are growing again.
Monthly US car sales are by far the best coincident indicator for the car industry. Simply because they frequently tell you how the business is doing regardless whether one has a bearish or bullish view. That's what this article is all about. I will give you a breakdown of all important aspects of the June sales report and elaborate on important trends while providing you with an extra indicator that might give us positive news about Ford (NYSE:F) and the automotive industry in general.

Source: Wikipedia
The June report is one of the more interesting ones. It is being published in a time of high negativity. Soaring delinquency rates, falling automotive credit and depressing historical sales numbers.
Car sales started their period of weakness and contraction in the first quarter of 2016. In the third quarter of the same year, we saw peaking automotive credit. Credit growth is currently below 3% after falling in a straight line without any bounces whatsoever.
That being said, I am afraid that June is no different. Car sales declined 13.2% versus June of 2016 while the YTD performance is 11.4% down compared to the same period in previous years. The good thing, is that light-duty trucks soared 4.1% in June and 4.6% YTD. Add to that the sales volume of more than 933 thousand units versus 'only' 541 thousand cars. This brings total sales growth to minus 3% versus June of 2016 and negative 2.1% on a YTD basis.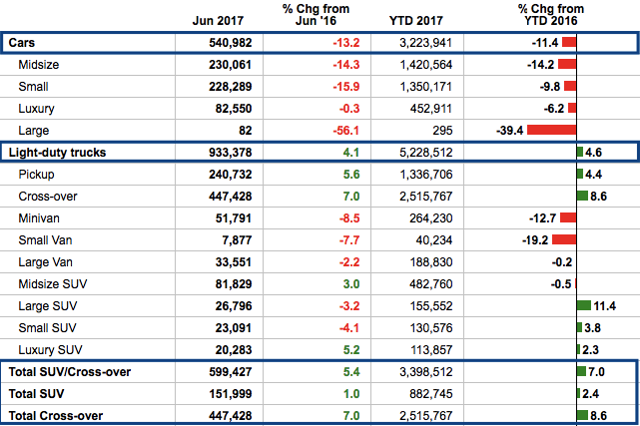 Source: Motor Intelligence/Wall Street Journal
This shows us two things. The first one is that sales are slowing indeed. There is no denying that macro factors are a big burden on car manufacturers. The second point is much more positive. It is not a recessionary environment when light trucks keep soaring month after month. A serious slow down would have killed the SUV/truck rally by now. You will read more about this going further into this article.
Speaking about light trucks and SUVs, I am happy to report that June continued the gains of May. Ford saw a 9.8% sales increase for its F-Series and a 19.3% Explorer jump. The F-Series posted its best result since 2004 while the Explorer posted its best June in 12 years.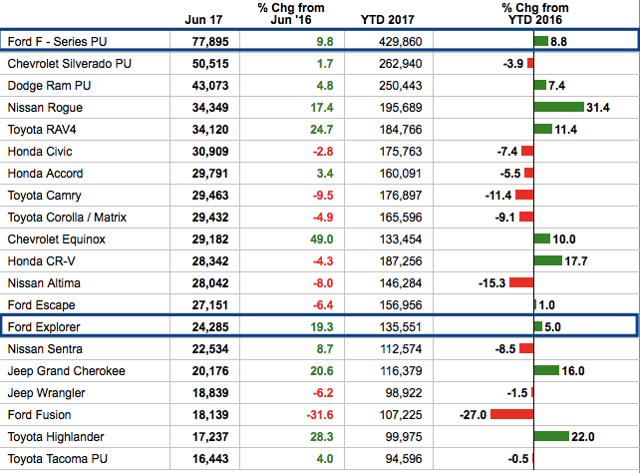 Source: Motor Intelligence/Wall Street Journal
The strong Explorer sales are coming right before the release of the 2018 Explorer (released in fall of 2017). I am mentioning this because new releases are often slowing the current model - or at least being used as an excuse for lower sales.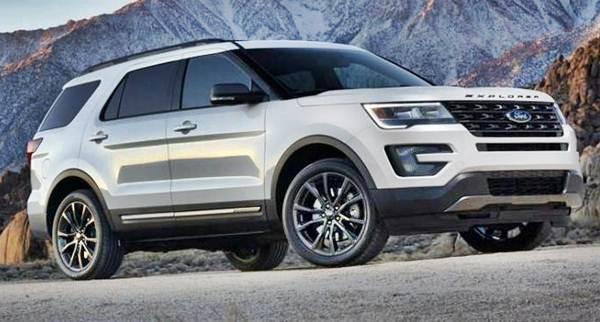 Source: Carbuzz
Ford's luxury brand Lincoln reported its 17th consecutive month of growth. This adds to my thesis that luxury cars, SUVs and light trucks are doing too well do call it an automotive recession.
This is also visible when looking at the graph below. Car sales are in a severe downtrend since 2016 while light trucks remain at rock solid levels. Note that the picture does not look that bad. But that is mainly caused by the Y-axis which starts at 0.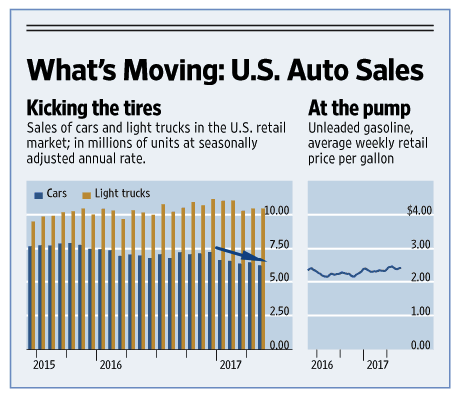 Source: Wall Street Journal
The graph below more or less summarizes everything so far. It also shows that Ford is underperforming its peers by a rather large margin in June and on a YTD basis (blue box in graph below).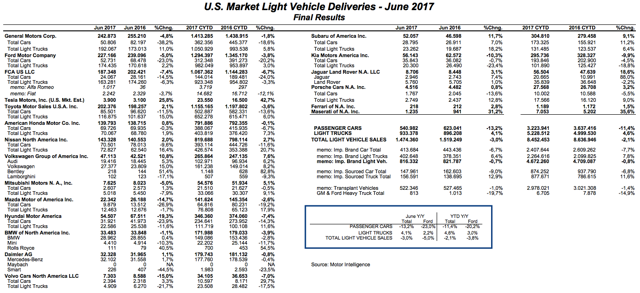 Ford's car sales imploded with a 23% decline of passenger cars. The 2.2% truck sales increase brings total sales growth to -5%. This is 2 points below the average of all manufacturers. Even on a YTD basis, we see that car sales are down about one fifth while trucks soared 3%. Both are underperforming the market. Even if we include strong months like May when Ford surpassed General Motors (GM).
Before I end this article, there is a very important change that could impact the entire automotive industry. Heavy duty trucks have left a long period of severe contraction in May. Sales are currently up nearly 2% after dropping 20% in 2016 and the first quarter of this year.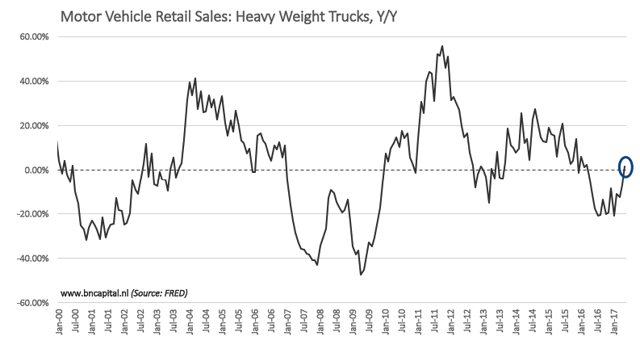 Not only is this a very good indicator of the economy, it also shows that heavy duty truck sales are following leading economic indicators like the ISM manufacturing index which hit a new high in June. Nonetheless, it is still too early to call for a recovery. Especially because delinquency rates are rising while credit is falling. For now, it is just important too remember that Ford is well positioned at this point. SUV and truck sales are solid and demand is likely to stay high for the coming models. It's not the company, it's the environment that causes the trouble.
Many thanks for reading my article. What do you think, is Ford well positioned for the future and why is it underperforming despite having successful brands and models? Feel free to share your thoughts and ask any questions regarding this article in the comment section below.
This article was written by
Welcome to my Seeking Alpha profile!I'm a buy-side financial markets analyst specializing in dividend opportunities, with a keen focus on major economic developments related to supply chains, infrastructure, and commodities. My articles provide insightful analysis and actionable investment ideas, with a particular emphasis on dividend growth opportunities. I aim to keep you informed of the latest macroeconomic trends and significant market developments through engaging content. Feel free to reach out to me via DMs or find me on Twitter (@Growth_Value_) for more insights.Thank you for visiting my profile!
Analyst's Disclosure: I/we have no positions in any stocks mentioned, and no plans to initiate any positions within the next 72 hours. I wrote this article myself, and it expresses my own opinions. I am not receiving compensation for it (other than from Seeking Alpha). I have no business relationship with any company whose stock is mentioned in this article.
Seeking Alpha's Disclosure: Past performance is no guarantee of future results. No recommendation or advice is being given as to whether any investment is suitable for a particular investor. Any views or opinions expressed above may not reflect those of Seeking Alpha as a whole. Seeking Alpha is not a licensed securities dealer, broker or US investment adviser or investment bank. Our analysts are third party authors that include both professional investors and individual investors who may not be licensed or certified by any institute or regulatory body.