Source: Company website
Advance Auto Parts, Inc. (AAP) falls under the Automotive Parts & Accessories Retailers industry in the Consumer Discretionary sector. In the 2016 annual report, the company stated,
The auto parts industry continues to grow above GDP growth rates and is forecasted to do so for the foreseeable future.
Advance Auto Parts has a long history of profitability and has outperformed the market (using SPDR S&P 500 ETF Trust (SPY) as a proxy) in the long run.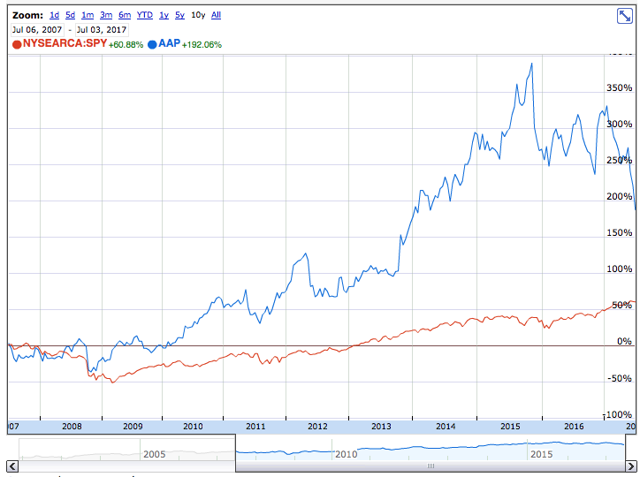 Source: Google Finance - 10-year price chart comparison between AAP and SPY
Advance Auto Parts may be attractively priced after its shares have underperformed the market in the last year.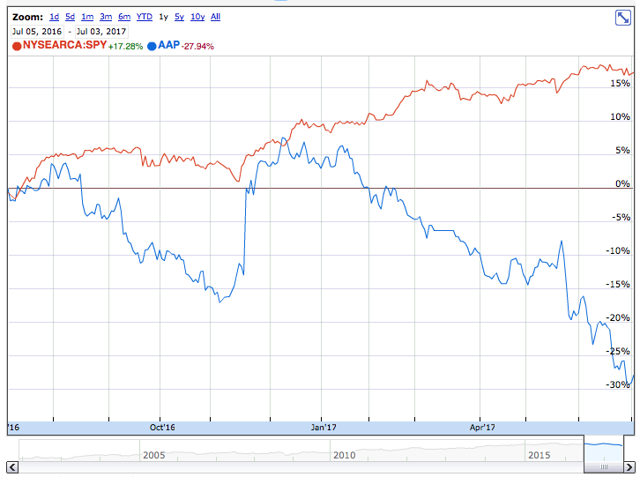 Source: Google Finance - 1-year price chart comparison between AAP and SPY
Business Overview
Advance Auto Parts sells automotive aftermarket parts in North America and serves both the professional installer and do-it-yourself ("DIY") customers.
The company's history goes as far back as 1932 when it was called Advance Stores Company and sold general merchandise. It wasn't until the 1980s that it began to focus on selling automotive parts and accessories to DIY customers. Then, in 1996, it started delivering to professional installers as well.
Over the years, it has grown via comparable store sales growth, new store openings, and strategic acquisitions. In January 2014, it acquired General Parts International, which was previously a privately held leading distributor and supplier of original equipment and aftermarket automotive replacement products for professional markets operating under the Carquest and Worldpac brands.
Now, Advance Auto Parts is the largest automotive aftermarket parts provider in North America. As of April 22, 2017, Advance Auto Parts operated 5,059 stores and 130 Worldpac branches and served roughly 1,250 independently owned Carquest stores.
Management Changes
Activist investor Starboard Value LP bought a 3.7% stake in Advance Auto Parts in September 2015. At the time, Advance Auto Parts shares were trading at about $171 per share, and Starboard believed the shares could double to more than $350 per share.
Starboard getting on board also resulted in the hiring of Thomas Greco as the Advance Auto Parts CEO in April 2016. Mr. Greco previously led the PepsiCo (PEP) Frito-Lay division in North America and had 30 years of experience at the soft drinks and snacks company. Starboard also led to other changes to the board.
In October 2016, Thomas Okray, who has more than 25 years of experience in finance, operations, and supply chain, was appointed as executive vice president and CFO.
Starboard had several ways to increase shareholder value, including improving operational efficiencies to drive higher margins and returning capital to shareholders via dividends or share buybacks. So far, that hasn't played out yet as we continue to see lower margins and the share count and dividend have stayed the same since 2015.
Profitability
On initial look, it seems Advance Auto Parts' growth has tapered off. Since 2014, its revenue and earnings per share ("EPS") have mild declines of 3.7% and 5.8%, respectively.
However, the company's five-year revenue growth rate looks much better at nearly 9.2%. Its revenue had a big jump of 51.6% to $9.8 billion in 2014 due to its acquisition of General Parts, which made Advance Auto Parts into the largest automotive aftermarket parts provider in North America. Similarly, Advance Auto Parts' five-year adjusted EPS growth rate looked better at nearly 7%.
Source of data: Morningstar.com
That said, since 2011, Advance Auto Parts has experienced pressure on its operating margin, which has declined from 10.77% to 7.35% in the trailing 12 months. At the same time, its return on assets and its return on equity have declined from 11.3% to 4.9% and 41.8% to 14.5%, respectively. At least, though, management has been maintaining reasonable financial leverage.
Valuation And Returns Potential
At the recent quotation of about $118 per share, Advance Auto Parts trades at a multiple of about 17. This is attractive for near-term EPS growth forecasts of 22% and 17% for 2018 and 2019, respectively.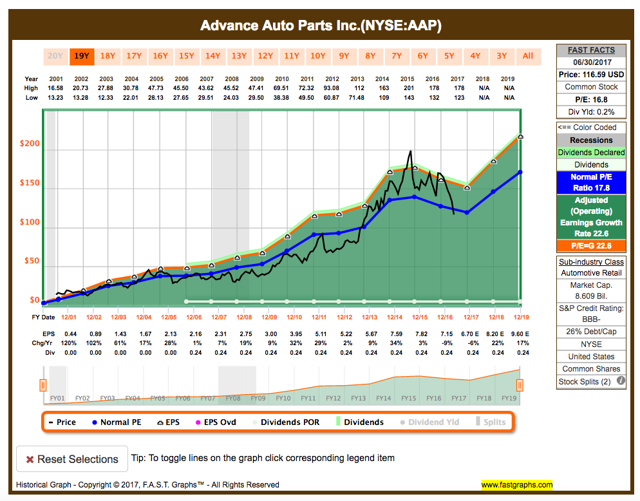 In the next three to five years, the analyst consensus believes Advance Auto Parts can grow its EPS at a compound annual growth rate of 11.6-12.2% per year. So, the shares are attractively priced today.
Using a conservative multiple of 16.5 and the lower end of the EPS growth rate of 11.6%, an investment in Advance Auto Parts today can deliver annualized returns of 13.4-14.3% in the next few years.
Investor Takeaway
Despite the recent double-digit share price decline, long-term investors in Advance Auto Parts have done reasonably well. An investment since the end of 2007 would have delivered annualized returns of 12.8%, which greatly outperformed the same investment in the S&P 500 that would have delivered annualized returns of 6.7% in the same period.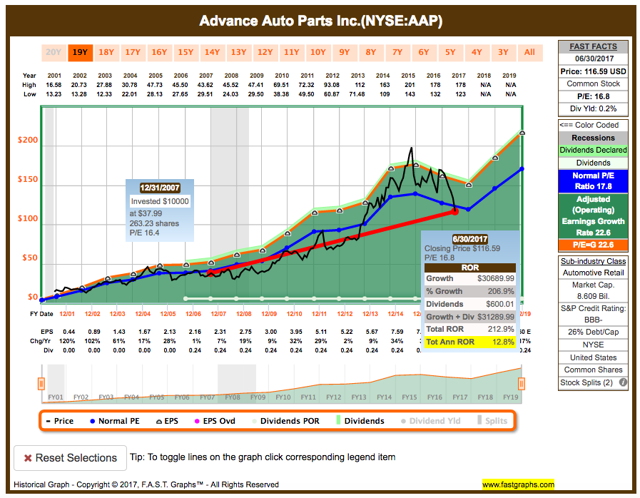 Long-term returns
Advance Auto Parts has been digesting the General Parts acquisition as the company has reduced its store count (by about 5.8%) from 5,372 at the end of 2014. These have impacted margins, revenues, and earnings negatively in the last few years.
Currently, Advance Auto Parts' net margin sits at 4.3%. As the company turns around, there will be room for margin expansion and a potential to rebound earnings to jump start earnings growth again.
Share your thoughts in the comments below
What are your thoughts on Advance Auto Parts or the industry?
What other attractive stocks are on your list?
Disclaimer: This article consists of my opinions and is for educational purposes only. Please do your own research and due diligence and consult a financial advisor and or tax professional if necessary before making any investment decisions.
Disclosure: I/we have no positions in any stocks mentioned, and no plans to initiate any positions within the next 72 hours.
I wrote this article myself, and it expresses my own opinions. I am not receiving compensation for it (other than from Seeking Alpha). I have no business relationship with any company whose stock is mentioned in this article.