For years investors wrote off AMD (AMD) as an also-ran competitor of Intel (INTC) with little prospect of every reversing its long decline. I have been a fan of Intel for years and followed the herd in thinking Intel would remain the key player in the CPU and Server markets for decades to come, with the advantages of scale and relentless improvements in core technologies as Intel followed the path set by Moore's Law seemingly without roadblocks of any kind.
Today, a rejuvenated AMD is emerging as a potentially serious competitor. AMD's recent success in taking CPU market share from Intel is a solid indication that AMD is no longer out of the running for the chip market.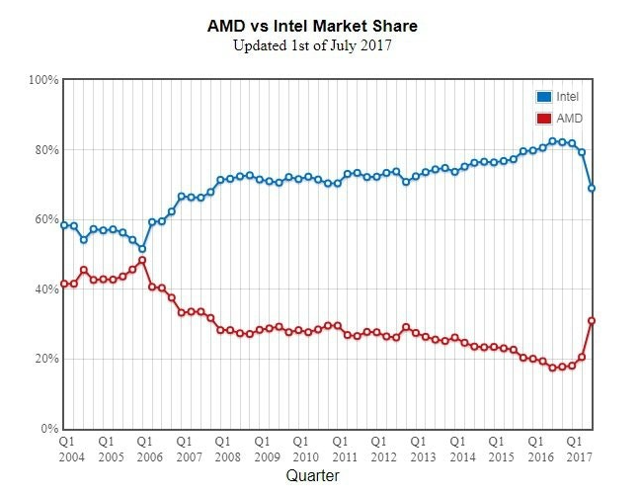 Source: Passmark CPU share
The PC market is a major source of Intel profits and any loss of share in that market will translate into weak operating results at Intel. That has yet to happen with Intel's results in the consumer segment coming in at substantial gains year-over-year in Q1
Cracks began to appear in the server market in Q1, an outcome Intel reported resulted from changes in manufacturing process as it moved further along the Moore's Law curve. Stronger PC sales offset a slump in servers.
The implications of share loss for Intel could be dire. The PC market runs about 260 million units annually. A 10% share loss is 26 million CPU's at Intel's average price of about $230 adds up to almost $6 billion. That size of loss would be a devastating setback for Intel. To fend off that sort of intrusion, Intel may cut prices.
At the same time, Intel's position in the server market is under attack. AMD Will Take Server Market Share over time.
The server market comprises $13.6 billion of revenue for Intel Xeon processors.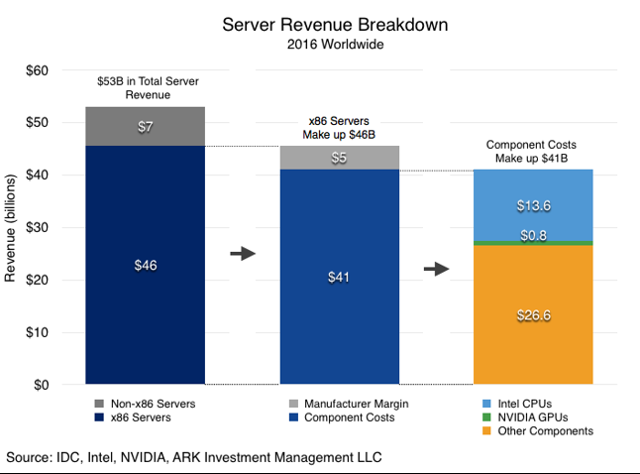 Source: Seeking Alpha
Nvidia (NVDA) has been on a roll expanding its position in servers albeit from a small base to where Nvidia server revenue in 2016 was about $800 million.
More competition could not come at a worse time in the server market which has been struggling to find growth recently.
The result may be lower prices and volumes, again not robust news for Intel.
The market remains generally bullish on Intel but I think investors may want to reflect on the dynamics. Intel Corp.
Intel is a formidable competitor and threats from old foes like AMD and Nvidia may not turn into serious setbacks but in a world where technology shifts can be dramatic investors are well-advised to introduce a note of caution. At $32 per share, Intel trades at a price to earnings multiple of about 12 times and is by no means "expensive" by traditional measures. By the same token, Intel enjoys very high margins and is volume sensitive. I think it is time to take some money off the table and watch the sector closely. Despite the headwinds, Intel may have a few smaller tailwinds with the prospect of its LTE chips finding their way into iPhones at an increasing pace offering a minor growth opportunity but likely offset by Intel's recent decision to discontinue some IoT products.
I have no position in Intel but if I decided to take one today, it would be a short holding.
Disclosure: I/we have no positions in any stocks mentioned, and no plans to initiate any positions within the next 72 hours.
I wrote this article myself, and it expresses my own opinions. I am not receiving compensation for it (other than from Seeking Alpha). I have no business relationship with any company whose stock is mentioned in this article.