Dow Theory contains several basic tenets of stock price movements, first observed by Charles H. Dow in the 19th century. One key element of Dow Theory is that stock market averages must confirm one another. In Dow's time, the U.S. was a growing industrial power (with a relatively small service sector). As factories had to ship their goods to market, usually by rail, transportation was a crucial part of the economy. For Dow, a bull market in industrials could not occur unless the railway average rallied concomitantly. In sum, confirmation of a rising trend in the Dow Industrials and in the Dow Transports was a sign of a healthy economy. On the other hand, when the performances of the averages diverge, it is a warning that change is in the air.
Despite the tertiarization of the U.S. economy, many technicians still follow this Dow tenet. Since the beginning of the Trump rally, the Dow Industrials (NYSEARCA:DIA) and Transportation Averages (BATS:IYT) have been confirming, with the transportation average breaking out to record highs. While this confirmation may be reassuring from a traditional Dow Theory perspective, we question the usefulness of the transportation average confirmation in an overwhelmingly service-based U.S. economy.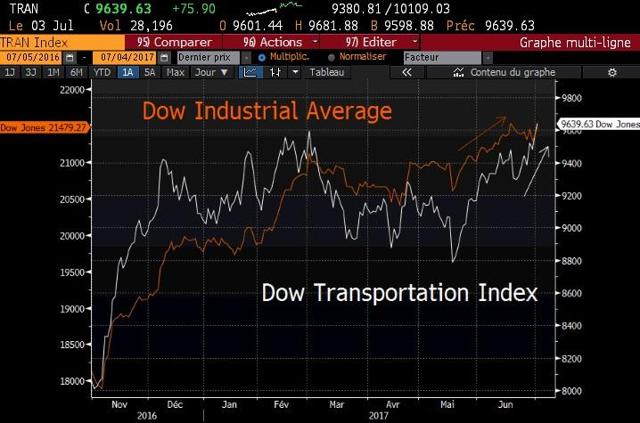 Of greater concern today is the divergence of technology with the Dow Industrials. Technology companies make up almost 20% of U.S. total market capitalization and play a leading role in an overwhelmingly service-based economy (quite unlike in Dow's era). Much more important in our opinion than the confirmation between the Dow Industrials and Dow Transports, investors should monitor closely the growing gap in the Dow Technology Index (NYSEARCA:IYW) with the Dow Industrials shown below. While the odds likely favor a bounce-back in technology shares, should this divergence persist we would view the non-confirmation of tech shares as a warning sign for the overall stock market. And warning signs that develop before the negative August/ September period need to be heeded...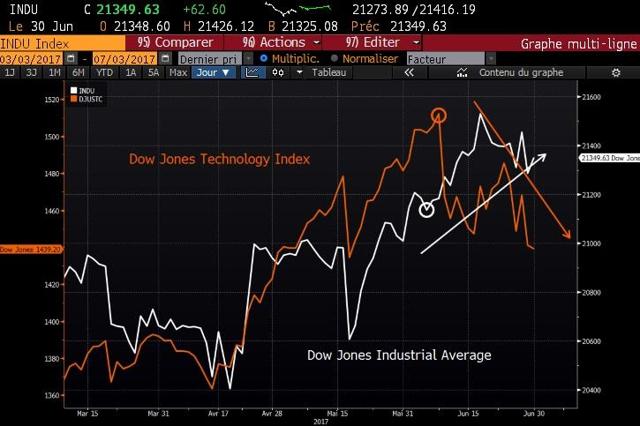 Disclosure: I/we have no positions in any stocks mentioned, and no plans to initiate any positions within the next 72 hours.
I wrote this article myself, and it expresses my own opinions. I am not receiving compensation for it (other than from Seeking Alpha). I have no business relationship with any company whose stock is mentioned in this article.