Boeing 737 MAX Order Book To Surpass 4,000 Units
Summary
Boeing 737 MAX 10 already has the relative share in Boeing 737 MAX order book that the MAX 9 had.
True strength of the MAX 10 will show in  expanding order book share.
Boeing 737 MAX is very important to Boeing.
During the Paris Air Show, Boeing (NYSE:BA) launched the Boeing 737 MAX 10 turning its 3-member single aisle family in to a 4-member family. In this article, I will have a look at what the Boeing 737 MAX order book looks like now and emphasize its importance to Boeing's business.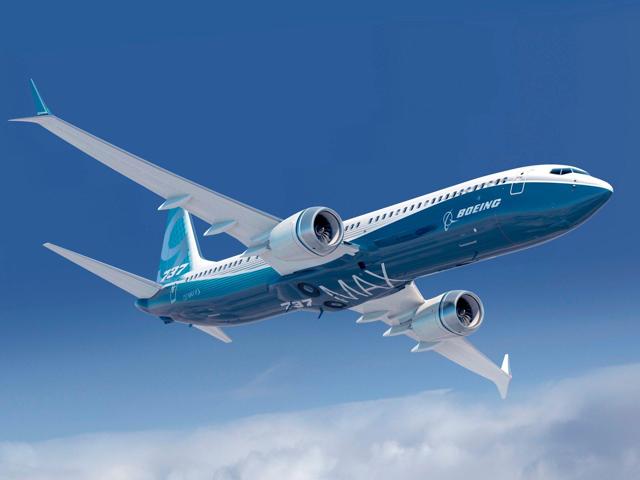 Image Courtesy of The Boeing Company
Order book
Currently Boeing has delivered 4 Boeing 737 MAX; 2 to Malindo Air and 2 to Norwegian Air (OTCPK:NWARF). In total Boeing's latest orderbook until May shows 3,699 orders for the Boeing 737 MAX family.
Up until the 31st of May, Boeing's order book looked as tabulated below: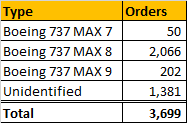 What can be seen is that for 1,381 out of 3,699 or 40% the exact type was not specified. This is possible due to Boeing not splitting out the orders per subtype. If we were assign the unspecified orders on a pro-rata basis, we would get the following overview: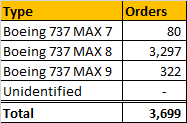 Earlier, I mentioned that the conversion rate from MAX 9 to MAX 10, was about >50%. After going through the figures for the Paris Air Show and splitting the conversions by type we get the following overview: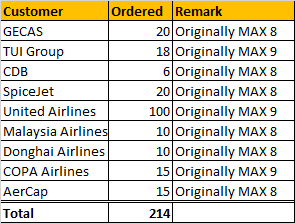 About 133 conversions are MAX 9 to MAX 10 conversions, while the remainder of the conversions are MAX 8 to MAX 10 conversions. This would put the overall conversion rate at 6%, while the conversion rate for the Boeing 737 MAX 9 to Boeing 737 MAX 10 conversions are roughly 40%.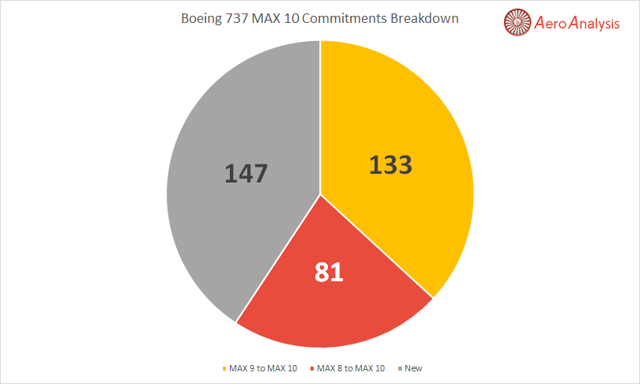 Figure 1: Boeing 737 MAX 10 Commitments breakdown (Source: AeroAnalysis)
To get to the current order book, we can add the remaining MAX orders placed during the show, the firm conversions and process some conversion news from Air Canada (OTCQX:ACDVF) to the order book.
39 orders Boeing 737 MAX 8 orders were placed during the Paris Air Show.
35 orders for the Boeing 737 MAX were placed by China Aircraft Leasing Company.
Air Canada converted 16 orders for the Boeing 737 MAX 9 to orders for the MAX 8.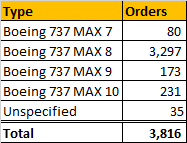 At list prices, the order book can be valued at $431B with a market value closer to $200B. With this $200B in revenues, Boeing should be able to realize roughly $40B in profits from its current Boeing 737 MAX order book. Given Boeing's unit cost accounting profit for the full year of 2016 being 3.9B for Boeing Commercial Airplanes, this clearly shows how robust Boeing's narrow body business is.
Commitments
During the Paris Air Show Boeing also secured a fair number of commitments:
309 order intentions for the Boeing 737 MAX 8.
5 order intentions for the Boeing 737 MAX 7.
130 order intentions including conversions for the Boeing 737 MAX 10.
if we add these order intentions to the order book tally, we see that that order book is likely to surpass 4,000 firm orders soon: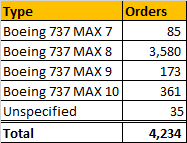 These orders can be valued at $480B at list prices, roughly $220B at market values and should generate almost $45B in profits for Boeing, for its single aisle program alone.
What we see is that the share of Boeing 737 MAX 8 holds drops somewhat from roughly 90% to 85%. The bigger MAX 9 is likely to see its share in the Boeing 737 MAX order book decline from 9% to 4%, while the Boeing 737 MAX 10 share is 9%. So, with that, I feel it is safe to say that the Boeing 737 MAX 10 will be the most important aircraft after the MAX 8 in the Boeing 737 MAX family.
While the MAX 10 has positively surprised in terms of orders and market appeal, it is important to eyeball its trajectory from here. The Airbus (OTCPK:EADSF) A321ceo has a share of roughly 20% in the A320ceo sales while the Airbus A321neo has a share that is creeping up towards 30% for the A320neo family sales.
For me the real appeal of the Boeing 737 MAX 10 will not show solely in higher order numbers for the Boeing 737 MAX 10. Order conversions are welcome and will increase the share of the Boeing 737 MAX 10 in the order book altogether, but solid order inflow that significantly increases the share of the Boeing 737 MAX 10 is what I will be looking for in the 737 order book.
Conclusion
In my view, the importance of the Boeing 737 MAX to Boeing's business is often underappreciated, not because investors aren't aware of it but because some take the sales of the Boeing 737 MAX for granted while others despise the Boeing 737 MAX because the concept is quite old.
At roughly 10 times annual profit, the Boeing 737 MAX is very important to Boeing's business and that is something that investors should be aware of.
While the Boeing 737 MAX 10 is important to Boeing's entire line up, a side note is in order: While the Boeing 737 MAX 10 already has more sales and order intentions than the Boeing 737 MAX 9 has accumulated since the product launch, a more significant meaning for the biggest single aisle member, as we see happening with the Airbus A321neo, would be a token of strength of the Boeing 737 MAX 10. However, that still seems far away.
If you would like to receive updates for my upcoming articles, please click the "Follow" text at the top of this page next to my profile.
Editor's Note: This article discusses one or more securities that do not trade on a major U.S. exchange. Please be aware of the risks associated with these stocks.
This article was written by
In-depth insights from an expert on the aerospace and airline industries
Dhierin is a leading contributor covering the aerospace industry on Seeking Alpha and the founder of
The Aerospace Forum
. With his Aerospace Engineering background he has a more indepth knowledge about aerospace products enabling him to cover a complex niche. Most of his reports will be about companies in the aerospace industry or airlines industry, comparing products and looking at market forecasts providing investors with unique and thorough insights. Dhierin has accumulated
nearly 20 million views
never failing to spark healthy and thoughtful discussions for investors and aerospace professionals.
His reports have been cited by CNBC, the Puget Sound Business Journal, the Wichita Business Journal and National Public Radio. His expertise is also leveraged in Luchtvaartnieuws Magazine, the biggest aviation magazine in the Benelux.

AeroAnalysis offers wide variety of services, ranging from providing data and cost models to consultancy possibilities. Check out
our website
for more information. Though we believe in the strong nature of our analysis, we are in no way giving buy or sell recommendations and advise everyone to do their own due diligence before making investment decisions.
Analyst's Disclosure: I am/we are long BA. I wrote this article myself, and it expresses my own opinions. I am not receiving compensation for it (other than from Seeking Alpha). I have no business relationship with any company whose stock is mentioned in this article.
Seeking Alpha's Disclosure: Past performance is no guarantee of future results. No recommendation or advice is being given as to whether any investment is suitable for a particular investor. Any views or opinions expressed above may not reflect those of Seeking Alpha as a whole. Seeking Alpha is not a licensed securities dealer, broker or US investment adviser or investment bank. Our analysts are third party authors that include both professional investors and individual investors who may not be licensed or certified by any institute or regulatory body.