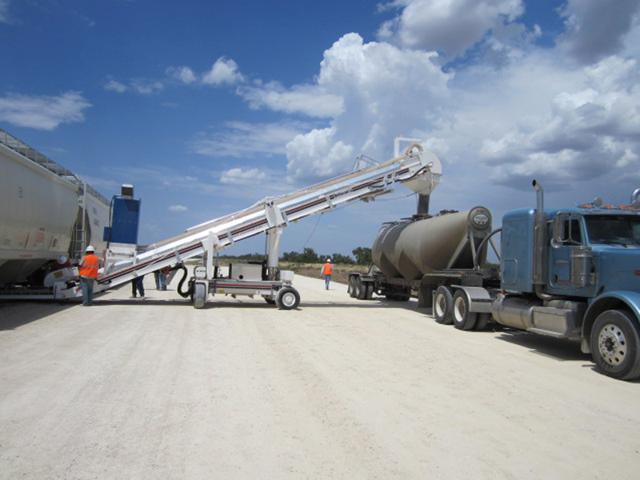 Source: Google Images
Review
There are a couple of interesting occurrences that 2017 has brought to our attention through the midyear. First, despite the fact that coal carload traffic for Class I rail operators has increased substantially from last year (15.6 percent), the number one performing commodity has been crushed stone, gravel, and sand, up 26.5 percent. Proportionally, frac sand has reflected a substantial amount of this growth.
Just recently, Progressive Railroading did an article on the "frac sand recovery". This piece was based upon the comparison of the American Association of Railroads (AAR) industrial sand classification, where frac sand is estimated to represent approximately two-thirds.
Each Class I rail operator has a line item that correlates to what the Progressive Railroading article is talking about, whether it is BNSF's (NYSE:BRK.A) (NYSE:BRK.B) sand/gravel commodity classification, or Canadian National's (NYSE:CNI) crushed stone. With how strong each Class I's respective frac sand commodity has performed during 2017, the correlation is clear.
The information I am going to refer to with respect to carload rail traffic is defined by carloads carried. For those not familiar with this term, it basically includes any rail traffic that incorporates both originated and received carloads. As an example, Union Pacific (NYSE:UNP) or Canadian National could carry frac sand from Minnesota or Wisconsin to the Marcellus Shale play, by interchanging with an East Coast Class I rail operator. For crushed stone, gravel, and sand, all three or more Class I rail operators involved will have included this traffic whether originated or received.
This is important to note as these data sets are not solely originated traffic. But regardless, percentage performance is still very relevant as all recognized revenue included is irrespective of whether the load is originated or received.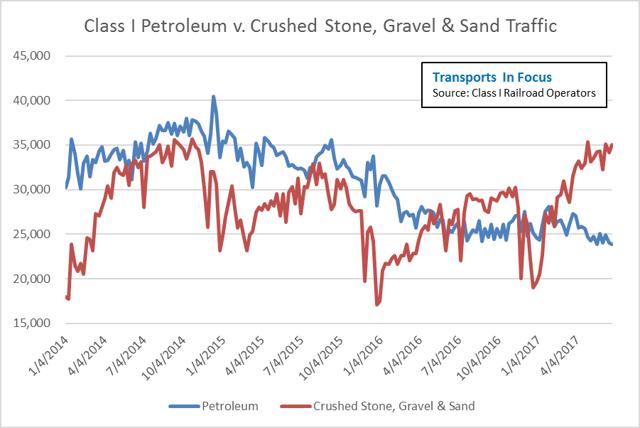 The other important occurrence for 2017 has been the divergence between crushed stone, gravel, and sand and petroleum products. While Class I rail operators have witnessed robust increases from frac sand traffic demand, the same has not been prevalent at all for crude by rail (CBR).
In fact, while frac sand has been a strong contributor driving crushed stone, gravel, and sand higher by 26.5 percent, petroleum product (CBR one-third proportion) traffic has witnessed -7.2 percent performance, through June of this year. This divergence has been consistent with Progressive Railroading's initial inference that CBR will remain as a fringe opportunity. A direct example provided has been the Bakken shale play where CBR was recently at 22 percent versus pipeline; during 2013/2014, this percentage was at 65 percent.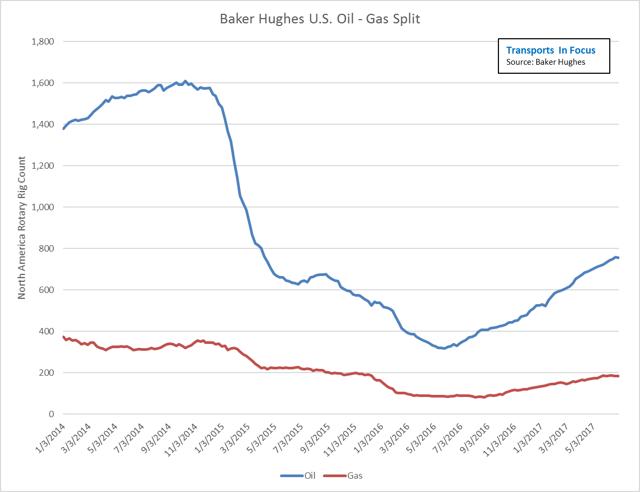 The core driver for frac sand demand has been the strong recovery in the U.S. rig count. Overall, oil rigs increased by 44 and 122 percent from year-end 2016 and year over year (YoY). Gas rigs increased by 39 and 107 percent during the same comparable periods. Oil and gas rigs stood at 786 and 184, respectively, as of June 30th.
The core growth drivers within the U.S. have included the Permian Basin, Marcellus, and Utica shale plays. All three were up 40, 15, and 40 percent, respectively, from last year-end - and were up 134, 96, and 133 percent YOY.
The North American U.S. rig count had increased for 23 consecutive weeks, before last week's decline of one. Despite the recent surge, oil rigs were still 53 percent below the October 2014 all-time high, and gas rigs were 51 percent below the January 2014 high.
The short summary here is that Class I rail operators are positioned to benefit from frac sand demand trends but will not likely revisit substantially stronger petroleum product growth in the near term. With crushed stone, gravel, and sand being the top commodity performer for 2017, how sustainable this demand is in the near term is important to consider.
Of the top six Class I rail operator commodities, coal was number one at 23.4 percent. Collectively, energy and chemicals, including crushed stone, gravel, and sand reflected 50 percent of total rail carload traffic. With the offsetting growth between crushed stone, gravel, and sand versus petroleum products, the former reflected approximately 7 percent versus the latter's decline to 5.8 percent.
From a carload rail traffic demand perspective, coal is not likely to witness sustained growth in the near term. Motor vehicles and equipment also is likely to witness some moderate contraction over the next few years. Grain may perform marginally, and petroleum products remain weak.
Over the next couple of years, both chemicals and crushed stone, gravel, and sand are the most promising from a rail traffic growth perspective. Combined, these two commodity categories currently reflect just over 21 percent of total rail carload traffic.
Through 2016, crushed stone, gravel, and sand was mostly below the 30,000-weekly threshold, with most weeks easily below this level. During 2017, weekly performance has typically been sustained near the 35,000 level. This sets up the remainder of 2017 for the potential to witness continued strong double-digit growth.
As everyone is aware, the supply-demand imbalance for oil has recently negatively impacted both spot and future pricing. Natural gas has witnessed a better balance but has also witnessed weaker pricing of late, largely related to weather patterns and consumption.
There are basically two camps on energy supply-demand balance. One seems to believe that there will be a prolonged supply glut leading to lower prices over the near term, while the other believes that we are in the midst of a rebalancing which will lead to higher prices.
Either scenario will have diverging impacts for frac sand by rail demand trends. If rig counts remain flat and/or marginally positive through the rest of 2017, the YOY comparable suggests that performance is poised to remain strong through the balance of the year. The emerging theme will be how energy and chemicals (again 50 percent of total rail carload traffic) will perform in 2018 and thereafter.
Summary
The Progressive Railroading article was timely as it supports the thesis of frac sand being a core driver of crushed stone, gravel, and sand being the top carload commodity performer for 2017 to date. It also supports the fact that CBR has lagged frac sand demand as a result of pipeline being a much more dominant transport mode when compared to the 2013/2014 period.
Looking to the implications in the near term, investors should be monitoring energy and chemicals as they currently reflected 50 percent of total rail carload traffic. For the remainder of 2017, chemicals and crushed stone, gravel, and sand (approximately 21 percent of total rail carload traffic) are poised to witness sustained growth.
Coal may begin to flatten out by as early as August. This will place more importance on the other major commodities. Additionally, motor vehicles and equipment may also decline and could end up negative for the year. Grain may also see a much higher comparable as soon as July.
Petroleum products have displayed some signs of almost getting back to even from last year's results but still find themselves down -7 percent. With low expectations for much further growth in 2017, leading commodities during the second half of 2017 will likely be chemicals and crushed stone, gravel, and sand. We may be at or nearing the rail traffic peak for carloads.
Disclosure: I am/we are long CNI. I wrote this article myself, and it expresses my own opinions. I am not receiving compensation for it (other than from Seeking Alpha). I have no business relationship with any company whose stock is mentioned in this article.