Business: TransDigm designs, manufactures, sells, and distributes highly engineered aircraft components for the commercial (60% of sales), military (30% of sales), and business jet/helicopter (10% of sales) end markets. The company operates as a holdco/roll-up of a number of smaller aerospace businesses; since the company's founding in 1993, it has acquired 60 businesses and product lines. 90% of TransDigm's revenue originates from proprietary products, while approximately 75% of revenue originates from products where TDG is the sole-source provider. Over 95% of sales come from products with ASPs under $5,000, with the average product selling price for the whole organization far below $5,000.
TDG sells a wide variety of products, including audio systems, faucets, lighting, interior paneling, cargo handling devices, motors, valves, pumps, ignition systems, actuators, sensors, parachutes, and more. Generally TDG's products have two common factors - they are small things that make big things work, and they wear and tear. 45% of revenue originates from the OE market, which is essentially a delivery mechanism to the aftermarket, which constitutes 55% of sales. In the aftermarket, TDG possesses substantial pricing power protected by numerous barriers to entry, and while it is only 55% of sales, it makes up over 75% of EBITDA.
TransDigm is operated as if it were run by Private Equity sponsors. The long-term strategy is simple, and articulated at the start of every quarterly earnings call. The strategy is made of five components:
Own and operate proprietary businesses with significant aftermarket content
Operate focusing on three value drivers: profitable new business, productivity/cost improvements, value-based pricing
Maintain a decentralized organization and compensation structure where executives and senior management think, act, and are paid like owners
Acquire proprietary aerospace businesses with significant aftermarket content, where there is a clear path to PE-like returns
View the capital structure and capital allocation as another means to create shareholder value
Investment Thesis: TransDigm is essentially a holdco of dozens of small aerospace components businesses that operate within tiny monopolistic or oligopolistic markets. TransDigm benefits from exposure to a steadily growing end market, and superior/resilient profitability and free cash flow generation versus peers, which is protected by a number of steep barriers to entry. The business is headed by a management team with an outstanding track record of capital allocation, who are all incentivized to act alongside the interests of minority shareholders.
TransDigm should continue to grow top-line at 10%+ due to:
Organic price and volume growth
Inorganic growth from bolt-on acquisitions
The business is insulated from competition from new and existing players because:
It is extremely difficult to displace a supplier on a live program
Regulatory barriers to entry are steep
TransDigm owns the intellectual property of the products they produce
The markets TDG operates in are small and below the radar of bigger players
TransDigm should continue to maintain pricing power over customers as:
There is limited competition, providing few if any alternatives for customers
TDG's products have low absolute cost and make up a small portion of customers' COGS
Reliability and quality in the aerospace supply chain deserves a premium
At face value, TDG trades at 14.3x 2017 EBITDA and 15.2x Free Cash Flow. Assuming 60% of cash generated p.a. is used for acquisitions, 35% is returned to shareholders each year and that the capital structure remains largely the same, the business should net an IRR of 15% per year for equity holders.

(Source: Company Filings. Forward Multiples for peers are consensus analyst estimates from Bloomberg)
(GM Sharpe is based on using the trailing 10yr avg. Gross Margin to represent through-the-cycle profitability, divided by the standard deviation (GM Vol) to provide a quantifiable measure of pricing power. A high Sharpe ratio demonstrates an ability to maintain price through changing input costs, end market demand, and competitive dynamics).
Peers trade at 12.1x EBITDA and 18.0x Free Cash Flow on average, making TransDigm does look somewhat expensive on an absolute and relative basis. While the business is 15% more expensive than peers on an EV/EBITDA basis, it generates EBITDA margins that are 154% higher than peers. If you were to adjust TDG's multiple for their superior profitability, TDG would be trading at 9.3x EV/EBITDA vs. peers at 12.1x. Overall you're paying a mid-teens EBITDA and FCF multiple for a very resilient business that is steadily growing top-line at 10-15%, and FCF at 15-20% per year.
Growth
Organic Growth
Since 2007, TDG has grown organic sales ~6.5% p.a., outpacing revenue passenger mile (RPM) growth, a barometer for the industry. A portion of this can be attributed to an increase in the overall size of the market, especially in recent years. TDG has also grown by increasing prices in real terms beyond inflation and winning new content on different platforms. Going forward, TDG should continue to grow organically in the 6-8% range.
Large drivers of future growth will be the commercial aftermarket. The surge in deliveries since the financial crisis has lowered the average age of the fleet, which has in turn lowered demand for aftermarket maintenance and services. Those planes are beginning to age and hit the point where they require more comprehensive and frequent servicing. The point where an aircraft tends to cross the border into 'heavy maintenance' is once it begins undergoing Class D checks - generally, these occur every 6 years and involve a complete overhaul of the plane. More frequent, but quicker checks are Class A-C, which are generally performed based on the number of flight hours / flight cycles. TDG also has an opportunity to gain share within the aftermarket. Airlines have ~$600bn of costs, of which 10% are maintenance, and half of that, or $30bn is parts related. TDG has a ~5% market share within the total parts aftermarket, and plenty of room to increase that number.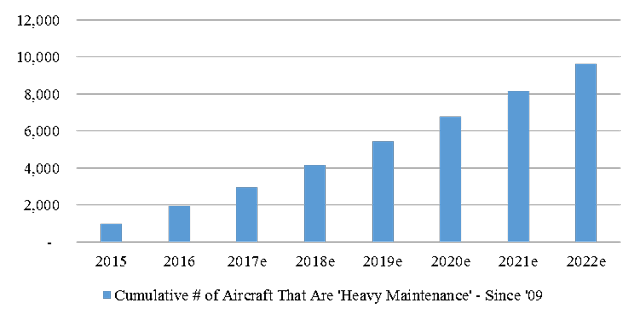 (Source: Airbus/Boeing Websites for yearly deliveries)
On the OE side, growth will likely decelerate to low-mid single digits as wide-body orders have slowed dramatically, and even new orders for narrow-bodies may be unable to sustain the high planned production rates of 57 and 60 for the 737 and A320 respectively.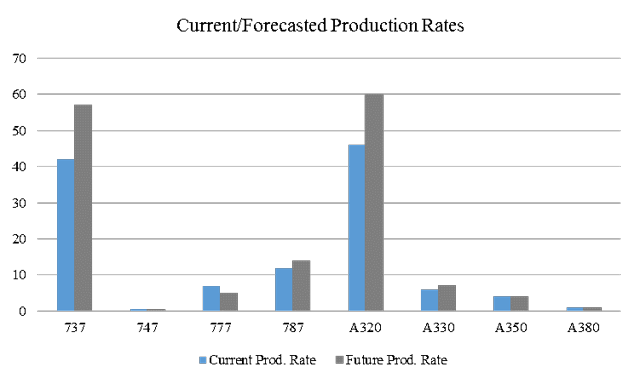 (Source: Airbus/Boeing Websites/Earnings Calls)
Business jets, while a small portion of TDG's sales, have been in a trough for years, and provide positive optionality for TDG. Most attribute the trough to a combination of corporate cost cutting and emerging market weakness, but corporate net profits have primarily been boosted by lower financing costs. And meanwhile, EM only makes up 6-8% of total business jet sales. What is more likely is that the substantial overproduction from '06-'10 has caused the trough in new sales, though supply and demand are trending back into balance. The numerous new models being launched in the next 1-2 years may be the catalyst necessary to revive business jet demand. Already interest is starting to show, with pre-owned Gulfstream G650ER's selling for premiums over brand new versions.
Inorganic Growth
TransDigm has always supplemented their organic growth through acquiring proprietary aerospace businesses and product lines. With acquisitions playing a key role in the company's strategy, the execution becomes critical. TDG has a simple model for executing acquisitions. First - they target proprietary aerospace businesses with significant aftermarket content. They assume that they will buy the business, fund it with 50% equity / 50% debt, and exit via a sale in 4-5 years. The end result needs to be an equity IRR of >20% for TDG to pull the trigger. Generally, TDG pays between 9x and 12x EBITDA, with the goal of doubling EBITDA in 5 years. The importance the company puts on acquisitions is shown in the fact that they have 7 EVPs - 6 of whom who are responsible for all of the operating companies, and one solely dedicated to M&A. This EVP has a team including a few directors and a European and U.S. broker, and together they look at 200-300 opportunities per year, take a first glance at 70-90, do deep dives on 20-30, put in 5-7 letters of intent, and buy 2-3.
TDG has an advantage in that they are typically targeting smaller businesses: $1bn and under. This means that they generally avoid bidding against very large competitors or PE firms with deeper pockets. As Nick Howley, the CEO, pointed out, if you're a mid-market PE firm bidding against TDG and outbidding… you need to believe that you can create greater operational and margin improvements than TransDigm can, a business who has done it 60 times.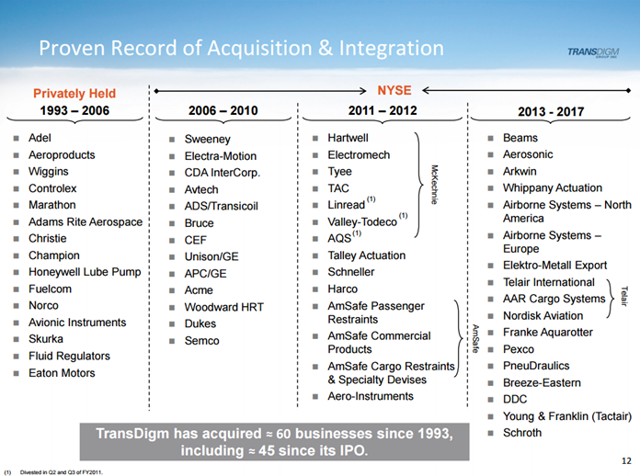 (Source: TransDigm Presentation)
TransDigm's acquisition integration process focuses on their three value drivers - raising prices, cutting costs, and winning new businesses. The three of these translate to top-line growth in the new acquired business, along with faster EBITDA growth due to price increases and cost cutting. The first few days of an acquisition are spent presenting the culture and strategy of TransDigm, bringing working capital under control, evaluating/cutting staff, and consolidating facilities with an existing TDG business if necessary. Within 45 days, they target to make necessary headcount reductions and put out letters to suppliers pushing for cost reductions. They also spend a large amount of time very early in the process looking at aftermarket contracts, and whether or not the pricing is appropriate for the value the product provides. They then try to move prices up as early as possible and look to make sure distributors aren't taking excess margins. Raising prices is one of the biggest focal points in a new acquisition. The new businesses are organized into cross-functional teams around product lines (think Inditex), and the emphasis becomes on winning profitable new business while weeding out unprofitable/uncommercial projects.
The whole process takes ~180 days and may take longer depending on the business. Some companies have longer-term aftermarket contracts that take longer to roll off, and pricing doesn't get increased until that happens. But eventually all businesses are keyed in on generating volume growth from profitable new content, growth from higher pricing on the aftermarket side, while operating with lower costs from headcount reductions and/or facility consolidations.
Aftermarket Barriers To Entry
Displacing Suppliers: Once a supplier becomes a part of a program, it becomes extremely difficult to displace them. Suppliers are chosen during the design process of a new program or for derivative programs. Switching an incumbent supplier on a live program is a very messy, long, and potentially expensive process. A perfect example is Goodrich and Heroux Devtek - the manufacturer for landing gear on the 777. When Boeing was pushing "Partnering for Success" in 2011, Goodrich was the supplier of the landing gear for the 777 and didn't capitulate on price. Boeing very publicly announced a switch to Heroux to send a message to other suppliers. It took 5 years and an unknown quantity of capital spent for Heroux, with Boeing's hand-holding, to deliver the first set of landing gear.
Regulatory Barriers: The regulatory barriers to entry for aerospace suppliers are material and create high switching costs. Not only do companies themselves need to be certified, but each product needs to be certified as well. When a new program is launched and a supplier/product is selected, that needs to be approved by the FAA. If the OE were to want to switch suppliers, that switch would then need to be approved again by the FAA. It's not an impossible process by any stretch, it's just a time-consuming, cumbersome, and inconvenient one. The smaller the products are as a percentage of total costs, the less incentive there is to go through the switching process just due to economics. Switches would likely need to be motivated by other issues such as poor quality or failing to deliver on-time.
Small Market Sizes: TransDigm's businesses operate in dozens of tiny markets. By steering clear of larger dollar value markets (i.e. aerostructures), TDG avoids competition with larger, better-funded players. Take an example where TDG owns 90% of a $100m market and owns the IP (thereby owning the aftermarket). A product market of $100m would never move the needle for a UTC or Honeywell. Even if they were to want to enter the market, they would know 1) it would require a substantial time and capital outlay to overcome IP/regulatory barriers to entry, and 2) they would never earn TDG-esque 45-50% EBITDA margins because they wouldn't be the sole player. The ROIC on chasing these small markets is never attractive. A competitor would almost always rather acquire a product line that has an incumbent position in a similar market, rather than spend a huge amount of capital and time to break into a market and earn lower margins than if they were the sole player.
Intellectual Property: TransDigm owns the intellectual property for over 90% of their products. What that means is they own the aftermarket for those products. Through owning the IP, you take out the risk of OEs/airlines second-sourcing products from competitors. Competitors could break into the market regardless of whether or not TDG has the IP, but when TDG does, it becomes almost prohibitively expensive to do so. This doesn't make sense for many competitors, as the markets are often too small to justify a substantial capital outlay. Also, competitors know that even if they can enter a market they then have to get FAA approval to provide that product line and convince the customer to switch from TDG to them, which, as previously stated, is an inconvenient, time-consuming and cumbersome process.
Aftermarket Pricing Power:
Limited Competition: For all the reasons above, within the aftermarket, TransDigm operates in numerous monopolistic and oligopolistic markets with little to no competition. The lack of competition means TDG has favorable competitive dynamics, especially when selling to a fragmented base of airlines. Since airlines can't source from TDG's competitors and are trapped in having an airplane with a 30-year life that requires a certain part protected by IP that then wears and tears and needs to be replaced, airlines essentially don't have a choice in what they pay. On the OE side, the story is far different. Margins are much lower and the pricing power is nowhere near as great. But each product sale to an OE means that a TDG product is installed on yet another airplane, and able to generate a high-margin recurring revenue stream for 25-30 years.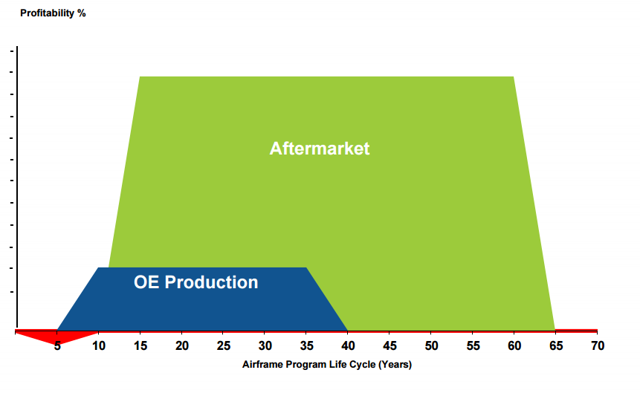 (Source: TransDigm Presentation)
Low Product Cost: The cost of TDG's products is near insignificant for airlines. Over 95% of TransDigm's sales are from products with unit sales of <$5,000, while over 90% of TDG's sales originate from products with annual sales volume of under $2m per year. Looking at the airlines, the top 15 players make up ~50% of demand. If you assume TDG's annual sales volume are on the high end at $2m, which means roughly $1m is sold to the top 15 airlines. Split 15 ways, which means that those products cost each airline roughly $65,000 per year, on the highest end. It's far more realistic that they cost ~$40,000 per year. Simply put, the airlines couldn't be bothered trying to get TDG to lower costs - it's not worth the risk-reward to switch suppliers that has IP protection on a product that only costs $40,000-$65,000 per year.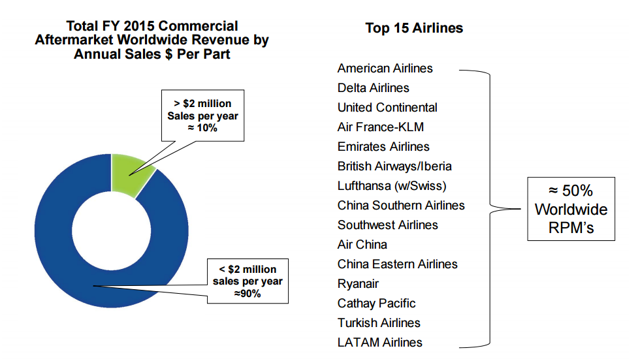 (Source: TransDigm Presentation)
Reliability/Quality Premium: Being a reliable, on-time supplier that consistently delivers quality products can be a differentiator. On the OE side, supply chains are tight, and often the biggest cause of delays in production rates of planes is upstream problems (with recent A320/A350 delays being a prime example). Lost production time due to supply chain bottlenecks can often be just as costly, or even more expensive than trading down in quality/reliability for the sake of saving price. Once one of TDG's products makes it onto a platform, all they need to do is service it on time to maintain their position and pricing. No airline is going to try to move TDG off as a supplier to save $20-$30k in maintenance costs on a product unless there are substantial quality/reliability issues that are either 1) increasing the risk of an accident, or 2) greatly reducing the utilization of the aircraft.
Management, Capital Allocation, and Culture
The management team running TransDigm is one of the company's best assets. Collectively, the management team are the largest owners of the business, owning ~12%, or $1.5bn. Their interests are aligned with minority shareholders, as their personal balance sheets are tied with the company (through their current ownership), and the majority of their future earnings are dependent on the performance of the company as well. TransDigm underpays on cash compensation, but overpays in equity, with all options paid vested on performance, never on time. The compensation structure is the same down through middle management, as the culture of paying employees like owners of the business incentivizes them to think and act like owners.
There is a strong emphasis within the business on simplicity and clarity. The organizational structure is very lean - each business unit has four main people, a President, Head of Operations, Head of Sales, and Head of Accounting. Everyone in each business unit focuses on the same three things - raising prices / improving productivity / winning profitable new business.
A portion of TransDigm's superior returns can be attributed to capital allocation and the use of the capital structure. The management team has experience running levered businesses and knows that a business with the high margins and sustainable FCF generation that TDG has shouldn't be over-equitized. There are four main priorities for capital allocation that are reiterated at the beginning of every earnings call. In order of importance:
Invest in the existing business
Make accretive acquisitions consistent with the operating strategy
Give extra back to shareholders through special dividends or share buybacks
Pay off debt
TDG is not capital-intensive and only needs to spend ~1.5% of sales each year on capex, leaving plenty of cash for acquisitions and return on capital. The capital allocation is dependent on the environment. In 2014, there weren't many fairly priced acquisitions, and TDG returned $1.6bn to shareholders. In 2015, there were plenty of great businesses on sale, leading TDG to spend $1.6bn on acquisitions. In 2016, it was a mix and low rates allowed for incurring additional leverage, TDG spent $1.4bn acquiring new businesses while returning $1.6bn to shareholders.
Return of capital to shareholders only takes place through special dividends or share buybacks - never through recurring dividends. This allows TDG to maintain flexibility between allocating capital between acquiring new businesses and returning capital to shareholders rather than needing to worry about "protecting and growing the dividend". Most of the return takes place through special dividends, though TDG did buy $100m of stock at $218/share in Q1'16 when the markets drew down, and an additional $340m at $224/share following the short-seller reports by Citron Research. They would have bought more, but maxed out due to being in blackout periods. The weighted average purchase multiple was 12.4x EV/EBITDA, a ~15% discount to the current multiple.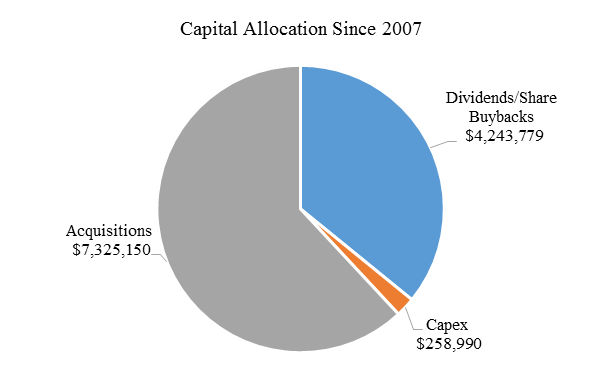 (Source: Company Filings)
Lastly, on the capital structure, many people get nervous due to the high degree of leverage present. TDG currently has ~5.7x Net Debt/EBITDA. That level has been as high as 6.7x net, and as low as 3.0x during the financial crisis. But financing growth and shareholder returns is done primarily through the issuance of debt. The rationale is simple: the after-tax cost of equity is ~15%. The after-tax cost of debt in current market conditions is ~4%. Interest rates need to move a long way for the cost of debt to equal the cost of equity.
Risks:
DoD Pricing Risk: Popular arguments against TransDigm recently have included its pricing practices against the government. It has been compared to Valeant - buying companies, laying off people, jacking up prices, and reaping the benefits. They're not wrong. Senators Elizabeth Warren, Ro Khanna, and Tim Ryan have called for investigations into TDG's pricing. While having a number of senators requesting investigations into a business's pricing practice may seem worrying, there is far lower risk involved than at first glance.
People are comparing TransDigm to Valeant. Valeant bought companies, and raised prices thousands of percentage points, where the buyer/end user was old, sick, infirm people. For TransDigm, the buyer is the single biggest military spender in the entire world with a budget of $580bn in 2016.
Defense sales make up 30% of TransDigm's total sales. 12% of sales go to domestic defense OEMs (i.e. Lockheed/Boeing), 6% to foreign defense OEMs (i.e. Airbus/Dassault), 5% to friendly foreign governments, 5% directly to the U.S. government through various agencies, and 2% to the U.S. government through brokers/distributors. That means 7% of total sales go directly to the U.S. Government. To put that in context - that is 4bps of the DoD's budget if you look at direct sales, and 10bps if you include domestic defense OEMs.
Approximately ~50% of sales go to the aftermarket, where TDG is the incumbent supplier with IP protection. This is where the more 'egregious' pricing happens, but the DoD has little choice to source from anyone but TDG (see barriers to entry/pricing power - roughly the same factors apply to defense). Given the low cost of each individual product (on average <$5,000), it's unlikely the DoD will push for huge price decreases as it is virtually meaningless for them.
Quality and Reliability are important. If TransDigm has a track record as a reliable supplier who delivers quality products on-time, the DoD has little incentive to switch and take the risk of signing a supplier who can't guarantee the same quality/reliability that TDG has displayed.
If the Senators' requests gain traction, there is always the risk that someone will want to try to make a name for themselves / put on a show. In the absolute worst case scenario, if you assume that ~7% of sales (those to the DoD), take a 90% pricing haircut, overall gross margins contract ~30bps (the contribution to DoD sales declines due to price decreases), EBITDA margins decline ~50bps, and total sales still grows.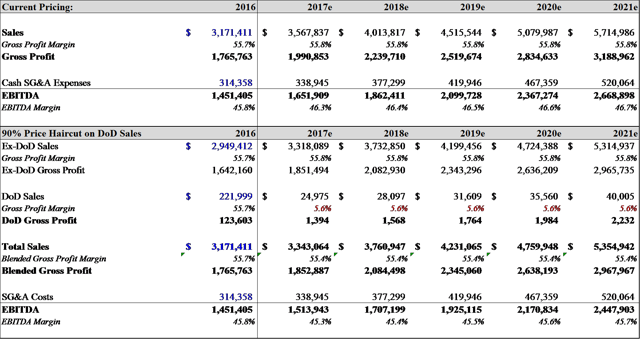 (Source: Author Estimates, Company Filings)
The short-selling piece by Citron was more likely an effort to cause a dip and take profit than anything else. The peer group used is skewed (fails to include UTC, Honeywell, Lockheed, Rockwell Collins, B/E Aerospace). It also assumes that OEMs will be able to push price. The DoD may be able to given they are the U.S. Government, though OEMs will find it extremely difficult to get TDG to cut price.
Leverage: Citron's report continually alludes to TDG's high leverage as a cause for concern. Leverage poses two issues - one is TDG is levered in a rising rate environment, which will lead their cost of capital to increase. TDG does hedge interest rate risk - and at the current moment with LIBOR at ~1.0%, TDG's after-tax cost of debt is 3.6%. To effect a 100bp increase in the after-tax cost of debt to 4.6%, LIBOR would need to increase 500bps to 6.0%. The more worrying issue is debt maturities, of which only $200m is due in the next three years (and that $200m is a receivable securitization facility). Following that, the maturity profile accelerates with $1.75bn due in 2020, but $1.2bn of that is senior debt which is re-financeable. Out of the $11.2bn debt outstanding, $6.6bn is bank debt, with the remainder as senior notes that begin to come due in 2020.
(Source: Company Filings)
Quality Issues: One of the key reasons why it is almost never worth a customer's time to switch to a cheaper competitor is TDG hasn't given them reason to aside from price. But in an industry with high regulatory hurdles where safety is paramount, price isn't a good enough reason. However, should TransDigm experience quality issues, on-time delivery issues, or anything that either keeps the plane on the production line or the plane from flying, customers will have an incentive to switch. While it is still very difficult to switch suppliers on live programs who have IP protection, a customer with enough motivation may be able to make it happen.
Sustaining Growth: TransDigm won't be able to sustain the same growth it has. Revenue has compounded at 20% since 1993, EBITDA at 25%, Enterprise Value at 33%, and Equity Value likely a number of points higher due to leverage.
There are a couple of hurdles. The first is of course the law of large numbers. As a business valued in the tens or hundreds of millions, or even single-digit billions, it is easier to maintain a sustained high growth rate. As TDG gets bigger, the pool of acquisitions which can meaningfully move the needle will decrease. They will also be fishing in a pond with bigger fish - whether it is UTC or the larger PE funds. TransDigm will still possess the advantage that they will likely be able to pay a higher multiple than anyone else and still earn 20%+ Equity IRR's in that they can drive better margin improvement than anyone else.
The second hurdle is the business is better known that it was 10 years ago. Like any business that earns supernormal profits, competitors will try to copy the model. TDG's corporate culture and management team do provide an irreplaceable asset that will allow it to differentiate itself from competition. However, more players may try to bid up aerospace businesses with proprietary product lines to replicate TDG's success. While it's unreasonable to expect a 33% CAGR going forward, at ~15% CAGR is completely reasonable, especially over the next 5-10 years.
Succession: A large part of the success of TransDigm can be attributed to the management who run the business, particularly the Founder, Chairman, and CEO Nick Howley. Nick, at 64 years old, has 2 years left until his contract expires in 2019, with no provision for renewal. Following his retirement, he will step back and remain as Chairman while Kevin Stein, President and COO, takes over the CEO role. The transition is well-planned in advance, but successions often have a tendency for bumps. Howley has been a positive example for his employees (forgoing all cash compensation in exchange for equity compensation), and a terrific capital allocator.
TransDigm is far from a one-man show, and the company's culture should help it easily navigate the transition. By nature the company is decentralized, and there is a 'hands-off' approach by the corporate office. The mentality of thinking and acting like owners is instilled through the entire business, providing an alignment of interest all throughout the organization. However, if there are any clear departures from the long-term strategy (i.e. entering into build to print, cutting leverage substantially, inefficient use of cash, etc), that will be a red flag and cause for re-evaluation.
"Partnering For Success": Boeing's somewhat recent initiative to improve margins has centered around trying to put pressure on the supply chain to capitulate on price. The majority of suppliers who see material pressure from Boeing (or Airbus through their program SCOPE), are those who manufacture build-to-print, or products without IP. For TransDigm, they are somewhat insulated from these pressures as 90% of products are proprietary, and they are the sole source provider for 75% of their sales. The "Partnering for Success" contract specific to TransDigm was negotiated in 2014 and is expiring in 2019, with negotiations for renewals expected to start in 2017/2018. Boeing may try to leverage recent negative press on TransDigm's pricing from Citron/Senator Warren/Senator Khanna to get TransDigm to lower prices. Even if TDG lowers prices on the OE side, it isn't the end of the world, as >75% of EBITDA is generated by the aftermarket anyway.
The other pressure Boeing has been putting on suppliers deals with the IP. Boeing knows that the reason why aerospace suppliers are more profitable is their access to the highly lucrative aftermarket. To access this, Boeing has attempted to push suppliers to give rights/access to their IP. TransDigm has yet to receive any of this pressure to date, but it could happen and decrease profitability in the future.
This brings up a broader point on the general valuation of aerospace businesses. Given Boeing/Airbus focusing more on procurement (there has been a trend of hiring auto supply chain executives into procurement roles), the question arises as to whether or not auto and aerospace multiples should converge should aerospace suppliers experience similar competitive dynamics to the auto suppliers. Realistically though, regulatory barriers are far steeper in aerospace, and supply chains are far tighter. OEMs have designated, publicized production rates that need to be met every month, and hiccups upstream can create real issues. Not only that, but auto suppliers are chosen for each vehicle, which is only sold for a year or so. Meanwhile in aerospace, once a supplier is chosen, they are often a supplier for good (25-50 years). Not only that, but aerospace companies have the ability to sell to the aftermarket, which provides a high margin recurring revenue stream, while auto suppliers don't have this luxury, as all of their sales are to the OEs. This is due to the fact that maintenance is typically handled by the fragmented mom & pop auto repair industry, there aren't the same level of regulatory checks that force mandatory part replacement, and product life cycles are shorter (average car life is 7 years). The two businesses are very different, and it would require substantial pressure from the aerospace OEs to cause multiples to converge.
This article is part of Seeking Alpha PRO. PRO members receive exclusive access to Seeking Alpha's best ideas and professional tools to fully leverage the platform.
Disclosure: I am/we are long TDG. I wrote this article myself, and it expresses my own opinions. I am not receiving compensation for it (other than from Seeking Alpha). I have no business relationship with any company whose stock is mentioned in this article.