Each time the press has reported about negotiations between Uralkali and Belaruskali regarding potentially forming a new cartel, the share price of potash producers have spiked (I, II, III, IV, V). Each time, they gave back their gains once talks amounted to nothing. It's extremely puzzling that even though these failed talks have become commonplace, potash observers still assign some degree of credibility to these negotiations, as evidenced by the price movements of potash majors such as Potash Corp. (POT), Agrium (AGU) and Mosaic (MOS) during the most recent negotiations two weeks ago.
It is clear that most potash bulls continue to hope for a re-establishment of the BPC, but ascertaining the validity of this view requires deeper analysis of why the cartel collapsed the first place. The 2013 break-up of the Belarusian Potash Cartel is an intriguing incident, particularly because the arrangement had been very lucrative for both Belaruskali and Uralkali. However, a more in-depth analysis of the break-up shows it is not likely to be revived until certain financial and geopolitical conditions are met.
The Cartel's Collapse
From 2005 to 2013, BPC was the most powerful cartel in the global potash industry, with the ability to restrain and control supply, thus dictating prices across multiple markets. The cartel controlled roughly a third of global potash supply, and had the lowest cost among all large global producers.
In 2013, Uralkali unexpectedly pulled out from the cartel without informing Belaruskali. The result was nothing short of disastrous for their partner, who found their entire senior sales and marketing department empty in the morning. Although BPC served as the global trading arm for both producers, the executive suite was staffed mainly with Uralkali employees. They were the key persons who held the responsibility of maintaining customer relationships, negotiating contracts and expanding their client network.
Hence, the break-up was extremely bitter for the Belarusian side, and senior executives within the company resented the actions taken by their Russian counterparts. According to the Wall Street Journal, the break-up had severe effects on Belaruskali's subsequent marketing and sales. For instance, they were not invited to bid for China's annual contract in 2014, and would "turn up at conferences and not know anyone".
Undoubtedly, this created severe mistrust between the two companies, with particularly strong resentment from the Belarusian side. According to various insiders, subsequent negotiations that attempted to revive the cartel in 2013 and 2014 were plagued with blame-pushing and spiteful rhetoric.
Unequal Partners And Conditions For Cooperation
Although mistrust and resentment are clear hurdles to the revival of a cartel, the larger obstacle relates to the balance of power between both partners.
Although BPC was the trading and marketing arm for both companies prior to its breakup, Uralkali was also marketing its potash products through their own trading arm - Uralkali Trading. Although this was permitted under the framework of the agreement, it allowed Uralkali to vary output and adapt flexibly to market demands, enabling them to be markedly more profitable compared to their partner.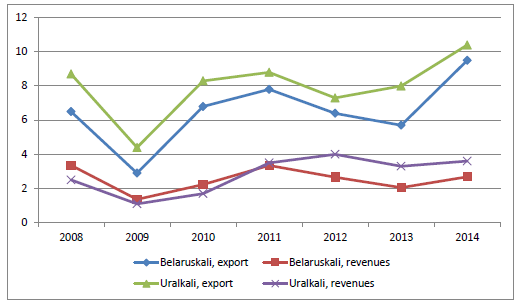 (Source: BISS. Figures in USD Billions)
This arrangement made both parties unequal partners, particularly since Uralkali already had higher export volumes compared to Belaruskali. Since then, the Belarusian side has insisted on sales parity as a condition for resuming the cartel, since that is the only way to ensure both parties have an equal economic stake in the cartel. The Belarusian side has also repeatedly said that the entity should be located in Belarus.
Currently, production figures are still far apart, with Uralkali producing 11.7 million tonnes in 2016 and Belaruskali producing 10 million tonnes. Given that Belaruskali is operating close to full capacity, Uralkali would need to reduce their production, which is a thorny issue for management who has embarked on a volume-over-price strategy since late-2013. The cartel entity would also have to be located on either Belarusian or neutral entity, and be the exclusive trading arm for both partners to prevent a repeat of 2013.
Different Goals And Incentives
The long-term problem behind a Belaruskali-Uralkali partnership remains their incentives. As a privately-held company, Uralkali is incentivized to maximize shareholder profit over the long term, but Belaruskali has very different motivations as an economic apparatus of the Belarusian state. This crucial difference led to a significant conflict in 2013.
Back in late-2012, Belarus lost a key portion of their export income when Russia forced them to reduce the business of re-exporting petroleum products refined from Russian crude oil. This caused a large decline in the country's export revenue, which meant Belarus needed to export more potash to compensate for the decrease.
Subsequently, the Belarusian president passed a presidential decree allowing entities other than BPC to market potash exports. Although there remains a lack of concrete evidence that Belarus was channeling significant exports outside BPC, it signaled to the Uralkali Board that they were likely to pursue that course of action, if they hadn't already. In response, Uralkali accused Belaruskali of exporting potash to the Chinese outside of their BPC arrangement (Uralkali's CEO and board specifically cite decree no. 556 as their rationale and justification for pulling out of BPC).
The suspicion was exacerbated by the fact that Uralkali's stakeholders were not satisfied with the results of their price-over-volume strategy up till that point. Management lamented the loss of market share to alternative suppliers, which were aggressively ramping up production due to historically-high potash prices. A combination of these factors pushed Uralkali's management to make a preemptive move by quitting the cartel and quickly establishing new contracts with the Chinese and other key potash clients.
Hence, the conflicting incentives of Belaruskali and Uralkali's owners mean that geopolitical factors generate significant break-up risks for a cartel, even if it was to be re-established. Given that Belarus' foreign exchange reserves are at decade-lows with a persistent negative balance of trade, they have a greater incentive than ever to export increasing volumes of potash. In fact, Belaruskali has been operating near full capacity (estimated to be around 11 million tonnes) since 2014, with larger scheduled capacity increases at their Petrikov deposits in 2019 and 2020. Unlike NA producers, they have not idled mines or implemented cutbacks on capacity utilization, signaling their desire for greater output if the market is able stomach an increase.
It is difficult to understate the economic importance of Belaruskali to the national economy - they accounted for over $3B in export revenue last year, which is roughly 60% of Belarus' entire foreign exchange reserve. With a monthly trade deficit between $300-$400M, the country's reserves are dangerously close to being exhausted within a year or two macroeconomic pressures persist. Any internal or external shocks could create severe dislocation in the country's exchange rates and trade. As such, the state has a strong incentive to export as much potash as they can to build their reserves and balance trade flows.
In this context, Belaruskali is essentially a foreign exchange operation that enables the country to convert Belarusian rubles (used to pay costs of production) for USD and Euros (which they receive as payment for potash). With extremely low cash costs of production, Belarus has every incentive to ramp up production and increase capacity, whilst Uralkali is beginning to regret the results of their volume-over-price strategy. This has resulted in Belaruskali increasing output from 7 million tonnes in 2013 to nearly 10 million tonnes in 2014. The continued divergence in goals means a reunion is unlikely for now.
The Potash CapEx Cycle
Due to historically high prices from 2008 to 2013, a large number of greenfield and brownfield mines came into the market, funded by large miners such as BHP Billiton (NYSE:BHP). After BHP's attempt to buy Potash Corp. was blocked in 2010, the company announced a massive undertaking to develop and extract potash from the Jansen mine (note this was back in late-2013 when prices were much higher). Since then, the company has sunk $3.8B in CapEx into the project, even as potash prices drift lower. Management seems committed to the project in a classic sunk-cost fallacy reasoning and believes potash prices will recover.
BHP was not alone in their quest to produce potash - K+S began developing their large Bethune mine in 2013, and has begun production just a few months ago. This explains why the industry remains plagued with oversupply from numerous mines and low utilization rates, as many producers plowed money into developing potash resources in the past few years.
The cycle has yet to turn as new projects remain profitable at current prices, particularly in countries with lower production costs such as Turkmenistan (who recently built a new mine with plans for more). As it stands, production capacity has to decline further in order to reduce available supply before prices can balance out. Until the effects of lower CapEx are felt years later, potash prices are not likely to rebound.
Ironically, this analysis suggests that a re-establishment of the BPC cartel might be worse for potash prices since it encourages more development of more potash projects in a favorable price environment. As with most cyclical markets, the only cure for low prices is lower prices, which eventually leads to higher prices.
Conclusion
The BPC cartel is unlikely to be re-established unless both parties can agree on the following conditions:
Sales and export parity between both partners.
An entity incorporated in Belarus or a neutral territory.
Cartel must have the exclusive right to market the potash of both companies.
Alignment of incentives with regard to balancing volumes and prices. This requires the absence of geopolitical motivations that would conflict with the goals of Uralkali's private shareholder-driven aims.
Although I can foresee a scenario under which these four conditions will be met, it is unlikely to be achieved in the near future. The issues are complex and mistrust is deep, with neither side having a strong enough incentive to compromise since both remain largely profitable. As such, shareholders in North American potash producers should stop holding out hope for a new cartel to save them from this downcycle.
Disclosure: I/we have no positions in any stocks mentioned, but may initiate a short position in MOS, POT, AGU, CF over the next 72 hours. I wrote this article myself, and it expresses my own opinions. I am not receiving compensation for it (other than from Seeking Alpha). I have no business relationship with any company whose stock is mentioned in this article.