CNBC: 10:34AM EST
The major indexes (SPY, DIA, QQQ, IWM) showed little initial response to news of a N. Korean missile test: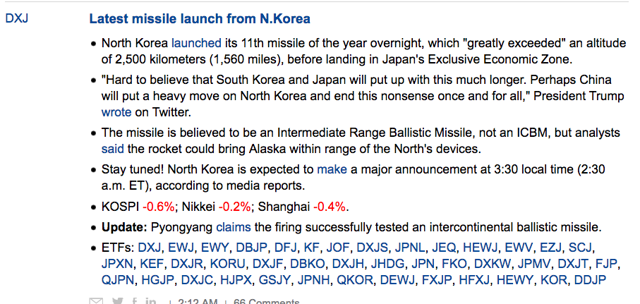 Indeed, what do we see from markets more generally? A nervous shrug:



Huh. Oil down; silver down; gold flat; sovereigns unchanged.
Of course markets are fluid and subject to sudden change. But we're not exactly seeing a knee-jerk reaction to this particular news item.
Perhaps markets are more keyed in on today's Fed minutes, due at 2:00PM EST.

The Dow closed up on Monday, after hitting an all-time high on increases in energy and financials; S&P tacked on 5 points, but gave back a decent amount of its daily gains towards the end of the day's trade, which was a repeat performance from Friday's close.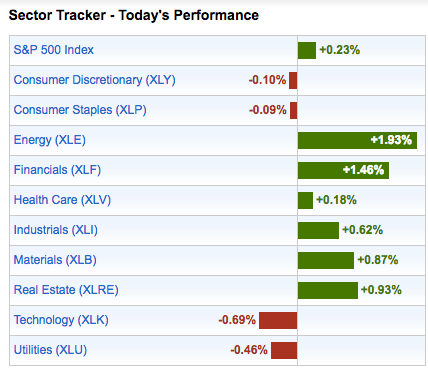 Sector SPDRs: Jul 3
Shout-Out
Today's Shout-Out goes to Marc Chandler with his currency update: Dollar Firms as Investors Await Directional Cues
We tend to focus more on implied volatility and the equity indexes in our Market Volatility Bulletins. Still, we'd be remiss if we didn't check in on what the currency markets are doing from time to time.
The US Dollar Index finished off a pretty terrible second quarter (worst going back to 2011 we read somewhere). This has been a bit puzzling given the reality that the Fed actually seems the most likely to begin tightening. Mr. Chandler has a few important details to share.
The euro was sold briefly through $1.1320 before finding a bid, while the sterling and yen are extending this week's declines. Global equities are mixed, with modest gains in Asia and small losses in Europe. Bond yields are mostly firmer.

The US confirmed North Korea's claims that it has tested an intercontinental ballistic missile. The US and South Korea almost immediately announced a new joint military exercise.

The UN Security Council will meet today to discuss. Besides tightening the isolation of North Korea, it is not clear what other options are really available. Although the US has indicated that all options are on the table, there does not appear to be support for military options by South Korea, Japan, Russia or China.

The South Korean won was little changed, and the Kospi gained 0.3% to recover most of yesterday's decline and is off slightly on the week. More broadly, the MSCI Asia Pacific Index snapped a three-day fall and rose 0.25%.

Japanese shares initially fell to near two-week lows before recovering. The Topix and Nikkei closed on session highs, almost 0.6% and 0.3% higher respectively. Japan reported a stronger service PMI (53.3 in June, up from 53.0 in May). The composite reading slipped to 52.9 from 53.4. Still, it averaged 53.0 in Q2 after 52.5 in Q1 and 52.0 in Q4 16.
...and later...
We see more observers coming around to our view of an announcement to start recycling the maturing issues fully at the September FOMC meeting (for October start) and for what would be the third rate hike of the year more likely to be delivered in December (data permitting).
As ever, Mr. Chandler's observations are brief and content rich. We've highlighted only a few that we consider most important, but the reality is that he makes a few great comments in today's piece: give it a read!
We find the market response to the confirmed N. Korean nuclear strike to be reflective of the saying "news follows price". If we were in a skittish market environment, this development could be real "news". But because we are in a Bohemian Rhapsody environment, "Nothing really matters…anyone can see", equities have decided not to respond much, treating the matter as nuisance rather than a threat to geopolitical stability.
Thoughts on Volatility
As noted by Charlie Bilello on Twitter on June 28, we are currently in one of the sleepiest market periods of all time. In fact, 10 of the 20 lowest VIX closes in history have come in the last two months.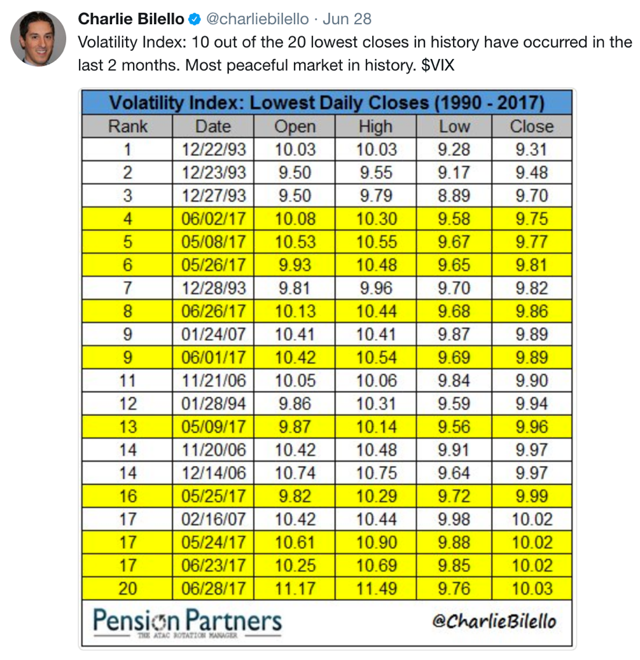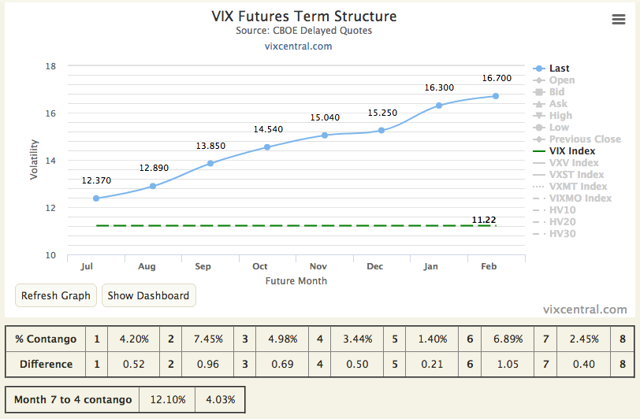 Is it any wonder, then, that the term structure is so subdued? Even the far-dated Feb contract is sitting a couple points below the long-term average level of spot VIX (about 19.25).
In our last bulletin, we remarked upon the choppy nature of the term structure. Now, we must emphasize that the term structure of volatility can itself be highly volatile: all kinds of shapes are possible. That said, the most typical shape consists of high contango in the front month, with gradually declining levels as you look farther back. Contrast that to today's rich variety, where for instance M2-M3 contango rests 3.25 percentage points higher than M1-M2.
We received some excellent comments on this after close, and we'd like to feature them.

Alan248 added this to the discussion: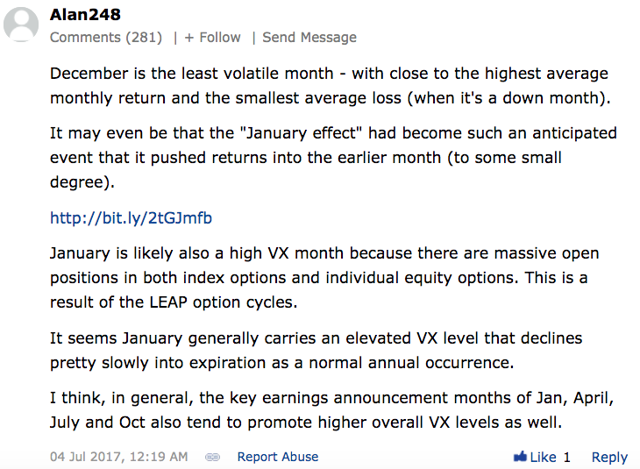 These are great observations both. We particularly enjoyed Alan's analysis: maybe there's a fundamental reason for this? We mostly disagree on that… there's likely a good bit of variation within the one-month return structure. Still, he brings up a solid point. A week or so ago regular MVB commenter atom&humber made a point on this topic (Jun27 MVB):

One of the greatest aspirations of this bulletin was to bring together people of all experience levels, perspectives, products, strategies. We want to provide a forum for discussion. Thanks all for making this possible.
Our take: the news flow seems to be getting choppier of late. We're not arguing that the whole world is going to pot (like say: "Carmageddon"); still, we cannot escape the impression that the news flow has turned sour since say the batch of good news that led the S&P higher in late May.
A term structure that looks off-kilter may be trying to reconcile the opposing realities of very low realized vol… that continue for who knows how long… with a look to a return to higher levels in the not-too-distant future.

We are actually seeing a pick-up on the weekly expiration for organic at-the-money volatility as seen through options on S&P futures.
There does appear to be more turbulence than we were seeing prior to the open. Are we going to have another go at breaking out of our six-week range? Who knows. Vol seems ready for action in the event that we do.
We are in fact seeing an increase in volatility across the board, including a surprising leap in the quarterly contract. It does appear at the very least that quarterly ATM vol is carving out a bottom. The 9.6 that we saw last week was jaw-dropping.
Remember readers, there's nothing to say that we have to see a turn-around here: but these vol levels are still very low. More and more, we are reaching the conclusion that there's a mismatch to the data flow. Weekly vol has done an admirable job connecting the two conflicting realities of low realized vol with a sense that something's just not right. We see this in how darn jumpy the weekly expiration has been.
Tracking The Trade
On June 20th, we began a new trade to keep an eye on over the next couple of weeks. The trade summary is as follows:

As can be seen in the table, the trade ends this Friday.
Strategy (laid out June 20 - this segment will largely stay the same so readers can see what we were thinking at initiation)
Remember, these are thought experiments, not real trades. It's less important that you actually agree with thesis. A lot of learning takes place from the vantage point of imagining that you did agree!
As we write on June 20, volatility is basically in its bottom 1% of historic observations. From a percentile standpoint, this is the polar opposite extreme of say October 2008 when spot VIX was around 80. This is the "anti GFC."
Buy the dip has become the order of the day. There may be quite a bit of upside left in the ES's most recent move. We think there may be a dip lower that allows us to do some modification; but if there's not, we want to own some potential upside up into the 2525 region. Maybe we've got a blow-off top in store?
The market sure seems to want to push higher; as such, we'll put on a trade that positions accordingly. That said, we want our position to quickly flatten out in the event of a drop, at least for a time.
Because no dip has become too small to buy, we will supplement our call butterfly with a put sale. Now, we are not looking for anything too exciting on this front; just a way to add on a little extra time value. Also, we want something to "trade around" in case this market does indeed march higher.
As a final point - this is more of a "if you can't beat 'em, join 'em" kind of trade; it's going with the flow rather than fighting it. That said, the spread represents a relatively low-risk approach to going long the S&P (at least over a certain range of values).
Note: The ES currently trades at 2430, 12 points below where we discussed this trade at last week's initiation.
Tactics
We will trade the following overall structure (this view is on the June 20th initiation day):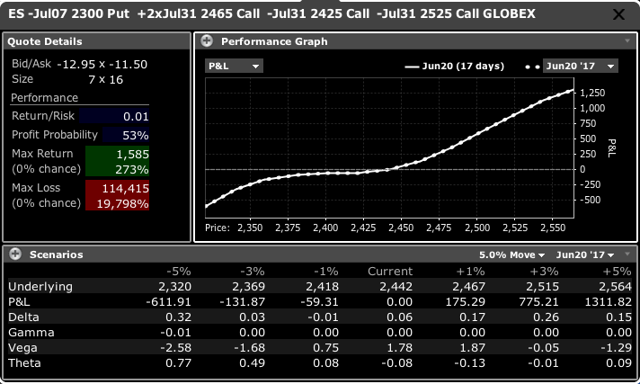 There are a number of ways to pick this trade apart. The individual legs are as follows:
Sell the Jul31 2425 call

Buy two Jul31 2465 calls

Sell the Jul31 2525 call
Those are the ingredients of the call butterfly: sell one, buy two, sell one.
As mentioned, we will supplement this spread with a (conservative) put sale:
If you observe the visual payoff profile on this trade, it looks almost halfway between a long futures (a 45-degree diagonal line) and a call option (hockey-stick shape that is flat up to a corner point and then rises).
We will follow this spread until Jul 7, when the 2300 put expires. For now though, observe that theta is quite mild on this, as is the delta profile (Look at the "Current" Column in Rows Delta and Theta above).
"What are the current options sensitivities (Greeks) with all your modifications?"
With about 40 minutes prior to open, this is how the current position looks: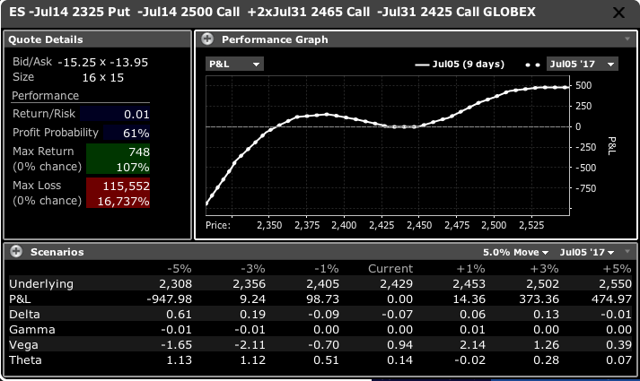 Note that without much in the way of modifications on this position, the payoff profile looks quite different from what we saw at initiation.
To a small degree this is due to moving in the strikes (Jul7 2300 to Jul14 2325; Jul31 2525 to Jul14 2500). Partially though, the two calls that we're long are becoming quite unbelieved, and a spill would cause the value of our short call (Jul31 2425) to dwindle. Recall that we sold this trade for an initial credit. Therefore, if all strikes expired out-of-the-money ("OTM"), we would have made money. At present, the short call is barely in the money.
"Talk to us about your Theta"
We see that theta is modestly positive, a contrast to initiation when it was about $.22 lower, and in negative territory.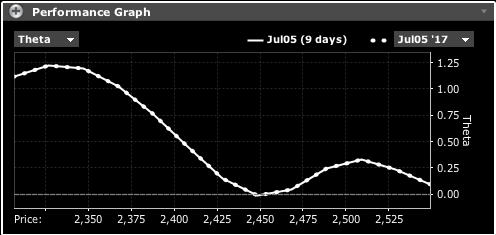 Indeed, at least for today, theta is in its lower range. We must stress that theta changes as a function of time, volatility, and price level of the underlying (ES in this case). The visual above displays Jul5 theta for constant volatilities (unrealistic) over a variety of ES price levels.
"Wow downside theta looks really good - so would you want the ES to tank?"
Not on this trade. We're negative vega and negative gamma down there. In fact, our two long calls would effectively be worthless, and then we'd have to decide whether to play the waiting game or to modify the position.
No, the ideal movement here would be meandering downside, preferably tomorrow and/or Friday. We would want implied volatility to just get lulled down: not to likely given that implied vol tends to rise as the market falls.
"What would Theta look like on this position if you held on till near the Jul14 expiration?"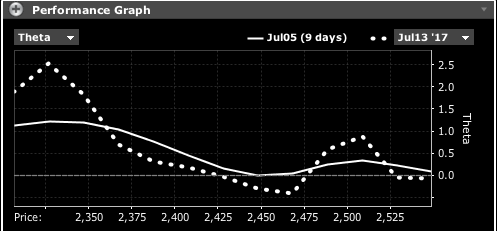 The IB trading platform assumes end-of-day, so even though the trade expires on Jul14, we enter Jul13 (close enough in this case) to get a feel.
The solid line is where we are now with respect to theta; the dotted line is where theta would be if volatility stayed constant (notice the caveats?).
Mechanics - monitoring
This trade is pretty sleepy here (as is the market). The fact is that our strategy was not correct. Or put a little better, it was only correct if you rushed in and bought the dip whenever ES hit the low 2420s (say by adding a call) and selling that call back when ES pumped higher to say 2440 or so. While that is the sort of activity we sometimes entertain, we rarely use that in-and-out tactic here, as we feel it may get confusing. Maybe in the future as we modify the Bulletin.
"Could you break the trade down?"

With last week's modifications, we sold this strangle for $3.25, and it's now trading at an approximately $2 profit.

We originally sold the Call 1x2 piece of this spread for $9.50… it's now moved against us by $4.
The overall trade has moved against us to the tune of about $2. We currently have a small positive theta, a negative delta, and some upside vega.
Conclusion
We'll leave it there. Thanks for reading. Please add your thoughts. In particular, we got plenty of comments in the last session on some of the volatility ETPs (UVXY in particular); keep 'em coming.
Hopefully you had a great holiday break and didn't spend all your time on the lookout for volatility spikes.
Please consider following us.
Disclosure: I am/we are short SPY. I wrote this article myself, and it expresses my own opinions. I am not receiving compensation for it (other than from Seeking Alpha). I have no business relationship with any company whose stock is mentioned in this article.
Additional disclosure: We actively trade the futures markets, potentially taking multiple positions on any given day, both long and short. It is our belief that the S&P 500 is meaningfully overvalued. As such, we typically carry a net short position using ES options and futures.