Fox Entertainment Group: The Casino Royale Of Assets For Price Growth
Summary
A huge Sky merger could be the catalyst to the price growth.
Its PEG is undervalued in my opinion.
The film production branch has some major blockbusters being released over the next 3 years which will surely add to the firm's bottom line considerably.
There is a stumbling block to the merger and that is the UK government.
The Fox Entertainment Group (NASDAQ:FOX) is one of the largest media businesses in the world; with cable channels now numbering over 50, global coverage of sports, they've been the producers of massively successful movies and are part of one of the world's largest news media businesses, Murdoch's News Corp. I've always thought it reminded me of the Carver Media Group Network from Tomorrow Never Dies…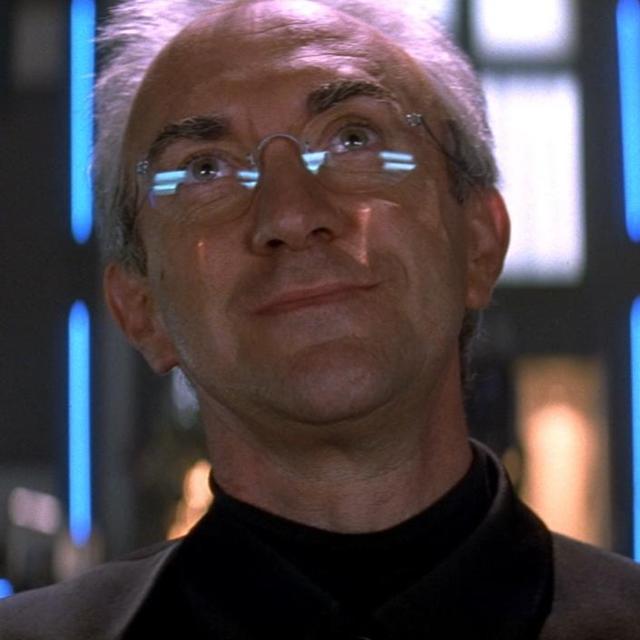 They're actually pretty similar - massive global coverage, a slightly megalomaniac owner (the comparisons between Carver (see above) and Murdoch can be made) and a desire to control all media; this is what Murdoch to an extent has already done, but is looking to do further with the potential merger of Sky and Fox. This is the main basis as to why I believe that Fox is trading at value and I shall expand on this with further fundamentals and examine a technical basis for having this company in your portfolio.
But firstly, let me get the small stumbling block the stock might face, if we are looking at upside moves, out of the way...
The UK Government: Murdoch's 007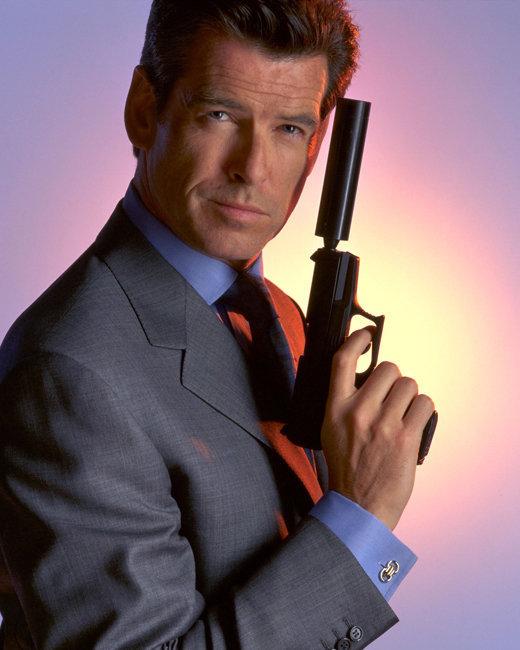 The Sky/Fox merger is currently going through some competition issues, with the UK MP Karen Bradley referring the £11.75bn merger to the competition authorities. It is subject to a 24-week investigation whereby investigations will be undertaken to see whether media plurality will be affected, and whether Rupert Murdoch himself is a 'fit and proper owner'. However, Europe has already approved the merger. This means that the UK does have the final say in accordance with Article 21 of the EU Merger Regulation.
What makes me believe that the UK is going to approve the merger and thus it would be a good time to buy now are two things. Firstly, is the UK going to undermine Europe at such a key time where we have Brexit negotiations occurring? I doubt it. Secondly, James Murdoch, Rupert Murdoch's son, is already the chairman of Sky and is CEO of the Fox Group.
One could argue that media plurality is already out of the window here and that a merger would not change much. Murdoch already owns two of the largest newspapers in the UK - The Sun and The Times (and more specific to us finance types, Dow Jones publications such as The Wall Street Journal), so one could argue that there has been a precedent set where we are already allowing a monopolistic news media in the UK.
The Bond Girl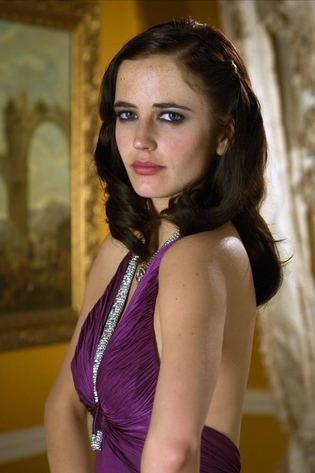 Vesper Lynd, Moneypenny, Honey Rider, Elektra King, Camille Montes. These characters have always been the alluring shining light in Bond films. They're always glamorous, daring and always have a large part to play in the movies. Fox's Bond girl is 20th Century Fox, their movie producing business.
Over the next few years, they have some absolutely blockbuster titles coming out, most notably Avatar 2 (2020), where the original grossed $2.88bn at the box office, and Deadpool 2, the original grossed $783m at the box office, as well as rights to the Marvel movies of which another untitled feature film will be released in 2019 and an X-Men movie that will be released next year.
These titles are huge and if we take an example from Time Warner (TWX) and Disney (DIS), it's that movie producing firms are loved by investors - people are always going to want to watch well-made films (and if we take the example of Transformers, they'll even watch extremely poorly made films if the franchise is strong enough).
See Time Warner and Disney below: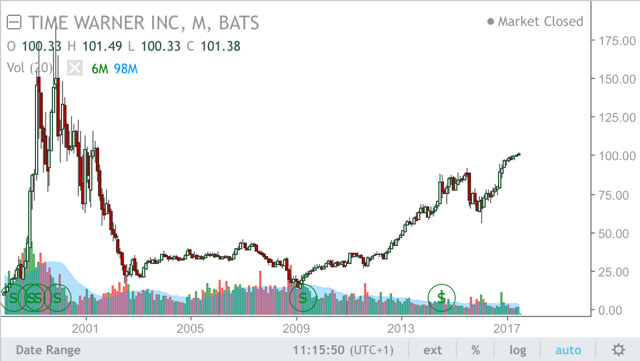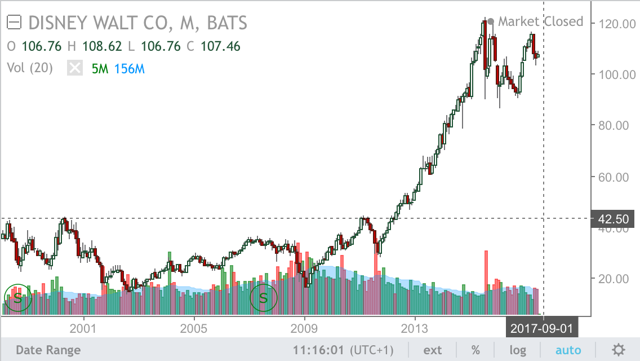 Both firms have had strong price growth over the last 7 years, and, while much is probably due to central bank equities purchasing, I'd argue that the profitability and continued growth prospects of America's second biggest cable provider and one of the biggest film production studios in Time Warner and Disney's legacy and continued success have a massive bearing too.
Skyfall? More like Skyrise
In my opinion, Fox has some catching up to do to these two firms - the catalyst could be the Sky merger. Currently, Fox's PEG ratio is at 1.64, but I think this is massively overvalued and should be much lower. We have a possible merger on our hands, and forward earnings growth should be much larger. Fox would be merging with Sky and its subsidiaries across Europe, with 22 million subscribers in 5 countries: the UK, Ireland, Germany, Italy and Austria. It would essentially be another branch to Fox's business where they would be an actual subscription provider where previously they had been a channel provider.
Let's talk a bit more about Sky since a lot of US viewers may not know about the scope of Sky's business in the UK and Europe. As I mentioned above, they have 22 million subscribers across 5 countries. Sky Sports and BT Sport share the rights to the Premier League, which just two years ago were acquired by both (BT Sports shows slightly fewer games) for £5.14bn, with Sky paying £4bn of that total for the lion's share of the games.
As a Sky customer, you can pay £5 more to access BT Sport. The reason I am referring heavily to the sports side here is that a huge amount of Sky's subscribers come from having access to watching UK football. Being able to access all games for a limited amount extra means it is a no-brainer in terms of which provider to pick (out of the three largest: Sky, Virgin Media, BT) for your home entertainment. This means that Sky will almost always have more subscribers from sports entertainment alone, which invariably leads to higher revenues.
Sky also own the rights to the majority of major US TV shows via their channel Sky Atlantic. Boardwalk Empire was the first blockbuster show to be released on the channel, and now Game of Thrones has taken that mantle. Other providers have not yet begun to purchase rights to TV shows or even begin to produce shows (Sky co-produced 'The Young Pope' with HBO). In my opinion, I could see Eurocentric dramas being produced if a merger with Fox were to occur, following the models of Netflix (NFLX) and Amazon (AMZN), which produce shows and movies in-house.
The subscriber base and customer satisfaction of Sky products (they are a broadband and phone provider also) is shown in their figures. Although the cost of the football rights acquisition has hurt operating profit slightly, Sky still reported an operating profit of £1.01bn a slight fall YoY from £1.14bn, but this was accounted for according to CEO Jeremy Darroch. Revenues over the same period have grown by 5% to £9.6bn, and Sky outperformed the rest of the TV advertising sector, which was down 8% on the year.
This is Sky's chart below. You can see that investors have been relatively apathetic towards it this year and I'd owe that to uncertainty surrounding the merger. There is a flag pattern forming, identifying a continuation. I'd expect a move to at least the next high, especially after buyers have clearly been sucked in at the long wick to the downside. You'll see similarities in the following section with Fox.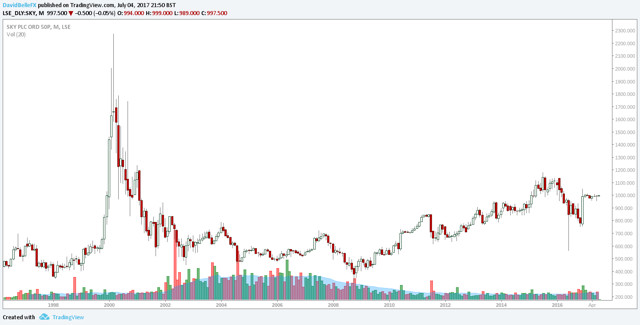 Let's Pretend To Be Q: A Technical Look At Fox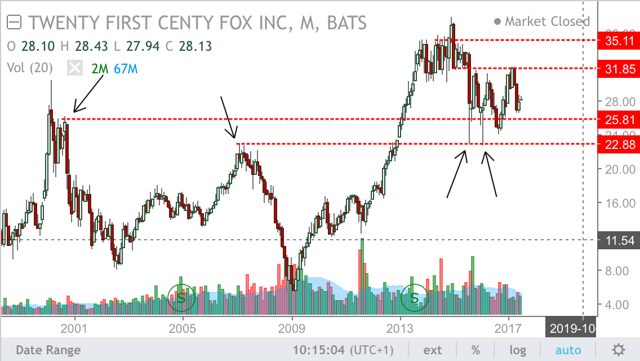 The above is a monthly chart of Fox. From a technical standpoint, this looks bullish to me. What really stands out are the two large wicks to the downside into the $23 handle. This signifies heavy buying pressure but a combination with this is that sellers have not pushed price back down to this support level since.
What's more is that it seems as if the $25.81 level seems to be the new monthly support, and it's a hugely key support if we look over to the left as it is a breach and test of a major previous level of sellers (back in 2000). If you have seen my weekly FX trading plans, you'll note that flip zones such as this are what I look to trade off of on a smaller time frame - on a larger time frame, they have even more significance.
When combining both the fundamental elements and the technical elements, I certainly feel that there is a good basis here for expansion to the upside, and considerable expansion at that. This stock could be your portfolio's Thunderball...
Editor's Note: This article discusses one or more securities that do not trade on a major U.S. exchange. Please be aware of the risks associated with these stocks.
This article was written by
Macrodesiac - Level up your market IQTechnicals for show, macro for dough.Trade in the tails and always have a view.Trade the value, not the price.
Analyst's Disclosure: I/we have no positions in any stocks mentioned, and no plans to initiate any positions within the next 72 hours. I wrote this article myself, and it expresses my own opinions. I am not receiving compensation for it (other than from Seeking Alpha). I have no business relationship with any company whose stock is mentioned in this article.
Seeking Alpha's Disclosure: Past performance is no guarantee of future results. No recommendation or advice is being given as to whether any investment is suitable for a particular investor. Any views or opinions expressed above may not reflect those of Seeking Alpha as a whole. Seeking Alpha is not a licensed securities dealer, broker or US investment adviser or investment bank. Our analysts are third party authors that include both professional investors and individual investors who may not be licensed or certified by any institute or regulatory body.