Introduction
Meal-kit service company Blue Apron (APRN) recently had its much hyped IPO. The company hails from the growing breed of unicorns (private companies valued at over $1 billion). Thus, this article shares our analysis of the company. We base this on three factors; (1) Blue Apron's business model, (2) financials, and (3) competition.
Fundamentally, we believe that the company operates a deeply uneconomical business model and thus has junk financials.
Business Model
Blue Apron delivers food recipes and their subsequent ingredients to its 1.03 million customers on a weekly subscription basis.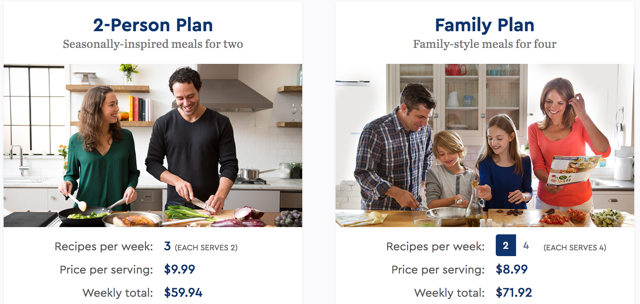 The company releases a new recipe menu every week and gives its customers the option to skip any week's menu they do not like. Typical Blue Apron customers are young urban working professionals and relatively high-income families. The flaws of the business model were apparent once we dived into the company's S-1.
APRN suffers from seasonality, customer retention, a heavy logistical infrastructure, and high marketing costs. Q1 2017 saw an 8.9% decline in orders per customer to 4.1 from 4.5 in Q1 2016.

The average revenue per customer was also down 10.9% to $236 in Q1 2017 from $265 in Q2 2016. The increase in net revenue was mostly driven by the addition of new customers. This presents an insurmountable problem.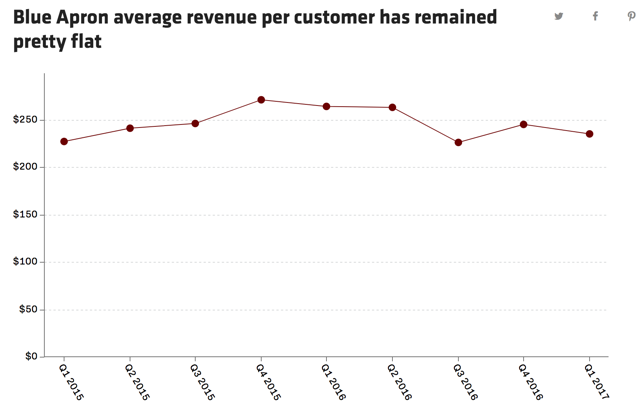 With ARPC having flatlined over the last two years with no indication of an upward trend, Blue Apron finds itself in an awkward situation. To increase revenue the company has to spend heavily on marketing. But marketing returns are declining and the company is finding it hard to make more money from existing customers.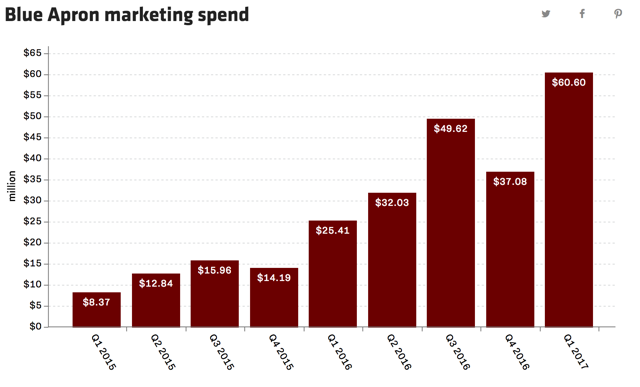 Marketing spend has increased by 624% from $8.37 million in Q1 2015 to $60.60 million in Q1 2017. We expect this to rise continually into the future on the back on competitive pressures, exhaustion of the meal-kit target market, and a deteriorating return on marketing investment (ROMI).
APRN's ROMI was 20% in Q1 2017, compared to 219% in FY 2016 and 412% in FY 2015. We expect this to decline further. To add to the awkwardness, Blue Apron attempted to mask their soaring customer acquisition costs (CAC) in their S-1. CAC of $94 for 2014-2016 is presented. However, the company spent $178 million from the end of Q1 2016 to the end of Q1 2017 to acquire 387,000 customers. This increases the CAC to a staggering $460, or nearly 5x the amount stated on their S-1. It should be noted that the 387,000 figure is either pre or post churn, thus CAC could be lower. Either way, CAC is still at least 3x the stated amount if we estimate churn to be 200,000. This is deceptive, and not only reflects the extent of Blue Apron's junk status it foreshadows a bad investment.
As a side note, the company creates an incredible 192,000 tonnes of freezer-pack waste every year. Each recipe ingredient also is individually wrapped, leaving a large amount of plastic waste. We believe this disadvantage will create future negative publicity for the sector and company, tarnishing their current millennial-friendly image.
Financials
Blue Apron's revenue has grown at an impressive pace, increasing 133.39% from FY 2015 to FY 2016 and 42% from Q1 2016 to Q1 2017. The company remains unprofitable.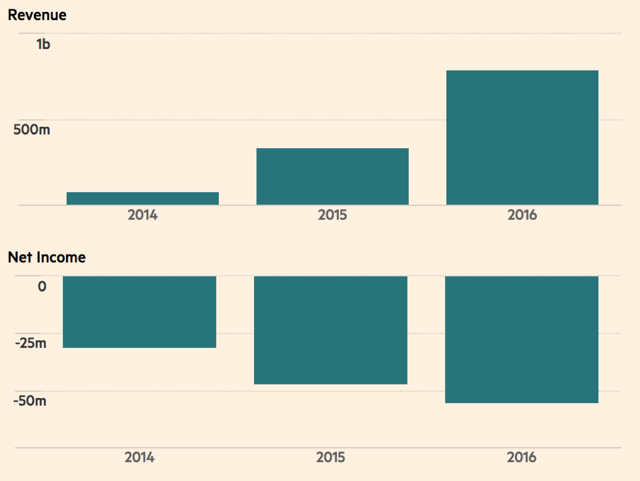 This in itself is not a problem as the company is quite young and should prioritize growth. But while we are invested in a number of unprofitable companies, these companies are improving their negative net profit margin year-on-year as they increasingly benefit from economies of scale.
Blue Apron suffers from the opposite uneconomies of scale. Q1 2017 saw APRN realize a net income margin of -21.3%, up from -12.68% in FY 2016 as net loss grew to -$52 million. This is especially worrying as the revenue growth rate has declined and will continue to decline. What do we call an increasing rate of unprofitability and a declining revenue growth rate? A disastrous investment.
This effect is going to be pronounced in Blue Apron's net debt and free cash flow. FCF has been consecutively negative year-on-year. However, the negative rate exponentially worsened in Q1 2017, and now stands at 88% of FY 2016.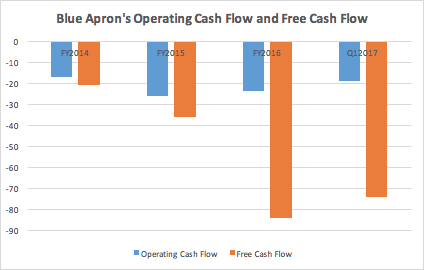 If this rate of deterioration continues, the cash from the IPO will be consumed in a few quarters, and net debt currently at $37 million will increase.
Competition
Blue Apron faces direct competition from a plethora of VC funded meal kit startups and indirect competition from supermarkets and restaurants. The company was one of the first to move into the US meal-kit market in 2012. And while APRN's commands 71% of the US meal-kit market share, this has declined from 77% in 2014.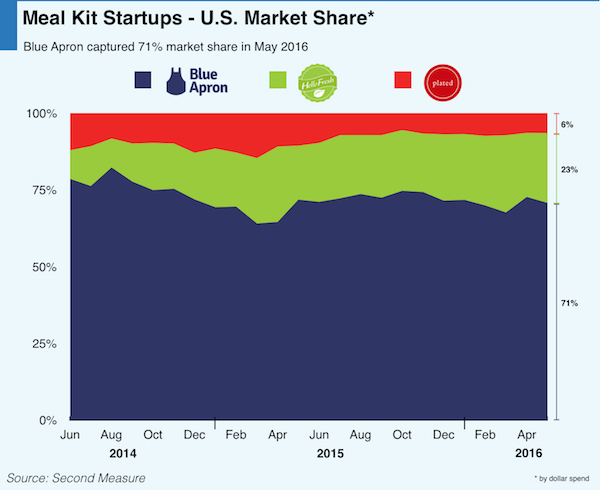 We do admit that while Blue Apron's market share capture will decline, the rate of decline is unlikely to be pronounced as their rate of customer retention as at the sixth month after first purchase is far superior to that of its closest competitors HelloFresh and Plated.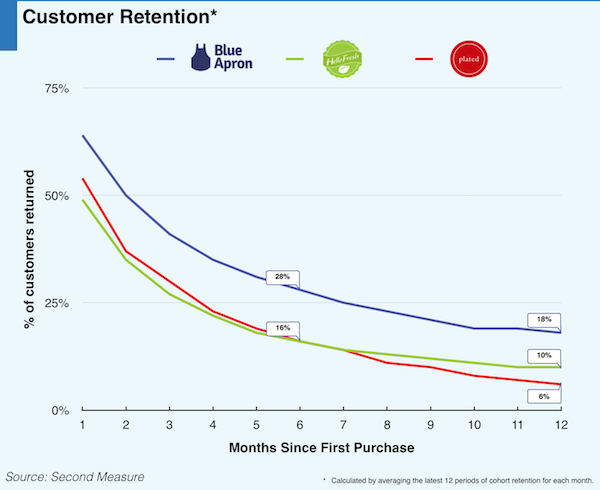 However, the market is becoming increasingly saturated with companies such as Purple Carrot, ChefDay!, Gobble, Chef'd, GreenChef, Peach Dish, and Din springing up over the last few years. Each one of these has attempted to differentiate themselves by adding their own twist on the meal-kit concept. For example, Purple Carrot is an exclusively plant-based meal-kit company. Others like Munchery and Thistle deliver the food pre-cooked to save on cooking times.
Fundamentally, the main competitor for Blue Apron will be supermarkets. And while APRN claims that the grocery store is 70% more expensive than its service, this is a facade. The top end of weekly expenditure averages for a US family of four is $297.50. This figure includes breakfast, lunch and dinne. However, to make this comparison fair we restrict it to include only lunch and dinner. This works out to be $5.31 per meal. The Blue Apron family plan has a weekly cost of $143.84. This includes four recipes (each serving four each). This works out to be $8.99 per meal, a 69% premium. Such a premium will only appeal to a very small niche of the US food market.
Conclusion
If Blue Apron stayed private it would have been the perfect example of a business that kept on burning VC money at an unsustainable rate. Eventually, it would have been acquired by a larger firm only for goodwill to be materially impaired a few months later and operations shut down a few years after that.
We are short this as soon as options become available.
Disclosure: I/we have no positions in any stocks mentioned, and no plans to initiate any positions within the next 72 hours.
I wrote this article myself, and it expresses my own opinions. I am not receiving compensation for it (other than from Seeking Alpha). I have no business relationship with any company whose stock is mentioned in this article.