Welcome to the sell-off edition of Natural Gas Daily!
Natural gas prices are falling off a cliff this morning with August contracts down 11 cents to $2.84/MMBtu.
What's causing prices to sell off?
On Monday, we wrote that natural gas prices had gapped lower on the bearish weather revisions. Today's sell-off, however, was not fueled by any bearish weather revisions, so to try and explain today's move will be a bit tough.
Here's what we know.
Lower 48 production so far in July has been higher than what we expected, averaging well above 72 Bcf/d versus our preliminary estimate average of 71.8 Bcf/d. Here's what production looks like: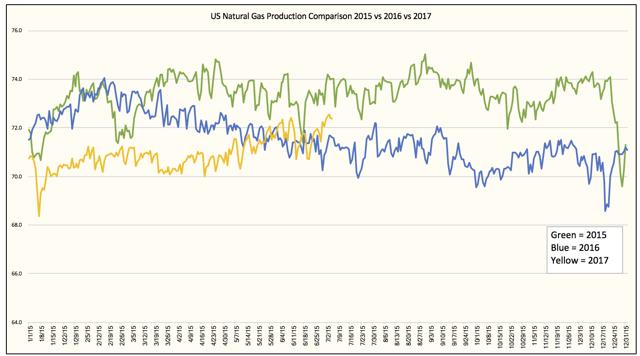 Source: HFI Research
Now that Lower 48 production is clearly above last year's level, some traders are starting to worry about the fundamental balance for summer as power burn (chart below) remains below 2016 levels due to a combination of higher gas prices and more moderate weather temperatures.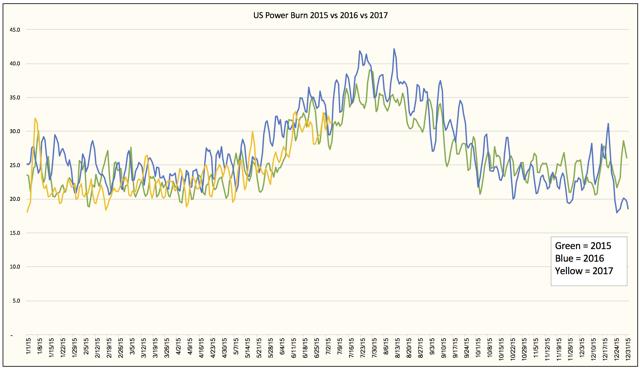 Source: HFI Research
Although the recent increase in Lower 48 production has not changed our next four-week storage injection figures, the impact of higher-than-expected production growth could throw the balance for 2018 off, and hence explains the possibility of some traders exiting bullish positions across the curve.
For the traders we talk to, however, they remain bullish on the recent sell-off in prices and are adding to their long exposure. With prices below $2.90/MMBtu, our estimated increase in power burn demand is 1.2 Bcf/d or more than 0.6 Bcf/d higher than the increase in production growth. This should help reduce injection figures for the next few weeks.
For traders or investors interested in following daily natural gas fundamentals, we publish exclusive reports daily. You can see here for more info.
Disclosure: I/we have no positions in any stocks mentioned, and no plans to initiate any positions within the next 72 hours.
I wrote this article myself, and it expresses my own opinions. I am not receiving compensation for it (other than from Seeking Alpha). I have no business relationship with any company whose stock is mentioned in this article.