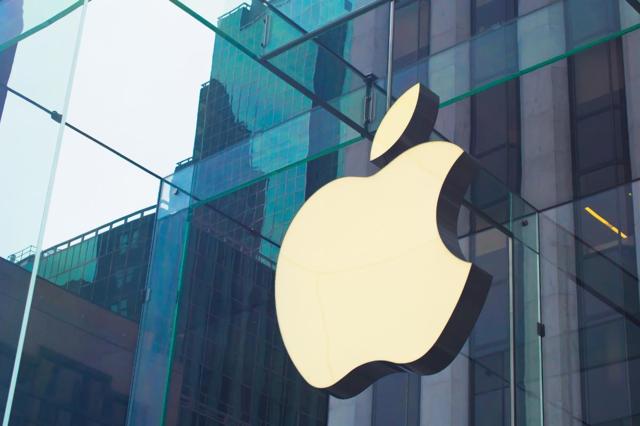 Despite Apple's (AAPL) stock increasing 24% so far year-to-date, I still believe it's an attractive stock to buy. I like its growth potential, free cash flow production, outstanding balance sheet, and the amount of capital that's returned back to shareholders. Those qualities normally translate into a premium valuation, but not with Apple. To prove my thoughts, I valued the stock using three different approaches, and they all led to the same conclusion. Apple is attractively valued relative to peers and the rest of the market.
Valuation 1: Market Comparables Shows 52% Upside Potential Based on EV/FCF
Relative to other large-cap technology companies, Apple still trades at a significant discount, which is a bit surprising considering the performance of their stock in the last couple of months. Apple has a very low EV/FCF, which indicates there's 52% upside in the stock. This isn't surprising since enterprise value incorporates Apple's superior balance sheet. I also consider Apple's forward P/E of 13.58 and a long-term growth rate of 11.1% as attractive.

Enterprise Value, Trailing P/E, Forward P/E, PEG Ratio, and Yield provided by Yahoo Finance.
EV/FCF was calculated with financial data provided from Google Finance.
LT Growth Rate provided by Reuters.
Valuation 2: Discounted Cash Flow Analysis Shows 44% Upside Potential
It's no surprise that a discounted cash flow model shows 44% upside in Apple's stock. This is fairly close to the 52% upside I calculated based on EV/FCF in the analysis above.

Risk Free Rate - I used the yield on a 30-year treasury bond.
Equity Risk Premium - this figure is calculated every month by Aswath Damodaran, a Stern Business School Professor.
Required Rate of Return - calculated by multiplying the Equity Risk Premium by Beta and then adding the Risk Free Rate.
Value of Equity = CF1 / (r - g)
CF1 = next year's free cash flow, which I've estimated at approximately $55 billion.
'r' is the required rate of return and 'g' is the long-term growth rate
Of course, this model is highly sensitive to the required rate of return and long-term growth rate. Given that, I created the following table that should help you decide on Apple's potential. Only at low levels of long-term growth and high levels of required return would Apple's stock be overvalued.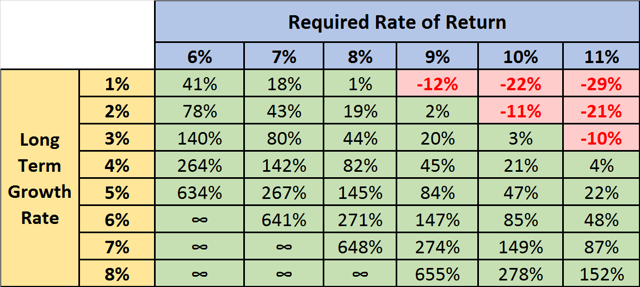 Valuation 3: Two-Stage Dividend Discount Model Shows 10% Upside Potential
Dividend discount models are pretty simple but rarely used. I think it's appropriate for Apple because as its earnings increase, so will its dividend.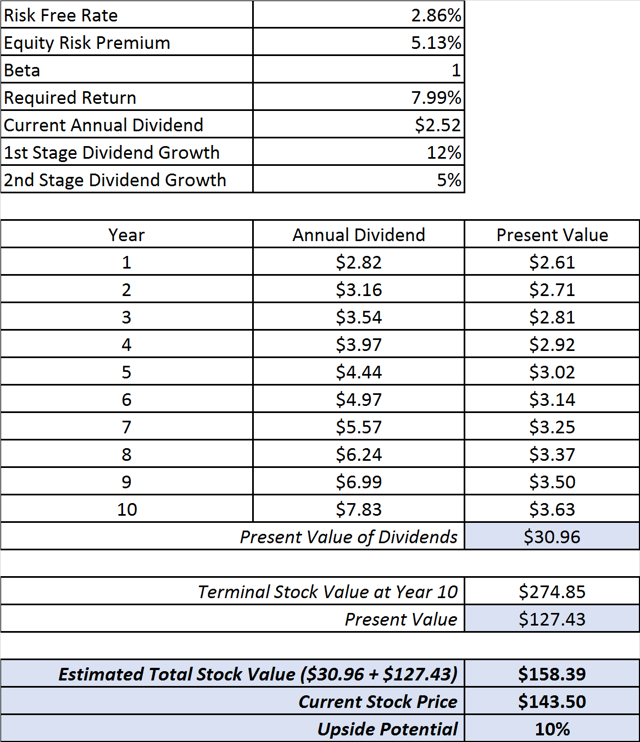 I used the same methodology for Risk Free Rate, Equity Risk Premium, Beta, and the Required Rate of Return as in my Discounted Cash Flow Model.
Ten-year annual dividend growth of 12% (1st stage) assumes that Apple grows its dividend until its payout ratio is approximately 60 - 70%.
After the ten-year period of normal dividend growth, I have Apple's long-term dividend growth at 5% (2nd stage).
Conclusion
Even after seeing a valuation surge this year, I believe Apple's stock is still attractively valued. Apple's stock trades at a discount across the board, but its large cash balance and excellent free cash flow fuels a large EV/FCF disparity among peers. The best part is that all of the valuations I used only assume Apple continues their existing business. Given a huge cash balance, Apple has the potential to make a huge acquisition or disrupt other markets from the ground up. At the very worst, Apple will continue to be a cash flow machine and reward shareholders with a growing dividend and share repurchases.
Disclosure: I am/we are long AAPL.
I wrote this article myself, and it expresses my own opinions. I am not receiving compensation for it (other than from Seeking Alpha). I have no business relationship with any company whose stock is mentioned in this article.