Relevant Comps
Bazaarvoice, Inc. (NYSE:BV)
Callidus Software Inc. (NASDAQ:CALD)
ChannelAdvisor Corporation (NYSE:ECOM)
Criteo S.A. (NASDAQ:CRTO)
Salesforce.com, Inc. (NYSE:CRM)
Zendesk, Inc. (NYSE:ZEN)
Catalyst
Q1'17 (reports May 2 post-close) will be important since first evidence of new product adoption and effectiveness of salesforce reorganization that happened in Q4 '16. The company over-earned in Q4 and working capital suggests Q1 results are under pressure.
Management could use reporting tricks (they did in Q4 '16) or M&A to confuse the market for one more quarter, in which case, Q2 '17 earnings is the catalyst.
Short: Hubspot, Inc. (HUBS) (the "Company" or "Hubspot"), $2.3B Market Cap, 6.3x FY2017E Revenue, 5.0x FY2018E Revenue
Executive Summary
Hubspot sells marketing and CRM software-as-a-service (SaaS). It went public in Oct. '14 and has enjoyed a 52% 3-year revenue CAGR by selling to "SMBs" that are usually buying their first digital marketing solution. Hubspot is not profitable.
The Street thinks the company has <1% share in an underserved market with room for competition - a rising tide lifts all ships.
Investors are thinking the new CRM product and salesforce reorg is a swing factor for Q1'17 top line - 35-40% '17 growth baked in.
Reasons to short:
Hubspot has been driven down-market by larger competitors, is selling a commoditized, low-tech product and is getting squeezed on pricing by well-funded startups and enterprise freemium models.
Unit economics are bad and the recent margin deterioration has been offset by channel sales, which have plateaued.
Customer net adds are decelerating and hidden by a change in disclosure.
Limited downside to a company trading at all-time and SaaS industry highs with no takeout risk.
Potential Return: ~50% upside to shorting HUBS under the base case using a weighted average revenue multiple and DCF.

Primary Research Highlights
Calls/meetings with SaaS VCs, SaaS M&A bankers, top 2 digital consulting partners, top 3 competitor execs.
Demoed Hubspot and competitor products; interviewed 4 Hubspot customers, 14 partners, and 4 former employees.
Tracking plan: Q1'17 (reports May 2 post-close) will be important since first evidence of new product adoption and effectiveness of salesforce reorganization; management could use reporting tricks or M&A to buy one more quarter.
Pre-mortem: High paid CRM attach rates in Q1'17 and better disclosure of churn and net new customer adds for the core product.
Thesis Points
TAM is small and competition is high - market saturation makes consensus revenue unlikely.
Unit economics challenged and misunderstood - near-term profitability unlikely.
Everyone is bullish - high risk asymmetry given peak valuation and no intrinsic value.

Secondary Investment Points
Network channel partners are highly concentrated - only 50 account for 90% of sales, so 35% of total revenue.
Hubspot was in a legal battle with Salesforce and API contract expires in 2020 - 75%+ potential downside if expired.
Account-Based Marketing is replacing Inbound Marketing as most effective web-based approach to lead generation.
Top-tier forensic accounting firm expected to publish short report on HUBS after Q1 earnings - potential secondary catalyst.
Weak management team and reputation - expose published in '16; CTO barely in office; confusing exec titles, and turnover is high.
Thesis Point 1: Small Actual TAM And Competitive Squeeze
Street says the company has <1% of ~$45B TAM and long runway - consensus 23% 2016-2019 CAGR.
Management says it's focused on customers with 10-2,000 headcount, but former employees, customers, and channel partners say the product is for 10-50 employees and <$10m revenue.
Hubspot leads this segment, but lacks tech or pricing advantage over segment rivals, which are moving into this market.
Up-market is saturated with more sophisticated technology and down-market is competitive and unprofitable.
Hubspot pricing is being squeezed on both ends as enterprise giants and VCs subsidize freemium models to gain share.
CRM market is even more competitive; Hubspot's dog-and-pony "rebranding" won't improve cross-sale uptake, and ARPU growth could turn negative (consensus growth is mid-teens) in 2017.

Thesis Point 2: No Path To Profitability
Hubspot guides to OCF and points to 100% dollar retention, but these are the wrong metrics to focus on.

The Company capitalizes software (2% revenue) and continues to open new offices.
Dollar retention is misleading because of early discounts and upgrades - actual churn is high (low 80s reported, I was told 70s)

The best metric to measure SaaS unit economics is CLTV/CAC (lifetime value to acquisition cost) and Hubspot has been unable to grow this ratio beyond 1.5x, while 3x is the industry's "magic number."
Hubspot books ~50% of its revenue through marketing agencies who act as value-added resellers (VARs). Hubspot pays a 20% commission for each sale, but starts recording revenue from resales at least a quarter before recording the commissions as S&M expense. In some instances, Hubspot records revenue net of commissions altogether. I believe that Hubspot's true operating margins are between 5-10% lower than reported.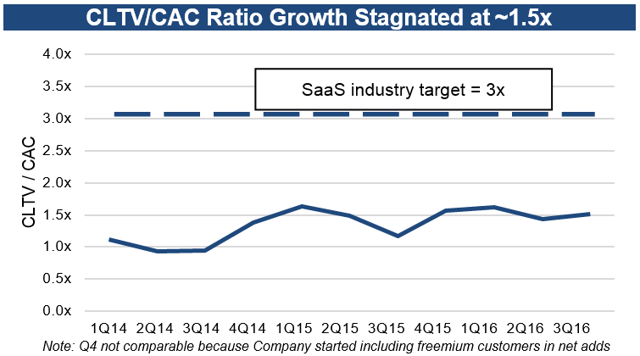 Valuation
HUBS trades at 6.2x '17 consensus revenue; there are 18 buy ratings and 2 holds.
I model base case '17-'18 revenue below the Street and ascribe a 3.5x '18 multiple which gets an implied share price of $38 at EY2017 reflecting a 41% return (54% annualized).
I add a 10-year DCF to my base case operating model with margins approaching management's long-term guidance. The base case DCF implies a share price of $29 reflecting a 55% return (69% annualized).
My reward case shows another half-turn of multiple contraction, which I think is reasonable in an 18% growth scenario. This implies a 54% return.
My risk case shows a multiple expansion to 6.5x and above-consensus growth and implies an 18% loss on a short.
Key Risks And Mitigating Factors
Outperformance: The company has beaten the top line every Q since the IPO - the stock has never responded more than 2%.
Salesforce risk: Rumor that a Salesforce deck leaked and included Hubspot as a potential target, but former employees describe the relationship with Salesforce as fractured. Industry contacts say Salesforce has been giving its Pardot (HUBS competitors) product away for free and eating into Hubspot's customer base.
Other strategic buyer risk: Hubspot competitors have already been acquired by enterprise software or PE (see next page) so they aren't interested. SaaS M&A bankers argue that 1) "SMB is uninteresting to enterprise;" 2) "no one wants to buy a company selling through channel partners;" and, 3) "Everyone knows Hubspot has no real tech."
PE ("Vista'd") risk: Vista already bought key competitor Marketo and Marketo told me they aren't interested. There are other pockets of SaaS-focused capital but high churn, competitive pricing pressure, and shifting industry trends are gating issues.
International growth - recently opened Japan office, etc., and large channel partners in Spain. This could help them meet near-term numbers but very few SaaS companies have successfully scaled into Europe's highly fragmented customer bases
Model Assumptions – Base Case
(5%) net new customer growth in '17-'18, in line with '16 growth normalized for INBOUND conference in 3Q.
Flat ARPU, reflecting pricing pressure and customer size shrinkage.
Sample Next Steps
Speak to Salesforce/Pardot about platform integration, move down-market, and competition.
Speak to marketing automation competitors and Account-Based Marketing agencies and platforms to gauge growth across categories.
Survey agency partners on client ROI on marketing and sales products and conversion of new CRM product.
Q1 '17 earnings: watch SaaS unit economics (see next page).
Appendix
Growth drivers negative
Net add deceleration hidden by a change in reporting - the company started including freemium customers in net add numbers.
ARPU growth decelerating.
Unit economics deterioration
CAC ratio declining.
Employee efficiency down.
Working capital flags
Stretching terms to meet.
Billings growth slows.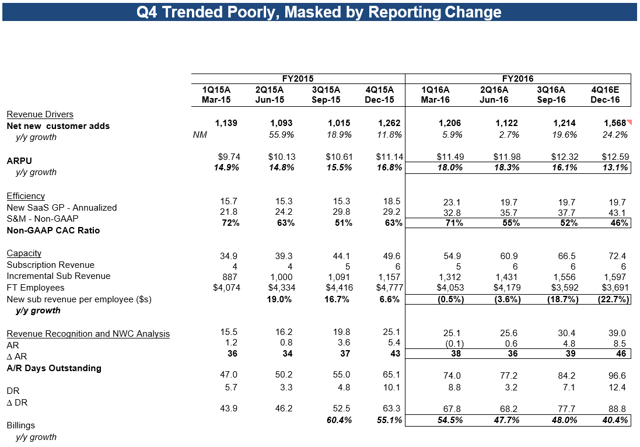 Most expensive non-enterprise SaaS company
Second highest expected forward growth but also most competitive and least sticky customer base (digital marketing < CRM).
Second worst economics.
Trading above takeout threshold
Even if buyers saw value in Hubspot, current valuation + premium is above historic M&A threshold.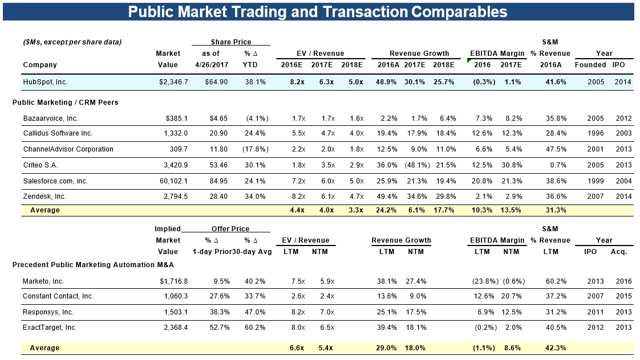 (Editors' Note: This is a republication of an entry in the Sohn Investment Idea Contest. All figures are current as of the entry's submission - the contest deadline was April 26, 2017).
Disclosure: I am/we are short HUBS. I wrote this article myself, and it expresses my own opinions. I am not receiving compensation for it. I have no business relationship with any company whose stock is mentioned in this article.
Additional disclosure: I have been short HUBS since early February and continue to add as shares trade up on no real news.