This series of articles does not aim at predicting where precious metal prices will go, but at showing investors where they can get more value for their money.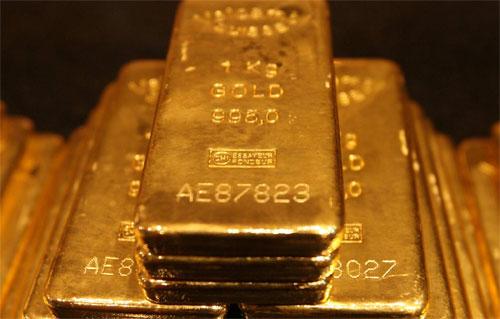 About 1 month ago I wrote about gold:
The short interest of commercial hedgers is getting close to its value at 3 reversals, but it may also go higher.
Indeed price and bullion banks short interest went a little bit higher, but refused to continue the bullish channel started in December and to overcome $1300, which has already served as a resistance 5 times in 30 months. When I write, it is back down close to $1200, another important mark which has been a support, a magnet and a resistance in the last 4 years. When you read this, it may have fallen through it.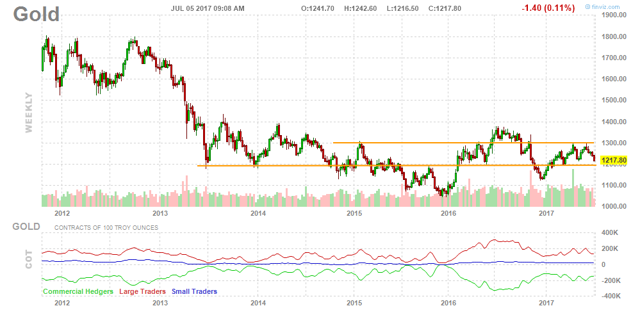 Gold price weekly chart (finviz.com)
The short interest of commercial hedgers is in a middle of its range since the gold bear market started in 2011. It doesn't help to guess what kind of move gold insiders are anticipating. The story is the same for silver, but different for platinum, whose commercial hedgers short interest is small: it seems bullion banks are not betting on platinum going much farther to the downside. On the opposite, their short interest, and the price, is still very high for Palladium. It may go even higher in case of increasing tensions with Russia, the leading producer. Palladium has already served as a "Putin hedge" in 2014, when black swans were flying over the Black Sea. Now they are in Syrian and Korean skies. If communication with Russia eases, palladium is likely to fall down and short positions to pay for a part of 2017 bonuses in some banks.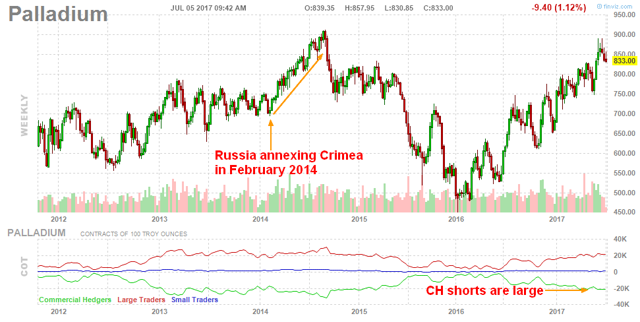 Palladium weekly chart (finviz.com)
I don't know if it is a good time to buy precious metals as an investment, but there is no bad time to accumulate small amounts as an insurance. For this purpose, some closed-end funds are an alternative to the SPDR Gold Trust ETF (GLD), iShares Silver Trust ETF (SLV), ETFS Physical Platinum Shares ETF (PPLT) and ETFS Physical Palladium Shares ETF (PALL). The next table shows discounts, premiums, and real metal allocated for some Canadian funds on 7/5/2017.
| | | | |
| --- | --- | --- | --- |
| | Tickers | +Premium -Discount | Annual Fees |
| Central Fund of Canada | | -6.5% | 0.32% |
| Sprott Physical Gold Trust | | -0.12% | 0.35% |
| Sprott Physical Silver Trust | | +1.46% | 0.45% |
| Sprott Physical Platinum & Palladium Trust | | -2.19% | 1.17% |
Premiums and discounts are calculated with the price of latest LBMA fixing (12:00 p.m. for silver, 3:00 p.m. for gold).
CEF discount is providing a safety margin of 6.5%. I don't recommend a long-short arbitrage trade. Borrowing and margin costs may erase expected gains if the trade lasts too long. CEF has traded at a premium between 2009 and May 2011, and has been at a discount between 3% and 12% most of the time since then.
Investors preferring stocks and incomes may consider GAMCO Funds GGN and GNT. Their holdings are mostly precious metal mining companies and dividends are much higher than in the VanEck Vectors Gold Miners ETF (NYSEARCA:GDX). They have also positions in oil and gas. GNT is more diversified, with some holdings in industrials (DE), materials (MON, SYT) and consumer staples (ADM). ASA is another closed-end fund in precious metal companies.
| | | | | |
| --- | --- | --- | --- | --- |
| | Tickers | +Premium -Discount | Dividend Yield | Annual Fees |
| Global Gold Natural Resources & Income Trust | | +0.91% | 10.80% | 1.26% |
| Natural Resources Gold & Income Trust | | -4.65% | 8.86% | 1.36% |
| ASA Gold&Precious Metals | | -11.04% | 0.35% | 1.26% |
ASA has the best discount. GGN has the best dividend yield, but it has a premium now, and the yield is based on option strategies: it may be put at risk, like for GNT. Some closed-end funds have an additional risk due to leveraging, but not here: GGN has a low leveraging ratio (close to 1.1), GNT and ASA are not leveraged. High dividend CEFs like GGN and GNT may suffer capital decay due to ROC (return on capital). ROC is not necessarily bad for investors with a lower tax rate on dividends than on capital gains (SA has readers worldwide with diverse tax situations).
The top holdings of ASA are Randgold Resources (GOLD), Barrick Gold Corp (ABX), Newcrest Mining Ltd, Agnico Eagle Mines Ltd (AEM), Newmont Mining Corp (NEM), Goldcorp Inc (GG), Royal Gold (RGLD), Franco-Nevada Corp (FNV), Anglogold Ashanti (AU), Cia de Minas Buenaventura (BVN). This group represents about 60% of the net asset value. ASA allows to hold shares of these companies and other ones with an 11% discount.
If you want to be notified of monthly updates, click "Follow" at the top of this page.
Disclosure: I/we have no positions in any stocks mentioned, and no plans to initiate any positions within the next 72 hours. I wrote this article myself, and it expresses my own opinions. I am not receiving compensation for it (other than from Seeking Alpha). I have no business relationship with any company whose stock is mentioned in this article.