By now, most concerned readers already have a full understanding of the "arbitrage opportunity" presented by Orchestra Premaman and Destination Maternity (DEST). Some have claimed that the market was just plain wrong in pricing such a large spread between the two companies and perhaps they are right. But it seems that the market was somewhat accurate in predicting the extreme volatility and uncertainty in the retail industry where the quarterly change in results can mean the difference between life and death. It seems that rather than a merger arbitrage opportunity, Destination Maternity has morphed into a partial bet on the future of maternity/baby clothing retail, a bet on the desire of Orchestra to pursue this combination and a bet on their ability to avert a credit disaster. They are far more difficult questions to answer.
Financial analysis
The original financial projections for the combined company in December was supposed to be $76 million in combined Adjusted EBITDA. They actually use the Adjusted EBITDA before other charges figure and as you can see, there's a steep decrease from just under $23 million for Destiny's results to just over $16 million for its LTM Q1 2017 results. With about $38 million in net debt, Destiny trades at a roughly 2.33x leverage ratio. This is a pretty hefty deterioration from 1.65x leverage ratio in just one year's time.

Source: Orchestra Premaman investor presentation

Source: Author's own work
According to Orchestra's presentation 3.00x is their covenant for the leverage ratio, <1.25x for gearing, and >5.00x for interest coverage.
For FY 2016, Orchestra had gross operating income of 37.4 million Euros which is a good proxy for EBITDA according to their own filings and presentations. I don't have the specific calculations because I don't read French, but I believe the English disclosures are enough to give us a rough idea. With a net debt of 111.5 million Euros for debt covenant purposes, the leverage ratio is 2.98x. Too close to comfort it seems. The gearing ratio of 0.82x with shareholders' equity of 135.8 million Euros to 111.5 million in net debt. This is actually a sizable improvement from FY 2015's 1.16x ratio largely due to a sizable capital raise. Interest coverage is also cutting it pretty close at 5.2x and could possibly deteriorate in combination with Destination.
So yes, while Orchestra is certainly observing their covenants, they are barely doing so which probably explains why they didn't directly publish their ratio results. Furthermore, it's not exactly clear what the ratios will be when combined with Destination particularly when it comes to interest coverage and the future leverage ratio. Orchestra certainly won't have an easy time negotiating new debt to consolidate the company's liabilities. The good thing is that most of its bond debt is apparently due at a much later than the $36 million in bank debt which can be paid in full with cash will give them time to improve their performance before their maturity. Also, I am unsure as to whether these covenants are attached to the bank debt or the bonds or both. The best case is if they are attached only to the bank debt.
The worst situation for any investor is to have two poorly performing debt zombies combine together and it's quite possible that this turns out to be such a situation unless Orchestra improves performance quickly and gets their creditors to loosen up the covenants either through negotiations or repayment of covenant loans if that's an option.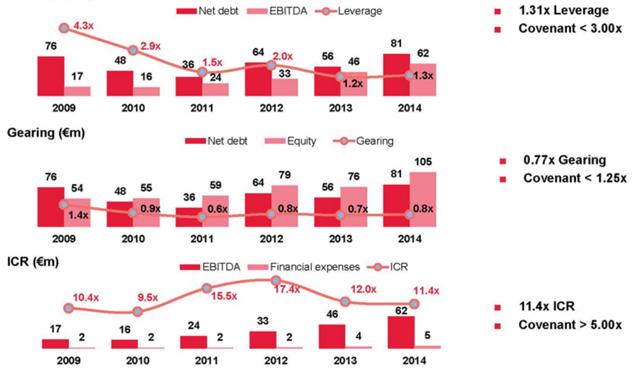 Source: Orchestra Premaman investor presentation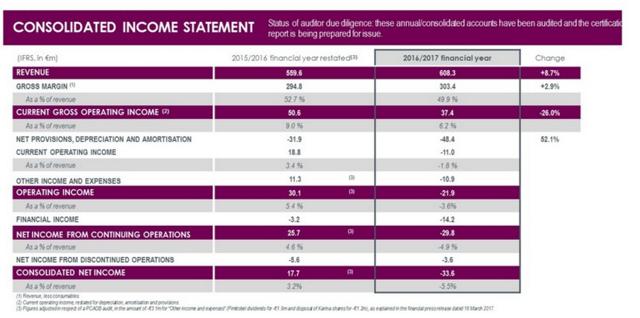 Source: Orchestra Premaman investor presentation

Source: Destiny Maternity's SEC filings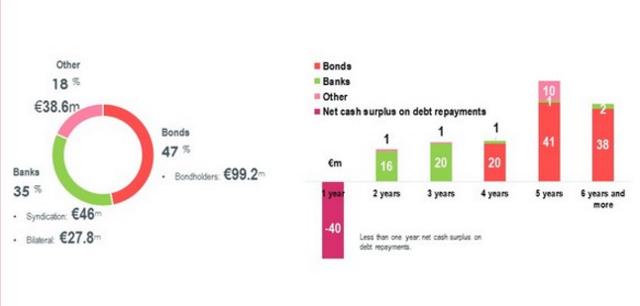 Source: Orchestra Premaman investor presentation
Qualitative analysis
Orchestra certainly has a pretty impressive track record in terms of growth in the French and certain other international markets as shown in their long-term sales growth. It indicates that the company certainly has some kind of execution skill in their competitive industry where they claim to compete head to head with the likes of fast fashion leaders like Zara and H&M.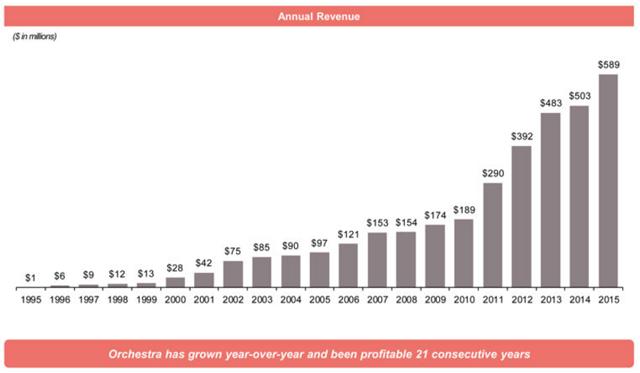 Source: Orchestra Premaman investor presentation
The main value proposition as far as I understand it is that there will eventually be a $15 - 20 million annual savings from the combination as a result of reducing unnecessary supply chain expenses in Destination's business that's expected to be achieved within 3 years of closing the merger. Destination also has a current list of over one million annual expecting and new mothers with a historical customer list of over 10 million names. This obviously Orchestra a nice place to start in terms of sales leads and data on potentially profitable locations to open up stores in the U.S. In any other industry, this would probably be considered a brilliant buy. Although in any other industry, you're probably not going to get companies priced like this. In any case, there are other synergies that they claim to benefit from such as cross selling one another's offerings and using a store within a store concept, but I'm skeptical about the material effects those will have on the bottom line and perhaps more so of my ability to understand the retail business. Successfully executing and achieving the first two synergies will go beyond both the market's and my own expectations far enough. To summarize Orchestra's strategy, it's to leverage cost savings from Destination and their own supply chain through the reduction of SG&A while gaining bargain power against their suppliers, increase their product offering by cross selling each other's products in stores, and using Destination's customer list to start Orchestra's U.S. expansion off with a bang.
The management factor
Orchestra's largest shareholder Yeled Invest SA owns roughly 68% of the company. They also own about 13.7% of Destination so they are extremely vested in Orchestra's survival and somewhat vested in Destination. They will undoubtedly want to cut the deal off if it is better for Orchestra chances of survival. Orchestra has already expended 3.5 million Euros in one off transaction expenses in 2016 alone and pulling back from the merger will subject them to further costs and more importantly, expose them to litigation. Both parties have already committed much time and effort into this and it might be too late for Orchestra to escape from this deal without significantly increasing its odds of filing for bankruptcy. The irony is that going through with the merger may be equally bad for them depending on Destination's near term financial results. Orchestra could be damned if it goes through with it and definitely damned if it doesn't. Destination is probably in significant trouble itself and has no more avenues of organic growth by itself. There is no chance that it will desire to get out of this deal. Bankruptcy is a near certainty if it tries. This is highly reminiscent of SunEdison's (OTCPK:SUNEQ) attempted acquisition of Vivint Solar (VSLR) with Orchestra playing the role of SunEdison and Destination the role of Vivint.
Perhaps the correct analogy for the current situation is of a car that is racing towards the edge of a cliff hanging off of the ocean. When the driver has regained consciousness, it is already too late to avoid going off of the cliff. He may either try to hit the brakes hard and probably end up crashing into the rocky shallows immediately below the cliffs with guaranteed death or he could choose to accelerate and attempt to launch his vehicle into deeper waters where he may have a chance for survival. To arrest the merger is to attempt hard brakes and to go through with it is to try to accelerate into the deep waters.
Conclusion
Orchestra has entered into one of the most precarious positions in is entire existence with its own financial performance collapsing as well as that of its merger target. Both are weak by itself and will turn weaker through any attempt to get out of the merger agreement. On the other hand, they have a real chance at survival if they can quickly integrate with one another and quickly implement required synergies. Destination should have no choice but to go through with the merger whereas Orchestra is in roughly the same position. It's likely that this merger will be supported by both companies as long as they can get their creditors to cooperate.
Disclosure: I/we have no positions in any stocks mentioned, and no plans to initiate any positions within the next 72 hours. I wrote this article myself, and it expresses my own opinions. I am not receiving compensation for it (other than from Seeking Alpha). I have no business relationship with any company whose stock is mentioned in this article.
Editor's Note: This article covers one or more microcap stocks. Please be aware of the risks associated with these stocks.