Summertime? Time to sit back and unwind—that's the philosophy the markets seemed to take in June. That said, below the surface there were some significant pockets of activity that investors are paying attention to as summer heats up.
First let's address the Fed: They bumped the federal funds rate by another 0.25% to 1.00–1.25%, as widely expected. The move suggests the committee's plan for three hikes in 2017 remains in play. Amid soft economic data, though, some market observers left June wondering about the likelihood of this third increase. Fed Chair Janet Yellen didn't indicate plans had changed in a June 27 speech, but her remark that asset valuations are "somewhat rich" raised some eyebrows because the Fed doesn't typically speak to asset prices.
While the yield curve continued to flatten in the bond market, the big news in equities was the #techwreck. Tech stocks fell 2.70% during the month and helped send the Chicago Board Options Exchange Volatility Index ® (VIX ®)2, which measures expected U.S. market volatility in the next 30 days, to a six-week high on June 29. But taking a yearly view on tech makes June look like more of a fender bender given the sector's outperformance thus far in 2017. And the same could be said for the VIX, which remains low by historical standards.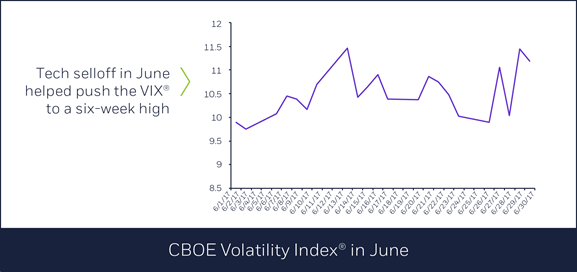 Source: Chicago Board Options Exchange
Domestic equities
Investors kept the S&P in positive territory in June, though gains were modest. Still, the index continued to hover near record highs. Joining the party were small-cap stocks, as investors sent the Russell 2000 to its best monthly performance of the year.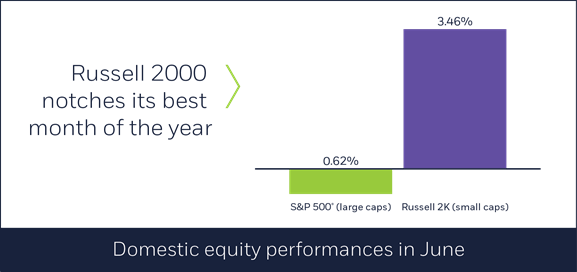 Source: Morningstar Direct
Picking up the tech slack was a positive move from financials following the Fed and aces on the bank stress tests, along with a still-resilient health care sector. With all the political wrangling about the latest version of a replacement for Obamacare, some may be surprised that health care surged in June. The sector went on a tear, perhaps with investors seeking a less cyclical option and one typically resilient to softening economic data.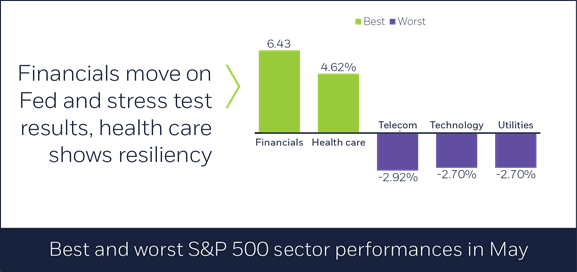 Source: Morningstar Direct
Technology has sector leadership in year-to-date performance (+17.23), though health care (+16.07%) has been gaining. Biotech stocks helped health care's run at the end of the first half; notably, the Nasdaq Biotech Index3 was up a robust 8.56% in June. This came amid news of what has been deemed a "constructive" 4 executive order forthcoming on drug pricing.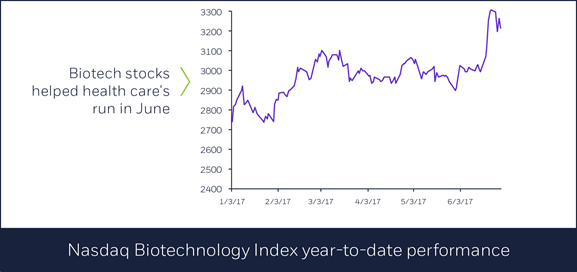 Source: Yahoo Finance
International equities
Prime Minister Theresa May sent Britain to the polls looking to expand the Conservative majority in Parliament, in part to quell opposition to Brexit. But May's gamble on an early ballot backfired, resulting in a hung Parliament. On the month, Britain's FTSE 100 Index5 fell 2.44%.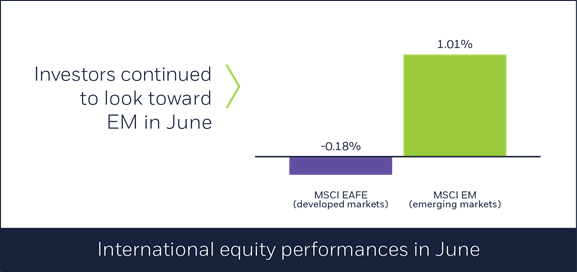 Source: Morningstar Direct
A highlight for Asian equities was index provider MSCI's announcement that it will add select China stocks to its indexes. The long-awaited decision to allow stocks traded on the mainland, known as A-shares, could represent China's continued integration into the global capital markets. In Latin America, political turmoil gripped Brazil, with President Michel Temer—the guy brought in to end corruption—formally charged with taking millions in bribes.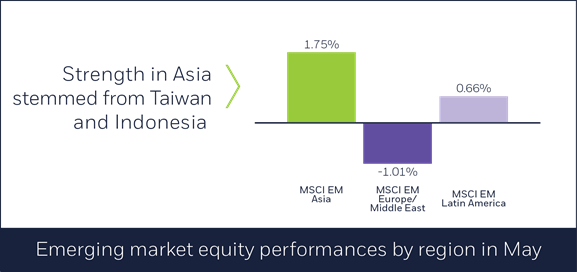 Source: Morningstar Direct
Fixed income
The yield curve, which plots interest rates for Treasuries against the length of time they have to reach maturity, continued to flatten with Fed action. The 2–10 Treasury spread hit a 10-month low during the month, with the 2-year Treasury rising and the longer-term 10-year falling amid questions about economic growth and inflation.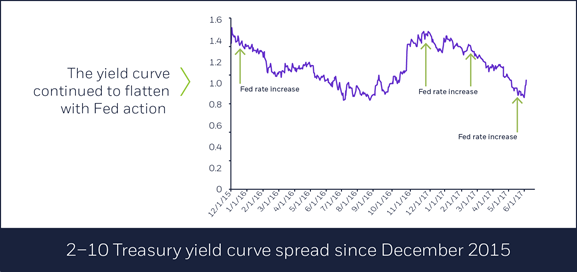 Source: Morningstar Direct
Long-term Treasuries led as interest rates continued to fall amid resetting growth and inflation expectations. Investment-grade corporates were a top performer as well, with investors searching for high-quality fixed income with reduced interest-rate sensitivity. The weakest area of fixed income, Treasury inflation-protected securities (OTC:TIPS), suffered amid the declining outlook for inflation. Short-term treasuries were slightly weaker as the Fed raised rates.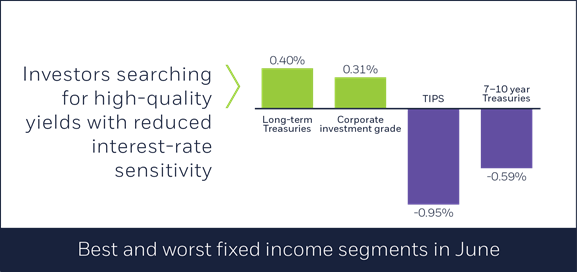 Source: Morningstar Direct
High yield has turned in a mid-single digit performance so far in 2017, with economic growth chugging along slowly and default rates low. Long-term Treasuries have been a solid performer this year as well. There has been no shortage in demand for high-quality or safe-haven government bonds, despite the surge in equity markets. Many appear to have no issue with the interest-rate sensitivity associated with long-term government bonds, though that could change quickly if a spike in rates occurs.
The bottom line
This time of year, it's natural for investors to turn their gaze toward the beach rather than their portfolios. But investors may want to resist the urge to put their portfolios on cruise control, and look to rebalance as necessary.
Based on market performance through the first half, tactical shifts that investors may be eyeing through their beach hats and shades include:
Trimming U.S. equities—Some experts are looking to ease up on large-cap U.S. equities, citing high valuations and the appearance of being stretched.
Exploring small caps and international—Many investors are overweight in well-known large caps, so adding small caps could help increase diversification. Another strategy could be to seek exposure abroad, as developed and emerging market equities have largely outpaced their U.S. counterparts in 2017, after lagging for much of the past decade.
Building diversification with bonds—In a rising rate environment, some look to increase a portfolio's diversification across bond funds to mitigate interest rate risk. Short-term, tax-advantaged municipal bonds, which have shrugged off some recent headlines, may be an attractive option.
It's midyear. The markets have been quiet. And vacations beckon. With the lazy days of summer taking hold and Q3 in sight, now may be a good time for investors to take a look at their portfolios to see where they stand relative to their investment goals.
Disclosure: I/we have no positions in any stocks mentioned, and no plans to initiate any positions within the next 72 hours. I wrote this article myself, and it expresses my own opinions. I am not receiving compensation for it. I have no business relationship with any company whose stock is mentioned in this article.