... because Lockheed Martin (LMT) is building them. A recent big order improves the outlook for Lockheed Martin's Sikorsky unit, which, in turn, strengthens the company's already strong outlook for the future.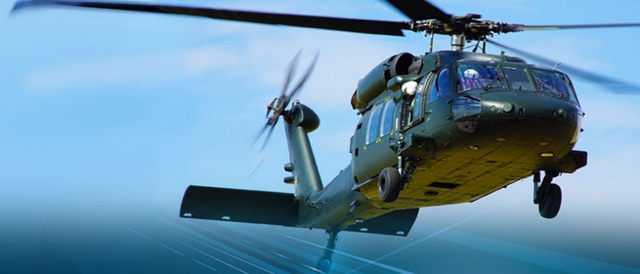 Source: Sikorsky
Last week Lockheed Martin announced that its Sikorsky unit got an order for 257 Black Hawk helicopters, which are being sold to Saudi Arabia (which were being ordered U.S. Army though).
The contract includes options, which allow for the purchase of up to 103 additional aircraft, which could bring the total value of the deal to $5.2 billion.
Sikorsky is a subsidy of Lockheed Martin, since Lockheed Martin purchased Sikorsky in 2015, for a price of $9 billion. That was a price tag of which many at the time thought that it was a bit high for what Lockheed Martin was getting, but deals such as this one could prove that the business Sikorsky is active in can provide a lot of value for Lockheed Martin. Since Lockheed Martin grossed new orders totaling $47 billion in 2016, we can expect that this Black Hawk deal alone equals about 8.5% of this year's total orders, not factoring in the options for additional aircraft that could drive up the value of the order further.
Lockheed Martin's Sikorsky unit has a backlog of $15 billion (at the end of last fiscal year), which is equal to about 16% of the company's total backlog ($96 billion at the end of the last fiscal year).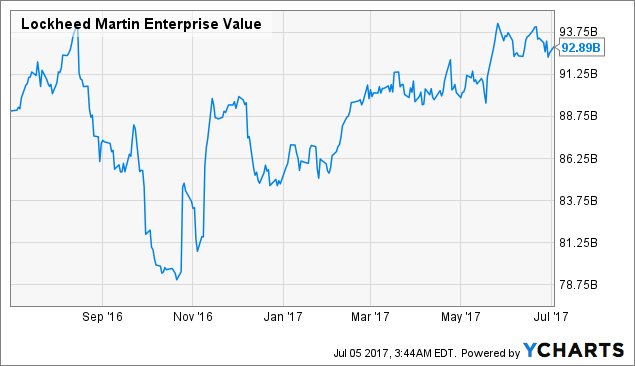 LMT Enterprise Value
data by
YCharts
Relative to Lockheed Martin's enterprise value of $93 billion, the Sikorsky acquisition looks like a rather cheap way to increase both order inflow as well as Lockheed Martin's backlog: At a little less than 10% of the company's total enterprise value, Sikorsky provides 16 percent of Lockheed Martin's backlog, not even factoring in the most recent order mentioned above.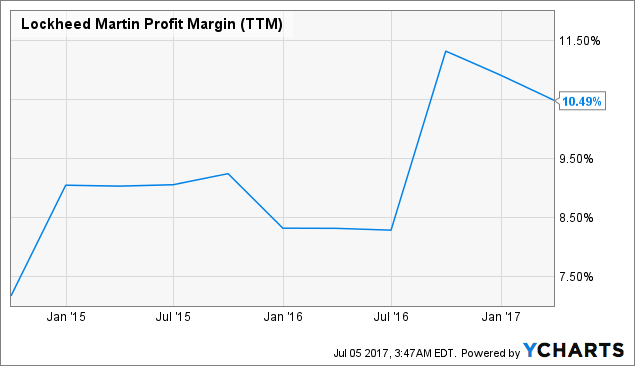 LMT Profit Margin (TTM)
data by
YCharts
When we calculate with a profit margin of 10.5%, the Black Hawk deal should contribute about $400 million to Lockheed Martin's bottom line this year -- even if this was the only deal for the entire year, the purchase would have already paid off (on an annual basis), as Lockheed Martin financed the acquisition via debt that costs a lot less than $400 million.
Calculating with an interest rate of 3.0% and a tax rate of 25%, the $9 billion Lockheed Martin paid for Sikorsky cost about $200 million after tax -- one deal like the one Lockheed Martin announced recently thus is enough to make the Sikorsky acquisition profitable.
This does not yet include the additional revenues and earnings Sikorsky is bringing in from the commercial side of its business, which includes the M28, the S-92 and the S-76 lines of helicopters, which are used for very diverse roles, such as passenger, VIP transportation, parachuting, SAR, medical transports, cargo, etc.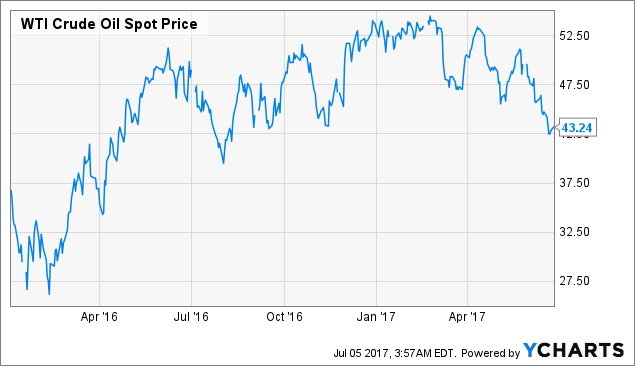 WTI Crude Oil Spot Price
data by
YCharts
Over the last one and a half years the price of oil has rebounded substantially, which helps one of the key markets for Sikorsky's commercial business: Helicopters are used to service offshore oil & gas platforms, transporting goods as well as personnel. With increasing oil prices the global offshore activity will grow as well, which poises Sikorsky to see increasing demand for its commercial helicopters.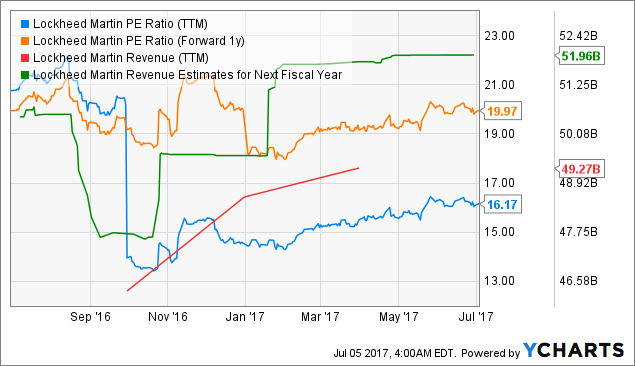 LMT PE Ratio (TTM)
data by
YCharts
Lockheed Martin's overall position and outlook is very positive: The company's revenues are poised to grow further, as trailing revenues of $49 billion will increase by roughly $3 billion towards $52 billion next year. This also impacts Lockheed Martin's (likely) forward earnings, as Lockheed Martin's forward earnings ratio of 20 and an expected EPS growth rate of six percent annually (over the next five years) showcase a positive growth outlook.
Lockheed Martin pays out a little more than half its earnings via dividends, which means a nice dividend yield of 2.6% at today's price. Combined with strong dividend growth rates in the past, and a positive dividend growth outlook this makes Lockheed Martin's shares attractive for income focused investors as well.
Takeaway
Lockheed Martin's takeover of Sikorsky seems to pay off, as big orders for new Black Hawk helicopters, in combination with an improving outlook for Sikorsky's commercial business (due to the rise of the price of oil) allow for ample top and bottom line contributions from the helicopter manufacturer.
Lockheed Martin's overall outlook is good as well, with revenues expected to grow further and EPS seen growing for years as well.
Author's note: If you enjoyed this article and would like to read more from me, you can hit the "Follow" button to get informed about new articles. I am always glad to see new followers!
Disclosure: I/we have no positions in any stocks mentioned, and no plans to initiate any positions within the next 72 hours. I wrote this article myself, and it expresses my own opinions. I am not receiving compensation for it (other than from Seeking Alpha). I have no business relationship with any company whose stock is mentioned in this article.