With a great deal of uncertainty facing oil investors, the fact of the matter is that any little piece of news can send oil prices soaring or reeling. Sometimes, this is warranted and other times (many times), it is not. One piece of information, in particular, that market participants have kept an eye on has been weekly production figures. In fact, despite mixed inventory data reported last week, a meaningful drop in production sent oil prices higher. In what follows, I will go over some other data tied into these production figures that should provide some insight into the US oil market and will detail what it all should mean for companies invested in this space.
Oil production... declined?
For several months now, the US oil rig count has been rising, something I have chronicled before. The general consensus is that, as a result of more drilling, US production of crude should rise not only this year but next as well. In fact, according to the EIA (Energy Information Administration) in its Short-Term Energy Outlook, domestic production this year should average 9.33 million barrels per day, which is 0.46 million barrels higher than last year's output of 8.87 million barrels per day. Next year, production should surge to average 10.01 million barrels per day, a year-over-year increase of 0.68 million barrels per day.
Oil bulls typically see this as terrifying, while oil bears rejoice since it creates an opportunity for prices to drop yet again. That said, some recent data that has come out suggests that the road toward higher production may not be all that easy. Take, for instance, a look at the graph below. In it, you can see domestic oil production on a monthly basis, with data through the month of April of this year. Due to when official monthly data comes out, this is the newest set of numbers and the most recent.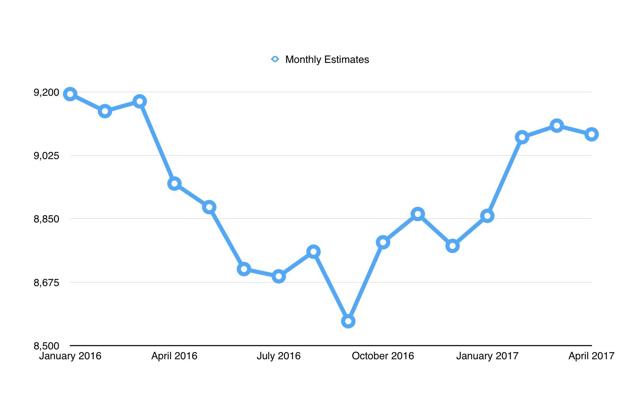 *Created by Author
What we can see here is that, while production surged from 8.858 million barrels per day in January to 9.107 million barrels per day in March (an increase of 0.249 million barrels per day or 2.8%), data for April shows a decrease. In all, production in the US fell by 24 thousand barrels per day for that month. To put this in perspective, the EIA's earliest estimates for production for April called for just in the seven largest onshore oil and gas producing regions growing by 0.109 million barrels per day. In the graph below, you can see that the March-to-April change in production estimates stemming from just the shale regions has called for a lower and lower month-over-month increase during the time the EIA has been forecasting said data, but nothing predicted an actual drop (conventional production is the most likely to post a drop, but it's hard to imagine such a large one when shale output was expected to rise materially).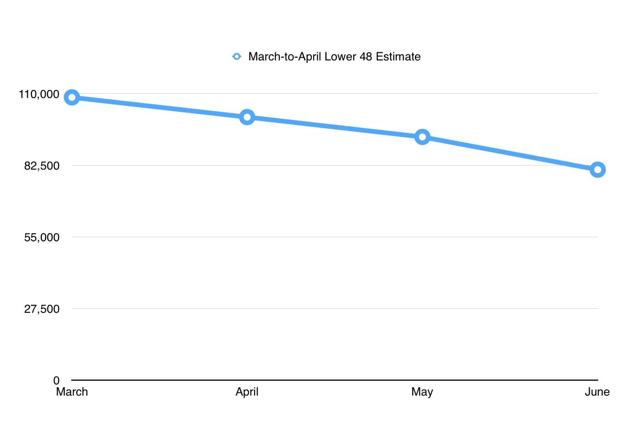 *Created by Author
Beyond just the decrease, however, we should also stack this data up against the weekly estimates provided by the organization. You see, months ahead of the official monthly figures coming out, the EIA releases weekly estimates that you can use to approximate what the monthly numbers might actually be. In the graph below, you can see how these numbers stack up against one another.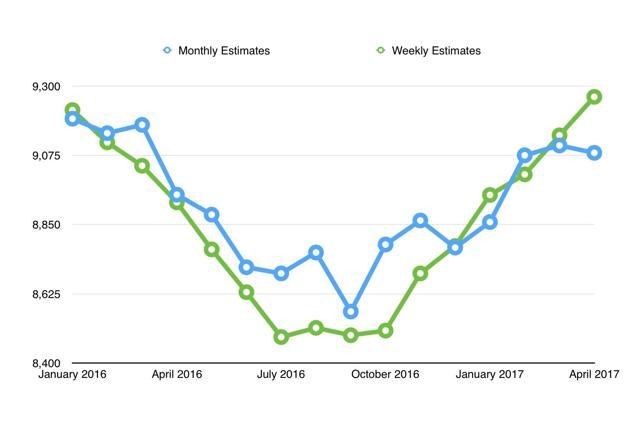 *Created by Author
Based on the data provided, the EIA's weekly estimates for the month of April called for domestic oil production to rise to 9.265 million barrels per day. That's quite a sizable leap, but it's far from what actually happened. You see, the now-official number of 9.083 million barrels per day represents a miss of 0.182 million barrels per day. If applied to an entire year, that kind of miss would account for a disparity of 66.43 million barrels, which is an incredibly large amount of oil and represents somewhere between 20% and 25% of the entire US oil glut.
There is one dark component to this
Overall, the picture here looks, beyond any doubt, bullish for oil investors. Having said that, there is one thing the data suggests that should be kept in mind. If you look at the graph below, you can see the January-through-March monthly figures reported by the EIA now, compared to the same estimates reported a month ago. There are noticeable differences here for both February and March, which both reported higher output than the prior estimates the EIA put out there.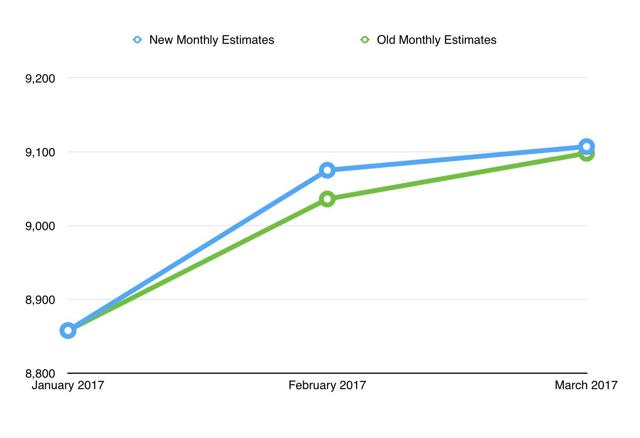 *Created by Author
If you do the math, these disparities aren't all that big. They account for extra oil production in the first quarter of 1.371 million barrels in all. Certainly, the April decrease is enough to offset this by 0.720 million barrels, but higher production in all is still higher production. The takeaway from this graph, though, is that, while oil output is coming in in numbers that align more with the bullish thesis than the bearish one, the EIA is still having to adjust prior estimates higher. This means that investors shouldn't be surprised to see the April number revised higher in the next month or two as well, but it's unlikely to be large enough to result in a material increase in overall production for the month.
Takeaway
Based on the data provided, I must say that I feel more bullish regarding oil than I did even a week ago. The EIA currently believes that oil output has not been rising as expected (and has actually dipped a bit) despite a surge in the rig count. What's more, this creates a very large disparity between the weekly and monthly figures, which may be part of the reason why the weekly output estimate for last week was far lower than a week earlier. We do need to be cognizant of the prospect for creeping production revisions, where output is pushed up higher months after the fact, but this has been, so far, not too big compared to the bullish data the EIA has given us.
Disclosure: I/we have no positions in any stocks mentioned, and no plans to initiate any positions within the next 72 hours. I wrote this article myself, and it expresses my own opinions. I am not receiving compensation for it (other than from Seeking Alpha). I have no business relationship with any company whose stock is mentioned in this article.