On July 17th after the closing bell, Netflix (NASDAQ:NFLX) will report its 2Q17 results. Ahead of earnings and following a -10% share price pullback over the past month, I believe the bar is set low for the Los Gatos-based company to beat expectations and see its stock recover some lost ground.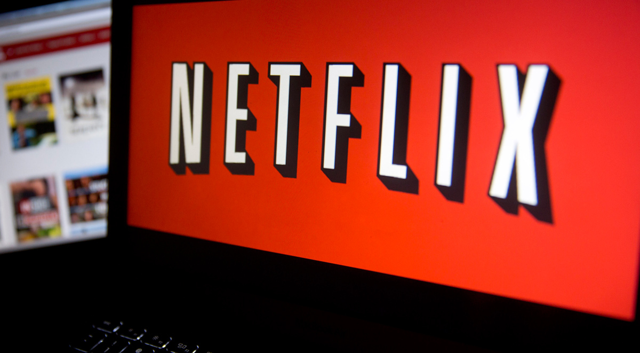 Credit: O Vicio
This is not to say that I am a NFLX bull for the long term. As I have argued recently, the stock is a nightmare for value investors: despite the low op margins, rising net debt and shrinking free cash flow, shares still trade at 140x current-year earnings on expectations for continued top-line growth and future margin improvement. But investors and traders with a short-term bias might want to keep a few things in mind ahead of the print.
First and from a stock performance perspective, Netflix has over-corrected compared to key peer Amazon (AMZN) and broad tech ETFs (XLK) since the sector started to head south, about a month ago (see first graph below). NFLX is also under-performing on a twelve-week basis, particularly since the company reported its most recent earnings beat (flat vs. AMZN's +8% and XLK's +4%). This is the most NFLX has retreated in any 30-day period over the past 12 months at least, and some might view the dip as a buying opportunity.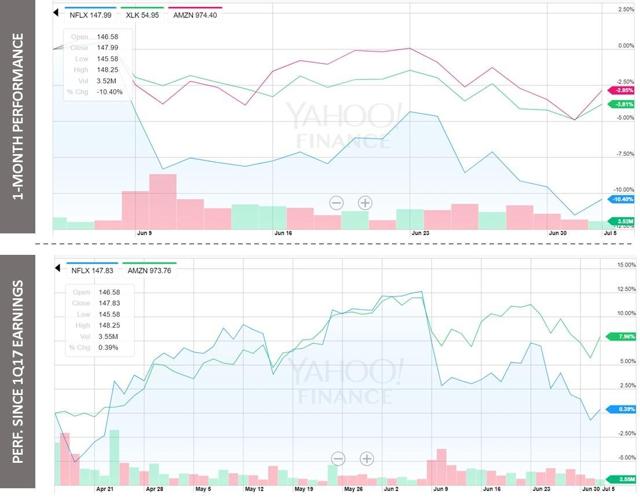 Source: DM Martins Research, using charts from Yahoo Finance
Second and from a fundamental point of view, management has guided for a meager $0.15 in EPS for 2Q17 (missing expectations by 10 cents), despite the 33% revenue growth implied in the top-line guidance. The six-cent YOY improvement in per-share earnings, if achieved, would pale in comparison with last quarter's 34-cent YOY growth -- in part as a result of content cost timing.
These bottom-line results are contingent upon Netflix producing op margin of only about 4% in 2Q17, the lowest since 2Q16 and substantially smaller than the 7% expected for all of 2017. Decreased profitability seems reasonable to me given the company's intention to invest in content and international expansion. But I also believe that the estimates might include some margin of safety, particularly following last quarter's miss on net subscribers in the U.S.
Regardless of whether Netflix misses on EPS in a couple of weeks, which I find unlikely, management's narrative around subscriber growth and user base expansion taking the spotlight over margin improvement in the short term might protect the stock even in the case of an earnings disappointment. As a reminder, Netflix's executive team explained last quarter that "we are in no rush to push margins up too quickly, as we want to ensure we are investing aggressively enough to continue to lead internet TV around the world". For as long as the subscriber base remains solid and revenues continue to climb strongly (see graph below), I believe investors are likely to see shares with good eyes.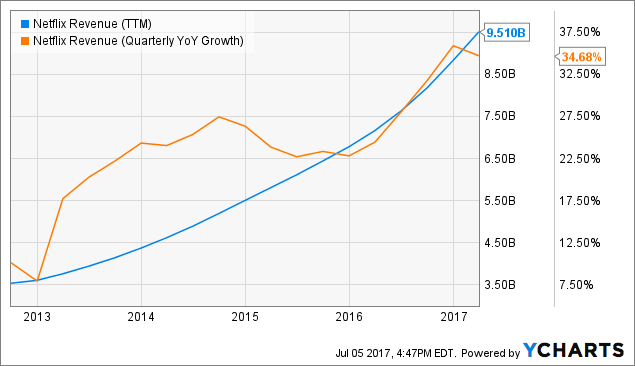 In conclusion
For the short term and particularly relevant to traders, I believe the bar has been set low for Netflix. Investors and analysts are already expecting modest bottom-line results to be released in July, and I would not be surprised to see the company deliver its 7th EPS beat in a row. Add the fact that NFLX has dipped more sharply than its peers recently, and one might find a compelling argument for betting on the stock ahead of the print.
For the long run, however, I remain highly skeptical on this richly-priced name. Valuations continue to be stretched, even as liquidity, free cash generation and margins deteriorate, and despite increasing competitive pressures from a wide range of content providers. A value investor at heart, I continue to find the long-term investment case on NFLX hard to justify at the stock's current price.
Note from the author: if you have enjoyed this article and would like to receive real-time alerts on future ones, please follow DM Martins Research. To do so, scroll up to the top of this screen and click on the orange "Follow" button next to the header, making sure that the "Get E-mail Alerts" box remains checked. Thanks for reading.
Disclosure: I/we have no positions in any stocks mentioned, and no plans to initiate any positions within the next 72 hours. I wrote this article myself, and it expresses my own opinions. I am not receiving compensation for it (other than from Seeking Alpha). I have no business relationship with any company whose stock is mentioned in this article.