Global Markets Score An 'A' In First-Half
Jul. 06, 2017 6:45 AM ET
SPY, QQQ, DIA, IWM, SH, VOO, TZA, SDS, TNA, SSO, IVV, SPXU, TQQQ, UPRO, SPXL, VT, RSP, SPXS, SQQQ, PSQ, CRF, QID, VFINX, UWM, QLD, DOG, DXD, UDOW, SDOW, SCHX, TWM, URTY, DDM, RWL-OLD, ACWI, VV, RWM, EPS, SRTY, VTWO, GLQ, QQQE, QQEW, FEX, ILCB, SPLX, EQL, FIGY, SPSM, DGT, EEH, SPUU, SFLA-OLD, QQXT, IWL, RWV, SPXE, SPDN, SPXT, USPX, FWDD, SYE, UDPIX, FIHD, SBUS, OTPIX, GLOF, SMLL, PPLC, JHML, RYARX, SPXV, DIVI, PPSC, SPXN, HUSV, HACW, HDMV, WBIL, USSD, ESGF, ESGW, XMX, SCAP, USWD, RYRSX
By Gary Alexander
The Wall Street Journal did it again - patting investors on the back while kicking them in the rump.
Their July 1-2 weekend Page 1 headline was "Global Stocks Post Strongest First Half in Years, Worrying Investors." Why must good news always be coupled with a warning that worse times must lie just ahead?
Similar sentiments in other news stories might be reflected in headlines like these:
"Asteroid Misses Earth, Causing Scientists to Fear 'The Next One Might Hit Us.'"
"Terrorism Attack Thwarted, Making the Next Attack More Likely to Succeed"
"Summer Weather Delightful on July 4th, Raising Fears of a Frigid Winter"
In the text of their article, the Journal reported that global stock markets collectively matched their strong start in 2009 - the first year of this bull market. We haven't seen a better opening six months (globally) since 2007. In 2017, all but four of the 30 biggest markets rose in the first half, according to the Journal.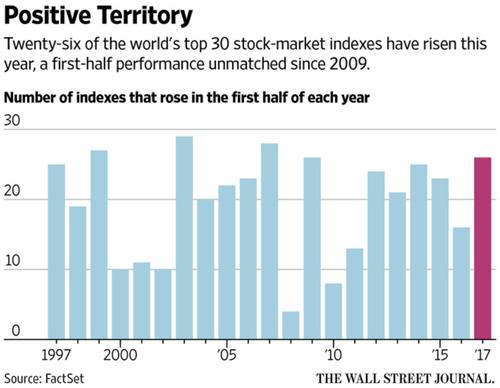 Graphs are for illustrative and discussion purposes only. Please read important disclosures at the end of this commentary.
What "worries investors" in this scenario is that the four best opening six months for global markets in the last 20 years came at the start of bull markets (2003 and 2009) or the end of bull markets (1999 and 2007), implying that we could be nearing the end of the current bull market. Furthermore, the cycle peak for 1997-99 (left of chart, above) looks very similar to the last three years (2015-17, above right).
Any comparison to 1999 is flawed, however, since that fin de siècle year marked the fifth straight year of 20% or greater S&P 500 growth. In those five years, the S&P rose 220% and NASDAQ doubled that, up 441%. The current bull market hasn't delivered anything like this consistency or amplitude of growth in the last five years. In addition, the market's rise from 2000 to 2017 is still sub-par for long-term market averages. The S&P 500 peak in March 2000 was 1527. Its latest peak is 2432, up less than 3% per year.
We are nowhere near the kind of "bubble" territory that we were clearly (in hindsight) entering in Y2K, when forward earnings on the S&P exceeded 25 (vs. 18 today). Neither are we near a U.S. or worldwide recession. According to the Wall Street Journal ("Revised GDP Signals 1.4% Growth Rate, June 30, 2017), "Forecasters surveyed in early June by the Wall Street Journal saw just a 16% likelihood, on average, of a new recession starting in the next year." The same Journal article quoted Macroeconomic Advisors projecting a 3.3% GDP growth rate for the second quarter and the Federal Reserve Bank of Atlanta's GDPNow model predicting 2.9% growth. Globally, we have also seen "a synchronized global recovery," according to Graeme Bencke, global portfolio manager at London's Pinebridge Investments.
Even though the Trump Administration has not passed any of its major economic reforms in the first half of 2017, we do have some unexpected good news coming from abroad, where moderates won the elections in France and the Netherlands, in sharp contrast to the Brexit vote a year ago (June 23, 2016). As a result, the European economy is finally reviving, along with their common currency, the euro.
The ECB and Bank of Japan have remained accommodative, while the Fed's rate increases have yet to register even a "speed bump" level of disruption to the U.S. stock market (or gold, for that matter). Even though U.S. GDP growth was anemic in the first quarter, it has doubled its first estimate (0.7%) and is now estimated at 1.4%. The market is up 8%+ because earnings are growing much faster than GDP. First-quarter S&P 500 earnings were up over 12% from a year earlier, the best growth rate since 2011, according to FactSet. Earnings in Asia-Pacific (ex-Japan) and Europe are also up by double-digits.
The five most rapidly-growing national markets in the first half were all in Asia, namely South Korea, India, the Philippines, Taiwan, and Singapore, while Russia came in a distant last (see chart, below). I don't count NASDAQ as a 'national' market, since it is one of three U.S. indexes in the table below.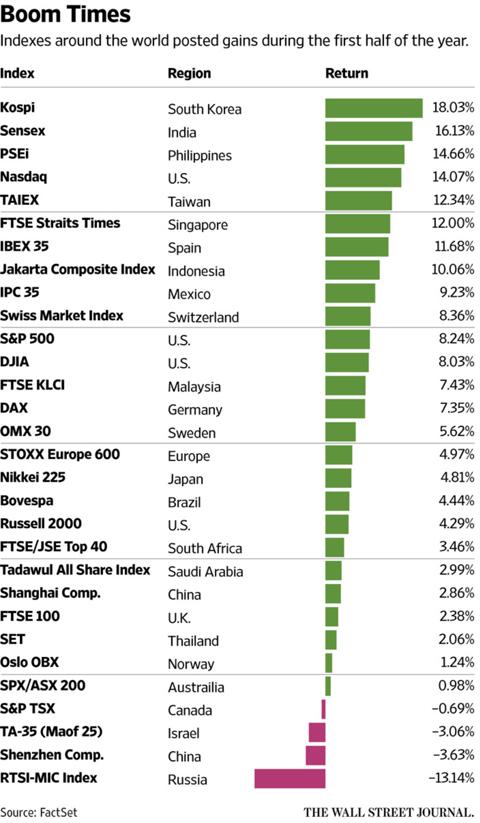 Graphs are for illustrative and discussion purposes only. Please read important disclosures at the end of this commentary.
July Should Continue the Winning Streak
Turning to the U.S., NASDAQ is the winner among domestic indexes in the first half, despite a sharp correction last week. In the commodity world, gold is a winner, while energy costs are way down. In the currency market, the euro is up strongly while the dollar has fallen over 5%.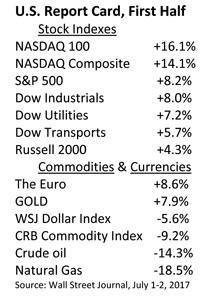 As Louis said, July is the second-best month of the last century, up 1.44% on average (behind only December, at +1.55%). Over the last 20 years, July is up an average 1.08% per year. July is also the only positive month in the usually-dismal May-to-September span (which spawned the "sell in May" strategy.)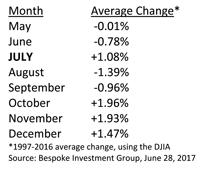 More importantly, Bespoke Investment Group showed how the S&P 500 has risen a composite 410% in the second half if the first half was positive. However, when the first half was down, the second half fell:
Starting 50 years ago, if you only owned the S&P in the 2nd half of years where the index was down in the first half, you'd be down 16.9%! You'd be up 410% if you only owned in the 2nd half of years where the index was up in the first half. That's quite a difference.

- Bespoke Investment Group, "July Seasonality," June 28, 2017
August is a different animal. That's a good month to take a vacation and ignore the market, but history tells us the fourth quarter's rally is usually worth enduring the summer doldrums that often precede it.
Disclosure: *Navellier may hold securities in one or more investment strategies offered to its clients.
Disclaimer: Please click here for important disclosures located in the "About" section of the Navellier & Associates profile that accompany this article.
This article was written by
Navellier & Associates was founded by Louis Navellier in 1987 and since then has guided thousands of investors by applying our disciplined, quantitative investment process to a broad range of equity products. Every day, investors hire Navellier to manage their assets in a private account, mutual fund, or defensive portfolio. For over 25 years, we've been zeroing in on opportunities for long-term growth. We employ a veteran team of investment and client service professionals who deliver exceptional, personal service and industry-leading information to our clients. _________________________________ Important Disclosures that Accompany Navellier & Associates Articles: *Navellier may hold this security in one or more investment strategies offered to its clients. None of the stock information, data, and company information presented herein constitutes a recommendation by Navellier or a solicitation of any offer to buy or sell any securities. Any specific securities identified and described do not represent all of the securities purchased, sold, or recommended for advisory clients. The reader should not assume that investments in the securities identified and discussed were or will be profitable. Information presented is general information that does not take into account your individual circumstances, financial situation, or needs, nor does it present a personalized recommendation to you. Individual stocks presented may not be suitable for you. Investment in securities involves significant risk and has the potential for partial or complete loss of funds invested. One cannot invest directly in an index. Results presented include the reinvestment of all dividends and other earnings. Graphs are for illustrative and discussion purposes only. Although information has been obtained from and is based upon sources Navellier believes to be reliable, we do not guarantee its accuracy and the information may be incomplete or condensed. All opinions and estimates constitute Navellier's judgment as of the date of the report and are subject to change without notice. This report is for informational purposes and is not to be construed as an offer to buy or sell any financial instruments and should not be relied upon as the sole factor in an investment making decision. Any decision to purchase securities mentioned in this research must take into account existing public information on such security or any registered prospectus. Past performance is no indication of future results. FEDERAL TAX ADVICE DISCLAIMER: As required by U.S. Treasury Regulations, you are informed that, to the extent this presentation includes any federal tax advice, the presentation is not intended or written by Navellier to be used, and cannot be used, for the purpose of avoiding federal tax penalties. Navellier does not advise on any income tax requirements or issues. Use of any information presented by Navellier is for general information only and does not represent tax advice either express or implied. You are encouraged to seek professional tax advice for income tax questions and assistance.