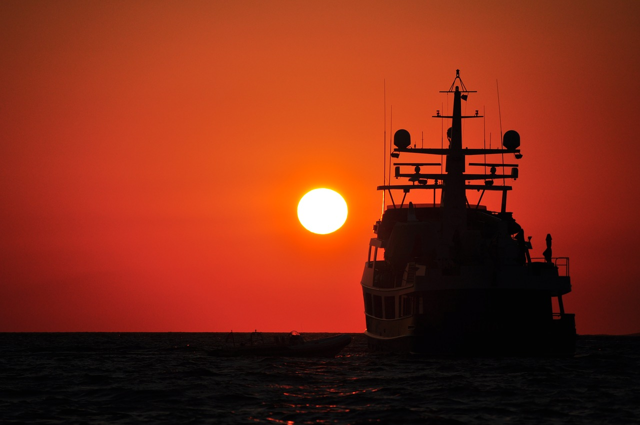 Investors following DryShips (NASDAQ:DRYS) have seen an eventful few months. While I doubt there are any bulls left, in the past month alone, DRYS has dropped over 50%, and fallen about 100% YTD. The company is a skeleton, and yet it receives both positive and negative news by the hour. Investors shopping around for a shipping stock should stay far, far away from DRYS.
But, despite DRYS's horrible record, investors shouldn't stay away from the shipping industry altogether. Multiple companies known for their dividends and/or capital growth reside in this sector and have provided investors with great returns over the years. In the remainder of the article, we will discuss four stocks operating in the shipping industry. Each provides a great, high-yield dividend, is potentially undervalued, and has other investing benefits.
Here's how we screened these shipping stocks:
Company Health: The company must have good health, which includes profitability, cash flow, liquidity, diversity, and leverage. If any financial ratios or other indicators show that any of these points are poor, the stock might be a no-go. The best way to find current company health is to look at its most recent earnings report.
Dividend Health: Dividend growth is the main data point that should be analyzed. If the company has many consecutive dividend raises, it usually means good growth. However, payout ratio is another point to also consider; if it is over 100%, the dividend is unsustainable in the long run.
News Check: News reports on the company should be positive. If there are multiple positive analysis reports on the company, it should be a good investment. If there's insider buying, analyst upgrades, and high targets, this is good. In addition, checking analyst targets and recommendations help show the value of the stock and if it is truly a good buy.
Future: If the company has any growth catalysts or is situated in a growing industry, investors could see capital appreciation as well as capital return.
Here are our four favorite shipping stocks and why we recommend them:
GasLog Partners LP (NYSE:GLOP) - High Yield - Undervalued
GasLog Partners LP is a master limited partnership which collaborates with GasLog Ltd. (NYSE:GLOG). The company focuses on the liquid natural gas (LNG) sector of the shipping industry. Since its IPO in 2014, the company struggled as its industry declined, but rebounded in 2016. One-year return is 31% and one-month return is 8%. The company has a large fleet of 28 vessels and a backlog of $3.6B, giving light to the future of the company as seen below: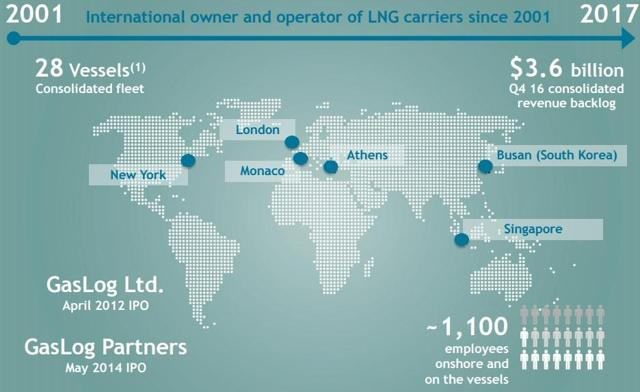 In its latest earnings report (Q1 2017), GLOP posted satisfactory results.
| | | | |
| --- | --- | --- | --- |
| Metric | Q1 2016 | Q1 2017 | YoY |
| Revenue | $56.1 million | $57.0 million | 1.5% |
| DCF | $18.9 million | $23.5 million | 24.5% |
| Total Units Outstanding | 32.3 million | 39.0 million | 20.9% |
| DCF/Unit | $0.58 | $0.60 | 2.6% |
| Distribution | $0.478 | $0.49 | 2.5% |
| DCR | 1.21 | 1.17 | 0.0% |
The company also reports a great balance sheet with total assets at $1,489,138,934 and total liabilities $846,769,281.
In addition, the company has been on an acquisition spree for the past few months. In its Q1 investor presentation, the company reported that it had successfully completed an equity offering and issuance of general partner units, raising total net proceeds of $80 million. It used this cash and other sources to acquire GasLog Seattle for $189 million on November 1st of 2016, and GasLog Greece which will be closed in Q2 2017. The company also recently announced that it will be acquiring GasLog Geneva for $211M, and will close in Q3 2017. All of these acquisitions will allow the company to pay higher dividends and have major future growth. EBITDA alone is expected to grow around $100M from these three acquisitions.
(Please note that GasLog Greece, Seattle, and Geneva are all referring to ships. GLOP is acquiring each vessel from its parent GLOG).
Dividend-wise, the company pays a nice yield of 8.37% with a coverage ratio of 1.17x. Its payout ratio is only 83%, uncommon for this high a yield in the shipping industry. In Q1, it increased cash distribution to $0.50 per unit for the first quarter of 2017, 2% higher than the fourth quarter of 2016 and 5% higher than the first quarter of 2016.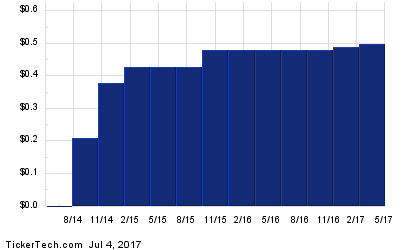 The company has steadily increased its dividends since its IPO and with its high potential for future growth, investors are sure to get more dividend growth.
Looking at the company's value, analysts' average price target is $26. Right now, the company is trading around $24, and analyst consensus is to buy. Simply Wall St also says that the stock is undervalued, stating that a fair price for the stock is around $35.

We agree with the "buy" rating due to GLOP's good Q1 earnings and future potential from to its recent acquisitions. The shipping company time and time again outperforms the industry and has a backlog of around $3B in contracts, making it the least risky stock on this list.
Takeaway: With recent acquisitions and a backlog of around $3B, GLOP is sure to see major future growth. The company is great for capital return, with a strong high yield dividend and also capital growth.
Star Bulk Carriers Corp. (NASDAQ:SBLK) - Massive Future Potential
Star Bulk Carriers is a global shipping company providing worldwide seaborne transportation solutions in the dry bulk sector. Star Bulk's vessels transport major bulks, which include iron ore, coal and grain and minor bulks such as bauxite, fertilizers and steel products. The company's fleet includes 73 vessels consisting primarily of Newcastlemax and Capesize, as well as Kamsarmax, Ultramax and Supramax vessels with a carrying capacity between 52,055 and 209,537 deadweight tonnage (DWT).
For the first quarter of 2017, Star Bulk Carriers' revenue surged 40% to $64.87 million compared to revenue of $46.26 million in Q1 2016. The company's revenue numbers surpassed analysts' forecasts of $60.3 million. Total net voyage revenues jumped 87% to $49.9 million compared to $26.7 million for Q1 2016, primarily driven by the increase in freight rates. SBLK's net loss for Q1 2017 was $16.0 million, or $0.26 loss per basic and diluted share, compared to net loss for Q1 2016 of $48.8 million, or $1.11 loss per share, basic and diluted. EPS has grown steadily for the past four quarters, from -0.7 to -0.2. Q2 estimates range from about -0.1 to 0.0.
In addition, Star Bulk announced the acquisition of a modern Supramax vessel with secured financing. The vessel has a carrying capacity of 56,582 deadweight tons and was built to high specifications at the Jiangsu Hantong Shipyard China in 2011. It is expected to be delivered to Star Bulk during the month of July 2017.
The company is showing signs of a successful restructuring (it was restructured in 2014), and because of its Q1 report, we are very optimistic. While this company is still a risky investment due to the fact that earnings per share are still negative, Star Bulk has shown great growth in the past and will in the future. Once EPS is in the black, which could be as soon as the next earnings report, SBLK could see major media coverage and investor attention resulting in fast growth. We recommend a small position in SBLK.
SBLK is the only drybulk shipper mentioned in this article and could diversify your portfolio into other sectors of the shipping industry. Previously, investing in the drybulk sector of the shipping industry was like throwing your money out the window. The Baltic Dry Index (BDIY) reached a record high 11,793 on May 20th, 2008, and a record low of 290 on February 10th, 2016. This recession was mainly caused by an oversupply of tankers which lowered shipping rates. As the Great Recession hit, the industry's bubble popped and drybulk came crashing down. Now, the industry is showing signs of recovery and shipping companies are in short supply. Star Bulk is recovering at a perfect time, and as demand begins to grow once again, so will SBLK.
Takeaway: Star Bulk has massive upside potential if it can clean up its act, but is a very risky investment. However, this is a risk investors should take.
KNOT Offshore LP (NYSE:KNOP) - High Yield - Undervalued
KNOT Offshore Partners is a limited partnership formed by Knutsen NYK Offshore Tankers. It owns and operates a modern fleet of 13 state-of-the-art shuttle tankers, each equipped with the latest advanced technology, including dynamic positioning and offshore systems. All vessels operate under long-term charters (5+ years) with major oil and gas companies engaged in offshore productions, which include Shell (NYSE:RDS.A) (NYSE:RDS.B), Statoil (STO) and Exxon Mobil (NYSE:XOM).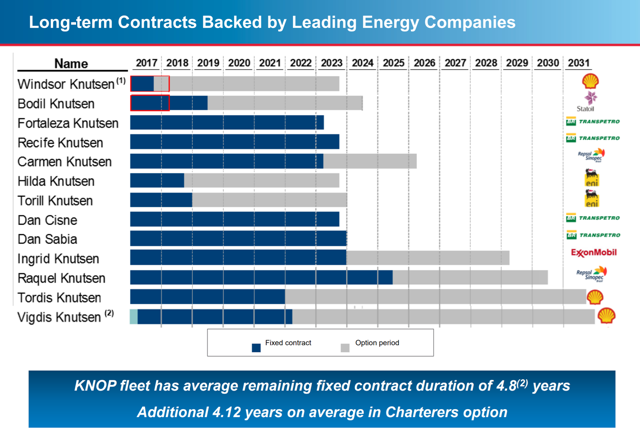 KNOT Contract Time (Source: Investor Presentation)
KNOT Offshore Partners has had an eventful first quarter. The partnership generated total revenues of $45.0 million, operating income of $17.5 million and net income of $11.4 million. Its fleet of 13 tankers operated with 98.6% utilization for scheduled operations and 93.2% utilization taking into account off-hire, including the planned drydocking of the Windsor Knutsen, which was completed within 54 days.
On May 16, 2017, the partnership's wholly owned subsidiary, KNOT Shuttle Tankers AS, entered into a share purchase agreement with Knutsen NYK to acquire KNOT Shuttle Tankers 25 AS ("KNOT 25"), the company that owns the shuttle tanker, Vigdis Knutsen, from Knutsen NYK. In addition, KNOT has been publicly and privately selling shares. The $40M raised by this "enables the partnership to consider an additional drop-down in the second half of 2017 on top of the two drop-downs which has already been announced." Compared to Q1 2016, which had a net income of $10.6M, Q1 2017 had a higher net income of $11.4M.
The company projects large future growth by purchasing new vessels and entering into new, higher-paying contracts when previous contracts expire. One contract is set to expire in 2017. Management issued 2017 guidance calling for 15% to 19% growth in EBITDA and 10% to 16% DCF growth.
The company has a robust dividend yield of 9.18% with a payout ratio of 100.0%. With trailing 1.26x coverage, KNOP has grown its yield for the past three years. With future growth probable, KNOP should continue to grow its dividend.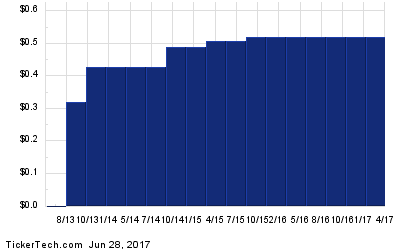 KNOP is currently undervalued due to its high dividend and visible future growth. In addition, two contracts expire in the coming two years. As the contract is extended or resigned, KNOP will see a revenue spike and renewed media attention, resulting in a growing share price. Simply Wall St estimates that a fair price for the stock based on future cash flows would be about $53. Its current share price is around $23.

Takeaway: KNOT Offshore, with its high dividend and value, could prove to be a solid investment for investors looking for dividend growth, capital return and capital appreciation. Due to its average remaining contract length of 4.8 years, investors have a good insight into the company.
Ocean Yield ASA (OTCQX:OYIEF) - High Yield - Undervalued
Norway-based Ocean Yield ASA is a shipping company that focuses on investing in modern vessels with long-term charters to solid counterparties. The company has a significant contract backlog that offers visibility with respect to future earnings and dividend capacity, and has an available liquidity of USD 264 million and book equity ratio of 35%, giving it substantial investment capacity. Ocean Yield has an ambition to pay attractive dividends to its shareholders and currently yields 9.7%.
Q1 results were satisfactory. Revenues were down from $82 M in Q4 2016 to $78.6 M, mainly due to the termination of a bareboat charter for the vessel Lewek Connector and agreement of a new four-month charter. However, all data points for Q1 2017 showed large growth from Q1 2016. The company had successful delivery of two newbuilding container vessels during Q1 2017 with 15-year charters and refinanced bonds issued by American Shipping Company ASA (OTCQX:ASCJF) with a nominal value of USD 200.6 million. These bonds were refinanced during the quarter, where Ocean Yield participated with USD 50 million in a new five-year unsecured bond and received net cash proceeds of USD 156 million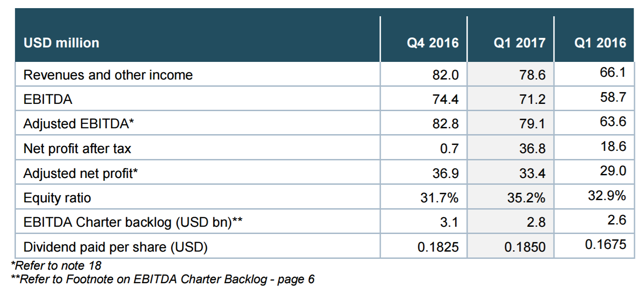 Commenting on the first-quarter results, Lars Solbakken, CEO of Ocean Yield ASA, said:
"We are pleased to present the results from Q1 2017, with the 14th consecutive quarterly increase in dividends and a strong net profit, despite lower earnings from the Lewek Connector. After a period with soft market conditions in both shipping and offshore, we are of the opinion that we have passed the bottom of this cycle in several shipping and offshore segments. We are therefore actively pursuing new investment opportunities in order to further expand our portfolio of vessels on long-term charter."
The company is known for its dividends, and is self dubbed as "the dividend yield company." In the first quarter, quarterly dividend increased to USD 0.1850 per share, which is an increase of 0.25 cents vs. Q4. In addition, it was the 14th consecutive quarterly dividend increase, and because OYIEF has a low payout ratio of 83% (fairly low for a high yield), investors could see a lot more dividend growth in the future.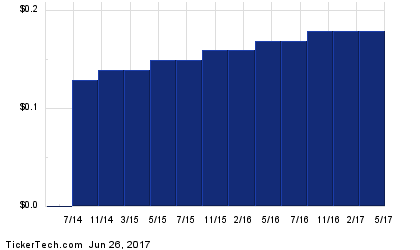 Looking at the company from a value standpoint, OYIEF is undervalued and unknown. Trading in OTC markets rather than on major exchanges like the NYSE or Nasdaq, Ocean Yield receives little recognition for the great growth/dividend stock it is. Due to its low profile, the stock isn't analyzed by major US analysts and has no ratings.
Recently, OYIEF began trading on the OTCQX Best Market and upgraded to from the Pink market. This development gives the company more credibility and will offer investors in the United States transparency and efficient trading of Ocean Yield's foreign ordinary shares. In addition, this upgrade gave the company more visibility, and as more and more investors start a position in this stock, the value will grow.
Takeaway: OYIEF is an unknown dividend growth stock, and will provide investors with a really stable income. The company should see growth in the future due to its Q1 report.
Conclusion
Investing in the shipping industry comes with its risks, and could be challenging for investors. Being so intertwined with the global economy, any subtle change of direction could cause major issues for shipping companies due to lower shipping rates. However, smart investors who invest in good companies can see major returns. When the conditions are right, the shipping industry and companies residing within it can skyrocket.
Above, we just listed our four favorite shipping companies. The industry is recovering from a low point, and many stocks are largely undervalued providing a good entry point for investors. Each stock comes with its own risks and rewards, so please do further research before investing.
Disclosure: I/we have no positions in any stocks mentioned, but may initiate a long position in OYIEF, SBLK over the next 72 hours.
I wrote this article myself, and it expresses my own opinions. I am not receiving compensation for it (other than from Seeking Alpha). I have no business relationship with any company whose stock is mentioned in this article.
Additional disclosure: As seen with DryShips, investing in the shipping industry is risky. Please do further research on the listed companies before investing.
Editor's Note: This article covers one or more stocks trading at less than $1 per share and/or with less than a $100 million market cap. Please be aware of the risks associated with these stocks.