Update On Aralez Pharmaceuticals
Summary
There are early signs that the recent re-launch of Zontivity may be working.
As well, Yosprala sales have improved following recent marketing and pricing strategy changes, but remain a question mark.
Last week, the New Jersey District Court upheld Vimovo's patents in favor of Pozen (Aralez's subsidiary) and Horizon against multiple generic challengers.
Aralez's share price may have bottomed last month.
There are now reasons for cautious optimism for Aralez shareholders.
Aralez Pharmaceuticals Inc. (NASDAQ:NASDAQ:ARLZ-OLD) is a specialty pharmaceutical company headquartered in Mississauga, Ontario, Canada. Its US headquarters are located in Princeton, New Jersey, and its Irish headquarters are located in Dublin.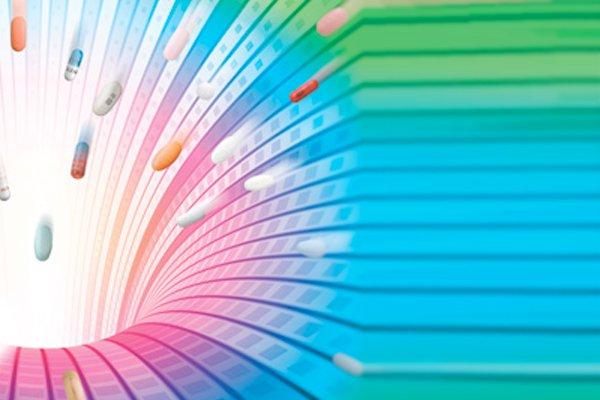 Until recently, 2017 has not been kind to Aralez as reflected in the price chart below. There have been a number of reasons for Aralez's poor stock performance including the disappointing U.S. launch of Yosprala (after receiving FDA approval in September), the announced reduction of more than 30% of Aralez's U.S. sales force in early March, some disappointing news relating to Toprol (including the renewal of Aralez's contract with the VA at a much lower price), liquidity concerns, some disappointing Q1 2017 royalty revenues from the licensing of Vimovo to Horizon and the entry of a Vimovo generic in Canada.
Notwithstanding the earlier bad news, Aralez's luck appears to be changing. There are a number of reasons for cautious optimism, including:
Early signs that the recent re-launch of Zontivity in the USA may be having a positive effect;
The re-pricing strategy of Yosprala implemented in late April, 2017 may be increasing Yosprala sales;
The positive trial outcome regarding the Vimovo patents announced June 27th; and
Surprisingly strong launch results in Canada for Blexten.
Note: All currency figures referenced in this article are in U.S. dollars unless otherwise indicated.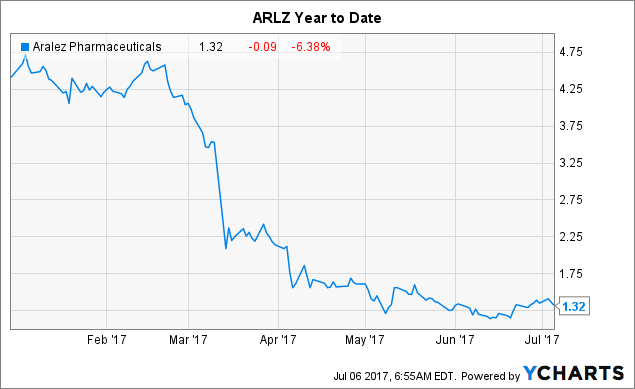 ARLZ data by YCharts
Shares outstanding: 65.4 million
Trading symbols: NASDAQ: ARLZ, also ARZ.TO on the TSX
Share price at close of trading on July 5, 2017: $1.32
52-week share price range: $1.09 to $6.80
Market cap: $87 million at close of trading on July 5, 2017
Unused line of credit (Deerfield) for mutually acceptable acquisitions: $250 million
Cash: Approximately $65 million as of December 31, 2016
Debt: $75 million Convertible Debenture @ 2.5% interest; $200 million temporary acquisition line @ 12.5% interest from Deerfield
Effective tax rate (approximate): 17%
Zontivity Re-Launch
On September 7, 2016, Aralez announced it had purchased Zontivity from Merck for $25 million and other consideration. Merck had already ceased promoting Zontivity when Aralez purchased Zontivity so sales already had started dropping off. For reasons set out in my earlier articles on Aralez published on November 14, 2016, and March 17, 2017, I discussed why Zontivity could be a "hidden gem" for Aralez; although Aralez's recent share price would suggest that the market has been skeptical as to whether Zontivity has any material value.
While Aralez began a soft Phase 1 re-launch for Zontivity in late April with 15 sales reps, it officially re-launched Zontivity in the U.S. with its full sales force of approximately 75 sales reps during the initial week ending June 9 (which included 3 full days of off-site training). During that first week, new Zontivity prescriptions (NRx) totaled 71. New scripts increased to 104 for the week ending June 16, and increased again to 145 for the week ending June 23. As well, total prescriptions ( TR.x ) rose from 208 to 274 prescriptions over the same period.
I had always assumed that each Zontivity (and Yosprala) prescription was for 30 pills which turned out to be an incorrect assumption. Some patients are actually obtaining prescriptions for 90 days. Hence I thought it useful to measure the number of actual pills prescribed (which was data that was also available through Symphony Health).
For Zontivity, the number of pills prescribed in new prescriptions increased from 3,160 pills (average of 44 pills per script) to 6,980 pills per week (48.13 pills per script) during the weeks ending June 9, 2017, to June 23, 2017. The total number of pills prescribed (TRx) increased overall from 8,560 pills (41.75 pills per script) to 11,560 pills per week (42.2 pills per script).
Aralez provided a chart at its June 7th Jefferies Healthcare presentation showing early NRx results following the relaunch of Zontivity.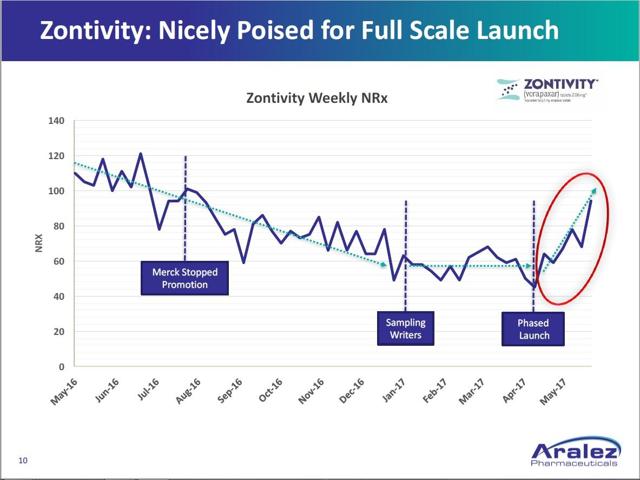 In addition, Symphony Health also publishes a report called the Manufacturers' Benchmark Sales (MBS) which is a financial analytic representing the value of pharmaceutical product demand. MBS represents a standardized dollar metric based on manufacturers' published list prices to wholesalers.
Re: Zontivity Weekly Sales
Week ending TRx #TRx Pills NRx #NRx Pills MBS NRx
May 19, 2017 170 7,690 68 3,180 $30,600
May 26, 2017 206 8,920 94 4,610 $44,310
June 2, 2017 206 8,630 72 3,210 $30,890
June 9, 2017 208 8,560 71 3,160 $30,410
June 16, 2017 192 8,600 104 5,160 $49,610
June 23, 2017 274 11,560 145 6,980 $67,130
While it is important to not read too much into two weeks of this early Zontivity data, Aralez appears to have already surpassed Merck's best new (NRx) weekly number of scripts (137) for Zontivity so quickly in the re-launch. This is a positive sign and suggests that Aralez's marketing strategy may be working (although I caution we are still in early days). Aralez has re-launched Zontivity in the U.S. with the focus on patients with severe Peripheral Arterial Disease (PAD), for which Zontivity is the only FDA approved anti-platelet agent.
During Aralez's June 2017 Corporate Presentation presented on June 7, 2017, at the Jefferies Healthcare Conference, it indicated that they have developed a strategy to promote Zontivity, which includes:
Focusing on cardiologists with hard clinical data showing stroke and heart attack prevention in patients with severe PAD;
Improving managed care access for Zontivity, which is now covered by all four major Pharmacy Benefit Managers; two of the four have Zontivity on their national coverage list; and
Subsidizing patient co-pays to bring the out of pocket cost down to approximately $6.00/month.
Yosprala New Pricing Policy
Yosprala was officially launched by Aralez in October 2016 with an 110 sales rep force in the U.S. Unfortunately, the launch was not successful and the anticipated Yosprala sales were not materializing. In early March 2017, Aralez announced that they would cut their U.S. sales force by 30% and re-focus their efforts.
On May 9th, Aralez announced a change in their marketing and pricing strategy for Yosprala. Yosprala had previously been marketed with a retail price of $150.00 for a 30 day supply (effectively $5.00 per pill). Unfortunately, there was a lot of resistance to the perceived high pricing of Yosprala resulting in a very high rejection rate at pharmacies etc.
To address this problem, Aralez effected changes in late April including introducing an education program to educate pharmacists at the pharmacy level about the value of Yosprala, but perhaps more importantly introducing a major change in the pricing of Yosprala that allows patients (whether insured or not) to get access to Yosprala at an out-of-pocket expense of $10.00 per month.
According to Aralez's May 9th, 2017 corporate presentation still available on its website, the $10.00 per month out-of-pocket cost would be applicable to patients who purchased a 90 day supply of Yosprala; otherwise, the May 9th presentation suggested a $20.00 per month out-of-pocket patient cost for a 30 day supply. I understand that it is now possible to obtain a 30 day supply for $10.00 with a coupon. Nonetheless, these changes appear to be having some positive effect although I again caution that these are early results, particularly when looking at the actual number of pills being prescribed in new prescriptions (NRx).
Aralez's provided the followoing slide at its June 7th, 2017 Jefferies Healthcare presentation.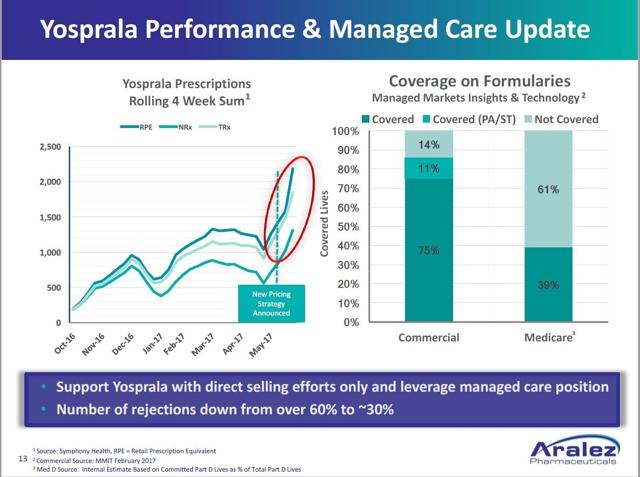 Based upon data obtained from Symphony Health Solutions, I have summarized the data I obtained from regarding Yosprala prescribed since the week of April 14, 2017, to June 23, 2017. Interesting to note: 1. the general uptrend the number of actual pills prescribed; 2. the number of pills in each new script filled (increasing from 31.5 pills to over 65 pills per script during the period, week ending May 19 to week ending June 23, 2017); 3. the MBS for NRx) generally increasing).
Week Ending TRX #TRx Pills NRx #N Pills P/Scpt MBS $NRx
May 19, 2017 - 434 13,550 345 10,890 31.5 $54,450
May 26, 2017 - 549 23,870 386 17,580 48.97 $87,900
June 2, 2017 - 407 20,820 284 16,140 56.8 $80,700
June 9, 2017 - 392 22,680 265 17,730 66.9 $88,650
June 16, 2017 - 385 22,750 275 18,570 67.5 $92,850
June 23, 2017 - 335 18,390 230 14,940 65 $74,700
Zontivity and Yosprala
While I'm encouraged by these early positive results for Zontivity (post re-launch) and Yosprala (post new pricing strategy), I remain cautious. I will continue monitoring weekly sales for these two drugs for the next 3 or 4 quarters. If Zontivity and Yosprala, or just Zontivity alone, begins performing well over the next year, that development would likely result in a positive turnaround in Aralez's share price. Currently, the market is attributing little value to both Zontivity and Yosprala.
If weekly sales of Zontivity and Yosprala, or just Zontivity alone, continue to improve over the next number of quarters, that development would likely result in a positive increase in Aralez's share price. Currently, the market is attributing little value to both Zontivity and Yosprala so hopefully, patient shareholders may be rewarded during the next 12 months.
Vimovo Patent Litigation.
On June 27, 2017, Aralez issued a press release announcing that the New Jersey District Court had ruled in their favor (including their licensee Horizon Pharmaceuticals (HZNP)) against ANDA filers Dr. Reddy's (NSE:DRREDDY; unrated), Mylan (NASDAQ:MYL; unrated), Lupin (NSE:LUPIN; unrated) and Teva (TLV:TEVA; unrated), in a dispute centered on the validity of Vimovo patents (U.S. Patent #s 6926907 (the "907 Patent") and 8557285). The court upheld the Vimovo patents. Subject to appeals and any other future challenges, Vimovo will be patent protected until at least the expiry of the 907 Patent in February 2023 and may, in fact, have patent protection pursuant to other patents filed relating to Vimovo until 2031. This will protect Aralez's minimum $7,500,000 royalty payment being paid by Horizon for its U.S. licensing rights for Vimovo, subject to various other terms of that licensing agreement. Aralez also receives royalties from Vimovo sales from other jurisdictions.
This recent court decision should also be considered positive news for the Yosprala patent litigation case where Aralez is defending the aspirin/omeprazole combination patent against a challenge by Teva. This case is in early phases of the court process but the '907 patent which was one of the subject patents in the Vimovo patent litigation is among the 4 patents being challenged by Teva in connection with Yosprala.
Aralez's Canadian Business - Blexten's Launch Exceeds Expectations
Aralez's Canadian business continues to be profitable on an adjusted EBITDA basis. As well, its newly launched drug Blexten is exceeding expectations.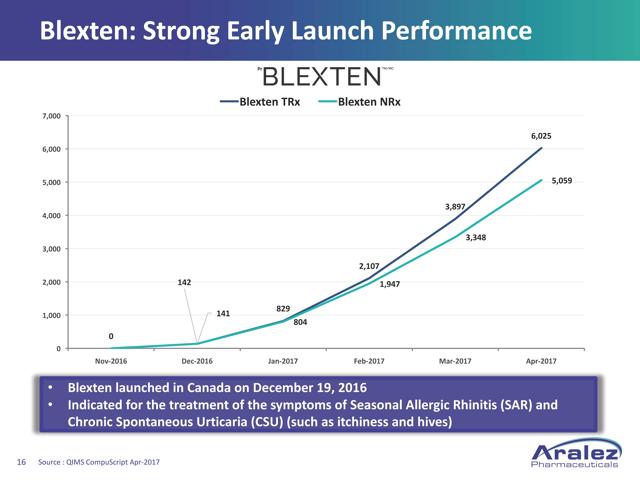 Even with a weak Canadian dollar, Q1 2017 Aralez's Canadian net revenues were U.S. $5.7 million.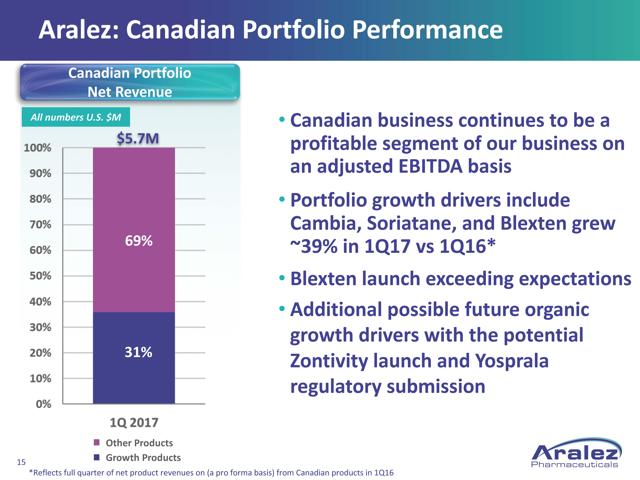 With a combination of the Canadian dollar getting stronger, the surprisingly strong Blexten launch, and the likely additions of both Yosprala and Zontivity in Canada, the Canadian division will likely provide a surprise to the upside over the next few years.
Additional M&A
During the June 7th Jefferies presentation, CEO Adrian Adams emphasized that Aralez is continuing to actively seek accretive M & A transactions with the support of Deerfield. Earlier this year Aralez had disclosed that it had a $250 million facility with Deerfield to execute on new transactions if approved by Deerfield.
However, with a weak share price and a large amount of existing debt (held mostly by Deerfield) that task has become somewhat more difficult. Nevertheless, Deerfield has so far been very supportive and I won't be surprised to see Aralez announce some form of accretive transaction or transactions later this year. I anticipate that Aralez will come up with some creative forms of transaction (possibly mergers) to avoid materially increasing its debt load and if possible to avoid substantial dilution of its existing capital structure.
2017 Financial Guidance
Aralez has provided 2017 financial guidance of net revenues of $80 million to $100 million with projected adjusted EBITDA in the ($5 million) to $5 million range. Assuming Zontivity and Yosprala sales continue to improve in H2 2017, with contribution from a growing Canadian division, and assuming solid Toprol and other core Aralez product sales and royalties generated from licensing Vimovo, Aralez may be able to exceed its 2017 guidance.
See 2017 Financial Guidance slide below taken from Aralez's June 7, 2017 Jefferies Healthcare presentation.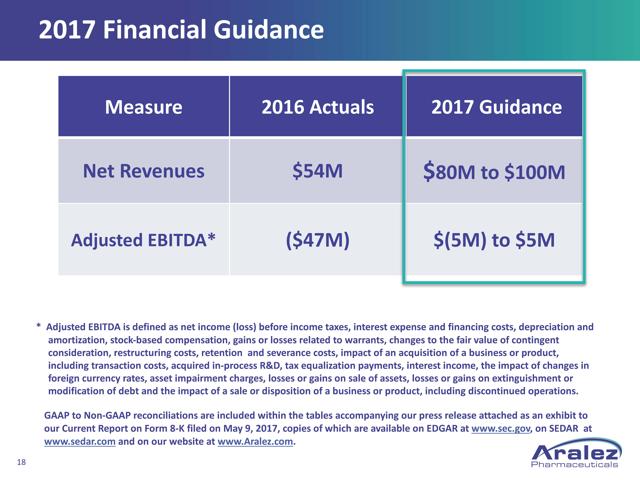 Another Analyst's View
Dr. David Martin of Bloom Burton came out with an updated report on Aralez on June 30th, 2017 maintaining a $5.00 target price based upon an encouraging improvement in Zontivity sales and the recent positive resolution of the Vimovo patent litigation.
Risks
While there are certainly reasons for some optimism, the recent positive sales trends for Zontivity and Yosprala still represent early results in a relatively short time period and investors should still be cautious. We need to see whether the upward trend continues over the next number of quarters. As well, while the MBS figures provide a helpful guide, it will be important for investors to see what actual financial effect these sales increases will actually represent for Aralez in the upcoming quarters.
ARLZ remains a speculative investment. There are various risks to consider, including but not limited to, risks relating to the Yosprala and Zontivity launches, patent challenges and litigation, competition, pricing pressures, potential balance sheet issues, liquidity and dilution risks, F/X issues relating to Canadian and other foreign currency generated sales, and other general market investment risks. For further details as to the Company's potential risks, please refer to the 10-K filings made by ARLZ with the SEC.
Supporting Documents
Editor's Note: This article covers one or more microcap stocks. Please be aware of the risks associated with these stocks.
This article was written by
Steven H. Goldman, biotech enthusiast. Steven is a commercial litigation lawyer, retired from active practice in January 2021, and was a founding member of the Toronto law firm of Goldman Hine LLP. He graduated with a B.A., President's Medal recipient (1976, Carleton University, Ottawa, Ontario) and J.D. (1980, Queen's University, Kingston, Ontario). He is also the President and CEO of Comstock Metals Ltd. (TSX.V: CSL.V) a mining exploration company with a gold deposit in Saskatchewan, Canada. Steven is a member of the board of directors and audit committee of Select Sands Corp. (TSX.Venture: SNS.V and OTCQX: SLSDF). He is an advisor to E3 Lithium Limited (TSX. Venture: ETL.V) (OTC: EEMMF), an emerging lithium developer and lithium extraction technology innovator based in Alberta, Canada. He is currently a member of the Law Society of Upper Canada, an Executive member of the Ontario Bar Association, Franchise Law Section as well as a member of the American Bar Association, Franchise Forum (Associate Member). Steven was President & CEO of Speedy AutoService and Minute Muffler from December 2007 to December 31, 2009 (with approximately 160 locations across Canada). He was also a former director of Tribute Pharmaceuticals for approximately 10 years where he served on the audit committee as well as the M&A committee.
Analyst's Disclosure: I am/we are long ARLZ. I wrote this article myself, and it expresses my own opinions. I am not receiving compensation for it (other than from Seeking Alpha). I have no business relationship with any company whose stock is mentioned in this article.

Until February, 2016 I was a director of Tribute Pharmaceuticals which merged with Pozen to form Aralez. I have had no business relationship with Aralez since stepping down as a director in February, 2016.
Seeking Alpha's Disclosure: Past performance is no guarantee of future results. No recommendation or advice is being given as to whether any investment is suitable for a particular investor. Any views or opinions expressed above may not reflect those of Seeking Alpha as a whole. Seeking Alpha is not a licensed securities dealer, broker or US investment adviser or investment bank. Our analysts are third party authors that include both professional investors and individual investors who may not be licensed or certified by any institute or regulatory body.