Medical Facilities (OTCPK:MFCSF) [TSX:DR] faced near-term uncertainty as its former CEO, Mr. Britt Reynolds, resigned in early June. Yet, the company declined to give a reason why he left. The stock took a hit and dropped to as low as C$14.23, a drop of about 12.8%. The company also expected to face some competition in the next few years in two regions where the company's facilities operate.
However, Medical Facilities' balance sheet remains healthy allowing some possibility for future acquisitions and growth initiatives. At the moment, the stock appears to be undervalued. When the near-term uncertainty and headwind clears, its stock price will likely trend up and reflect the value of the company.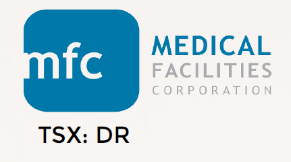 Source: Company Website
Company Overview
Medical Facilities operates five specialty surgical hospitals and one ambulatory surgery center in five US states. The table below gives a quick overview of the six facilities. The hospitals are well-situated in geographic regions supported by population growth. On top of that, in four of the five states where its hospitals are located, the unemployment rates have been below the national average in each of the last two years (Source: June 2017 Investor Presentation).

Source: Q1 2017 Financial Report
Under the leadership of its former CEO, Mr. Reynolds, the company has done two strategic acquisitions. On September 23, 2016, Medical Facilities acquired a 62% controlling interest of Unity Medical and Surgical Hospital located in Mishawaka, Indiana. In the following month, Prairie States Surgical Center was integrated into its Sioux Falls Specialty Hospital. These acquisitions added considerable revenues to the company. For example, in Q4 2016 alone, Unity Medical and Surgical Hospital contributed to $13.3 million of revenue, which represents about 12.4% of Medical Facilities' revenue base.
Healthy Balance Sheet And Financial Highlights From Q1 2017
As of March 31, 2017, the company has total assets of $471 million with $268 million of total liabilities. Its net debt-to-equity ratio is about 50%. The subsidiary debt coverage for the last twelve months is about 1.4 times. These numbers appeared to be healthy and should provide the company some dry powder when acquisition opportunities arise.
In Q1 2017, the company delivered $89 million of revenue, a growth of 17.2% from the same time last year. The growth was primarily due to new revenues from acquisitions as new acquisitions accounted for $7.9 million of revenue and organic growth accounts for the remaining $2.9 million.
Medical Facilities' income from operations is disappointing though. It was down 10.1% or $13.3 million from the same time last year. This was mainly due to higher operating expenses. Notable increases in expenses include expenses from the newly acquired facilities, increased staffing complement at the corporate level, higher depreciation of property and equipment, etc. Over the past year, the company has hired talented people to establish a strong corporate leadership team and hence increased the cost at the corporate level.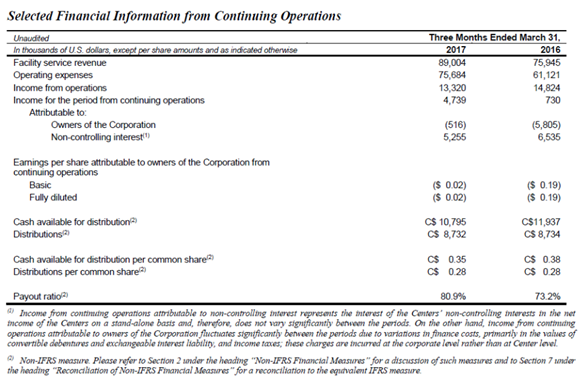 Source: Q1 2017 Financial Report
One interesting observation from the management's discussion is the fact that a temporary injury of a key surgeon in its newly acquired Unity Medical and Surgical Hospital negatively impacted the revenue in Q1. Had this revenue get added, its income from operations may look a lot better. Although this appears to be an isolated case, it does speak of Medical Facilities' vulnerability. If its key surgeon is absent for whatever reason, the hospital's revenue can take a big hit.
Sustainable Dividend
Medical Facilities uses the metric known as Cash available for distribution [CAFD] to determine its dividend payout ratio. In Q1, its cash available for distribution per common share is C$0.35, down from C$0.38 last year due to lowered income from operation as discussed in previous paragraphs. The distribution per common share is C$0.28. Although the payout ratio of 80.9% is up from last year, it is still well below 100%. The company's payout ratio appears to be healthy.
The chart below shows the annual payout ratio from 2012 to 2016. As can be seen, the company managed its payout ratio quite well. It is important to note that the company has not hike its dividends since August 2012. It has been constant at C$0.09375. The company also has not given any guidance on future dividend increase. At today's stock price, it would translate to around 7.7% yield. US residents should be aware that the dividend is paid in Canadian dollars. Therefore, the dividend received can fluctuate depending on the currency rate.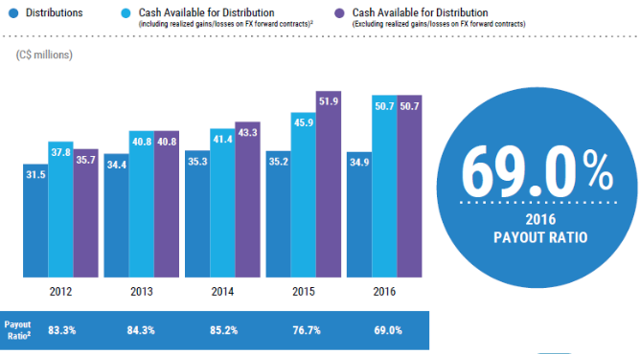 Source: June 2017 Investor Presentation
More Competition Expected
Medical Facilities is anticipating some competition in two cities where its two hospitals are located. In Rapid City, a $55 million orthopaedic hospital project is expected to be completed around the summer of 2018. In Sioux Falls, a $174 million orthopaedics project is scheduled to be completed in 2020. These raised some concern as the corporation's facility in Rapid City and Sioux Falls makes up a little over 50% of its revenue base in 2016. Operating margin will likely take a hit starting next year and again in 2020.
Upon some careful examination, the impact may be contained for the following four reasons. First, the revenues from the facilities in these two cities are beyond orthopaedics. Take the facility at Sioux Falls as an example; the majority of its revenue come from neurosurgery. Second, Medical Facilities' orthopaedic surgeons have an established referral network. It will take time for the new facility to build a network.
Third, the populations in Sioux Falls, Rapid City and the surrounding areas are expected to continue to grow. This should support organic revenue growth. Fourth, Medical Facilities still has time to respond. They could strengthen its moat such as its referral network, and build a more diversified revenue source in these two facilities.
CEO Reynold's Departure Created Uncertainties Ahead
Perhaps, what is most striking for investors is the announcement in early June of Britt Reynolds' departure as CEO and director of Medical Facilities. Yet, the company declined to provide a reason. The lack of transparency in explaining the detail can be a bit of a concern.
Immediately after Mr. Reynolds' departure, Medical Facilities appointed one of its directors, Mr. Jeffrey Lozon, as the interim CEO. Investors should be relieved to hear that Mr. Lozon also has extensive experience in hospital management including 18 years as CEO of St. Michael's Hospital in Toronto. He should be able to quickly fill in the role until a new CEO is appointed.
Mr. Reynolds in his short-lived 1-year tenure with Medical Facilities has established an experienced team including Chief Operating Officer Mr. Robert Horrar, Chief Financial Officer Mr. Tyler Murphy, and Chief Development Officer James Rolfe. These officers' experiences will continue to serve the company well especially executing any growth and development strategies.
Stock Valuation And Insider Activities
Medical Facilities' EV/2017 EBITDA ratio is trading at a multiple of 6.6 (Source: TD Securities). The average EV/2017 EBITDA of its peers is at a multiple of 9. This suggests that Medical Facilities' stock value is likely traded at a discount. This undervaluation can be attributed to several factors, uncertainty caused by Mr. Reynolds' departure, compressed margin in Q1 2017, and increased competitions in the foreseeable future. It may require some positive news such as better than expected quarterly results or an appointment of a new CEO for investors to start to build their confidence again. When that time comes, the stock will likely move higher.
According to Ink Research's Insider Report, as the stock prices dipped below C$15.5 in mid-June, the interim CEO and the chair of director both bought some shares from the public market. The company has also bought back, redeemed or cancelled some 50,000 common shares at prices between C$14.5 to C$14.90. The board appears to believe that a stock price below C$15 is attractive. For income investors, it certainly appears attractive as the yield is over 7.7% at the current stock price.
Investor Takeaway
Medical Facilities has faced some uncertainties as its former CEO resigned in early June, and anticipated competitions in two of its facilities' operating region. Despite these headwinds, the company has a healthy balance sheet that allows it to capture growth opportunities through acquisitions. The uncertainties have also created an attractive yield of 7.7% due to the decline in stock price. For income investors, the yield is attractive and sustainable. Patient investors can grab the share, wait for the uncertainties to clear and earn an attractive dividend in the mean time.
Disclosure: I am/we are long MFCSF. I wrote this article myself, and it expresses my own opinions. I am not receiving compensation for it (other than from Seeking Alpha). I have no business relationship with any company whose stock is mentioned in this article.
Editor's Note: This article discusses one or more securities that do not trade on a major U.S. exchange. Please be aware of the risks associated with these stocks.