Bloomberg, citing anonymous sources "familiar with the situation", reported this week that the Trump Administration will propose that U.S. refiners be required to blend 15 billion gallons of corn ethanol with gasoline next year. If so, then the U.S. refining sector is about to be quite disappointed even as the country's ethanol and biodiesel producers feel conflicted. Candidate Trump sent mixed signals regarding the revised Renewable Fuel Standard's [RFS2] biofuel blending mandate during the 2016 presidential campaign, telling voters in Iowa that ethanol blending should be maximized during that state's caucus but then stating his opposition to the mandate's primary mechanism during the general campaign. Now, it appears that President Trump intends to move forward with the former while throwing a token measure of relief to refiners while they wait for a meaningful change to the latter.
According to Bloomberg, The Trump Administration's Environmental Protection Agency [EPA], which is now led by long-time EPA- and RFS2-opponent Scott Pruitt, will soon propose that corn ethanol blending next year be set at the 15 billion gallon mark that is the maximum allowed by law. Merchant refiners in particular have actively lobbied since 2013 for this volume to be reduced, claiming that the 10 vol%, or E10, blend wall and a lack of sufficient blending capacity make the statutory volumes unreasonably expensive to comply with. An initial victory in 2013 ultimately came to naught, however, and it now appears that Mr. Trump will follow in his predecessor's footsteps by allowing corn ethanol to achieve its maximum legal volume.
The reaction by U.S. ethanol producers was lukewarm, with only the share price of integrated ag firm Archer Daniels Midland (ADM) outperforming the broader S&P 500 index after the day's announcement (see figure). The share prices of less-diversified producers such as The Andersons (ANDE), Green Plains (GPRE), Pacific Ethanol (NASDAQ:PEIX), and REX American Resources (REX), as well as logistics MLP Green Plains Partners (GPP) all moved decidedly lower on the news. Some of this could reflect disappointment that Mr. Trump is not expected to propose similar treatment of the other non-corn biofuel categories. His administration's proposal would actually reduce the amount of advanced biofuel, which includes cane ethanol and biodiesel but not corn ethanol, from 4.28 billion gallons this year to 4.24 billion gallons in 2018. This reduction largely reflects a 23% YoY decrease to the amount of cellulosic biofuel that must be blended (a category that has admittedly fallen well short of the production volumes needed for its mandate to be met); excluding the cellulosic biofuel volumes, the proposal would represent a 0.8% YoY increase to the advanced biofuel volume next year. The original legislation called for at least a 13% YoY increase to the advanced biofuel volume (excluding cellulosic biofuel), however, making the Trump Administration's proposal far more restrictive than advanced biofuel producers had hoped for.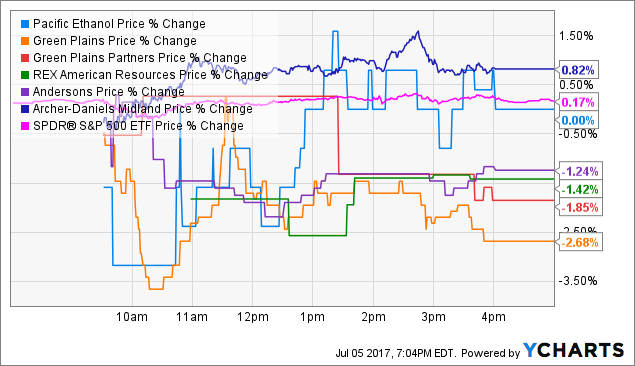 PEIX Price data by YCharts
This disappointment was evident in the share prices of biodiesel producers FutureFuel (FF) and Renewable Energy Group (REGI), the latter of which was also affected by the unexpected departure of President and CEO Daniel Oh (see figure). Biodiesel does not face the same blending restrictions as ethanol (most new and unmodified diesel fuel engines are approved for use with biodiesel blends of up to 25 vol%, whereas new and unmodified gasoline engines are broadly limited to 15 vol% at most) and biodiesel producers have lobbied for their fuel to be allowed to make up some of the shortfall in cellulosic biofuel production, the latter of which was expected under the RFS2's creating legislation to reach 7 billion gallons next year. It appears that the Trump Administration has not been swayed by biodiesel's low pollution emissions but high costs compared to diesel fuel.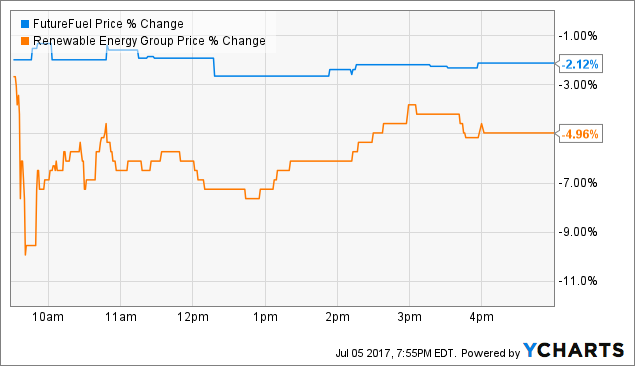 FF Price data by YCharts
This was little consolation to investors in those refiners that have been most exposed (at least nominally) to the mandate's costs such as CVR Refining (CVRR), Delek US Holdings (DK), HollyFrontier (HFC), PBF Energy (PBF), and Valero (NYSE:VLO). Their share prices all turned sharply lower as the news of the Trump Administration's pending move was released, led by that of CVR Refining. That company's loud reporting of its compliance-related expenditures under the mandate and the close relationship between owner Carl Icahn and Mr. Trump meant that its investors were especially disappointed by the report. The proposal doesn't preclude Mr. Trump from reducing refiners' compliance expenditures in the future by adopting Mr. Icahn's proposed changes to the RFS2, but it does make it the only route left to refiners for such a result and one that is fading in likelihood at that.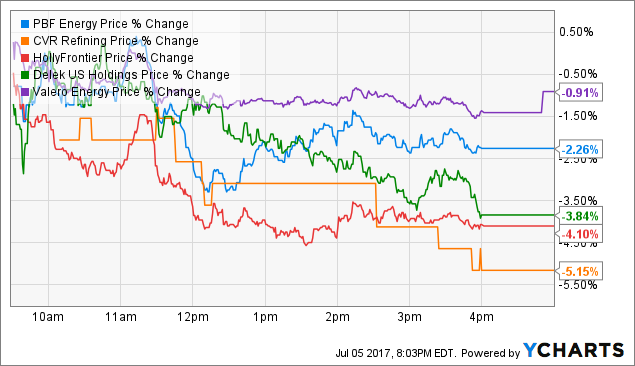 PBF Price data by YCharts
Mr. Trump appears to be keeping his promise to Midwestern voters in a move that will pay dividends if he runs for re-election in 2020. Investors in all of the impacted industries were less enthusiastic upon hearing the news, however, as reflected by the fact that the share price of Archer Daniels Midland was the only one of the 13 companies listed to end the day in positive territory. By trying to provide something for most of the affected sectors, the proposed volumes appear to have left them all underwhelmed. Investors can expect all of these companies to have much to say during the EPA's public comment period that will occur before the proposal is supposed to be finalized later this year.
Disclosure: I am/we are long FF, REGI, PBF.
I wrote this article myself, and it expresses my own opinions. I am not receiving compensation for it (other than from Seeking Alpha). I have no business relationship with any company whose stock is mentioned in this article.